Types of bergenia – 15 pretty varieties for shade and sunshine
Discover robust and weed-smothering perennials for every garden with some of the most vibrant and glossy types of bergenia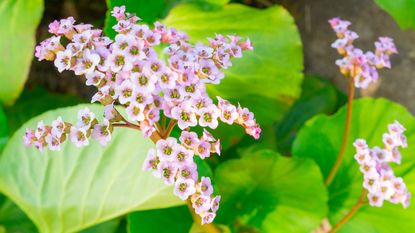 (Image credit: Shutterstock / Beekeepx)
Selecting the best types of bergenia gives reassurance to gardeners that they will be adding plants which are both attractive and practical. Many bergenia varieties make excellent ground cover options, with their robust foliage and clump-forming growth. Several types have foliage that changes color through the seasons, giving striking displays of purple or red in winter plus green in summer. Furthermore, the best bergenias deliver vibrant shows of pink, magenta, ruby and white blooms.
'Ground cover' can sometimes sound like a dull concept, suggesting plants that are merely functional, smothering and suppressing weeds: end of story. Not so with bergenias – these plants are amongst our most valuable hardy perennials. Combining bold, usually evergreen foliage (for which the common name of 'elephant's ears' is charmingly apt) with prolific spring flowers, bergenias are worth growing in any garden.
These plants make an excellent foil for shrubs and taller perennials, and work well alongside ornamental grasses. They are highly versatile plants, and adaptable in soil preference as long as drainage is good. Their flowers are like small bells, clustered at the tops of fleshy stems in spring and early summer. What's more, most are very hardy, to USDA Z4 or even Z3.
15 types of bergenia to brighten tricky spots
Adaptable and tough, many bergenia varieties do well in a range of soils and situations, including as part of a rockery or gravel garden. Winter foliage color is often most dramatic in dry, sunny sites.
Some of the best bergenias for effective ground cover include 'Pink Dragonfly' and 'Rosi Klose', while for impressive blooms you should consider 'Silberlicht', 'Morgenröte' and 'Bressingham White'.
For winter foliage, recommended varieties include 'Eroica', 'Irish Crimson' and 'Sunningdale'. And for those interested in growing bergenia in containers, try 'Britten', 'Tubby Andrews' and 'Wintermärchen'.
You can shop for a number of bergenia varieties at Nature Hills, and there are many types of bergenia available at Amazon too.
1. Bressingham White
Height: 14-16in
Hardiness: USDA Z3
Good for: Ground cover
For anyone looking for striking white garden ideas, 'Bressingham White' is one of the brightest types of bergenia. Prolific white flowers open on amber stems in mid-late spring, blushing as they age. They are held above bold green leaves, which set off the flowers very effectively.
2. Eden's Magic Giant
Height: 20-24in
Hardiness: Very hardy, USDA Z4
Good for: A bold presence
'Eden's Magic Giant' is a dramatic choice for those with adventurous garden color schemes in mind. This is one of the best bergenias for color contrasting. Red stems emerge between large leaves to carry prolific, frilly-looking pink flowers in mid-late spring, and sometimes also in early summer.
3. Britten
Height: 15-18in
Hardiness: Very hardy, USDA Z4
Good for: Border fronts and containers
'Britten' is one of the most reliable bergenia varieties for container gardening with impact. These pretty, starry white flowers are reddish in their centers. They open from early-late spring above red-edged foliage that turns completely red through winter.
4. Morgenröte
Height: 14-16in
Hardiness: Very hardy, USDA Z4
Good with: Ornamental grasses and sedges
Lovers of ornamental grasses will find 'Morgenröte' an ideal planting partner. Its small, neat, dark green, prettily crinkled foliage sets off the rich pink spring flowers on red stems. These are also amongst the best bergenias for producing a second crop of flowers in summer.
5. Eroica
Height: 14-16in
Hardiness: Very hardy, USDA Z4
Good for: Impressive flowers and effective impact
If you are fond of dramatic flowering evergreen color like that of pieris, then 'Eroica' is amongst the most vivid types of bergenia you can grow. Unusually long-lasting pink flowers are held clear of the foliage on tall, red-tinted branched stems above reddish purple leaves.
6. Silberlicht
Height: 12-14in
Hardiness: One of the hardiest, USDA Z3
Good with: Blue scillas
'Silberlicht' (aka 'Silverlight') is one of the most delicate-looking bergenia varieties you can grow. Following green winter foliage, white flowers are set in red buds, making a sparkling color contrast. They open in early-late spring, blushing as they mature.
7. Eric Smith
Height: 12-16in
Hardiness: Very hardy, USDA Z4
Good with: Double-flowered snowdrops
Anyone with a fondness for rich autumn color and winter drama in their plants will appreciate 'Eric Smith'. This is amongst the finest bergenia varieties, thanks to beetroot-red winter leaves which shine in the low winter sun and glow against the snow. It also carries coral pink flowers on noticeably upright stems.
8. Sunningdale
Height: 12-15in
Hardiness: One of the hardiest, USDA Z3
Good for: Full sun
Chocolate lovers will delight in the foliage possible with 'Sunningdale'. This is one of the most varied types of bergenia. Through fall and winter, large rounded leaves turn bronze red, and sometimes bright red below. This is coupled with mauve-red spring flowers. Ideal for south-facing garden ideas, this plant is an old favorite and still impressive.
9. Tubby Andrews
Height: 12-14in
Hardiness: Very hardy, USDA Z4
Good for: Spectacular winter features, containers
Anyone after striking winter plants for pots will love 'Tubby Andrews'. With its rich green foliage irregularly splashed in yellow and pale green, it is also one of the best bergenias to grow if you want pink flowers in early spring. These sometimes come back again in early fall.
10. Wintermärchen
Height: 14-16in
Hardiness: Very hardy, USDA Z4
Good for: Showing off flowers above foliage, containers
Another pretty choice for winter garden ideas and container planting is 'Wintermärchen' (aka 'Winter Fairy Tales'). This is amongst the finest types of bergenia for its dark green leaves and red undersides, and the whole plant turns rich red for winter. Dark pink flowers are held above the leaves in early to mid-spring.
11. 'Ballawley'
Height: 24in
Hardiness: USDA Z4
Good for: Dramatic impact in shelter, ground cover
One of the best bergenias for drama, 'Ballawley' is distinctive for its large plants and leaves up to 12in across. They carry flamboyant spikes of reddish pink flowers in late spring. These types of bergenia are spectacular as specimens, or in drifts when grown in a large garden.
12. Bressingham Ruby
Height: 12-14in
Hardiness: Very hardy, USDA Z4
Good for: Partnering with spring bulbs and evergreen sedges
For vivid color contrast with your bulbs, try 'Bressingham Ruby'. These bergenia varieties offer unusually compact growth. The dark green leaves have crimson-purple undersides and turn rich red in winter. This is followed by ruby-pink flowers in spring.
13. Irish Crimson
Height: 10-14in
Hardiness: Less hardy than many. USDA Z6
Good for: The front of shady patio borders, with dwarf bulbs
Superlative foliage color doesn't come much more intense and dramatic than 'Irish Crimson'. Perfect for shady garden patio borders, these types of bergenia have small, neat green leaves that stand upright like sails. They turn maroon through winter, showing off their vivid pink spring flowers very effectively.
14. Pink Dragonfly
Height: 12-15in
Hardiness: Very hardy. USDA Z4
Good for: Ground cover in small spaces, containers
For those looking for a combination of white and rich tones in one of the most reliable bergenia varieties, try 'Pink Dragonfly'. Prolific, dark-eyed flowers open in blushed white, then develop richer tones as they mature, all set against neat green leaves that redden for winter. Ideal for outdoor planters and containers.
15. Rosi Klose
Height: 12-14in
Hardiness: Very hardy, USDA Z4
Good for: Dense ground cover, even in dry shade
Our final selection for the best bergenias is also a perfect option for those looking to grow shade plants – and even works for dry shady spots. 'Rosi Klose' is tough and reliable. Upright stems show off rosy pink flowers above unusually large and impressive foliage.
Why might certain types of bergenia not flower well?
If you have problems growing bergenia varieties that flower well, it could be a black vine weevil problem. Black vine weevils are ginger-headed grubs that curl up when disturbed and eat through the fat bergenia roots without you noticing. The adults (small black beetle-like creatures) bite notches out of the edges of leaves. A plant will soon be starved and look unhealthy, and pieces may break off where it has been eaten through.
Dig up part of the plant, and if you find even one weevil grub, treat the whole area with Triple Blend Mix Nematodes from Nature's Goodguys – a safe treatment for black vine weevil. Alternatively, dig up the whole plant and discard it. Do not put it on the compost heap or dump it in an out-of-the-way part of your yard.
Can I plant bulbs with ground-covering bergenia?
When spring bulbs are planted amongst many types of bergenia, they have a knack of sneaking through the bergenia leaves and opening their buds. This is made easier because although most bergenias are evergreen, only the youngest leaves stay alive all winter, and the older kinds die off in the fall. This means foliage is at its least dense in early winter and spring.
Three types of bulbs are especially good for growing with bergenias. The pure white flowers of snowdrops, especially double-flowered varieties, are lovely amongst the deep red foliage. Then there are crocuses, especially the more delicate-looking varieties of Crocus tommasinianus. Finally, you can try a dwarf spring bulb with ice blue flowers and an almost impossible name: Scilla mischtschenkoana.
Are any types of bergenia deer resistant?
If you are looking for deer-resistant plants, many types of bergenia are strong options. The New Jersey Agricultural Experiment Station has consulted a wide range of horticulturalists and researchers to identify the plants deer most like to eat – and those they rarely touch. They rate bergenias as 'Seldom Severely Damaged', the second most deer-resistant category. However, sometimes deer turn to bergenias if something more palatable is not available. Installing a fence (or regular use of deterrents) is recommended to protect even the best bergenias.
---
As the American Horticultural Society in its Encyclopedia of Perennials (available on Amazon) points out, most bergenia varieties are easy to grow and will succeed even in demanding areas of dry shade, noting: 'selections for winter foliage color up best if grown in poor soil, in open, exposed positions'.
So whether you are after cheerful spring blooms, vibrant winter foliage or both, bergenias offer a wide range of choice.
Sign up to the Homes & Gardens newsletter
Decor Ideas. Project Inspiration. Expert Advice. Delivered to your inbox.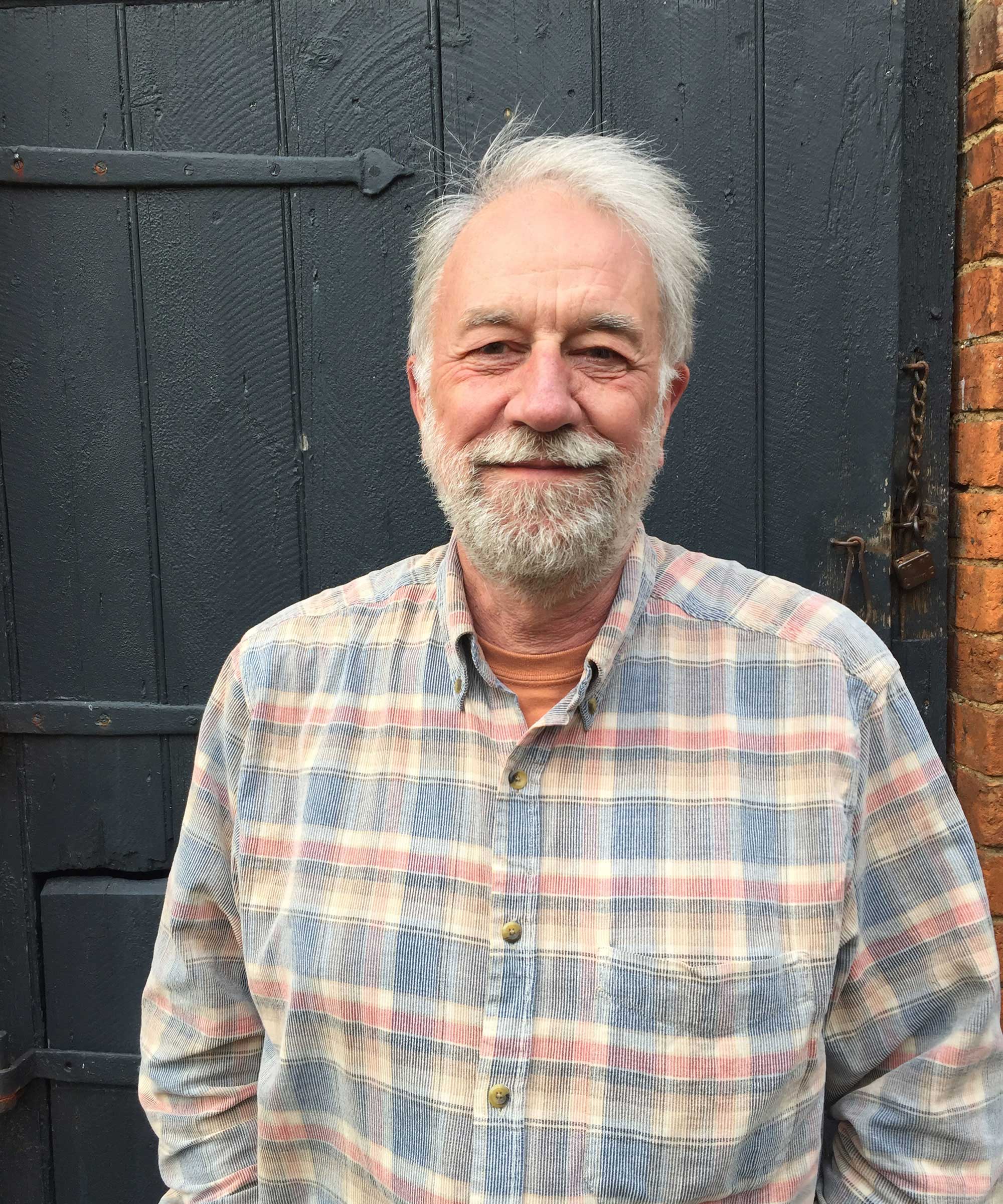 Graham Rice is a garden writer who has won awards for his work online, and in books and magazines, on both sides of the Atlantic. He is a member of a number of Royal Horticultural Society committees and the recipient of the 2021 Garden Media Guild Lifetime Achievement Award. He gardened in Pennsylvania for 20 years, but has recently returned to his native England.