When to transplant peonies – what is the best time to move these precious plants?
Lifting and moving peonies can be done, but when, and how?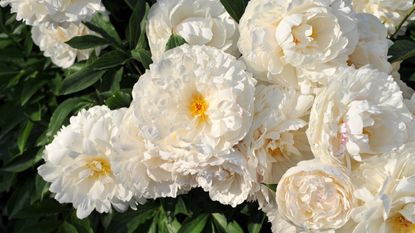 (Image credit: Getty Images/brytta)
Sign up to the Homes & Gardens newsletter
Decor Ideas. Project Inspiration. Expert Advice. Delivered to your inbox.
Thank you for signing up to Homes & Gardens. You will receive a verification email shortly.
There was a problem. Please refresh the page and try again.
Peonies may have a short blooming season but their large and colorful flowers are a perennial favorite of gardeners around the world. They are plants that can live happily in the same spot for years but, if the need does arise to move them, when is the best time to transplant peonies?
If you are growing peonies and do want to transplant them then it is best to do it in fall when they are going dormant, to lift them with as much dirt as possible on the root ball, and to plant them again at the right depth.
We are discussing transplanting herbaceous peonies that can be lifted and moved around the garden successfully, rather than tree peonies that are much more difficult to relocate and do not respond well to being transplanted.
When is the best time to transplant peonies
Peonies are herbaceous perennial plants that can provide gorgeous displays of large blooms year-after-year as part of any backyard ideas. The time for planting peonies is either in late fall for bare root plants, or spring for potted peonies. It can take a few years for the plants to get fully established in their space and get into their groove of putting out stunning bowl-shaped flowers.
However, there may come a time when you do need to move peonies. You may have some new backyard landscaping ideas that need plants to be relocated, large trees that now shade what was a sunny spot in the yard, or you may be putting up a pergola or backyard greenhouse that requires a slight rejig of the garden.
It could also be that, after years growing in their spot, the time has come to lift and divide peonies to create clumps of new plants for other areas. So when is the best time to transplant peonies?
The common thought among horticulturalists, and one you hear said often, is that peonies do not like to be disturbed and moved. However, Graham Rice, a vastly experienced gardener, claims this belief 'is a myth'. He does offer some words of advice to anyone thinking of moving and transplanting peonies at home.
He says: 'It is important to move them in fall and to ensure that as much dirt as possible stays on the roots. This can be difficult as there are few fine roots to hold the soil. Moving peonies in spring is usually the cause of poor growth after transplanting.'
September to November represents the best window for transplanting peonies, when the plants are starting to enter their period of dormancy. It may be possible to move peonies in the spring, before they have started to grow again, however this is more likely to stress the plant and could cause peonies to not bloom for many years. Any transplanted peonies will not flower properly in the first spring after being moved and it may take a few years to get back to its full blooming potential.
Peonies are deep rooted plants and not suited to being grown in pots long-term. You can grow peonies in pots for a few years before considering transplanting them into a flower bed one fall.
Graham Rice is a garden writer who has won awards for his work online, and in books and magazines, on both sides of the Atlantic. He has been the Gardening Correspondent of two national newspapers in Britain, published more than 20 books, and has written for Organic Gardening magazine, The American Gardener, Fine Gardening and Amateur Gardening. He is the recipient of the 2021 Garden Media Guild Lifetime Achievement Award. For many years he was a judge at the Chelsea Flower Show and is a member of a number of Royal Horticultural Society committees. He gardened in Pennsylvania for 20 years, but has recently returned to his native England.
How to transplant peonies
Cut back the peony stems to an inch or two above ground level and use a garden spade to dig a large circle around the plant. You want to leave a good 12-18 inches around the stems to dig out a lot of soil with the root ball and avoid damaging the peonies' precious roots. Be careful digging and lifting the peony as any damage to the roots will have an affect on how happy it will be after being transplanted.
You want to identify a new planting site that gets at least six to eight hours of sun a day. Peonies want full sun and a well-draining soil. If you are dividing your peony at this point, use a knife to separate the overall clump into sections that each have three-to-five eyes. These eyes are located on the crown and do not ever want to be buried more than two inches deep. Planting peonies too deep will cause them to sulk and never produce the flowers you seek.
John Negus, gardens expert, recommends to 'dig plenty of well-rotted manure or garden compost into the bottom of the hole and mix with the soil that will be used for back-filling' to boost the structure and fertility of the soil at the new planting site.
He says: 'Make the hole wide enough to take the root ball comfortably, and if the soil is quite compacted, loosen it slightly to help the new roots to spread. Lift the peony carefully, retaining as much of the root ball as possible, and replant it immediately.
'Ideally the crown of an herbaceous peony should be no more than one inch below soil level otherwise they might fail to flower. After planting sprinkle bone meal (bone meal is available at Burpee) around the crown and lightly incorporate into the soil without damaging the roots.'
Water the newly-transplanted peony in well and then apply a thin layer of mulch around it in late fall. Such mulching materials can include homemade compost, leaf mold, or straw. This can help to protect the peony from the winter elements, but do not mulch over the crown itself and avoid burying the peony too deep.
John has been a garden journalist for over 50 years and regularly answers readers' questions in Amateur Gardening magazine. He has also written four books and has delivered many talks over the years on horticulture.
FAQs
Do peonies multiply?
Peonies are not plants that spread themselves around the garden to create new plants. You need to lift and divide existing clumps of peonies to increase their numbers. Another option to get more plants is to harvest peony seeds and sow them undercover to grow new ones. This means you need to refrain from deadheading peonies completely, leaving one or two blooms for the purpose of collecting seeds. The alternative is to buy new plants, for example take a look at the range of peonies available at Nature Hills.
---
Transplanting peonies may come with an element of risk and you do need to accept you may not have the same show of flowers for a few years. To promote healthy growth and the onset of flowers, remember to fertilize peonies each spring with a general purpose balanced feed and spread a layer of mulch annually.
Sign up to the Homes & Gardens newsletter
Decor Ideas. Project Inspiration. Expert Advice. Delivered to your inbox.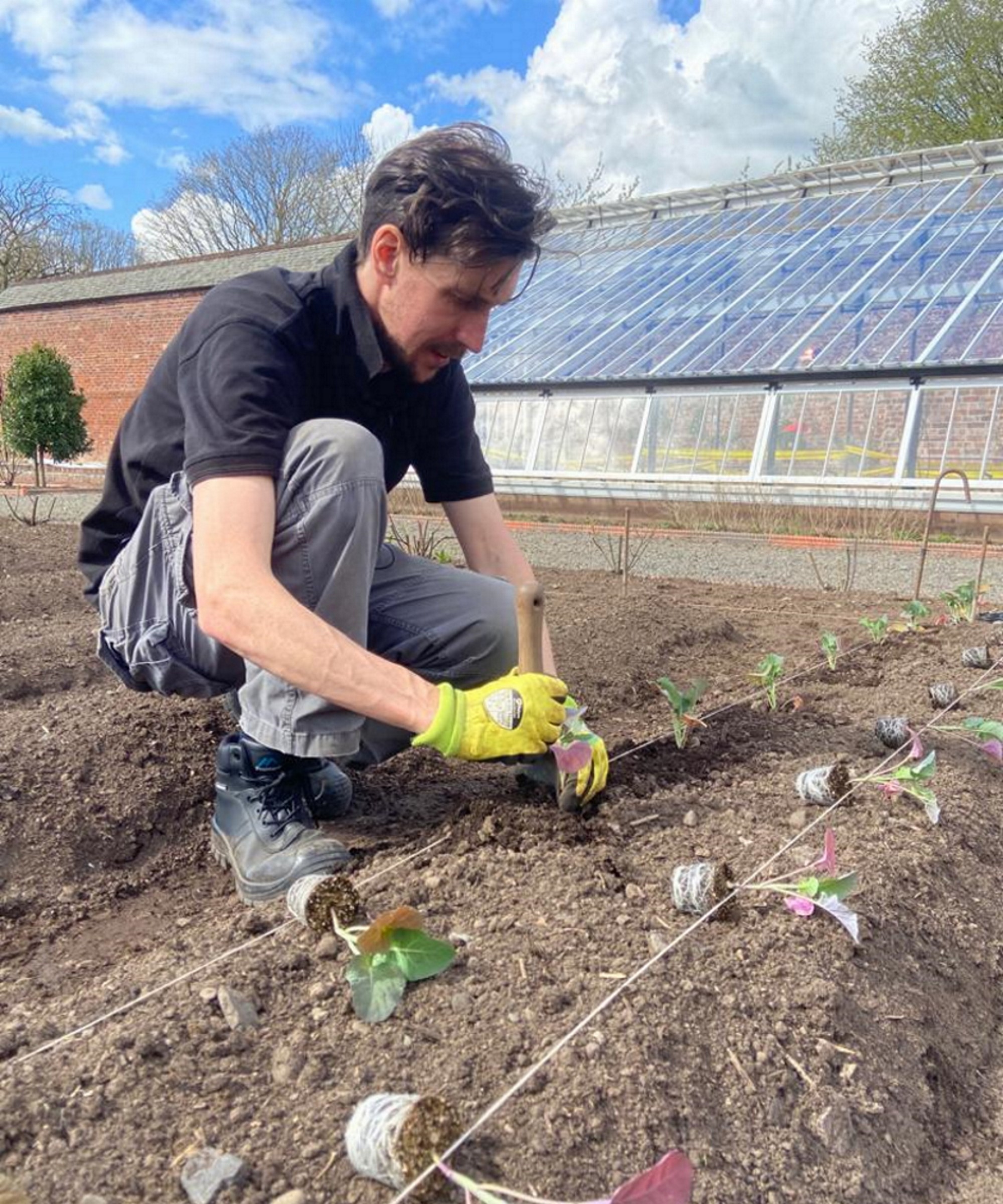 Drew's passion for gardening started with growing vegetables and salad in raised beds in a small urban terrace garden. He has gone on to work as a professional gardener in historic gardens across the UK and also specialise as a kitchen gardener growing vegetables, fruit, herbs, and cut flowers. That passion for growing extends to being an allotmenteer, garden blogger, and producing how-to gardening guides for websites.