5 design secrets to borrow from a Cambridge kitchen that blends modernity with nature
Practicality and contemporary aesthetics come together in this open-plan kitchen by London designers Roundhouse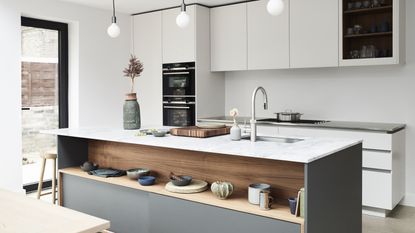 (Image credit: Roundhouse)
With its long and illustrious history as a university site, England's Cambridge is a place where old meets new, and natural beauty spots bump up against the bustle of a working city.
Inside one of its homes, design agency Roundhouse was charged with creating kitchen ideas that would bring together all of these disparate elements in a redesigned space.
'This was the second kitchen we specified for these clients,' explained Roundhouse designer Oli Moss. 'Having previously designed a kitchen for their property in London, we had the advantage of more space when it came to designing this kitchen for their home in Cambridge. However, the clients wanted its layout designed in a similar vein – an open-plan kitchen backed onto the living area.'
Moss gave us a tour of the kitchen, and showed us how the team built a kitchen that is at once sleek and contemporary but also livable and grounded in nature.
1. Blur the lines between kitchen and living space
Building the relationship between the kitchen and adjacent living space was more about unity for Roundhouse than division. 'The lines between kitchen and living space are becoming more and more blurred,' said Moss. 'Kitchen designers have to think about how the client will use the space, not only for cooking.'
'To ensure the two spaces integrated seamlessly with one another, we made the island a feature as if it were a piece of furniture, while the white kitchen cabinetry on the back wall disappear into the background,' Moss said of the open-plan kitchen ideas. The island acts as a shared focal point for both areas, making it feel as much part of the kitchen as it is the living room, therefore bringing the two zones together.
2. Use natural textures to soften modern edges
'People often think that contemporary kitchens should be glossy white boxes, but that doesn't always have to be the case,' said Moss. 'This design is a prime example of how a contemporary kitchen can be softened with the mixing of materials, colors, and textures.'
Wooden elements are peppered throughout the modern kitchen ideas, from the door to the floor, the bar stool to the shelves in the island, integrating soothing natural elements into the space. 'Although this is a contemporary kitchen with clean white cabinetry and stainless steel worktops, the darker tone of the island mixed with a natural stone work surface and elements of timber give the space warmth.'
3. Use your island to display as well as hide
'Making the island feel like a piece of furniture rather than a solely utilitarian structure was important,' said Moss. Most islands already serve multiple purposes, but the kitchen island ideas in this instance take that one step further.
Not only does it serve as storage, worktop and sink space, but the open shelving allows it to become a decorative piece that displays character and personality, as well as hiding away mess. The shelf, with a back and ledge in two different wood tones, holds numerous beautiful pots and decorative objects in natural textures and materials.
4. Build a variety of textures to add visual and tactile interest
Natural or otherwise, creating a kitchen with character is always about layering up on a variety of textures. 'This kitchen is a great example how a contemporary design can be created using a mix of materials,' said Moss. 'Two different matte lacquer paint finishes on the cabinetry and island, two worktops – stainless steel and bianco eclipse quartzite – and timber detailing in the island.'
The stainless steel kitchen countertop speaks of the utility of professional kitchens, while the quartzite channels luxury, communicating that this is a space to be both used and admired.
5. Choose handleless cabinetry for a sensation of seamlessness
The layout's notion of uninterrupted flow between spaces is carried through into the kitchen cabinet ideas. The white cabinets and drawers may be broken up with moments of wood and dark grey throughout the kitchen, but within their own domain their simple, handleless fronts allow for seamless transition from one to the other. A glass-fronted cabinet at the end of the top level gives the impression of lifting a veil, and giving a glimpse of what's behind.
Interior design / Roundhouse
Ailis started out at British GQ, where a month of work experience turned into 18 months of working on all sorts of projects, writing about everything from motorsport to interiors, and helping to put together the GQ Food & Drink Awards. She then spent three years at the London Evening Standard, covering restaurants and bars. After a period of freelancing, writing about food, drink and homes for publications including Conde Nast Traveller, Luxury London and Departures, she started at Homes & Gardens as a Digital Writer, allowing her to fully indulge her love of good interior design. She is now a fully fledged food PR but still writes for Homes & Gardens as a contributing editor.