This fascinating, colorful Harlem house is home to 10,000 books, and a literary couple
For literary couple James Fenton and Darryl Pinckney, a Harlem house proved the ideal backdrop to their books and treasured antiques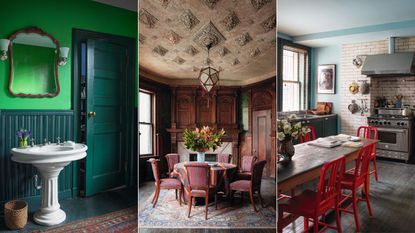 (Image credit: Stephen Kent Johnson/Otto)
When British poet James Fenton and American writer Darryl Pinckney found their 1890 house in New York's Harlem, their challenge was not only to breathe new life into its dilapidated interiors but to work out how to best accommodate their books.
'I'm told we've amassed more than 10,000, but I can't say I've ever counted,' says James.
The couple, who has taken decorating with books to a whole new level, moved out of their Washington Heights apartment nearby when it became clear that their ever-growing collection showed little sign of slowing pace.
'When books feature in a scheme for decorative purposes they do add a certain warmth,' says James. 'However, our collection is also a working reference library, so we needed a different approach. They are organized alphabetically, by subject and language, across several rooms, so we had to accept that tall books would sit next to short, skinny with fat.'
And the story of the house is equally rich. Built by Boston artist Frank Hill Smith for John Dwight, co-inventor of Arm & Hammer baking soda, the property had a chequered history by the time James and Darryl chanced upon it 12 years ago.
Despite this, their books add a sense of grace to these rooms. Housed partly in Vitsœ's iconic shelving system, the couple's books represent a lifetime of academia.
'At that point, it was on the verge of being bought by a developer after stints as a school, synagogue, community art center and, latterly, bedsits,' says James. 'Although neither of us were in the market for an historical renovation, that's what we took on.'
Behind its bow-windowed façade sit four oval rooms, one on top of the other, attached to a rectangular building with a 1920s addition. Stained-glass windows, ornate wood carved doors and stucco ceilings had long been obscured by partition walls or wallcoverings.
But with the help of architect Samuel G White, former assistant professor of Fine Arts at New York University, the house was slowly returned to its near-original state.
'We wanted an architect who could see the point of saving all this fine detailing,' says James. 'Another breakthrough came when we were sent pictures of the house by the descendants of its first owner. Dated 1925, the photographs showed how the interiors once looked.'
Now, the rooms have been returned to their original configuration, with a nod to modern living (the former billiard room is now a dining room leading to a kitchen).
'We added our own layer to this home by commissioning a series of friezes inspired by Moroccan mosaics and Renaissance carvings.'
Stone-effect painted hallway walls and faux bois friezes have been added by artist Jane Warrick and rooms have been treated to rich jewel tones, from emerald green and sunshine yellow to deep red and bright blue. All of these throw the original features into a fresh, new context.
The pair say further concessions to modern living may be required – not least the addition of air-con – but for now they are content to enjoy its rarefied atmosphere.
'It's an ideal home for two writers,' says James. 'We can easily get our hands on any book we need and there's room to read, write and reflect.'
■ I Can See A Room: Classic Essays in Interior Design edited by James Fenton is out in 2023 (FSG); Come Back In September by Darryl Pinckney (FSG/Picador UK) is currently on sale
Sign up to the Homes & Gardens newsletter
Decor Ideas. Project Inspiration. Expert Advice. Delivered to your inbox.