Tour the Yankee Candle Founder's estate – it's better than Disneyland
The estate has been described as 'like having Disneyland in the backyard' and has been listed for $23 million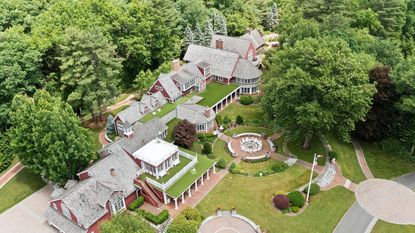 (Image credit: Douglas Elliman Realty)
Once the site of an three-bedroom Colonial home, a 60-acre portion of the estate previously owned by the late Yankee Candle founder Michael Kittredge has been listed for $23 million. And it boasts an indoor water park, arcade, tennis courts, and a concert hall.
Known for his generosity, Kittredge designed the compound to entertain his close friends and family, having bought the original home and surrounding land in 1984. The home is now indisputably one of the world's best homes and has now been divided up for sale, with a separate 10-acre plot with an 8,500-square-foot home and a guesthouse independently listed and an apple orchard offered for independent sale too.
Here, we take a tour of the main estate, also known as 'the compound'.
The Main House
The main home has been renovated multiple times throughout the Kittredge family's ownership of the estate but now boasts six bedrooms, six full bathrooms, and five half bathrooms spread over the living space.
The home also offers seemingly unlimited fireplace ideas with the main home alone featuring 11 fireplaces. The home was built with only the finest of materials to allow Kittredge's guests to stay in the utmost luxury. As a result, no expense was spared.
Far from your standard family room ideas, the great room stands three stories tall with its own balcony and atrium-like ceiling.
If this is too large for you, there is a separate pine-panelled living room with bespoke built-ins for more intimate nights with friends and family.
The perfect place for entertaining, the home was fitted with not one, but two kitchens both of which are commercial grade spaces. One of the kitchens in the main home features five kitchen islands in one space.
Kittredge was infamous for once spending $20,000 on a bottle of wine, so it is no surprise that the home also features its own wine grotto for large-scale entertaining.
Kittredge famously hosted Christmas parties for more than 400 people, held galas and fundraisers on the estate as well as concerts headlined by the likes of the Doobie Brothers, KC, and the Sunshine Band amongst others. The estate was never quiet.
The gardens
Outside of the main home, the wonders continue.
If you follow the garden's paths you will find numerous ponds, garden fountain ideas, waterfalls, and flower gardens that connect the main home to its many additional amenities.
While many of us may have guest bedroom ideas in our homes, the Kittredge estate offers multiple guest houses in the grounds as well as several staff homes. These additions bring the total bedroom count for this portion of the property to 16.
The outside amenities are just a taster of what can be found inside the remaining complex. Three outdoor tennis courts and a luxurious T-shaped pool with an expansive deck and fully equipped cabana offer both relaxation and athletic fun.
Leading on from the outside luxuries, a complete nine-hole golf course sits on the estate too.
The Entertainment Compound
When the entertainment complex becomes too much, the compound boasts a fully equipped 55,000-square-foot spa fitted with multiple massage areas, saunas, and a steam room.
Continuing the outdoor athletic amenities, the indoor complex adds further additional home gym ideas and an indoor tennis court with stadium seating.
Perhaps the most eccentric addition to the property is a state-of-the-art, 4,000-square-foot outdoor stage arena with a custom 25-foot oak bar idea.
Inside, there is a further auditorium for entertainment.
This should not be a surprising addition from the man who hired a Yankee Candle employee to slide down one of the many chimneys each year dressed as Santa Clause to surprise his children - Kittredge certainly had a flair for theatrics.
A two storey arcade is yet another whimsical addition to the compound. With a three-lane bowling alley taking center stage, games include traditional arcade machines, pinball machines and slots.
The star of the property is an indoor waterpark.
The spectacular park, modeled after the Bellagio in las Vegas is complete with palm trees, waterslides, and multiple pools.
Finally, two large garages offer plenty of space for high-end fast-speed toys and vehicles.
The property is situated in an isolated town in Massachusetts that is home to only 2,000 residents. The sleepy surroundings of the compound makes the elaborate property that much more magical.
The home was renovated continuously from its initial purchase date until 2012, when Kittredge suffered a life-changing stroke.
The listing is held by Johnny Hatem Jr. of The Sarkis Team at Douglas Elliman (opens in new tab).
Source: TopTenRealestateDeals.com (opens in new tab)
Chiana is a junior writer for Homes & Gardens having joined Future plc as a new graduate in 2022 after achieving a 1st class degree in Literature at university. She first became interested in design as a child after spending her summers helping her parents redecorate her childhood home. As a long-time reader of Future's homes titles, Chiana is constantly finding new inspiration at work as she focuses on emerging trends, how-to's, and news pieces.