How to make a bed look more expensive – 5 ways to elevate your sleep space
Designers let us in on the secrets to creating that lush hotel look at home...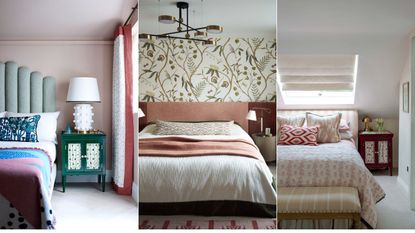 (Image credit: Mary Wadsworth)
Sign up to the Homes & Gardens newsletter
Decor Ideas. Project Inspiration. Expert Advice. Delivered to your inbox.
Thank you for signing up to Homes & Gardens. You will receive a verification email shortly.
There was a problem. Please refresh the page and try again.
Nothing beats a hotel bed. The plush mattress, the softness of the duvet, the seemingly never-ending amount of pillows. It's something we lust after every time we get back from vacation, but how can we create that hotel bed set up at home?
It can actually be pretty simple, just a few tweaks and simple switches can upgrade your bed and make it look 100% more luxurious and expensive. It's all about the layers to create that sumptuous aesthetic, and getting the right sheets to create that soft and clean look that synonymous with hotel bedrooms.
We asked designers what their top tips are when styling a bed to top bedding hotels use, and how to create a setup that rivals your favorite vacation sleep spaces...
5 simple tips for making a bed look more expensive
If you want to make a bedroom look expensive, it is important to think cleverly about your existing bed ideas. Where budgets permit, redesigning your bed is an often-overlooked design intervention. Done well and the result can be a lasting design legacy; one that can make a home look expensive.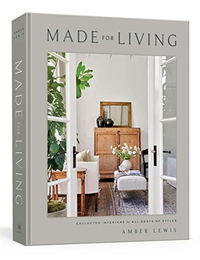 Made for Living: Collected Interiors for All Sorts of Styles, Amber Lewis | From $24.58 at Amazon
This national best-seller is a success for a reason: within the pages, interior designer Amber Lewis shares her most revered design secrets and expert know-how.
1. Think about layers and texture
This is the key. If you want to give your bed a more luxurious, expensive feel you need to get layering. Think about the best beds you've ever slept in, we bet none of them have had just one comforter and a single pillow. Rhiannon Johns, Interior Designer at Piglet in Bed puts it perfectly:
'A scarce bed consisting of just a duvet cover and one pair of pillowcases is reminiscent of a boy's university room. For a luxurious bed that looks expensive, you'll want lots of layers. A flat sheet under the duvet cover adds an extra textural flair and can be used to add a pop of color if you prefer a neutral-colored duvet cover. As for pillows, start with two large square pillows at the back, then add two pairs of standard-sized pillows, and finish with either a super king pillow across the front or alternatively scatter cushions. Drape a throw over the end of the bed in the colder months for extra warmth and luxury.' Sounds dreamy.
Designer Marie Flanigan agrees an expensive-looking bed is all about the layers. 'The key to making bedding look more luxurious is to incorporate beautiful layers. A well-appointed and textural bed is always inviting after the end of a long day. My method for making a bed includes choosing a nice set sheet to provide a neutral foundation. Then, layer in a maltase coverlet in a solid color or understated pattern with matching king or queen shams depending on the bed size.'
'I also like to include a duvet at the end of the bed, often in soft linen. Lastly, I like to keep the decorative pillows simple with a single lumbar pillow for visual impact. If you're looking for one more layer, you can always add a textured throw blanket on top which can be changed out seasonally.' she suggests.
2. Go for a neutral base (you can always add color with accessories)
Neutrals always bring a calming vibe to a room, and they always look chic and sophisticated. So stick with this softer color palette – creams, whites, and soft greys work best. And layer them up for a tonal effect that will add interest and depth. You can always introduce some subtle patterns or hints of paler colors too. As Rhiannon mentioned it can be nice to choose a patterned flat sheet so you get that hint of a print, but it doesn't interrupt the simple scheme – a neutral gingham or classic stripe are our favorite options.
'To make your bed more inviting and luxurious, you can't beat classic crisp white bedding.' says designer Naomi Astley Clarke. '100% cotton is a timeless favorite, as it creates that perfect 'crisp hotel bed' feeling whilst also providing a neutral base for cushions and throws. To dress the bed, layer natural fabrics such as cotton, linen, and wool depending on the season to create a cozy, relaxed look.'
'I love crisp, white bed linen for its timeless and elegant look that complements most color schemes,' adds designer Irene Gunter. 'However, there are cases where a softer shade of white or a muted color would work better, especially in moodier schemes where the contrast is too harsh.'
'When choosing a muted color, avoid regular cotton bedding as it may fade over time, giving it a worn and old appearance even if it is relatively new. During colder months, opt for brushed cotton instead, which is more durable than regular cotton due to the brushing process. For warmer months, invest in quality linen, a lightweight and breathable material that helps keep you cool. And always request a sample of the bed linen fabric so that you can assess its color. This is particularly crucial when making purchases online, as the color and texture of the fabric might differ from what is seen on the screen.'
3. Ditch the myth of thread counts and opt for slubby materials
Not so long ago, thread counts for bed sheets were the way to judge the quality of your sheets. But now new manufacturing techniques allow for high-thread counts, denser sheets but not necessarily amazing quality. So ditch the idea of thread counts, and when choosing the best bed sheets, look to the material instead.
Pure cotton sheets are a dream if you like that very crisp feel, but they are high maintenance to care for and will need ironing if you want your bed to be looking at its best. So for a more laid-back look, that still looks chic and expensive, switch to linen.
'When it comes to your bedsheets, while a high thread count cotton has typically been viewed as the luxurious option, these are now quite dated and have been replaced with rustic, natural linen bedding,' suggests Rhiannon. 'Linen has a wonderful textured look and not only does it look beautiful, but it's also breathable, cozy, soft, thermoregulating (meaning it's good for all seasons) as well as sustainable to produce. It's an investment that will last you for decades, meaning it can be passed down through generations.'
4. Don't scrimp on the amount of pillows
Even if you don't need too much support when you sleep and just prefer one pillow, you still should go with two sleeping pillows (four in total). You want that plush height that a couple of pillows give, plus they give you a nice... wall, let's call it, for your throw pillows. Be sure to choose the best pillows for your sleep style, but again if you like a flat pillow, go with one pillow for sleeping (the flat one) and one pillow for aesthetics.
When it comes to throw pillows, don't go overboard. You want that nice layered look we've been talking about, but don't want the faff of having to arrange them every single morning, so just stick with a couple of larger pillows, a couple of accent pillows, or a bolster pillow. And always keep things symmetrical.
'For a great elevated look, place your pillows on the bed with the open ends of the pillowcase towards the middle - this way the openings can't be seen from the side' advises Chrissie Rucker, founder of The White Company. 'Small, square cushions are also a fantastically versatile way to elevate your bed. Use them placed squarely on a bed for a simple, tailored look, or mix them with larger cushions to give a layered effect.'
5. Add a luxurious headboard
'Whenever possible, I love to incorporate a beautiful, bespoke headboard upholstered in a fabulous fabric that injects pattern and color into the space,' suggests Irene Gunter. 'When designing a headboard, I follow a few golden rules. Ideally, when sitting up in bed reading a book, you want your head to rest on a soft, padded headboard. I always design our headboards with this in mind. I also prefer a more relaxed look, so I avoid headboards that extend three-quarters of the way up a wall, which can look too regal.'
'Another golden rule of mine is to make sure there's plenty of space above the bed if clients want to display a piece of artwork or if they have beautiful wallpaper that deserves attention. Finally, I always incorporate electrics into our bespoke headboards, so clients have access to sockets for their phone or for controlling the lighting from the comfort of their bed.'
FAQs
What's the best material for sheets?
Cotton and linen would be our top choices and they are both natural materials. But the best materials for sheets really depends on what you like to sleep on. Cotton is best for those who like a crisper, satin feel sheet, however not ideal for those who sleep hot, whereas with linen it's far softer, lighter, and absorbable so ideal if you sweat in your sleep.
How do you make your bed look like a hotel?
Firstly, upgrade your sheets. Think about how long your spend in bed, you are sure to get your cost per wear in no time, so invest in the best quality you can afford. Good quality pillows will give your bed that hotel feel too and be sure to add in a couple of larger pillows and accent throw pillows too. A throw and the end of the bed will add a cozy, inviting feel too.
Sign up to the Homes & Gardens newsletter
Decor Ideas. Project Inspiration. Expert Advice. Delivered to your inbox.