Where to put a TV in a bedroom? How to minimize its presence or make it a standout design feature
Get smart with your bedroom TV placement to either cleverly conceal your tech, or turn it into a modern design feature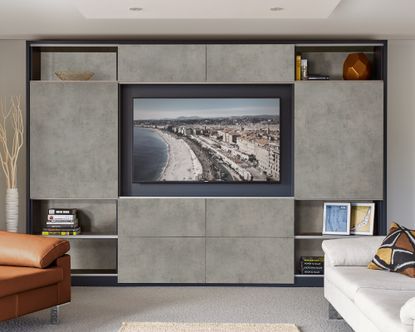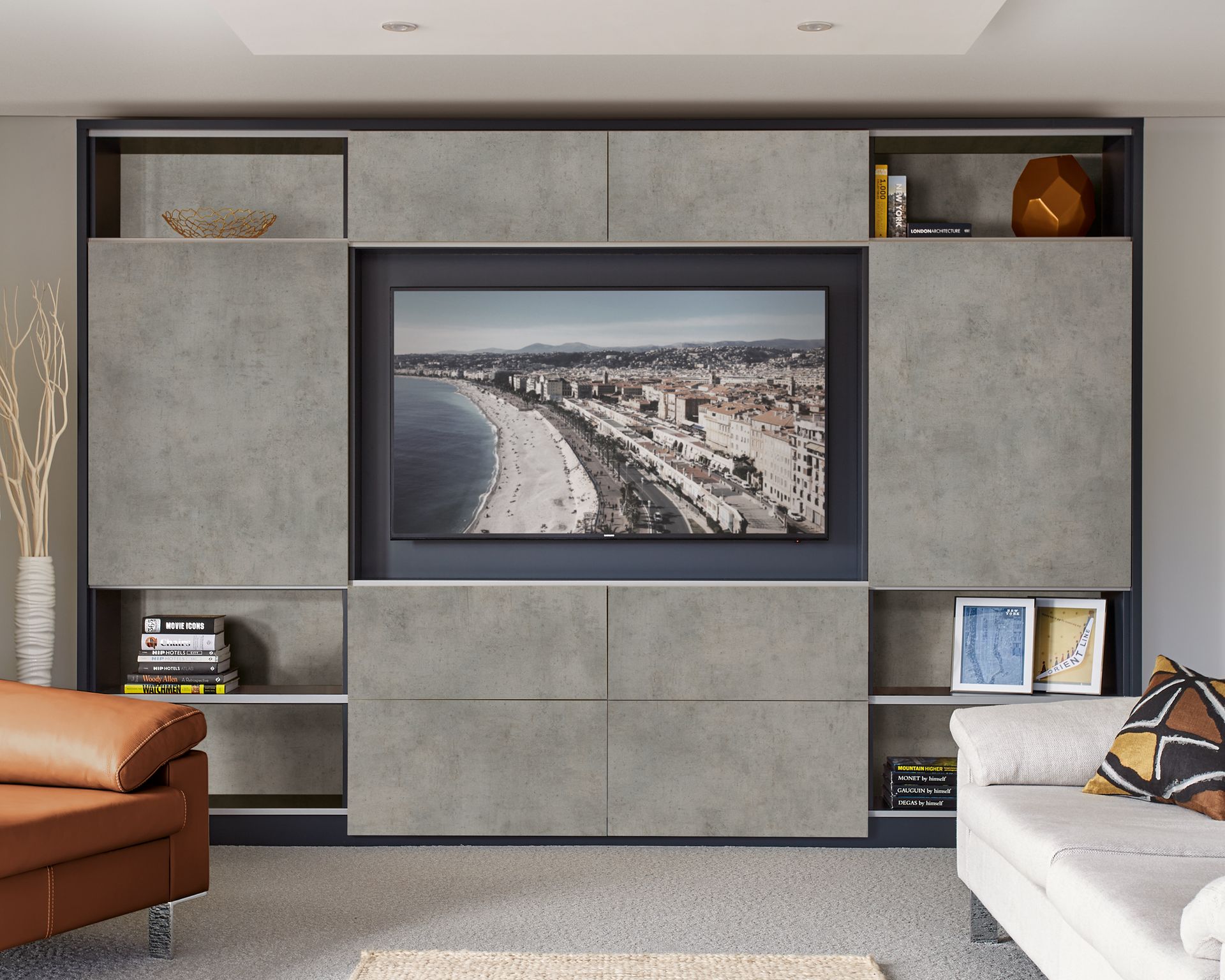 (Image credit: Neville Johnson)
Sign up to the Homes & Gardens newsletter
Decor Ideas. Project Inspiration. Expert Advice. Delivered to your inbox.
Thank you for signing up to Homes & Gardens. You will receive a verification email shortly.
There was a problem. Please refresh the page and try again.
Knowing where to put a TV in a bedroom is essential if you enjoy late-night movie sessions from the comfort of a bed.
Aside from all the fun and games, incorporating a TV into your bedroom ideas requires a deft touch. While settling into the most comfortable room of the house to watch your favorite shows before bed is hugely tempting, you must remember that the bedroom needs to act as a calming space to aid sleep.
This means many people prefer to have a way to conceal a television when not in use, or at least keep its presence reasonably discreet. Alternatively, a bedroom TV can become an integral part of more modern wall decor ideas – having taken the time to find the best TV for your room, then why not show it off? Either way, you'll just need to ensure you get the balance right.
Where to put a TV in a bedroom?
From clever ways to conceal your technology, to methods for turning a TV into a contemporary design feature, we asked the experts for their favorite ways to minimize the presence of a TV, or make it a standout feature.
1. Mount your TV above the fireplace mantel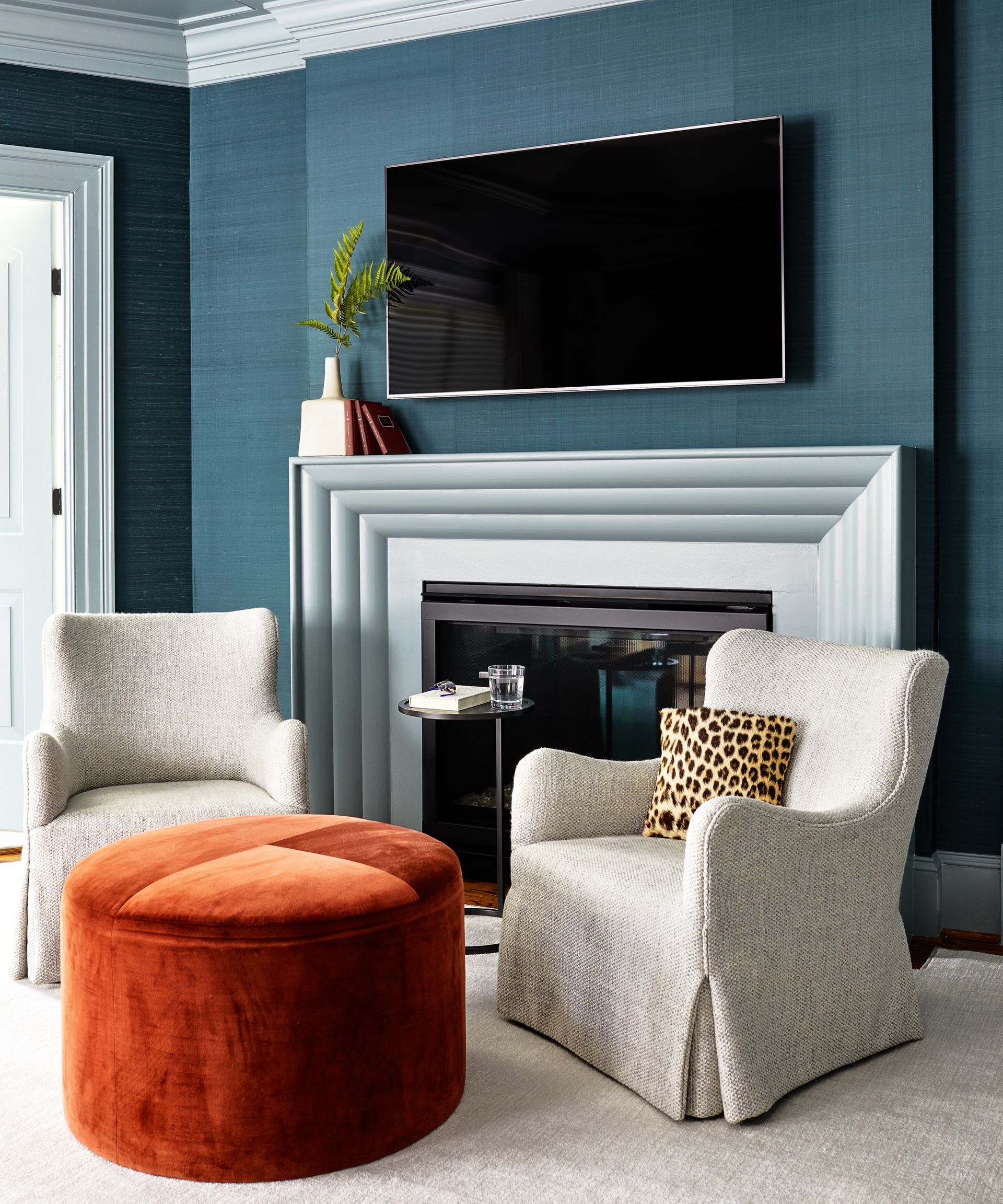 Mounting a TV above a fireplace mantel is a great way to minimize its presence. They provide the perfect framing for a tv that looks intentional and doesn't detract from the beauty of the room.
'Mounting the TV on a wall makes the room feel more spacious and doesn't take up floor space,' says Heather Humphrey, co-founder of Alder & Tweed. 'If the mantel is made of stone or natural materials this will also help the tv blend more seamlessly instead of drawing attention to an empty wall. Placing the TV above a fireplace mantle also ensures it's at a good height and enhances the viewing experience creating a cozy environment with the fire on.'
2. Consider a drop down TV from the ceiling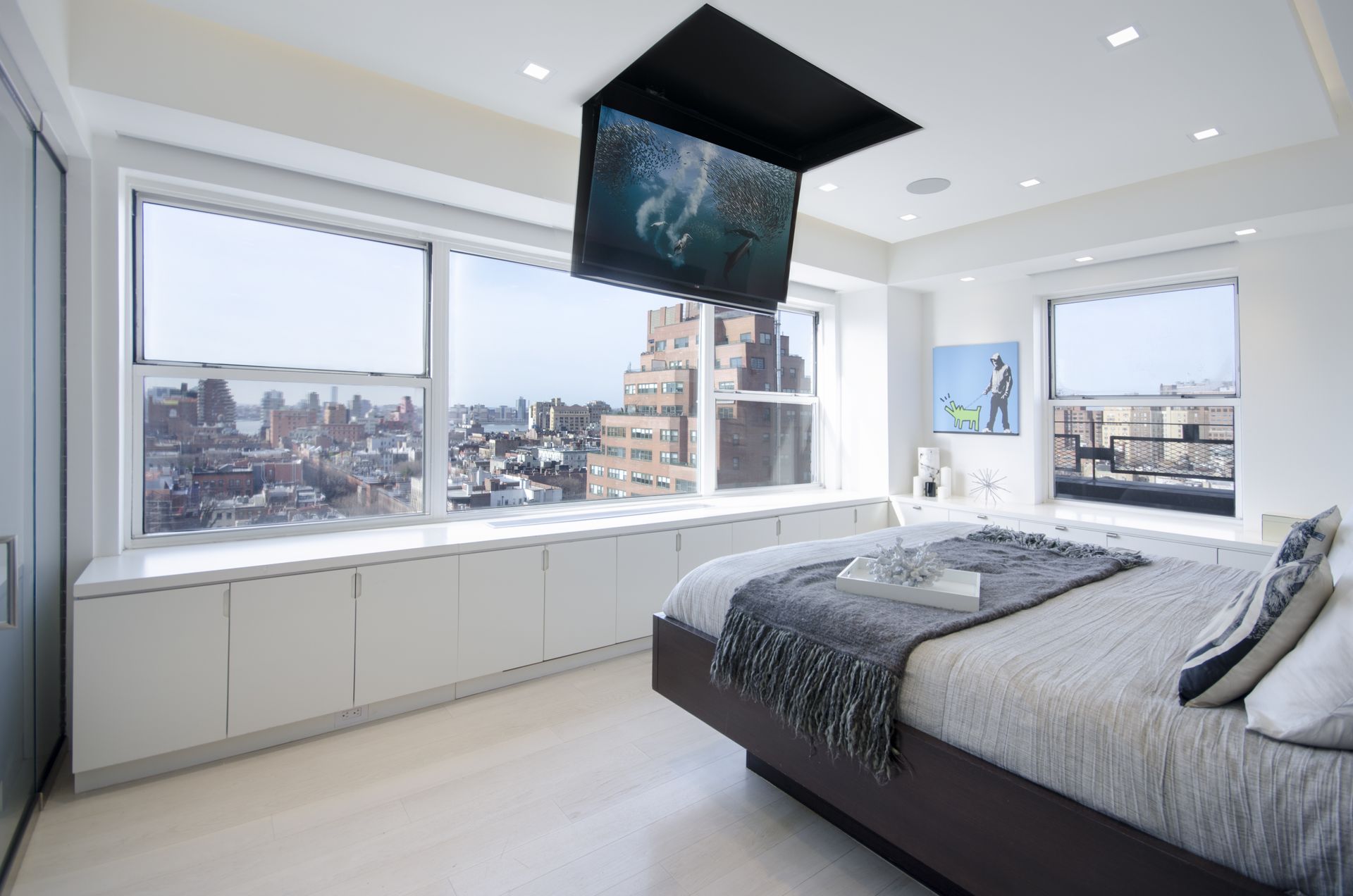 This innovative idea is perfect if you want to hide the TV away without compromising on wall space. Once you've watched your shows it neatly folds back into the ceiling. Matthew Miller, founder and principal at StudioLAB explains:
'A big black static TV screen on a plain wall of a bedroom is not always aesthetically pleasing. I would say we either tend to design "around" a TV or try to hide it. Recessing a TV into the wall is another way to make it look more built-in. Hiding the TV by making it come up from a cabinet or fold down from the ceiling is a nice way to get it out of the room when not in use. Lastly, some very nice-looking new televisions on the market that look less like televisions.'
3. Hide the TV behind closet doors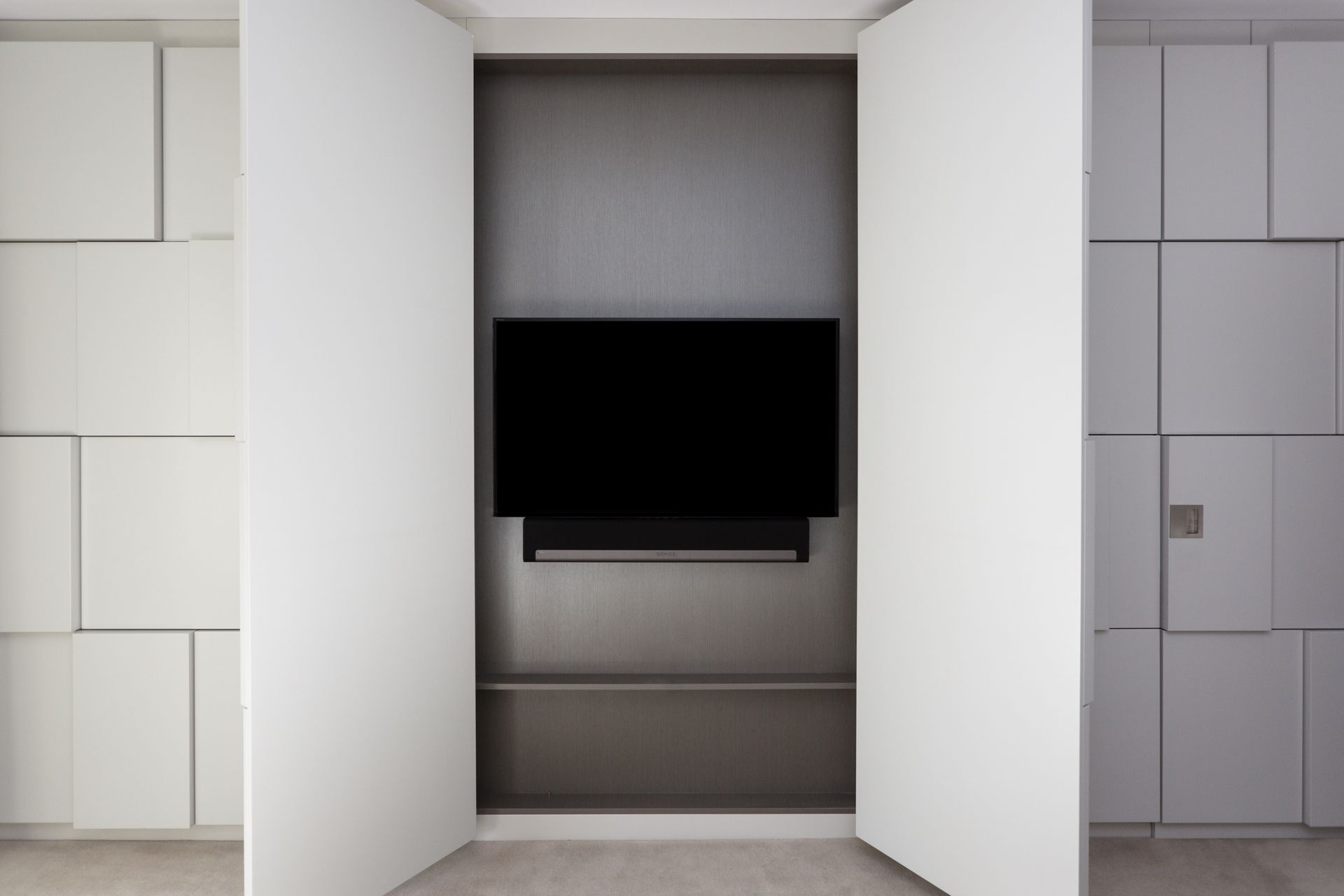 Thinking of incorporating a TV cabinet into your bedroom storage ideas? Then think carefully about your choice of doors. Choosing traditional hinged doors will mean you'll need to keep them swung open the whole time you're watching the screen, so consider less awkward alternatives.
'Sliding door systems are a great way to conceal technology in the bedroom or any room of the home,' says Simon Tcherniak, Senior Designer at Neville Johnson. 'Depending on where you position them, they can reveal different ornaments or books and create a completely different look to your furniture. They can also be used to conceal a large TV so your bedroom can be transformed into a cinema room in seconds.'
Caroline Milns, head of interior design at Zulufish agrees: 'The bedroom should be a place to prioritize rest and relaxation, therefore, hiding a TV behind closed doors is a wonderful way to achieve this, plus you can hide unsightly cables and cords at the close of a door.'
4. Invest in a bed with a built-in TV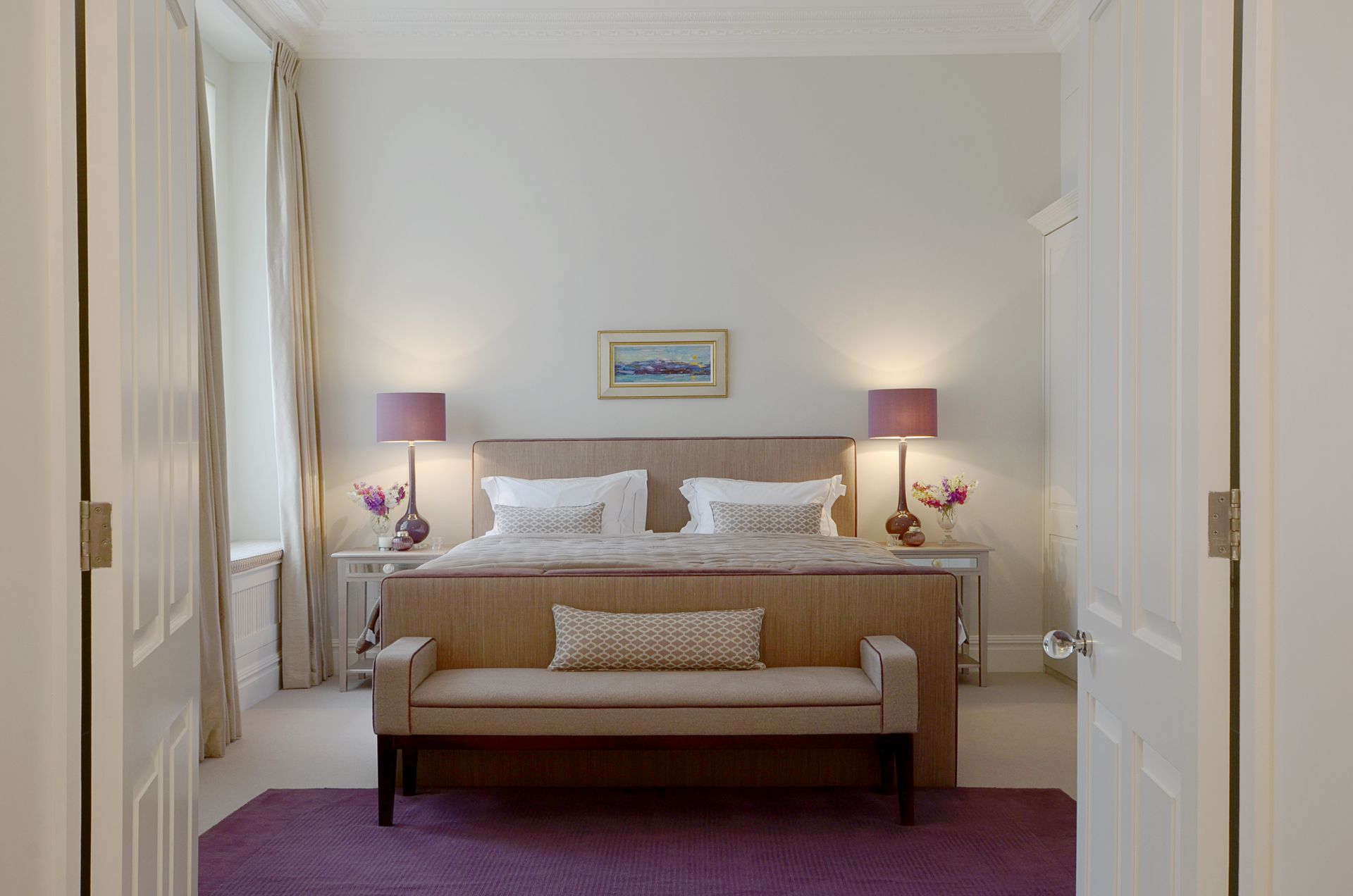 'In the bedroom, there are many great ways to display (or hide) a TV,' says Emma Deterding, founder and creative director of Kelling Designs. 'With your bed, there are many designs that incorporate TVs into the footboard, lifting up for viewing and sliding down to be hidden away using electric motors – this is one of our favorite options as once integrated into the bed you don't know it's there so it doesn't compromise the rest of the room's space.'
'If, however, you are someone that wants your TV on display, then use built-in joinery to make the best of awkward spaces such as alcoves (or angled walls) and include a space for your TV to be fitted.'
5. Use A Modular Media Unit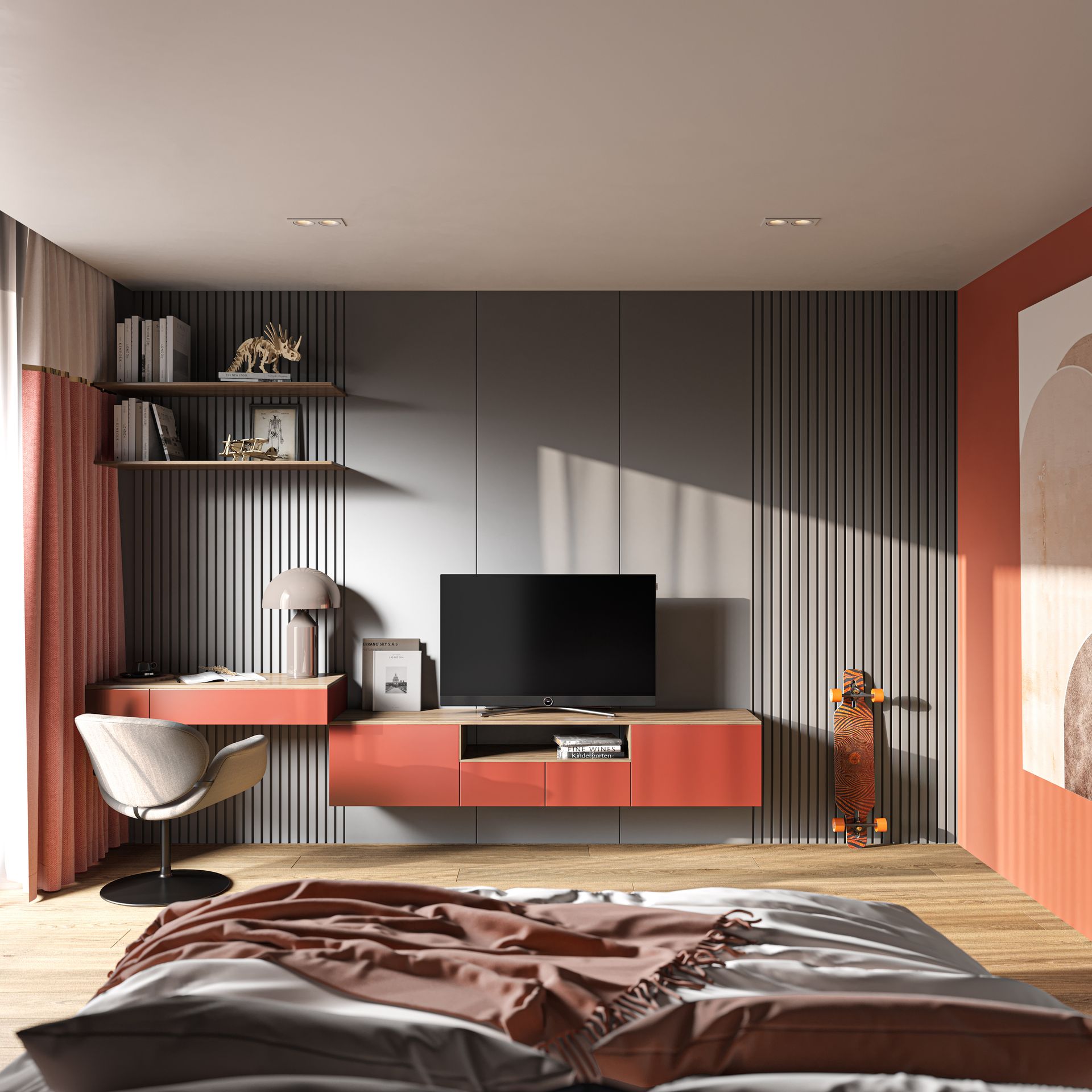 'Modular TV stands and units are always a great option, especially in a more contemporary space,' says Alan Whyte, managing director for Loewe. 'They enable you to create a more individual unit to suit your needs – like this floating media unit and desk.'
'By placing your TV on a custom-built shelf or media unit, you get to choose the exact height of where the screen will sit to ensure the perfect viewing experience at an optimum eye height, allowing you to keep a comfortable posture.'
'In addition, having a TV on a shelf or modular unit can act as a focal point to the room so it can be styled, painted, and accessorized to draw attention.'
6. Go for discreet built-in shelving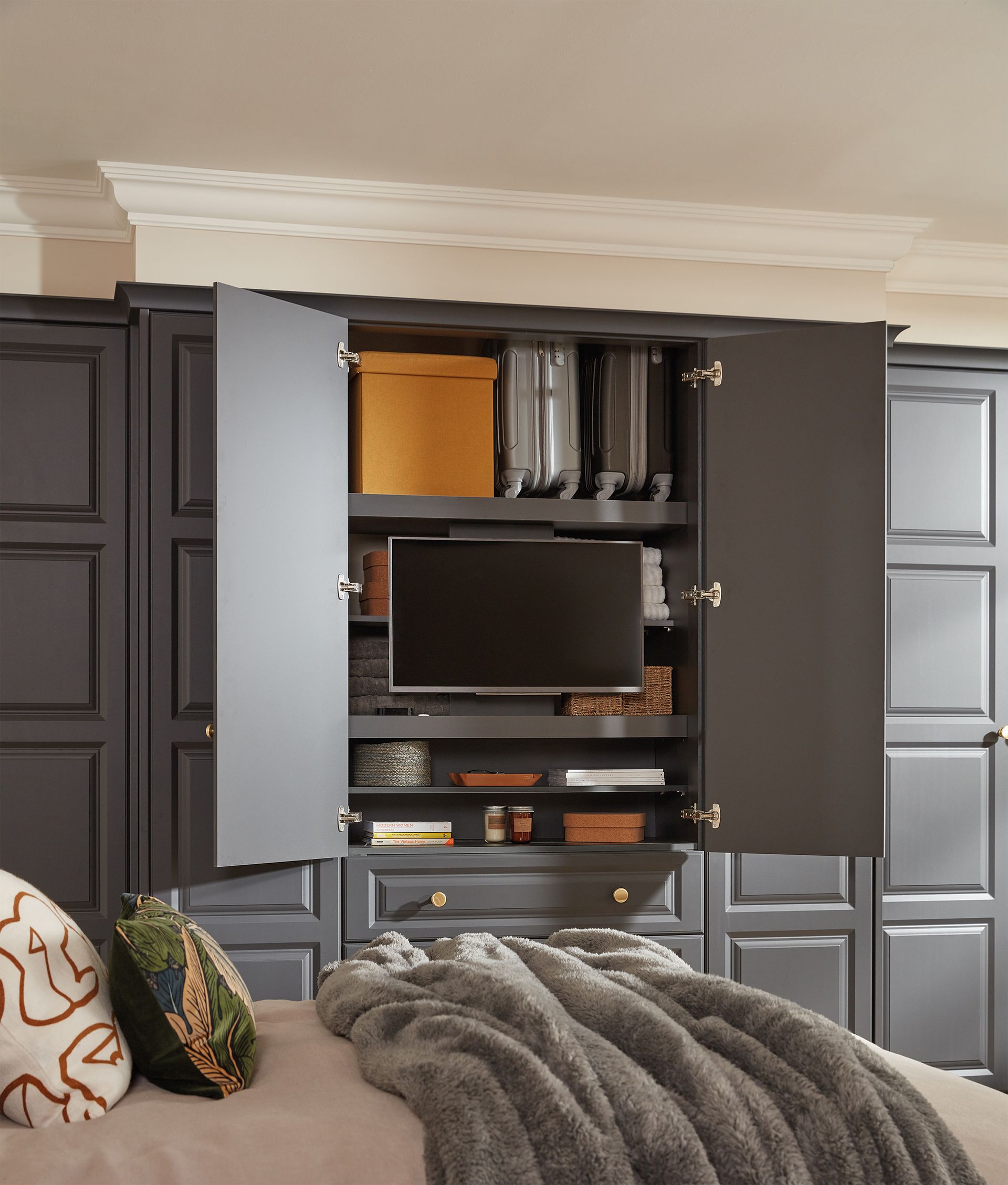 Whether you are looking for discrete storage or a stylish solution for your bedroom, fitted furniture has the advantage of being built to suit the particular need of your room. 'From the configuration through to the finish, made-to-measure furniture ensures you make the best use of available space and tailor it to your unique requirements,' says Rachal Hutcheson, national retail manager at Sharps.
'After all, if you have invested a significant sum of money sourcing the best TV for your budget the most prudent way to get the most from it is by taking the same care and attention in housing it. As well as providing storage for clothes, towels, and other accessories, fitted wardrobes can help to house TV and audio equipment; efficiently hiding unsightly cables and mounts, integrating technology with style.'
7. Invest in a TV that can be disguised as art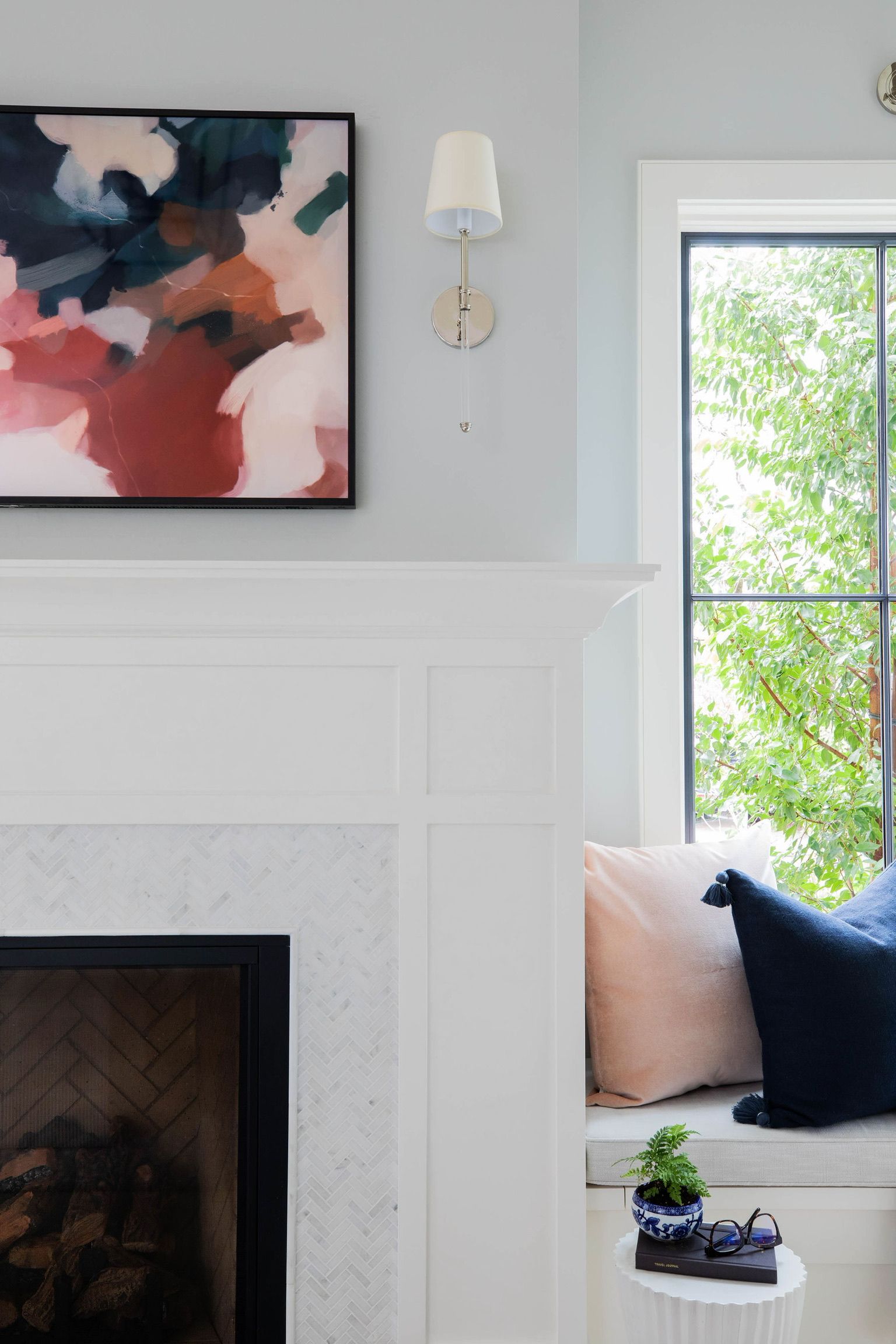 'We are huge fans of The Samsung Frame TV – which frankly has made all interior designers sleep a little better at night, knowing that a room's aesthetic won't be completely sidelined by a big black box,' says Ashley Macuga principal designer at Collected Interiors.
'We love placing Frame TVs above a fireplace, which helps to soften the visual impact even more, and it makes the space feel super cozy and relaxing.'
8. Utilize a recessed wall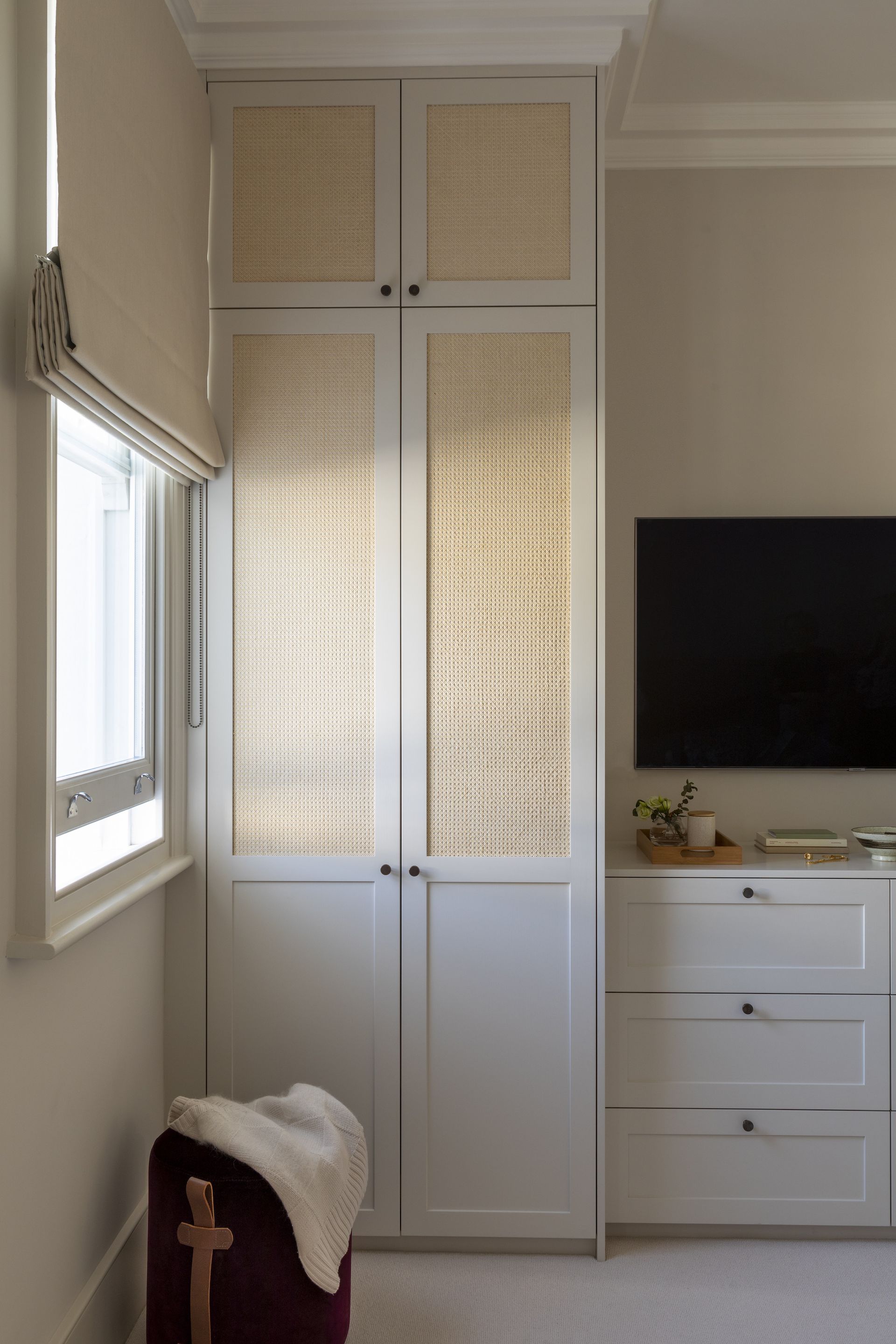 It can be tricky knowing where to put your TV in the bedroom and if you can't hide it anywhere then consider making the most of an alcove or recessed space as Clara Ewart, head of design at Kitesgrove explains:
'To incorporate a television in the bedroom without overwhelming the scheme, we like to mount it neatly on the wall, keeping flat surfaces free and avoiding a cluttered space. In this bedroom, we hung it on a recessed wall between custom joinery cupboards to stop it feeling too overpowering when you enter the space, and keeping the room feeling open and airy.'
Where should a TV be placed in a bedroom?
'A bedroom is a place of calm and relaxation so it's important the television blends into the aesthetic harmoniously,' says Alan Whyte, managing director for Loewe. 'Mounting your TV on the wall is not only a space-saving option but it eliminates clutter on the floor so your bedroom can remain a place of sanctuary. If you're watching TV during the day, you may find that sunlight has an impact on color, brightness, and sharpness. By mounting the TV to the wall, you can tilt, turn and maneuver the screen to ensure a perfect view at all times of the day.'
'There are many considerations when placing a TV in any room, particularly in a bedroom. Make sure to have the TV avoid direct glare from any windows to ensure the picture is clear and make sure the TV is easily viewable from wherever you're viewing. A TV stand at the foot of the bed or mounted on the wall are classic options,' say the Samsung TV Team.
What is the perfect size for a bedroom TV?
This will of course depend on how large your bedroom is, but it is about balance – you don't want a TV to dominate a bedroom though it needs to be sizeable enough for you to view it from your bed:
'For a bedroom TV, you'll typically want something smaller. 55" is a great choice but you can also look at 43" or 32",' advise the Samsung TV Team.
What is the ideal distance between a TV and bed?
For your eye health, it's recommended that you should be at least five times the distance from the screen as it is wide, this is said to give you optimum viewing. It is a personal preference though and as mentioned before, it will depend on how large your bedroom is, we asked the team at Samsung TV US for their advice:
'For a 55" TV, you'll want to place it between 7 and 11.5 feet away. This distance increases as the TV size increases.'
Sign up to the Homes & Gardens newsletter
Decor Ideas. Project Inspiration. Expert Advice. Delivered to your inbox.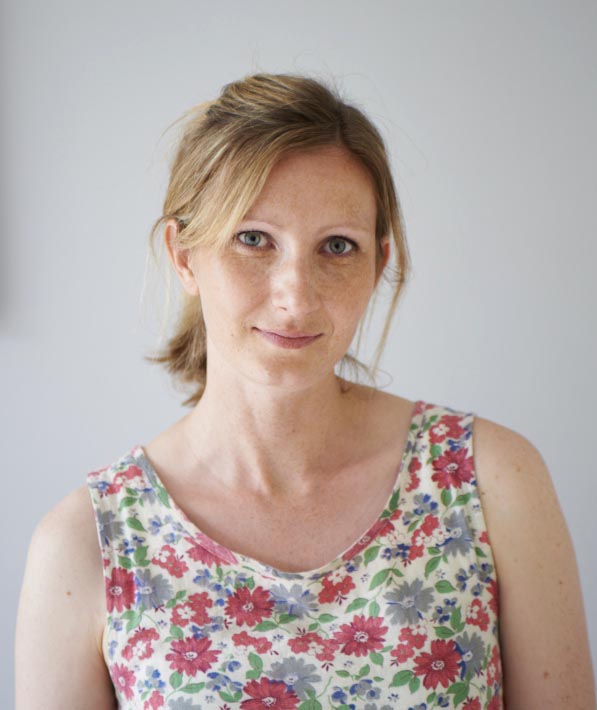 Sophie has been an interior stylist and journalist for over 20 years and has worked for many of the main interior magazines during that time, both in-house and as a freelancer. On the side, as well as being the News Editor for indie magazine, 91, she trained to be a florist in 2019 and launched The Prettiest Posy where she curates beautiful flowers for modern weddings and events. For H&G, she writes features about interior design – and is known for having an eye for a beautiful room.