Colorful brassware and textured surfaces are the unexpected bathroom trend of 2024
Bathroom trends for 2024 are all about color, texture, and curves, as shown in Roca's new collections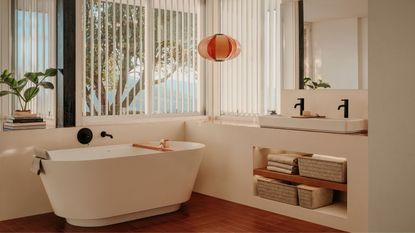 (Image credit: Roca)
Bathroom trends are some of our favourites to follow. Year after year they can become more glamorous, more inventive, and more exciting. Bathrooms may be very practical spaces, but that needn't mean the design can't be as aesthetically pleasing as any other room in the home.
Roca's new collections for 2024 prove just that, and they embrace some of the key bathroom trends we are seeing for the new year - color, texture, and lighting all of which are so important for designing a bathroom that feels just as considered and curated as your softer spaces, like a bedroom or a living room
Here we take a look at the bathroom trends for 2024 that Roca's new ranges are all about…
1. Colourful brassware
Dopamine decor has been a huge trend this year, and decorating to ensure you feel happy in your home is not an approach we see going anywhere, if anything the psychology behind interiors is becoming more of a key part of decor. It's color that takes the lead in dopamine decor, and the bathroom is a space that for years has been dominated by neutrals, so it's lovely to see it shift with this trend towards introducing more color.
We've seen colorful suites making a slow comeback, and we get that retro look might not be for everyone but Roca's new Nu Collection of faucets means you can bring bold color into the bathroom in a more subtle, livable way. The collection is made up of three different handles – Pin, Dome, and Stripes – that are painted in four glossy colours inspired by gorgeous Mediterranean shades. Think of the colours of homes and pottery you find in Spanish culture and also reminiscent of the 20th-century architecture of Barcelona. The colors are fun but entirely livable and would work in a maximalist space full of color and pattern or a more minimalist space to add a pop. And the sleek shapes can lend themselves to so many styles too.
There are also two metallic finish options Chrome and Titanium Black for those who are after a more minimalist look.
2. Textured surfaces
Bathrooms can be tricky places to bring texture into, by nature they are quite hard sleek places. But trends for 2024 are all pointing toward bathrooms that are a bit softer, a bit more layers, and far more interesting. Both the new Horizon Collection and Tura Collection from Roca lean into this trend. Plus, the Nu Collection includes a 'Stripes' finish that's a wonderful fluted effect. The Horizon Collection is all about slating and fluting, with a super modern vanity that combines matt finishes, natural materials, and either a contrasting black or white sink. The combination of wooden slats and marble countertops are perfect for adding texture to a bathroom, as well as remaining sleek and practical.
3. Soft shapes and curved angles
Again, another trend that shifts bathrooms to becoming softer, more lived-in spaces. Fixtures and fitting are becoming less static with harsh lines and edges, now we want bathrooms with curves, more organic shapes that create an effortless flow around the space.
The Tura Collection encompasses this perfectly. Inspired by the architecture of Roca's hometown of Barcelona and created by Catalan designer Andreu Carulla, the collection of washbasins, furniture, complements, bathtubs, toilets, and bidets is minimalist but there's a softness too with the simple silhouette and curved lines.
The Ohtake Collection also leans into this trend for curves. The Ohtake basins, designed by the late architect Ruy Ohtake are so sculptural in their shape with sweeping curves and round shapes. They make a statement and would be a focal point of a bathroom for sure.
4. Sustainability in design
Sustainability is always on trend. The bathroom industry has introduced several solutions to help conserve water, including low-flow showerheads and dual-flush toilets, and Roca has made many changes in order to take a more sustainable approach. Cold Start is one of their recent technologies in energy saving, which first produces cold water, by default, and only introduces hot water when the handle is turned to the left, engaging the boiler.
And Roca's new Tura collectionalso prioritises sustainability, using both recycled materials and by making more eco-conscious choices in sourcing natural materials. The furniture and bath tray are made from FSC-certified wood, the sanitaryware is made from 100% natural ceramic, the height-adjustable bath headrest from recycled outdoor fabric, and the storage boxes' lid are made from recycled cork.
---
For more information on the new ranges and for advice on where to find your nearest Roca showroom visit the Roca website and stay up to date on new trends and launches on Roca's Instagram.
Sign up to the Homes & Gardens newsletter
Decor Ideas. Project Inspiration. Expert Advice. Delivered to your inbox.
As the UK's first-ever home interest magazine, Homes & Gardens has been shaping British style for 100 years. Our core pillars are inspirational interiors, stylish decorating, beautiful gardens and fascinating stories. With the values of timeless style and considered elegance at our heart, we show an affection for heritage whilst also championing the future, from emerging designers to latest trends. The Homes & Gardens website brings all our beautiful content online, with a focus on stunning room ideas, expert advice from interior designers, architects and design professionals, and more practical expertise, too, on caring for and improving your home. Our website is updated and added to daily and we're delighted to welcome more than 6 million readers monthly. Of course, we've assembled a cracking team of experts in their fields to deliver all this stunning inspiration to you, and we'd love to introduce them. Their contact details are below, too.