British Style: De Gournay
Famed for its hand-painted wallpapers, de Gournay is a British brand that's making waves in the US and China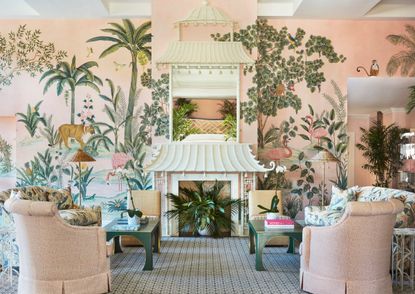 (Image credit: de Gournay)
Sign up to the Homes & Gardens newsletter
Decor Ideas. Project Inspiration. Expert Advice. Delivered to your inbox.
Thank you for signing up to Homes & Gardens. You will receive a verification email shortly.
There was a problem. Please refresh the page and try again.
British wallcoverings brand de Gournay is a London-based family-run company with showrooms in New York and San Francisco that specializes in making exquisite hand-painted wallpapers which adorn some of the finest interiors around the world.
Here, we look at the history, strengths and latest collections of this important interior design brand.
How de Gournay started
Claud Cecil Gurney founded de Gournay in 1986, reverting to the original French spelling of his surname. An economics graduate from the University of Chicago, Claud had trained in accountancy with PWC and then spent many years working in finance.
Delving into the world of interiors wasn't part of a plan: the company's birth was prompted by an unsuccessful search for someone in the UK with the necessary skills to restore some antique Chinoiserie wallpaper in his family home.
The quest took Claud – and his nephew Dominic Evans-Freke­ – to China where they looked for trained artisans who might be able to replicate the missing panels. Once there, they came across several obstacles, the main one being the Chinese government's preference for mass design of wallpaper ideas over what they then deemed to be frivolously artistic enterprises. Added to that, the tradition of hand-painting wallpaper for this market had almost died out – there was just a single supplier left in southern China.
In an effort to do something to stem this tide, Claud looked for artists whose parents and grandparents had been formally trained in the fine brushstroke techniques, and slowly began to build a team of creatives.
How are de Gournay's panels produced?
What started with around five artists has now grown to a studio with around 100, some of whom have worked for the company since the late 1980s. Typically, between six to 10 artists work on a single order.
The average panel is about 90cm wide and 2.5m high and takes around 150 hours for six artists to produce. As most designs require about 20 panels, a full order can take anywhere between three and six months. Each finished panel is a work of art that can be removed from walls to be re-hung in other rooms, allowing for them to be regarded as heirlooms of the future.
The wallpaper is usually made of painted Xuan 'rice' paper or a paper-backed silk. The background is typically painted in gouache and then the design is painted using watercolors. Every detail of the design is first outlined in pencil by the artist – look closely at any de Gournay paper and it's possible to see pencil marks, proving they are all handmade.
de Gournay goes global
In 2012, de Gournay opened a flagship showroom in the heart of New York's design district. This was followed five years later by a second US showroom which opened in San Francisco.
In 2015, de Gournay opened two showrooms in China: one in Beijing, the other in Shanghai. The latter stands in a 1930s row house in the center of the French Concession while the one in Beijing is located in a historic siheyuan – a typical house with caned doors that open to a lush garden. When the company opened its showroom in Shanghai many customers remarked that the Chinoiserie on display was 'so English'.
De Gournay's key collections: Chinoiserie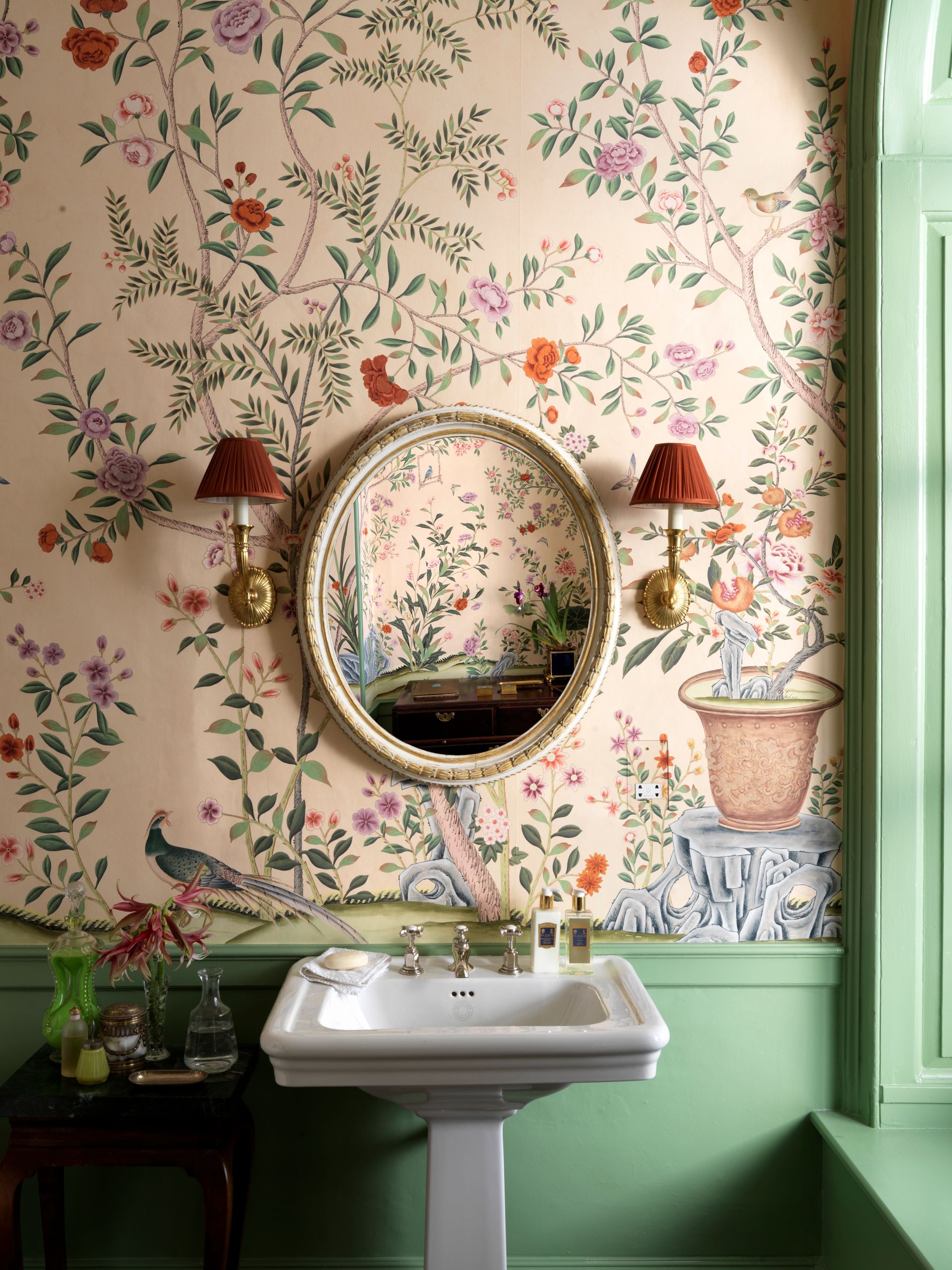 de Gournay owns an archive of historic papers as well as its own collection that has grown over the past almost 40 years. Each of them is fully adaptable to meet the needs of clients. Original designs are frequently adapted to meet contemporary interiors, extending the range of backgrounds and colour ways in order to ensure this ancient skill remains relevant.
Papiers peints panoramiques
Inspired by block-printed panoramic wallpapers developed in France during the first half of the 19th century when French nobility used wall coverings as a way of celebrating and glorifying their expanding empire, de Gournay's hand-painted collection typically depicts exotic scenes from around the world, including close reproductions of the 19th century antique papers as well as their own created in a similar spirit.
Japanese & Korean collections
Inspired by the Edo period when, for almost 200 years, Japan was closed off from the rest of the word – it's widely regarded as a pinnacle of the nation's creative expression. These designs are strikingly simple and feature lavish Korean peonies, delicate wind-swept plum blossom, magnolia in bloom and graceful winter.
Deco
Inspired by decorative movements of 20th century art, this range is modern in character yet with ornate details. The patterns are informed by the set designs of Russian theatre at the turn of the century through to the work of Armand Rateau and Jean Dunand during the 1920s and 30s, as well as more abstract assemblage works of the 1950s.
Eclectic
With a mix of elegant floral patterns and more graphic designs, this collection is the one that's most inspired by contemporary decorating trends – and has been created to stand apart from the more traditional collections.
The Emperor's Collection
Inspired by ancient Chinese scroll paintings, themselves inspirations for some of the earliest known hand painted wallpapers. Subtle but impressive scenes of rolling mountains and austere landscapes.
The collaborations
A string of high profile collaborations has proved extremely successful for the firm. Interior designer Michael S. Smith collaborated with de Gournay to design a collection of five hand-painted wallpapers which were launched in 2021. The collection celebrates themes and patterns from the natural world and includes Botanical Studies, a marble design and a flowering Chrysanthemum. Other collaborations include with the fashion house Erdem (above) and the leading Australian interior designer Anna Spiro.
Where to see de Gournay today
While based in Chelsea, London, de Gournay is now a global brand which has expanded into 39 countries, with showrooms in London (above), Paris, New York, Moscow, Shanghai, Beirut and San Francisco. Its designs adorn the walls of London's most famous nightclub Annabel's, The Colony in Palm Beach, Hôtel Le Meurice in Paris and the Hotel Albergo in Beirut.
Sign up to the Homes & Gardens newsletter
Decor Ideas. Project Inspiration. Expert Advice. Delivered to your inbox.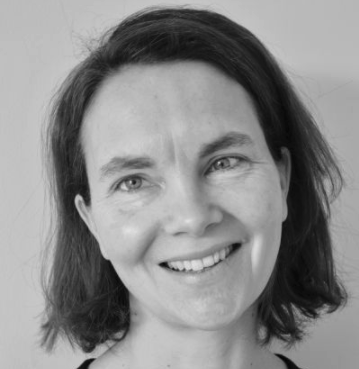 Arabella is a freelance journalist writing for national newspapers, magazines and websites including Homes & Gardens, Country Life, The Telegraph and The Times. For many years she has specialized in writing about property and interiors, but she began her career in the early 2000s working on the newly launched Country Life website, covering anything from competitions to find the nation's prettiest vicarage to the plight of rural post offices.