'A dance between scale, proportion, palette and texture' – how beautifully arranged objects can enrich our spaces
In his debut book, Arranging Things, interiors stylist, Colin King, explores how even the smallest of decorative details can transform the look and feel of our homes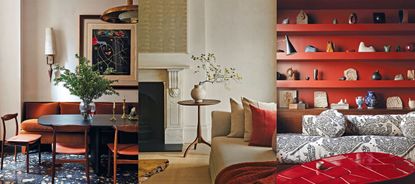 (Image credit: Rich Stapleton)
In his debut book, Arranging Things, New York-based interior stylist, Colin King, teaches us how to appreciate every day when it comes to our chosen home decor ideas.
'Any object can be a thing of beauty'.
From the unique charm found in raw, organic and asymmetrical forms, to styling a shelf with freshly cut blooms and layers of contrasting shapes, King's simple styling tips can help to enhance our homes with artful, elegant character.
6 lessons in interior styling from Colin King
Taken from his book, King guides us through six lessons he has learned in his career as a stylist, and how we can find beautiful inspiration in the everyday objects that surround us.
Author of Arranging Things, Colin King is a renowned interiors stylist and product designer. He has worked with brands such as HAY, Crate & Barrell and Zara Home, and is the founder of his own multi-disciplinary design studio, Colin King Studio, in New York.
1. Natural poise
Nothing in nature is totally linear or symmetrical. That humbles me and reminds me to abandon perfection.
Beauty lies in organic flaws. With flowers, you are at the mercy of the seasons. Surrender to what is available at the market or in your garden. It might not be the perfect branch – may be part of it looks frail – but it can fill a vertical void like a line drawing in space. As a stylist, natural ephemera has been a lifeline. Even a stone can become a sculpture.
2. The art of emptiness
We often feel compelled to fill the void. In conversation, it's a struggle to endure the awkwardness of a pause. We rush to break the silence, even if we have nothing to say. And the same is true of styling.
The discomfort of a blank wall or surface is hard to endure. But emptiness can be an expression of potential, and a form of beauty. A candleholder can look so elegant on its own. A single painting, offset, can leave a stretch of wall as a reprieve for the eye. And a coffee table can be a sculpture unto itself.
3. Vivid details
Styling is about identifying and romancing those subtle variations, introducing layers through glazes or textiles, or blooms. And no matter the setting, I treat color like any object – looking for commonalities and differences between it and other elements of a room, playing with that tension.
Treat vibrant elements not simply as pops or as backdrops but as building blocks that relate to the overall composition. If a room or bookshelf is painted, I find ways to reveal that color through complementary arrangements of objects.
4. In the frame
The context of – and relationships between – objects are just as interesting as individual pieces.
Take architecture into account – a disregarded corner, the dimensions of a windowsill, the procession of a hallway. This is your framework. Let what is there inform what you are doing.
An empty shelf becomes a game of Tetris, wherein stacks of books act as building blocks. A cleared coffee table, meanwhile, reveals a grid on which to arrange items, experimenting with height.
5. Objects in dialogue
It can come down to scale, so I vary or group pieces according to height. Or it can come down to silhouette: the convex curve of one treasure echoing the concave curve of another, something horizontal reinvigorating something vertical.
Materiality, proportion and finish all, too, inform my choices. I'll experiment with different arrangements until I find the juxtapositions that seem like they shouldn't make sense, yet somehow work perfectly, hanging together in restrained balance.
Don't get stuck seeing objects just for their intended use. There is wisdom to be found in loosening the rules. Lean into uncertainty.
6. Tactile expressions
The knots on a plank of oak, the grooves on a rock, the crack on a piece of pottery – what excites your fingertips also excite your mind.
Surfaces are sentiments of sorts, capable of stirring an emotion or conjuring a memory. The smoothness of one object can accentuate the relief of another.
Something shiny, juxtaposed with something matte, appears all the more lustrous. And even the slightest imperfection can cast a halo of perfection.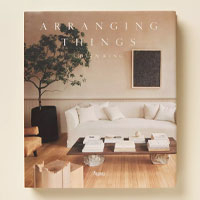 Arranging Things by Colin King | Available to purchase at Anthropologie
Colin King shares his wisdom in his new book on how we can create beauty in our everyday surroundings through the artful and elegant styling of objects.

How do you arrange decorative objects?
When arranging decorative objects, contrast is key. From styling objects at different levels and heights to uniting opposing materials, colors and textures together, these points of difference will help to bring beautiful visual interest to your space.
As King explores in his book, a shelf decorated with 1 object can look just as beautiful as one decorated with 10 – so do whatever feels right with your style and space.
For further guidance, look to interior design principles such as symmetry, balance and repetition, and styling rules favored by interior designers, such as decorating with accessories in uneven numbers.
Sign up to the Homes & Gardens newsletter
Decor Ideas. Project Inspiration. Expert Advice. Delivered to your inbox.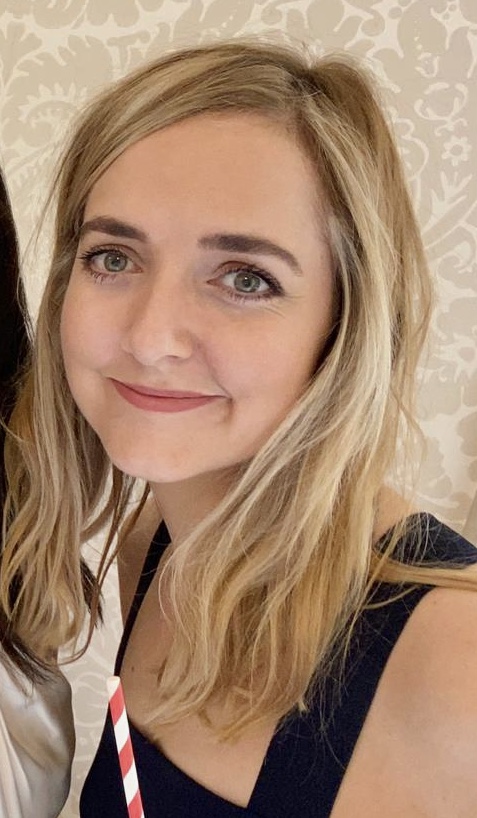 Jo Bailey has been Deputy Editor of Homes & Gardens since late 2021, overseeing all features for the print edition. Previously, she worked as the News & Shopping Editor across H&G and Livingetc - one of Future Plc's sister brands - this is where she learnt to discover the best news stories, latest trends and honed her understanding of Homes and Gardens' over 100-year-old brand.
Before joining Future Plc, she worked as an interior stylist for over ten years, specialising in commercial photo shoots for luxury clients such as; Design Centre Chelsea Harbour, The Romo Group, Christopher Farr Cloth and Heal's. She has worked closely with Homes & Gardens and Livingetc for over a decade, having styled and produced editorial shoots and events for both titles over the years.