How to decorate tastefully for Halloween – 5 expert tips to balance the tacky with beautiful this holiday
Experts explain how you can find the balance between tacky and tasteful during one of the more garish holidays of the year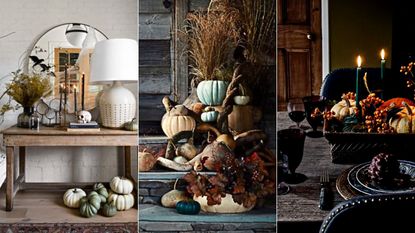 (Image credit: Shea McGee / Terrain / OKA )
Halloween is often one of the less serious holidays of the year, with bright, garish decorations and stereotypical cobweb decorations roughing up our otherwise pristine interiors. Those who want to celebrate without the over-the-top plastic pieces, however, may find themselves asking how to decorate tastefully for Halloween.
While the majority of Halloween decorating ideas focus on plastic pumpkins and an overabundance of spiders, bats, and witch hats, there are some clever ways you can invoke the Halloween spirit without succumbing to a tacky plastic purgatory.
Here, we have asked designers for their best advice on how to decorate tastefully for Halloween.
How to decorate tastefully for Halloween
Whether you go all out for Halloween with Halloween porch decor and Halloween window decor, of if you stay low-key with simple Halloween table decor ideas, these expert tips provide the perfect Halloween look for a more restrained home.
1. Go natural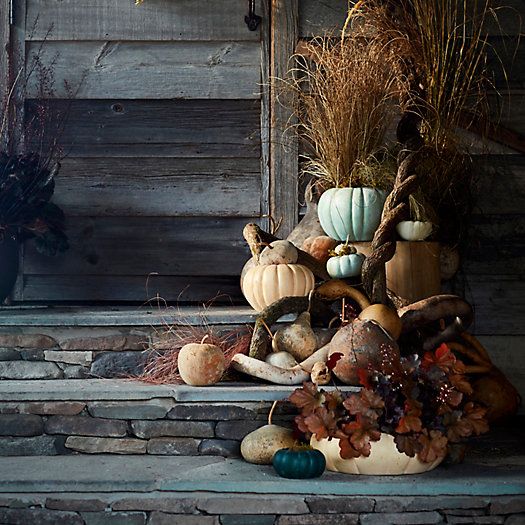 Whether you practice making your own Halloween craft ideas or take a more sustainable approach, decorating your home with natural materials for Halloween is a great way to keep your décor grounded and looking sophisticated.
Pumpkins, albeit a stereotype, is a great way to go about this, James Mellan-Matulewicz suggests, creative director and designer at luxury sustainable wallpaper brand, Bobbi Beck.'It wouldn't be Halloween without pumpkins, and while in many cases, less is more, buying lots of different-sized pumpkins can look really effective in the home,' he says. 'Place them upstairs or use them to frame doorways to create a rustic and enchanted entrance to your home. Simple is always tasteful, so don't carve faces into your pumpkins as this can look a bit cartoonish.'
'Fill glass bowls with leaves collected from outside,' he adds. 'Or use conkers or pine cones around candle bases and homemade wreaths using sticks and deep red berries.'
'I would lessen the Halloween angle and go for the autumnal look,' says Catherine Dal or Cat Dal interiors. 'I'd have loads of different squash decorations on the table, foliage, all the colors of Fall, the dusty reds with linen table clothes, linen napkins, and have fun with the napkin rings.'
2. Consider your color scheme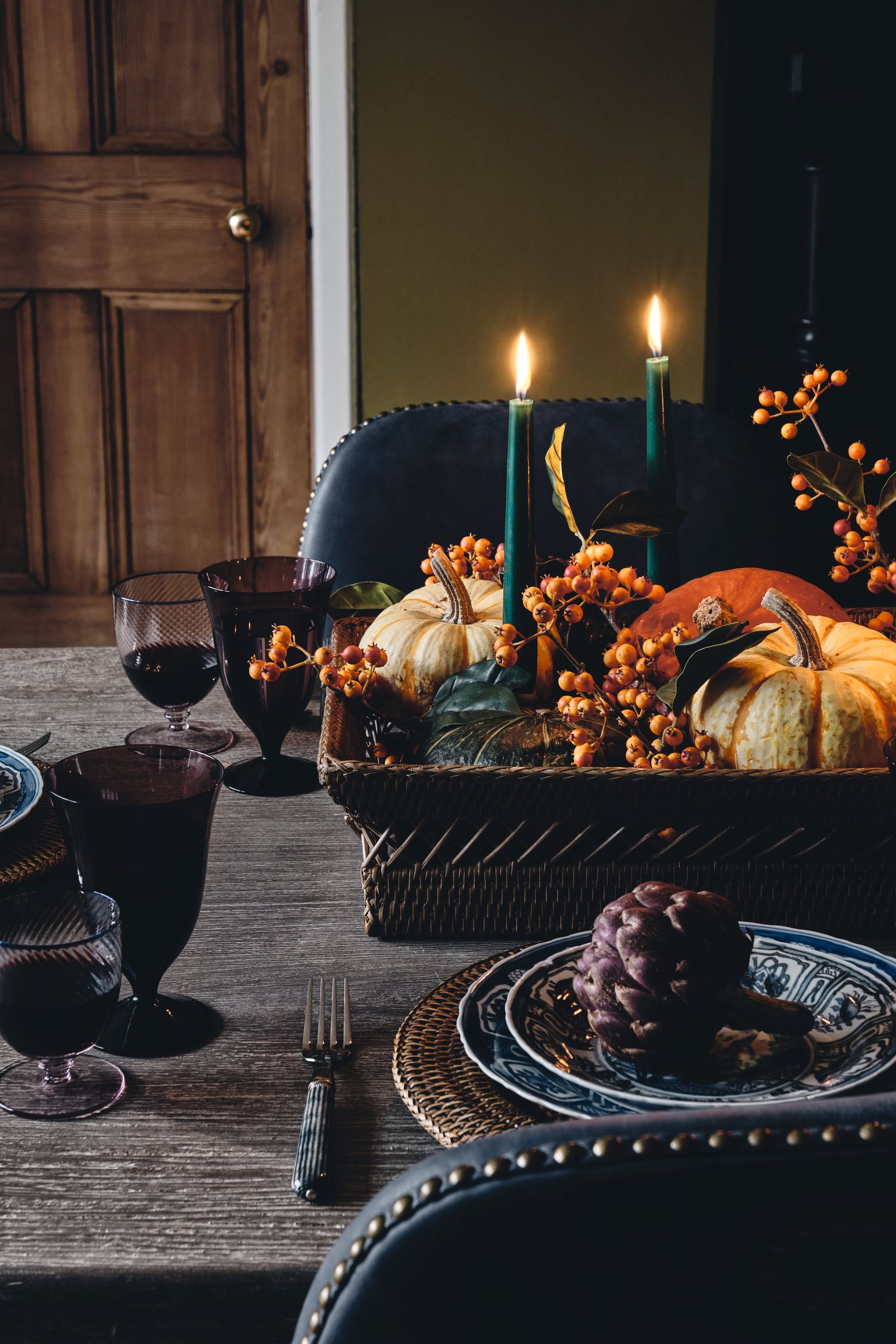 Most common Halloween decor is made in garish, standoffish colorways, with luminous oranges and slime greens dominating the palette. Toning this scheme down by either embracing darker, more luxurious tones or following a more carefully planned fall color scheme will help to tone the season down.
'Fall is arguably the most beautiful season, full of rich colors and textures. Rather than opting for a typically fluorescent orange and slime green color scheme, theme your Halloween decor around the colors of Fall,' says James of Bobbi Berk. 'Think more burnt oranges and deep greens.'
There are tasteful ways of channeling the darker, spookier side of the holiday too, however, if you want to face the holiday more head-on. 'If I was to be asked, I would go the gothic route, purples and dark blacks,' says Catherine Dal. 'I'd do a sexy glossy texturized Halloween look with loads of candles, dark wax, or candles with texture. I'd add in golds too and I'd go down the gothic sexy more stylish route.'
3. Use real candles for a spooky yet luxurious look
Candles, although not inherently spooky in any way, can add a mystical look to your home during the Halloween period. Using some of the best candles as an alternative to blinking Halloween toys will light your home delicately and add a soft glow with shadows, alluding to the scarier side of the season.
'Atmospheric lighting is a must when decorating for any season,' says Bobbi Berk's James. 'For Halloween, you might initially think of tiny plastic lanterns or flashing orange lights but simple fairy lights will look subtle and haunting when used amongst your Halloween decor. Real candles strategically placed on your Halloween table, or fireplace display, will also give a classic but tasteful Halloween feels.'
4. Avoid plastic decor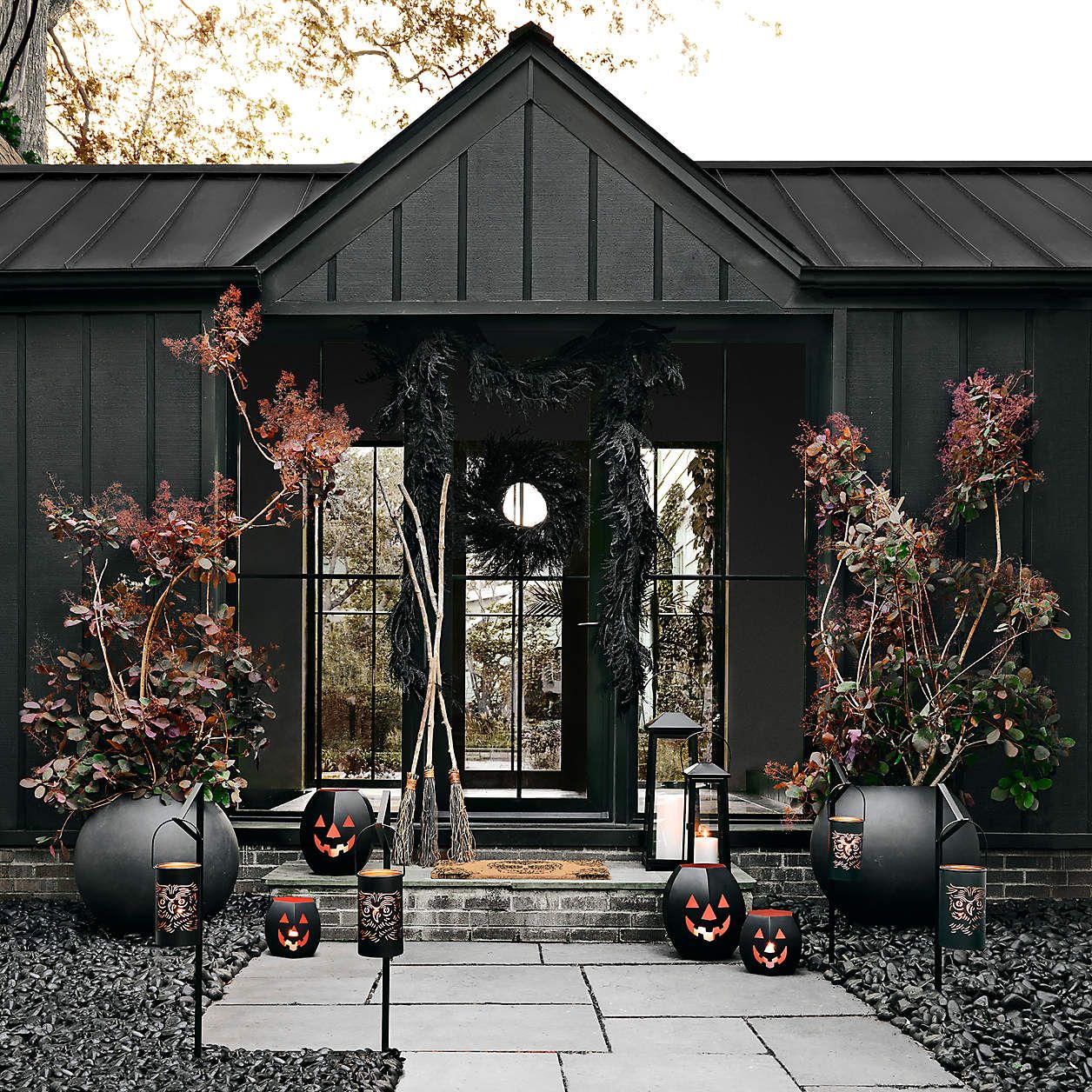 'It probably goes without saying but avoids inflatables, oversized plastic decorations, and anything that needs a plug or batteries if you want your home to have a tackily tasteful Halloween theme,' advises James. 'If you feel that your Halloween setup is feeling a little empty, head to a charity shop to look for old dusty vases, lampshades, and candlestick holders to add more depth.' Although decorating with antiques is a common design style, the older vintage pieces take on a new meaning when lit with candlelight and styled in the month of October.
5. Use traditionally Halloween motifs sparingly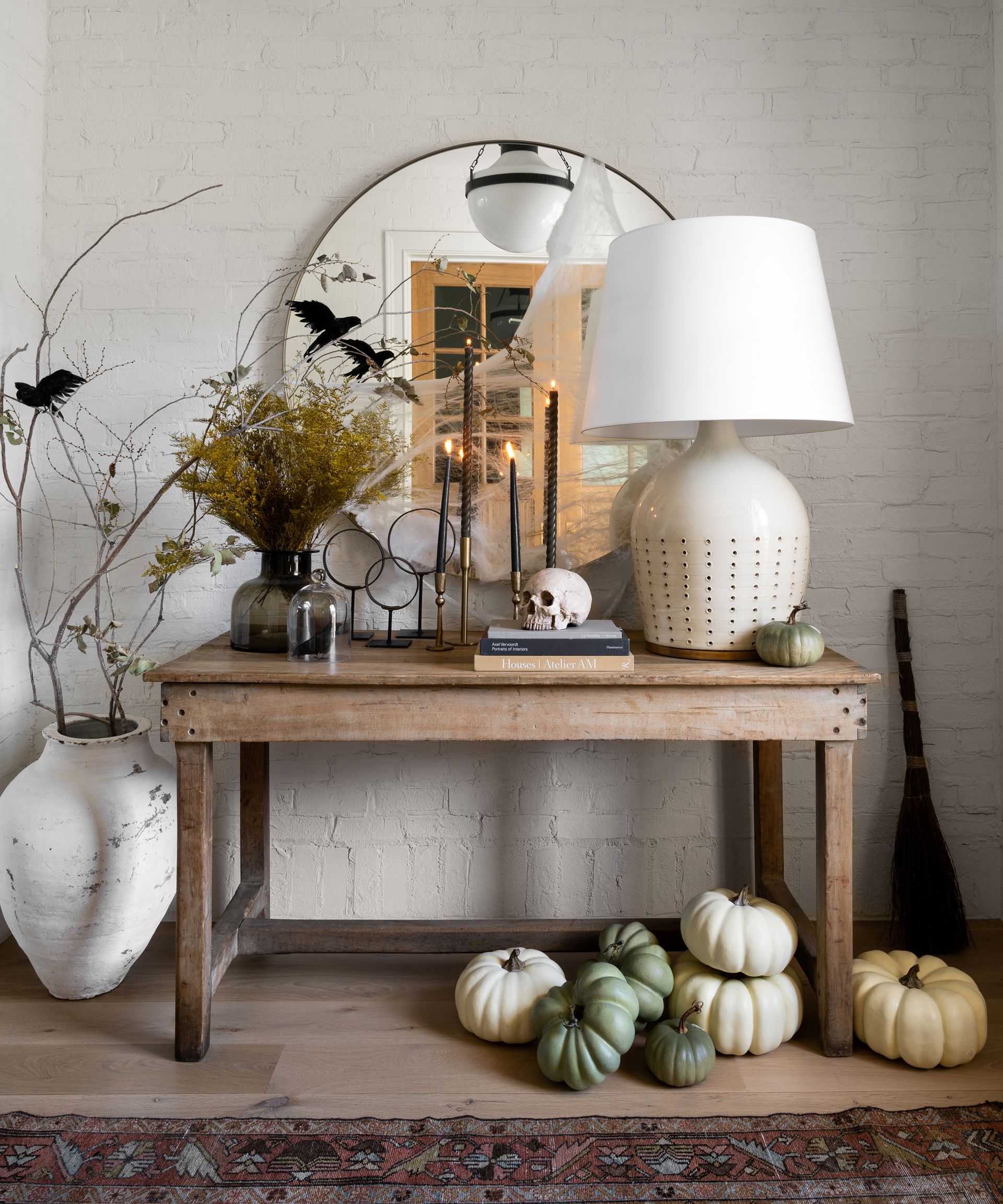 Spooky ornaments, particularly designed for outdoor Halloween decor, often go in heavy with traditional motifs such as bats, spiders, witches, and pumpkin cutouts. While these make for a great stereotypical Halloween display, they may easily reduce the appearance of tasteful luxury decor.
Steffan Tollgard co-founder of Tollgard Design Group reminds us, however, that the careful use of these motifs can be used to great effect when carefully balanced in the space. 'Halloween is rooted in a sense of fun and festivity so keeping these elements alive when decorating is key. 'For our Technicolor Kensington project, for example, our clients created a wonderfully spooky set-up in their dining room. They rather cleverly covered the sculptural Gabriel Scott Myriad chandelier in a haze of cobwebs and spiders. Pumpkins, skulls, ghosts, and ghouls make the perfect centerpiece display for the most fun of holidays.
'This a delightful reminder that each project continues to evolve and adapt for the needs of its family, whether through elegant accents added over time or fun, festive (and frightening!) additions.'
What is the most popular Halloween decoration?
One of the most popular Halloween decorations is the humble jack-o-lantern, with their versatility making them the ideal addition to areas such as porches, tables, and windows. While predictable, festive pumpkins carved, painted, or left natural is some of the most readily available and affordable options for decorating throughout the Fall period.
When should you start decorating for Halloween?
The best time to start decorating for Halloween is within the first two weeks of October as the weather begins to turn and people are mentally preparing for the spooky season.
Sign up to the Homes & Gardens newsletter
Decor Ideas. Project Inspiration. Expert Advice. Delivered to your inbox.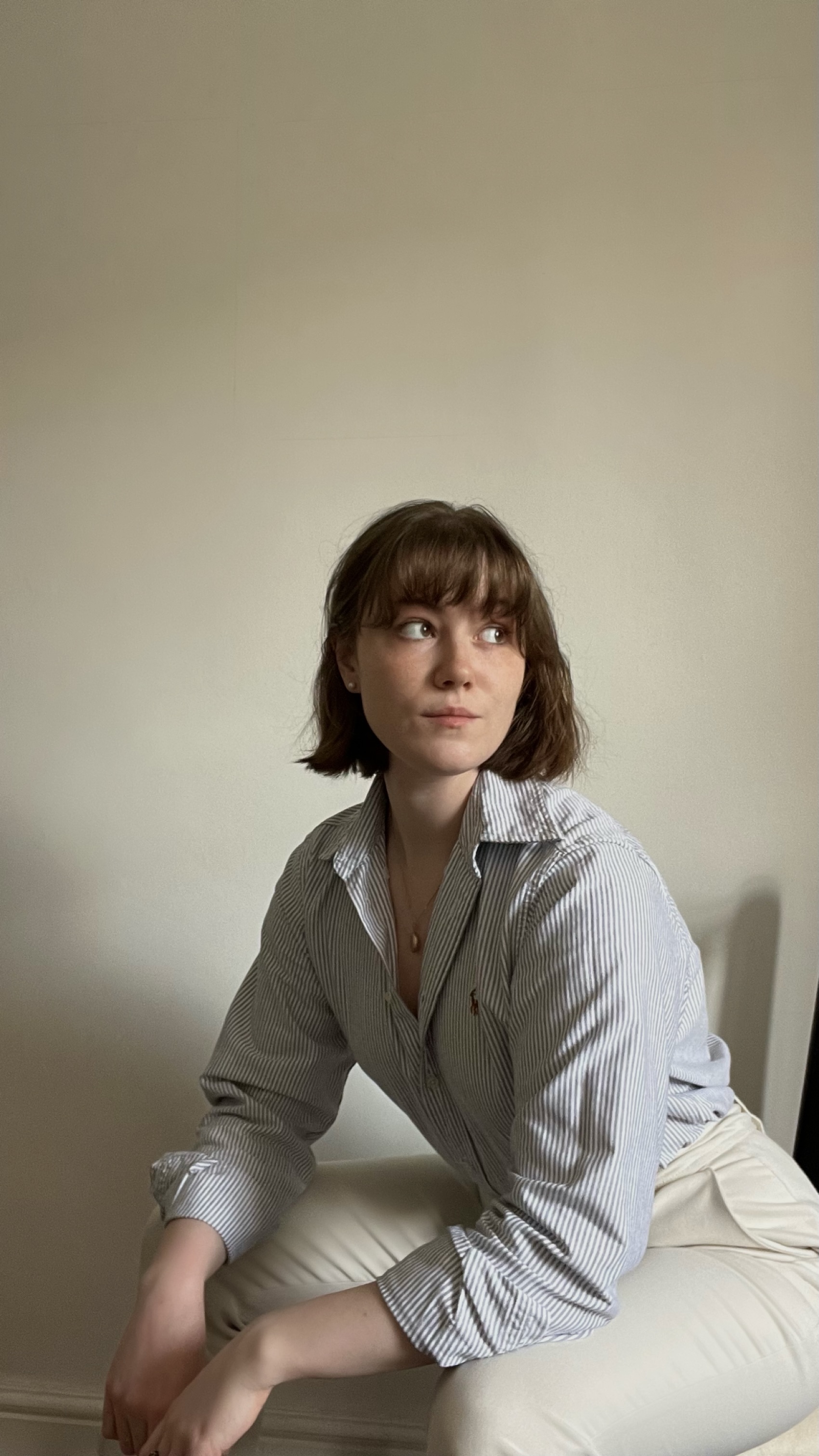 Chiana has been at Homes & Gardens for a year, having started her journey in interior journalism as part of the graduate program. She spends most of her time producing content for the Solved section of the website, helping readers get the most out of their homes through clever decluttering, cleaning, and tidying tips – many of which she tests and reviews herself in her home in Lancaster to ensure they will consistently deliver for her readers and dabbles in the latest design trends. She also has a first-class degree in Literature from Lancaster University.