American Style: Kravet
Dubbed an 'indisputable titan of American interior design', New York-based Kravet Inc. is a fifth generation family-run company which offers a one-stop-shopping resource for designers and decorators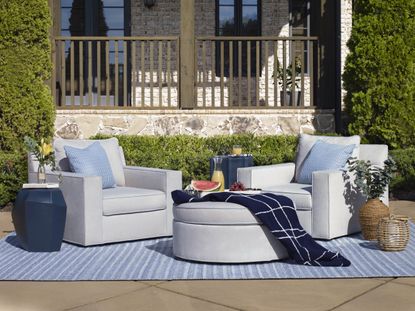 (Image credit: Kravet)
Sign up to the Homes & Gardens newsletter
Decor Ideas. Project Inspiration. Expert Advice. Delivered to your inbox.
Thank you for signing up to Homes & Gardens. You will receive a verification email shortly.
There was a problem. Please refresh the page and try again.
Kravet is something of an American design dynamo. What began as a small, family-run fabric house has become a global leader in trade-only home furnishings. The collection of over 60,000 products including textiles, wall coverings, rugs, carpet and upholstery mean it's a vast interior design resource for decorators with products to match nearly every design aesthetic.
New launches for Kravet this year include the first collection of fully-upholstered outdoor furniture from Kravet Furniture, a debut compilation of fabrics and wallpaper by American decorator Corey Damen Jenkins, and a new line of sustainable fabrics.
Other initiatives also include a launch from distributed brand Clarke & Clarke (above) and Wedgwood for a fabric and wallcovering edition called Botanical Wonders. Alongside this is a collection by the interior designer Nadia Watts which is inspired by her great great grandfather's iconic glasswork at the Tiffany Studios.
New launches are accompanied by new approaches factoring in the environment and wellbeing. Among various sustainability initiatives, Kravet was the first textile company to join the Good Future Design Alliance, committing to reducing waste by 50% over 5 years.
This summer Celliant, a fabric from Kravet and Crypton Home (above) which is clinically proven to help people sleep better, is also launched on the market.
With a design studio in New York City, and corporate offices on Long Island, Kravet Inc. counts the brands Kravet, Lee Jofa, GP& J Baker and Brunschwig & Fils and now Donghia among its family.
All are united by a common thread of producing high quality and expert craftsmanship. In the UK and Europe, Kravet designs are available exclusively from GP& J Baker, with their showroom in the Design Centre, Chelsea Harbour.
Leading projects in London include providing furnishings for Soho House, the Oscar Bar in the Charlotte Street Hotel and the Mayfair members' club, Annabel's.
How it began
The Kravet story started in 1903 when Samuel Kravet (who was born Shmuel Kravetsky), a tailor from Russia, emigrated to the United States.
According to his great granddaughter, Ellen, Samuel arrived with few belongings beyond the clothes that he wore as well as a sewing machine he used to earn a living. Samuel quickly began tailoring for New York City's wealthy residents.
Recognizing a gap in the market to serve the emerging interior design industry, he expanded into making decorative trimmings such as tie-backs and tassels.
By 1918, S. Kravet & Sons was founded with Samuel's four sons: Morris, Sam, Sol and Hy. Having turned its back on tailoring, the company focussed on selling fabric and trimmings and soon after decorative fabrics were added to the collection.
Two decades later, their first showroom opened in Manhattan selling exclusively to the interior design trade – it's an approach which remains core to the brand today.
The timing was perfect as it chimed with the expanding profession of interior designers based in New York City; S. Kravet & Sons was there to serve them.
How it grew
During the 1960s, the company changed its name to Kravet Fabrics and expanded the distribution of textiles across the US. At the same time, the first company began to export its designs overseas.
A corporate office and warehouse were built in Woodbury, New York (where a new one has just opened), with further spaces opening during the 1980s as the business grew. The next step was to open Kravet Furniture in 1992, followed by a licensing division whose inaugural collections included some by Mark Hampton and the Smithsonian Museum.
From this point on, a number of acquisitions were made. First, in 1995, Kravet bought Lee Jofa, one of the oldest fabric companies in the world, which dates back to 1823; plans are afoot to celebrate its 200th anniversary in 2023.
Later, in 2001, it took on the British firm GP&J Baker and, in 2011, the French design house Brunschwig & Fils.
These purchases brought one of the largest privately held archives of decorative textiles in Europe into the Kravet family. The archive, housed in Long Island, includes textiles that date back to the 3rd century.
Kravet launched carpet, lighting, bedding and decorative hardware. And, in 2005, Kravet Fabrics was rebranded Kravet Inc. to reflect the broader offering. Since then it has continued to grow and evolve, launching initiatives including KravetCurated, a shoppable platform for designers, and acquiring brands, the latest of which was Donghia.
Leading with technology
The family at the helm of the firm today believe that innovation has been critical to Kravet's success. President Cary Kravet says: 'Kravet is committed to staying at the forefront of the industry and consistently remaining innovative and cutting-edge for our customers.'
Technology has been harnessed in various ways to make designers' jobs easier and more efficient. Kravet Workspace, a move to provide decorators with a dedicated space where they can find source products and meet with clients, is being rolled out across several showrooms while last year they started Kravet Mobile, a showroom on wheels.
Further initiatives have included Kravet Match, a visual search which allows decorators to search the entire collection for matching items from their device; a facility to see a piece of furniture in a room in real time before buying; a wallpaper calculator which estimates the number of rolls required for a room; and Icreate Furniture, a visualization tool that aids the customization of pieces of furniture.
Sign up to the Homes & Gardens newsletter
Decor Ideas. Project Inspiration. Expert Advice. Delivered to your inbox.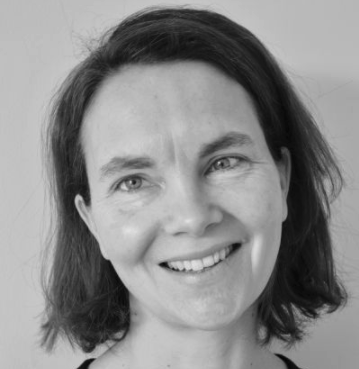 Arabella is a freelance journalist writing for national newspapers, magazines and websites including Homes & Gardens, Country Life, The Telegraph and The Times. For many years she has specialized in writing about property and interiors, but she began her career in the early 2000s working on the newly launched Country Life website, covering anything from competitions to find the nation's prettiest vicarage to the plight of rural post offices.