Ottoman ideas – 13 inspiring designs and styling tips
A multi-functional piece, explore our favorite ottoman ideas to make the most out of this furniture staple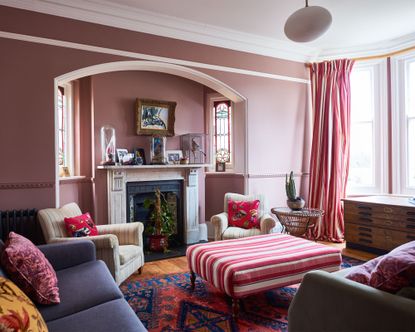 (Image credit: Steve Ambrose)
A truly versatile addition to your home, the possibilities are endless for ottoman ideas. An ottoman can have a variety of functions in a room, it can be used as a footrest or for extra seating, to acting as a coffee table and display area for books and magazines.
A great feature for living room ideas, ottomans can also be used throughout the home, working well in both bedroom, bathroom and landing areas, adding both a practical surface area and inviting touch of shape and texture.
Whether you choose a traditional footed design to pair with your sofa, or opt for a bold patterned style to add a pop of color to a bedroom, there are a range of ottoman ideas to choose from to best coordinate with your space.
Ottoman ideas – 13 beautiful ways to style this practical yet decorative feature
From ottoman placement ideas, to different finishes and styling techniques, we have gathered our favorite ottoman ideas to provide you with some stylish inspiration for this flexible furniture piece.
1. Create an element of contrast
An ottoman is a great way to be bold with design ides and create an element of contrast in a room.
'If you want to add some interest to your living space but in a more subtle way, choosing an ottoman in a contrasting color or pattern can create a feature out of this furniture piece – without the design being too overpowering,' says Homes & Gardens' Editor in Chief Lucy Searle.
In this living room, the pink patterned ottoman design beautifully contrasts with the gray and yellow scheme, with the hints of pink used in the decorative cushions tying the overall scheme together.
2. Choose a durable leather design
As ottomans are often multi-purpose pieces with a number of uses, choosing a durable material, such as leather, will ensure that your ottoman ideas stand the test of time in your home.
Leather ottoman designs not only add a luxurious element of texture to a room, but they also provide a smooth surface area which is great for doubling up as a coffee table.
3. Match your ottoman to your existing color scheme
To create a cohesive design scheme, a simple styling tip for your ottoman is to match the piece with the paint ideas used in a space.
In this family living room, the beautiful green paint shade used throughout is elevated by the matching ottoman design, creating a stylish connection and celebration of the color green.
The dark wooden feet also perfectly match the flooring, grounding the ottoman to the space and further enhancing this united design atmosphere.
4. Use an ottoman in a bedroom space
'Ottomans are often associated with living rooms, placed in front or beside the main seating area, however, they are also a great addition to a bedroom space, creating an extra element of comfort and texture,' says Homes & Gardens' Editorial Director Sarah Spiteri.
A go-to place to position an ottoman in bedroom spaces both small and large is at the foot of the bed. This established design idea creates a practical and inviting seating area that neatly extends the bed design.
Whether you match with your bed linen or create an element of contrast, remember that ottoman ideas are not just limited to the living room.
5. Coordinate with your curtains
From bold printed curtains to neutral block color designs, coordinating your ottoman with your curtains can effortlessly make the piece feel integrated in your space.
In this living room, the bright, pink striped fabric used on the curtains and ottoman create a colorful statement, and beautifully complement the muted, pink-purple paint color used on the walls.
Making the most out of a beautiful piece of material and using the same print throughout a space can create a thoughtful and considered design.
6. Use as a platform for decorative trays and objects
Ottomans are renowned to create an inviting surface area where you can get creative with decorative trays, ornaments and objects.
Providing a practical platform much like a coffee or side table, your ottoman can be beautifully decorated with flowers, books and accessories. Styling them with objects such as these can also make them feel more personal and connected to a space.
7. Choose an ottoman with a spacious metal frame
For a more lightweight design, choosing an ottoman with a slender metal frame can enhance the feeling of space in a room.
Great if you want to use an ottoman in a small living room and not make the area feel too overcrowded, using see-through options, like above, use an elegant mix of contrasting materials whilst amplifying on a feeling of space.
8. Use an integrated coffee table and ottoman design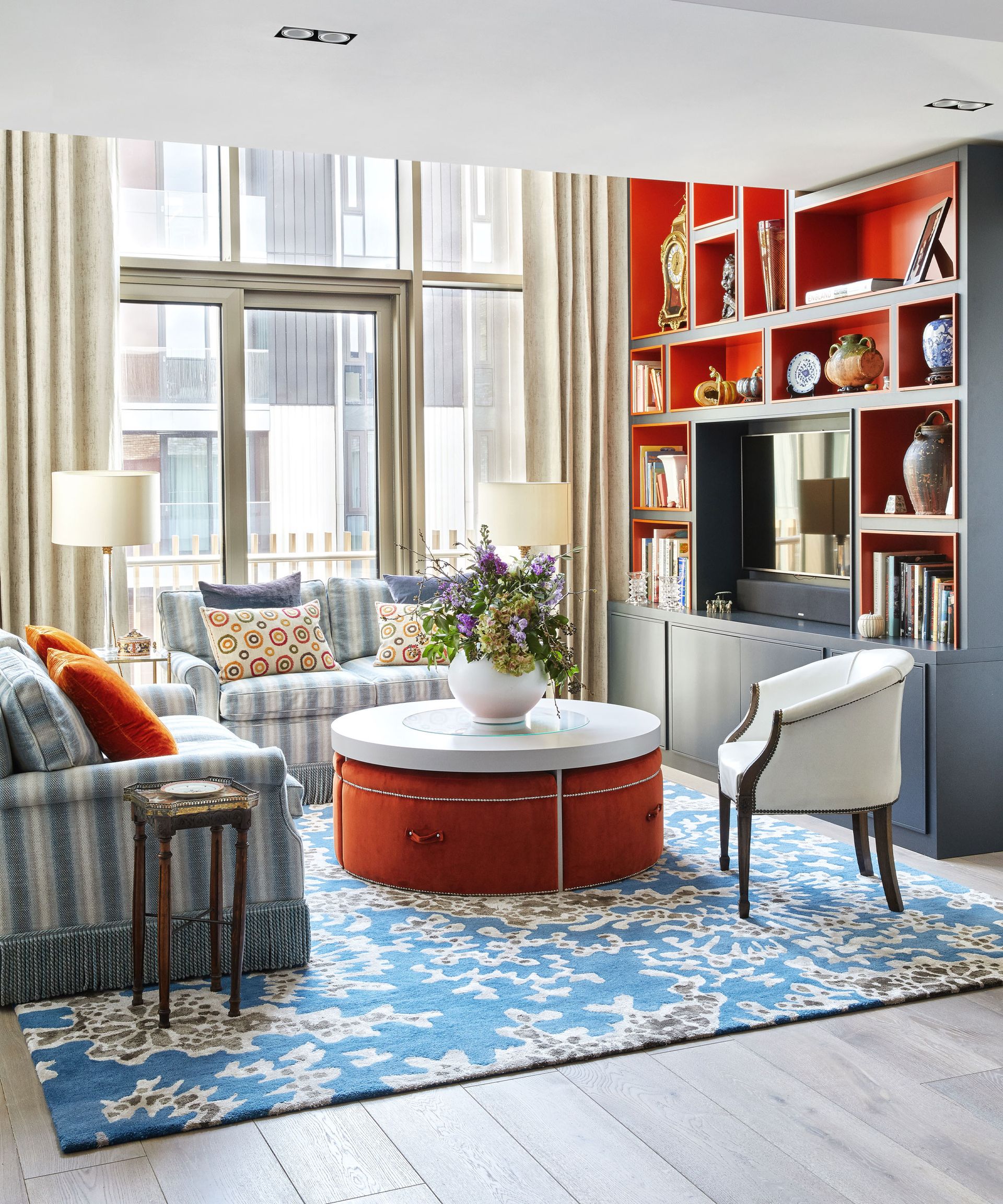 You certainly can have both a coffee table and an ottoman in the same space, but there are many innovative, integrated coffee table and ottoman designs out their that elegantly combine the two designs.
Many designs unite a solid, coffee table surface with the soft, comforting elements of an ottoman placed underneath. This creates an enhanced, multipurpose design that is great for saving on space in a room, ideal for small living room ideas.
In this striking living room space, the bright red, upholstered ottoman elements can be pulled out from underneath the white table design, seamlessly creating additional seating and surfaces when needed.
9. Create a relaxed look with a low ottoman
Using a low ottoman without feet can create an enhanced, relaxed vibe in a living space.
'A low ottoman can create a more contemporary, informal feel in a room. Being grounded to the floor embraces a laid-back feeling and can make people feel comfortable and at ease when they walk into a room', says Jennifer Ebert, Homes & Gardens' Digital Editor.
In this living room, the large square ottoman is perfectly paired with the textured rug, creating an inviting, soft atmosphere and gathering point in the center of the room.
10. Use a pretty pair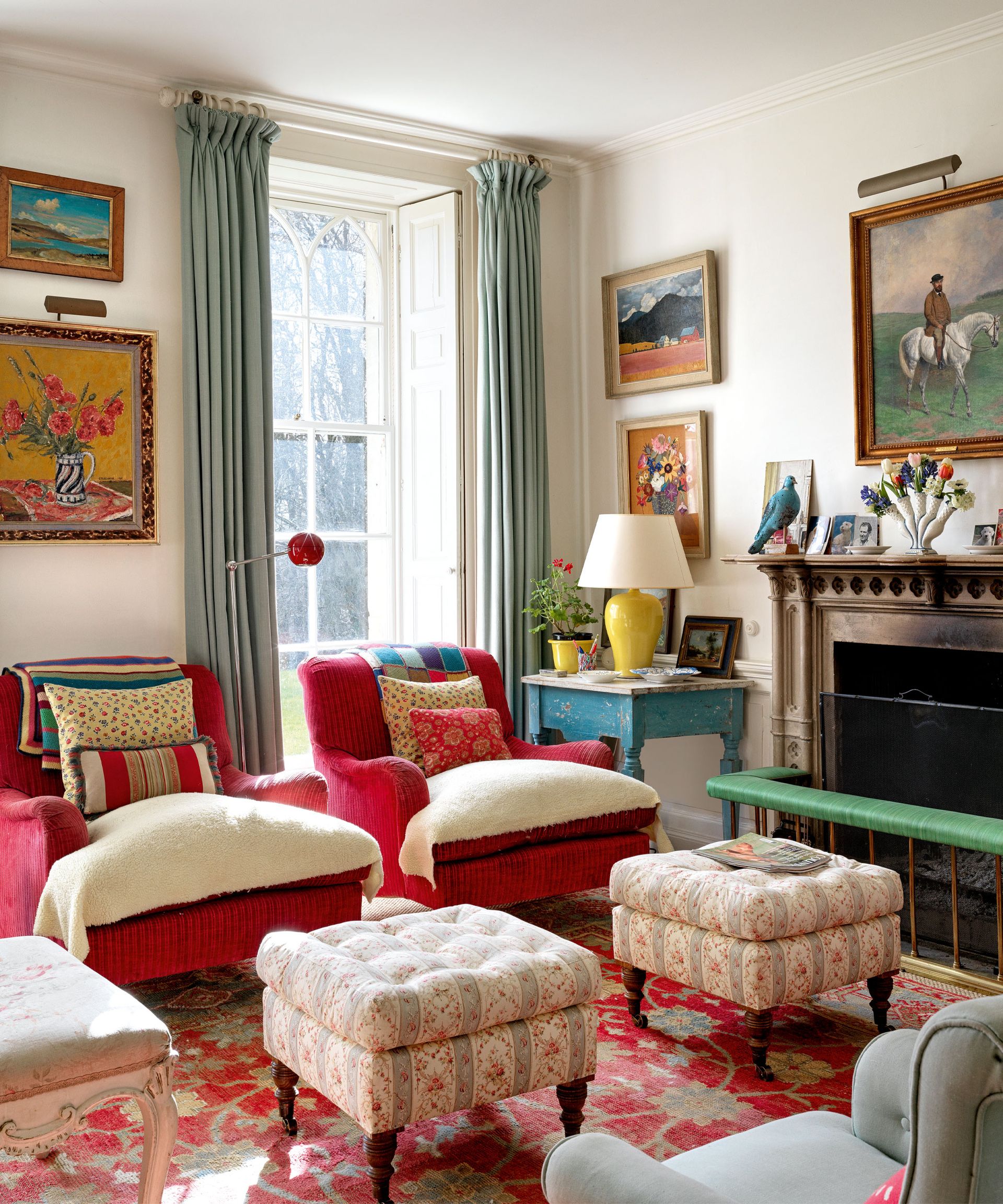 Why have just the one ottoman? For a balanced, symmetrical look in your living space, using multiple ottomans is a great way to add texture and color to a room, as well as providing multiple surfaces that can act as seating, display areas and footrests.
Whether you choose matching designs like in the cozy living room above, or opt for contrasting styles dotted around a room, having more than one ottoman will always create both an area of style and practicality.
11. Position in a bathroom to create a luxurious atmosphere
Ottoman ideas are often considered to be found in a living room or bedroom, however, using an ottoman when considering bathroom ideas can create a heightened atmosphere of luxury and relaxation and really transform the use of the space.
Ideal if you want to make large bathroom space feel cozy, placing an ottoman in the center of the room can create an inviting seat space and added element of warmth and texture.
In this bathroom, the bench style, tufted ottoman creates an elegant seating area, and makes the most of the empty space opposite the bath.
12. Add a splash of color to a neutral scheme
If you don't want to go big and bold on your paint and wallpaper ideas in a space, adding color through upholstery and key furniture pieces is a simple and subtle way to add character to a room.
In this living space, painted in a palette of calming, neutral colors by Little Greene, the bright green ottoman creates a beautiful contrast and adds an inviting element of color and texture. An ottoman is a great platform for accent color ideas, adding an unexpected, vibrant shade through this piece of furniture is a quick way to add impact and interest.
13. Layer pattern on pattern
For a rich and vibrant look, choosing an ottoman with a print that contrasts with the rest of your scheme will make for a bold design rich with character and personality.
The colorful, checked ottoman in this striking living room enhances the elements of playful texture and pattern in the space. Using a mixture of different prints, colors and styles in a room can create a unique, maximalist look that celebrates layered patterning.
Where should you put an ottoman?
There are no set rules on where you should put an ottoman in your home. Traditionally, they are used in a living room space, placed in front or beside a sofa or lounge chair. Ottomans are great for making a seat space feel intimate and engaging, and placing one near the main seating area in your home will not only make the space feel cozy and united, but will provide a practical surface area.
However, the essence of an ottoman design is that it is a multipurpose piece, meaning that in can be used in rooms across the home.
As explored in this article, ottomans are great for use in the bathroom, bedroom and living room, providing extra seating and a platform to rest books, decorative accessories and, of course, your feet.
How do you decorate an ottoman?
Depending on where you place the ottoman in your home, they can be dressed with an array of decorative objects and accessories.
Using an ottoman decorative tray creates a designated area that you can place flowers, coasters, books and decorative pieces, whilst still leaving room for people to rest their feet or sit.
In a living room, an ottoman is the perfect place to display books and magazines, whilst in a bathroom, you can decorate with select toiletries or a small basket of towels.
An ottoman is a great area to showcase meaningful objects and accessories, so however you decide to decorate, it can be a platform for both practical and personal pieces.
Sign up to the Homes & Gardens newsletter
Decor Ideas. Project Inspiration. Expert Advice. Delivered to your inbox.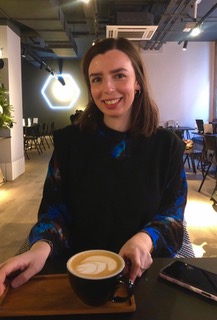 Zara joined Homes & Gardens in February 2022 as a Content Editor. After studying English Literature at University, she worked as an Ecommerce Website Editor, Content Writer and Buying Intern at multiple independent businesses within the luxury retail and lifestyle sectors. Her role at Homes & Gardens unites her love, experience and passion for the world of design and desire to create inspiring written content. She enjoys nothing more than discovering new trends, brands and products, whether that be in fashion, interior design or lifestyle.