How many coats of primer do you need? Professional painters reveal best practice for walls and furniture
One coat of primer may not be enough, experts warn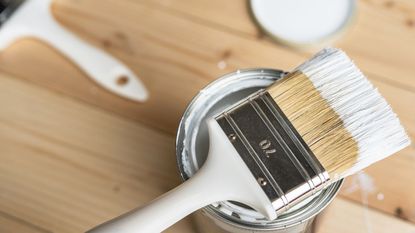 (Image credit: Getty Images)
Priming may seem like a time-consuming extra step, but it is vital if you want any paint project to last. However, a single coat may not be the best approach. So, how many coats of primer do you need? We asked professional painters to tell us what they did in the course of their work.
They told us that primer is essential when painting furniture, and an advisable step when preparing walls for painting if you want a smooth, even finish. However, too little may make no difference at all, and too much isn't beneficial either, they say.
Here, professional painters share their thoughts on the perfect amount of primer for any paint project and reveal their favorite primers for the job.
How many coats of primer do you need?
When prepping a surface properly for paint, one of the best interior painting tips experts suggest time and time again is to use one to three coats of primer. This general rule of thumb can be used when painting walls and furniture, with the number different depending on the quality of the surface you are working with, suggests Tony Adams, home improvement expert at DIYGeeks.
'For a clean, smooth surface, or when you are painting over an area that has already previously been painted a light color (or the same color) then you likely only need one coat of primer to create a thin barrier ready for the new paint,' he explains.
Tony has been a handyman for over 27 years, having followed in his father's footsteps. He has since opened his own handyman services and has begun sharing his expertise on the DIYGeeks home blog to help those he can't reach with his business.
Professional painters then recommend two coats of primer for any surfaces where you have repaired imperfections, are painting over darker colors, or for painting any surfaces with stains, perhaps painting over watermarks, to help block moisture and prevent the stain from bleeding through.
'For some walls with marks or dark paint, up to three coats of primer may be needed for a good block and full coverage,' adds Jay Sanders, contractor and owner of Castle Dream Construction Company.
You may also want to consider two coats of primer for porous surfaces such as stone, drywall, or wood, continues Tony Adams, home improvement expert. 'These are more likely to absorb liquid, so two coats of primer to properly seal them and prevent the paint from absorbing unevenly.'
Can you skip priming?
Although there are sometimes a few steps you can skip when redecorating, such as painting laminate furniture without sanding, priming is an essential part of prepping to paint and should never be missed, warns Joshua Bartlett, home improvement specialist and owner of I'll Just Fix It Myself.
'Paint will stick better to a smooth, even surface that has been primed,' he begins. 'It protects the fresh coat of paint from flaking and chips and extends its life. Many primer applications will boost its effectiveness and improve the likelihood of a flawless finish – don't cut corners on the priming if you're going to be painting. Instead, it lays the groundwork for a fantastic, long-lasting result. Have fun changing the look of your room!'
Joshua Bartlett has been responsible for the upkeep of several homes, apartments, and rentals. He created I'll Just Fix It Myself to help others learn alongside him, sharing what he has learned through his decades of successes – and failures – to tackle home improvement.
Professionals' favorite primers
Mentioned time and time again, these three primers are constantly rated as the professionals' favorite primers for any home painting project:
Favored by contractor Jay Sanders, this primer is ideal for both interior and exterior projects and can be used on both furniture and walls.
Zinsser Bullseye 1-2-3 Primer
Perfect for blocking stains, Zinsser is another common recommendation from our painting experts who love this make for its multi-surface applications
FAQs
Should I sand between coats of primer?
There is little reason to sand between coats of primer, as the surface is already made for good adhesion. Sanding in between is, therefore, pointless and just extra (very messy) work. Some painters will sand down the finished coats of primer with very fine grit sandpaper before adding the paint when painting wood, but this is optional.
How long should you wait before applying a second coat of primer?
How long you leave between coats of primer can depend on the type of primer you are using and the surface you are painting. Generally speaking, you should leave around two to three hours between coats of primer, but always check the primer can's instructions to be sure.
---
It is a good idea to not use any more than three coats of primer when painting to avoid a thick undercoat that doesn't dry properly, leading to cracking or chipping. This also causes paint to dry more slowly, making your paint job more difficult, and can even lead to just as uneven a finish as if you hadn't used primer at all. One to three coats of primer is perfect for any paint job in your home.
Chiana has been at Homes & Gardens for six months, having started her journey in interior journalism as part of the graduate program. She spends most of her time producing content for the Solved section of the website, helping readers get the most out of their homes through clever decluttering, cleaning, and tidying tips – many of which she tests and reviews herself in her home in Lancaster to ensure they will consistently deliver for her readers and dabbles in the latest design trends. She also has a first-class degree in Literature from Lancaster University.