How to paint a door – simple steps to make this DIY job a breeze
These expert tips on how to paint a door will help ensure a professional finish...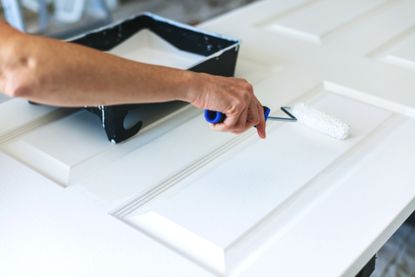 (Image credit: Getty Images)
Finishing a room is all about the details, and learning how to paint a door will ensure a slick and up-to-date backdrop in any space.
Unlike painting a wall, a door is rarely a flat, uncomplicated surface: there is door furniture and paneling to negotiate. Then, there's the paint finish, too.
'Window casings, doors and trims are most often painted with a higher sheen, as the glossier paints are the most durable,' says Ed Edrosa, project manager at BEHR. 'The sheen also works to highlight architectural features.'
Discover top tips to bring your door paint ideas to life, below.
How to paint a door for a flawless finish
We've asked the paint experts at Benjamin Moore and BEHR to help make painting a door seamless and stress-free, and the finish professional. Paint brushes at the ready?
1. Take the door off its hinges
When you are painting a room, it's a good idea to take the door off its hinges before you paint it, and place it somewhere over a sheet covering.
If you can't or don't want to do this, make sure to protect all the areas around the door, including the door frame, hinges, floor and door handles.
Whichever option you choose, preparation and protection is key to ensure a clean job.
2. Remove the hardware and prep the door
'If you are going to remove the hardware, take photos before doing so,' says Helen Shaw, of Benjamin Moore. 'Put all hardware components in clearly labeled bags so that reassembling the hardware is easier.'
She adds: 'If the door is in relatively good shape, you could tape the hardware and paint the door without removing the hardware. This method is less preferred because it can result in brush marks from cutting in around the hardware.'
Once you remove the hardware, the last step before prepping painting is to tape off any glazing within the door, or sections of the door you won't be painting.
To prepare the door for painting, fill any cracks or dents and sand back along the grain. Doors that have never needed painting may need priming too, for best results. More on that below. Once all the preparation work is done, you are ready to open a paint can.
3. Work from top to bottom
'Paint doors from top to bottom,' advises Ed Edrosa, project manager at BEHR. This will help ensure that you catch any drips and runs before they dry.
He continues: 'Use a brush for painting in a small panel. You can use a brush over the entire surface to avoid the appearance of roller stipple.'
For panel doors and frames, use panel bordering as natural break points, cutting around the edges and filling in the middle.
4. Prevent drips and runs as you work
To prevent paint drips and pools from ruining a sleek paint job, try these pro tips.
When painting doors laid horizontally:
'Be sure to brush the inset panels,' says Benjamin Moore's Helen Shaw. 'Check panels for pooling paint after rolling or spraying.'
When painting doors standing vertically:
Helen advises: 'Watch out for runs, especially if you are working with thinned paint. Humidity can keep the product open longer so check for runs or sags. Have a 2-inch flat and 2-inch angled brush ready for hard-to-reach places.'
5. Wait for the paint to dry
It's important to wait until the paint has cured before adding a second coat, re-installing or using your door. Ed advises: 'Allow enough time for the paint to dry fully before putting doors and windows back into use. Otherwise, they will stick together.'
While paint may feel dry to the touch after just a few hours, you'll want to give it at least a day to cure enough that it no longer runs the risk of sticking.
Do I need to prime a door before painting?
Primer is useful when painting a door because it helps paint adhere to the surface and blocks stains. There are a few reasons to prime a door before painting.
One, if it's an unfinished wood or fiberglass door, and this is the first time you'll be painting it, you should use a primer first. This will help paint adhere to the door's surface, which is especially important since a door is a dynamic component in your home that will get moved and touched a lot.
Another reason to prime a door is if you sanded off a previous stain or finish. Adding a primer will ensure that the old colors don't bleed through, and it will give you an even, smooth finish.
Finally, if you've filled holes or repaired the surface of the door, using a primer before painting will help ensure a uniform paint job.
What type of paint should I use for a door?
Choosing the right paint for your door is key to a lasting finish.
If you're painting an interior door, make sure you go for the right paint finishes. A latex paint with a sheen is a good choice. Gloss, semi-gloss or eggshell paints are wipeable, so you can easily clean fingerprints and shoe marks off the door. Skip the high-gloss unless you're an experienced painter, since high-gloss paints show brush marks easier and are trickier to use.
If you're planning to change your front door color or are painting a front door to revamp it, you'll need exterior paint that's suitable for the material of your door. An exterior latex paint will work well for both wood and fiberglass.
Sign up to the Homes & Gardens newsletter
Decor Ideas. Project Inspiration. Expert Advice. Delivered to your inbox.
Ruth Doherty is an experienced digital writer and editor specializing in interiors, travel and lifestyle. With 20 years of writing for national sites under her belt, she's worked for the likes of Livingetc.com, Standard, Ideal Home, Stylist and Marie Claire as well as Homes & Gardens.