How to paint a radiator – step-by-step for an expert-worthy finish
Experts share their top tips on how to paint a radiator for a flawless, professional-style result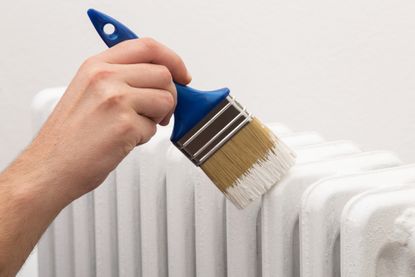 (Image credit: Getty Images)
The idea can be a little intimidating, but learning how to paint a radiator is easy with a little help from the experts.
With a few top tips, you can give your radiators a makeover and, in doing so, make the whole room feel fresher.
Along with learning how to paint a room and how to paint a wall, it's a DIY skill that will come in handy time and again.
Below, we take you through the process, step-by-step.
How to paint a radiator for a super-sleek finish
We've rounded up some top expert tips below to make painting a radiator easy. And, don't worry, when it comes to how to paint behind a radiator, we've got that tricky bit covered too.
Ensuring you have the right tools will make this DIY project easier.
You will need:
A 2-inch paintbrush.
A suitable water-based primer that protects against rust.
Wood and metal paint (like Valspar Premium Wood & Metal paint).
A dust sheet.
Sponge and warm water.
1. Clean and sand the radiator
It's important to ensure your radiator is clean before you attempt to paint it. Simply wipe it down with a damp cloth and soapy water.
Before starting, also make sure your radiator is switched off and cooled down.
'As with any other DIY job, you need to prepare the surface before you paint,' advises Will Thompson of paint company Valspar. 'Use a sponge and warm water to wash the radiator and leave it to dry. Protect the floor with a dust sheet and use masking or decorator's tape to attach newspaper or a sheet to the wall behind your radiator, to protect the wall from any accidental brush strokes.'
Then get ready for sanding. The experts at Farrow & Ball say: 'Give your radiator a very light sand – being careful not to scratch the surface – using a flower paper or a wet-dry process and make sure the radiators are clean before painting.'
2. Apply a metal primer
Priming is an essential part of learning how to paint a radiator, and is a step you shouldn't skip if you're looking for a professional finish.
Choose a primer specifically prepared to be used on radiators, such as a wood and metal primer which will protect the radiator from moisture building up and will prevent it from rusting.
The experts at Farrow & Ball say: 'Use a metal undercoat and primer and apply a full, solid coat – leaving enough drying time between each coat (and make sure not to overwork the paint) – this creates a good base for your top coat.
'Then follow this with two top coats of your chosen color.'
Valspar's Will Thompson says: 'Apply the primer with a paintbrush starting with the sections closest to the wall, painting the edges first, before moving onto the mouldings.
'Work in small sections, painting the top and then bottom, before bringing the two together in long sweeping movements.'
3. Choose your color
Take time to consider whether you want your radiator to perfectly blend into your walls or be in contrast to surrounding shades.
You can take a sample of the exact desired color or your preferred paint brand can mix and match it for you.
If you have used a metal primer, Farrow & Ball suggests its Modern Eggshell or Estate Eggshell finish for your top coat.
4. Paint in a logical order
Getting the painting technique right goes a long way to achieving a pro-worthy finish.
'Start painting the section closest to the wall in long, horizontal strokes,' says Will Thompson. 'Then, work on a small section of the top and bottom panels and join it in the middle. Paint the grooved sections first, followed by the raised panels in vertical strokes. Once you've finished that section, move to the next part.'
The professional tip? Make sure you slightly overlap the sections you've recently painted for consistent color and coat.
5. Boost ventilation
Allow the top coat to dry thoroughly before adding a second coat. Increase the ventilation whilst painting, leaving doors open and keeping the radiators off until the last coat has fully dried.
What kind of paint do you use to paint a radiator?
You need to choose paint finishes specifically designed to withstand heat – this means that while you can use matte paint or satin paint, for example, you will get much more durable results with wood or metal paints. Using a metal primer on a radiator before painting will also ensure good results, as will a very light sanding before painting.
Do you need to prime a radiator before painting?
Yes, ideally you should prime a radiator before painting, and should use a specifically designed radiator primer. Doing so will more or less guaranteed that your top coat adheres well, that your finish is professional, and that any chips are well-covered and won't rust through the top coat.
Sign up to the Homes & Gardens newsletter
Decor Ideas. Project Inspiration. Expert Advice. Delivered to your inbox.
Ruth Doherty is an experienced digital writer and editor specializing in interiors, travel and lifestyle. With 20 years of writing for national sites under her belt, she's worked for the likes of Livingetc.com, Standard, Ideal Home, Stylist and Marie Claire as well as Homes & Gardens.