How can I update my kitchen without replacing it? Budget-friendly tips from design experts
Interior designers share their kitchen makeover quick-fixes for a new look at a fraction of the cost of a full refit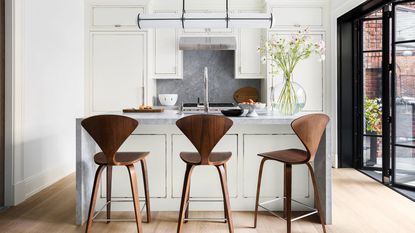 (Image credit: Brittany Ambridge )
If you've lived through a full kitchen refit you'll know exactly how stressful it can be. Weeks of microwave meals and TV dinners. Days of dust and kitchen equipment boxed up or distributed around the house. No thank you.
But what if, as you consider your kitchen ideas, there was a way to update your kitchen without replacing it? A new-look kitchen with no huge price tag attached, and very little inconvenience. Sounds interesting, doesn't it? Well, with some great advice from interior designers who share their tips for kitchen updates, you'll discover there are many ways to update a kitchen without replacing it.
From simply adding in new accessories, to painting cabinets or changing the walls, floors, or backsplash, we've got it covered. Everything you need to inspire a great new look for your kitchen.
How can I update my kitchen without replacing it?
So how can you update a kitchen without replacing it? Start by thinking about what you actually want to achieve, and why you're thinking of an update rather than replacing the whole room. Are you looking to save money or time by swapping in a few new features for a quick fix? Or perhaps you're happy with most elements of the kitchen, but some details are crying out for a refresh. Whatever your reasons for opting to update rather than replace your whole kitchen, it's reassuring to know that small changes can make a big difference. And there's a whole team of interior designers who agree and are ready to share their expert knowledge on how to update a kitchen without replacing it.
1. Paint the cabinets – the designers' update of choice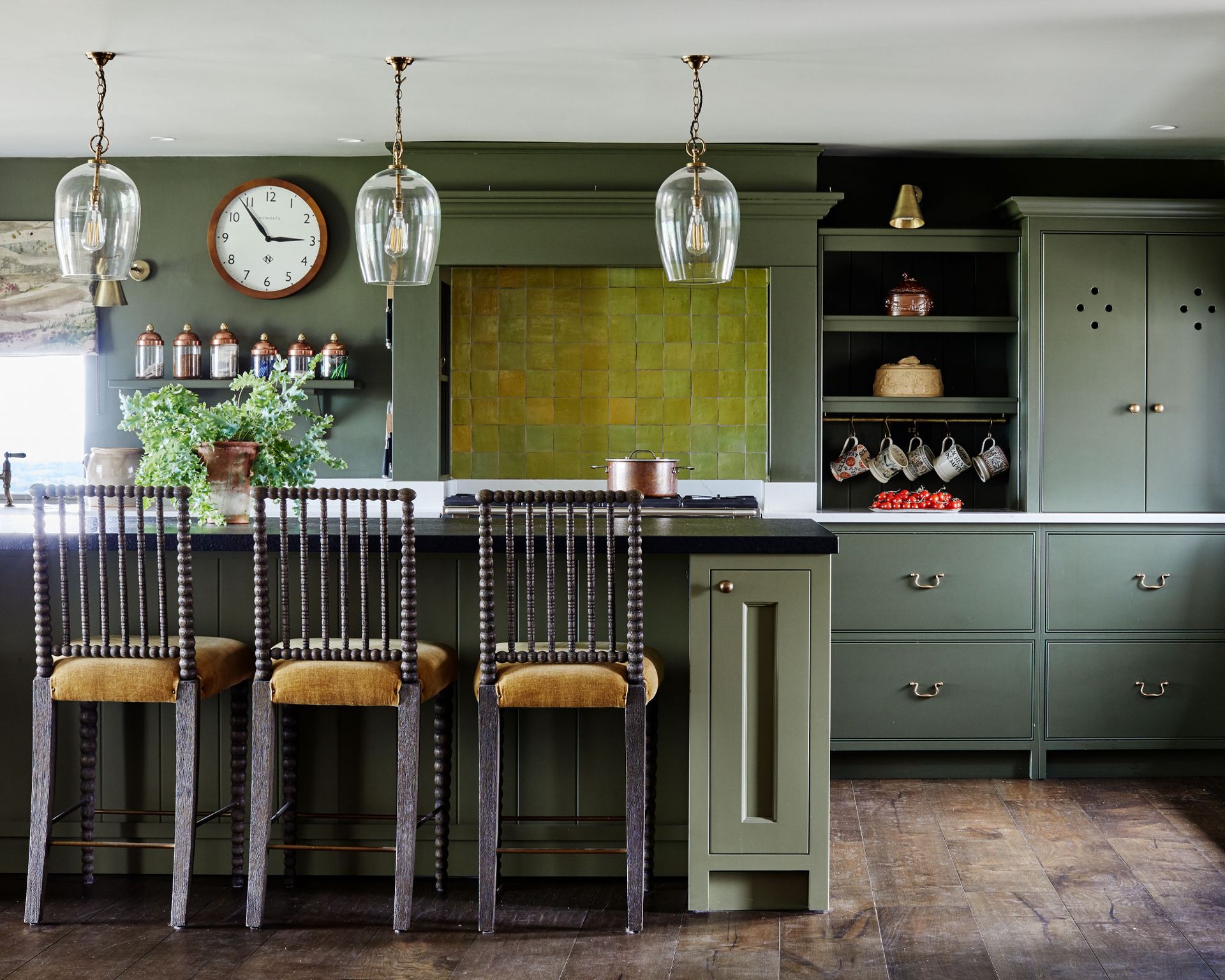 A key part of your update will be your kitchen cabinet ideas. If you're thinking of how to update kitchen cabinets without replacing them, then you're in good company because painted kitchens are favored by design experts, who appreciate the way it gives a fresh perspective with very little outlay. Not only is it a budget-friendly way to change things up, but it's also environment-friendly too. Why send kitchen cabinets to a landfill if you can give them a new lease of life and upcycle them with a can of paint?
'A kitchen remodel doesn't have to be wildly expensive to give it an update,' says Emily Flaxman, owner and principal designer, Flax Interiors. 'In some of our projects, budget constraints mean that we don't replace the cabinetry. Instead, we paint the walls and cabinets, replace the hardware, changed the light fixtures, and add new countertops and backsplash. It gives the space a whole different vibe – taking it from dated and drab to refreshing, bright and airy.'
Katie Browning of Lucas Browning Design agrees, but says updating lighting and choosing modern hardware are her quick-fix starting points 'If you really want to go for it, you can switch out your cabinet color, which will have a more dramatic effect,' she says. 'Painting cabinets can refresh a space at a fraction of the cost of replacing them.'
'Changing kitchen cabinet fronts and hardware is my favorite way to update a kitchen while retaining its existing shapes and form,' adds Ruchi Agrawal Mohan, founder of DesignbyRUCHI. 'The cabinet boxes themselves don't have to be changed, only the fronts. In an instant, it can change the kitchen from old and dated to any color and finish of your choice. Selections have to be made taking into consideration the existing countertop, backsplash and appliances.'
Anna-Jaël Hotzel adds 'You might not want to change the countertops but can use their color and material as a jumping-off point for your cabinet design choices. What works well about using an analogous color palette is that it instantly looks sophisticated and creates a lot of atmosphere. Consider using a color similar to the one on your worktop or experiment with going two shades lighter or darker. You can also play with contrast by choosing a finish opposite of the worktop. For example try a glossy paint finish on the cabinets if you have a matte or honed worktop, or a matte paint finish if you have a glossy one. This approach creates visual interest and can help create a more dynamic and balanced space.'
We have a whole article on how to paint kitchen cabinets, which details the process step-by-step to ensure you get the best finish. If you don't want to do the job yourself, consider hiring a professional to refinish the cabinet fronts for a flawless new look.
A note of caution, however, from designer Sashya Thind who's not an advocate for painting kitchen cabinets. 'A lot of DIY bloggers recommend painting cabinets. We stay far away from that. They can be expensive if not done correctly. We advise our clients to save the budget for a future renovation.'
2. Paint the walls – but think about the scheme as a whole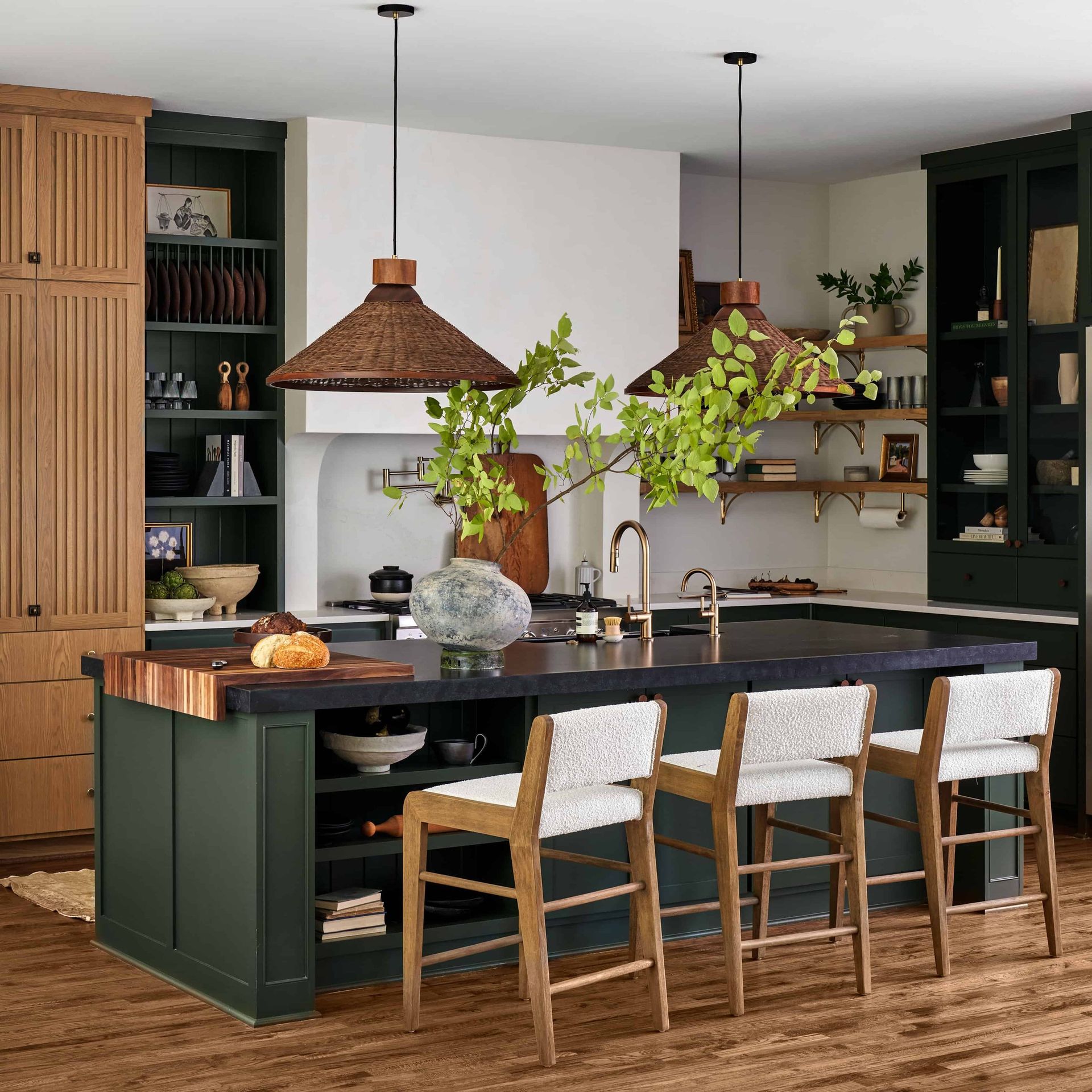 If you're looking at kitchen wall decor ideas, by all means consider kitchen wallpaper and tiles as a way of introducing color and pattern, but one of the easiest options for updating a kitchen is to paint the walls – provided you get the color right.
The color palette for kitchen walls is important says designer Lina Galvao of Curated Nest. 'We love Benjamin Moore Chantilly Lace for spaces that get less natural light, and Benjamin Moore Simply White for a soft warm white. Using matte finishes for hardware and tone-on-tone finishes for accents is also a great way to keep things zen,' she adds.
Lina Galvao adds that once you've selected your color palette: 'The key to success in a lighter, low-contrast kitchen is texture! Make sure your selections are interesting texturally and varied enough throughout the space so it doesn't become boring. If done right, you'll end up with beautiful visual depth and interest, as well as a layered, designer look.
Don't forget about lighting, and most importantly the color of your kitchen lighting. Make sure you buy warm white light bulbs and use dimmers and varied sources of light to create more relaxing lighting for different activities and times of the day.'
3. Swap in new hardware for a subtle update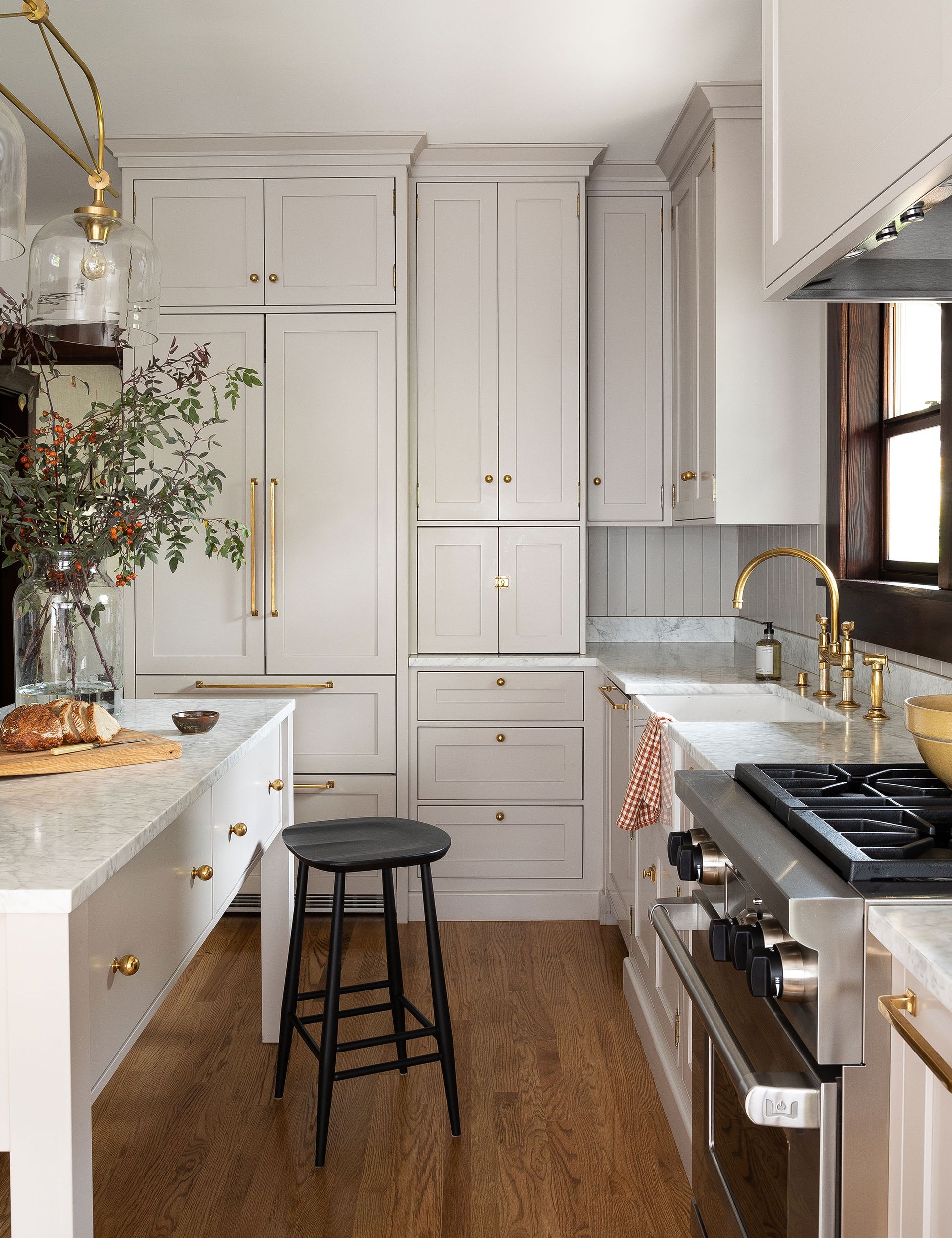 And it really is a subtle update. Not everyone is going to compliment you on your new faucets, drawer knobs or cabinet door pulls, but if those are the only changes you want to make, well why not? You'll notice the difference.
If the existing kitchen was specified to a tight budget, investing in new, high-quality kitchen hardware will elevate the look of the whole space, but to really make an impact, we'd advise combining new hardware with freshly painted cabinetry, or one or two other updates.
Here, designer Heidi Caillier has beautifully used hardware to make a statement. In fact, we would go as far as to say it is the star of the show.
Heidi Caillier Design is a full-service interior design firm, with a project portfolio spanning the US and beyond. Heidi's design philosophy is based on the belief that homes should be comfortable and livable while at the same time beautiful and curated.
4. Brighten the space with new lighting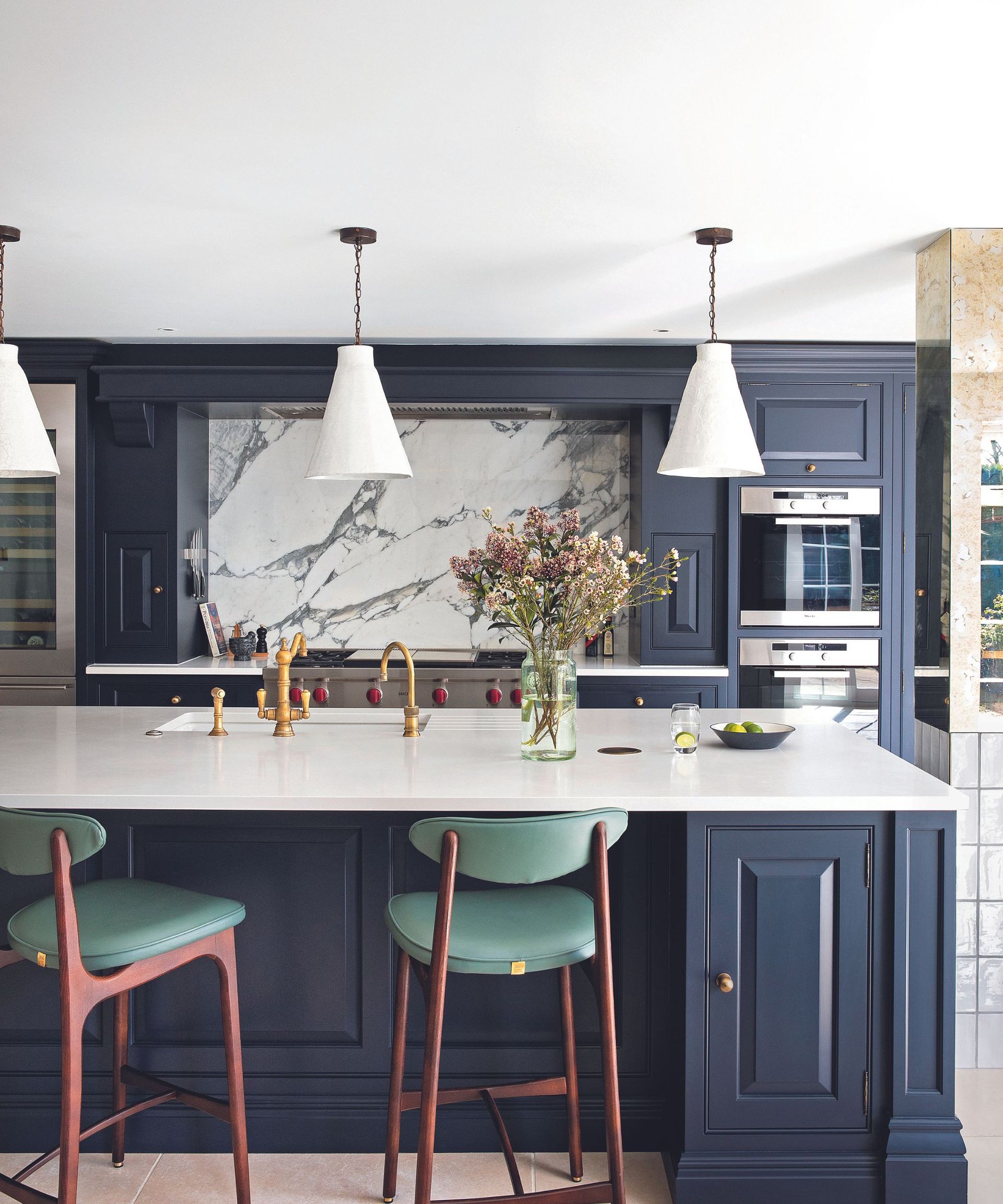 They are so often an afterthought but kitchen lighting ideas should be one of your first thoughts when you're updating the room. For food preparation, overhead task lighting is very important, but also mood lighting for dining areas, and statement lighting, often above a kitchen island, will also help to bring a scheme together.
'Lighting is one of the most fantastic ways to not only make a statement in your home but to express your personality,' says Ginger Curtis, president of Urbanology Designs in Dallas, TX. 'One of my favorite ways to create impact in a kitchen is to play up the scale of the fixture. Like we say in Texas, go big or go home! An oversized pendant or chandelier can add a wonderful wow effect.'
Designer Allison Ruda agrees that good lighting fixtures are crucial when you're updating a kitchen: 'Change out ordinary pendants to beautiful standout lighting and it will make a huge impact on the overall look and feel of the kitchen, and completely elevate the whole space,' she says.
5. Choose new tiles for the floor and/or backsplash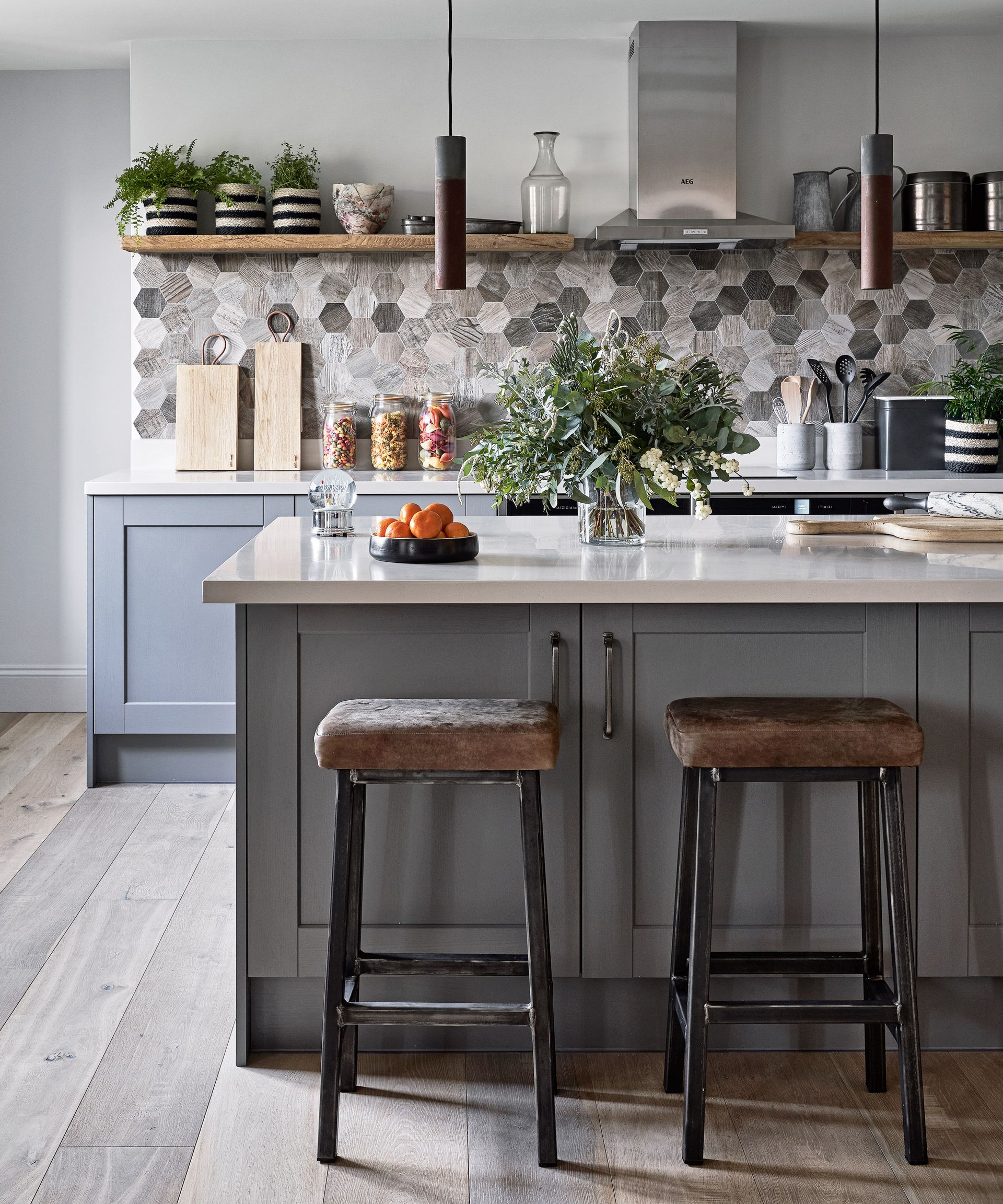 Updating the floor tiles, or choosing a new color and design for the backsplash – or both – may give an outdated kitchen just the lift it needs. Kitchen tile ideas do drift in and out of fashion, so making a more contemporary or classic choice of tile will help bring the room up to date.
The monochrome ombre hexagonal tile backsplash pictured above gives a modern edge to a classic scheme, while still keeping to the smart gray tones elsewhere in the room.
6. Don't forget the accessories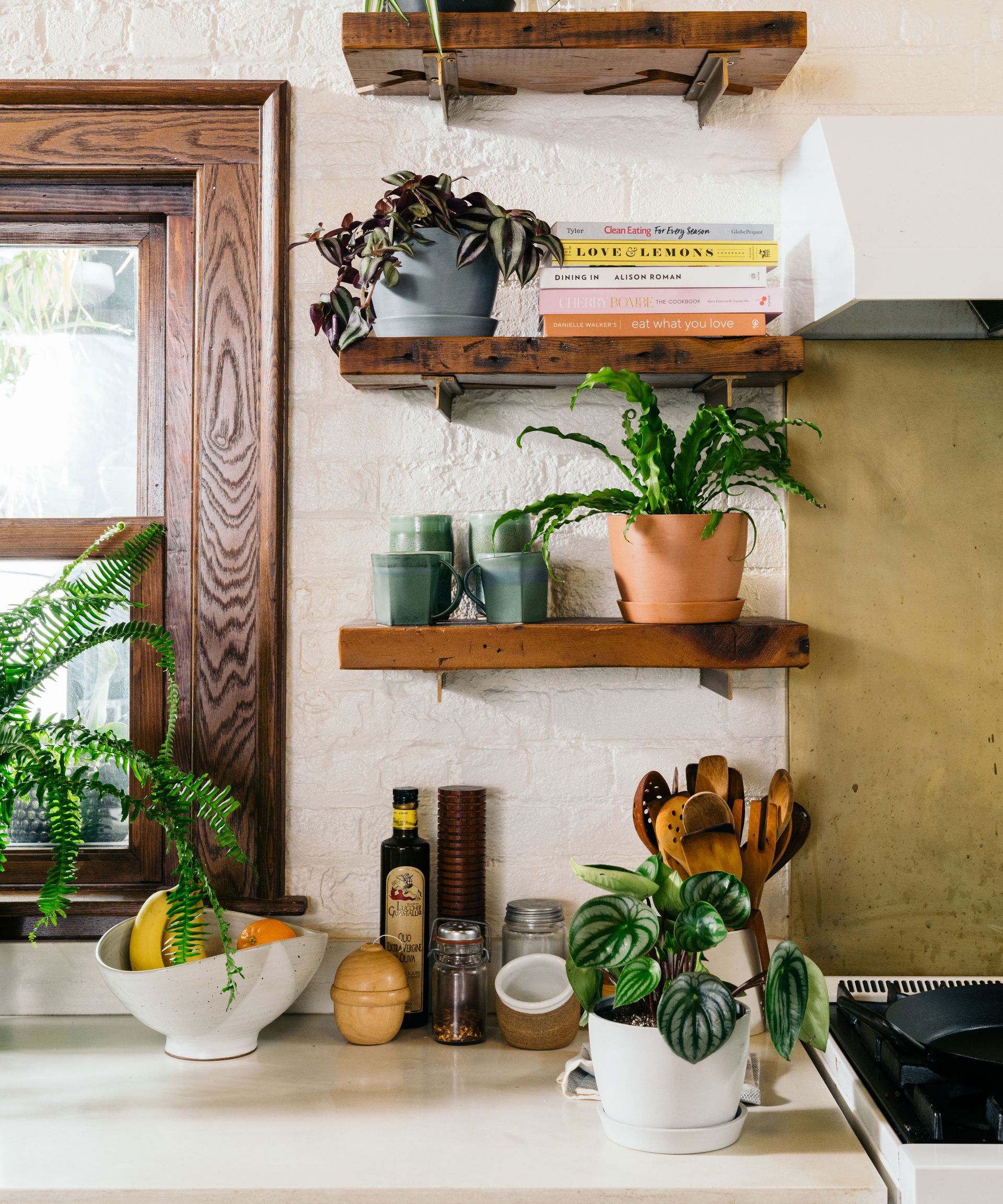 It's all in the detail. So even if you've made only minor updates to your kitchen, adding in fresh new accessories or well-chosen vintage pieces will bring further interest to the overall look. New bar stools will do wonders to upgrade a kitchen island, for a fraction of the cost of replacing the island itself.
Designer Katie Browning advises refreshing the lighting and hardware as starting points, but adds: 'After these changes are done, always remember to layer in styling pieces to bring in warmth and character. Think wooden cutting boards, art on the walls, cute hand towels and stylish soaps that make the space feel complete,' she says.
Jennifer Walter, owner and principal designer of Folding Chair Design Co. agrees. 'If we could just style beautiful bowls and vases on shelves in kitchens without cabinetry we would die happy!' she says. 'We love the look of living objects like hand thrown pottery or unique ceramics atop shelves or countertops in a kitchen. With all of the utilitarian uses a kitchen has, it's nice to offer a warm and natural element in view.'
And while we're on the subject of keeping things natural, houseplants can also play their part in rejuvenating a kitchen. Add in some potted herbs too, and they'll not only bring greenery and aroma to the kitchen, but they'll contribute extra flavor to the meals you prepare in there.
Enjoy kitchen plants and accessories agrees Sashya Thind, but keep things tidy. 'The kitchen is the workhorse of the house so create systems that allow you to be organized and put things away when done. Most kitchens will benefit from a regular declutter,' she says. 'Display cookbooks and a few essentials at most. Herbs are a great way to bring in greens and add a healthy ingredient to recipes.'
FAQs
What is the cheapest way to upgrade a kitchen?
It's difficult to pick out one single idea as the cheapest way to upgrade a kitchen. All our suggested updates come at a cost. New kitchen sink faucets can cost from $70 to $900, with installation on top of that. Similarly, there's a huge variation in prices for tiles from brand to brand, and there are lighting solutions to suit every budget.
It's worth investing in good quality products for your kitchen updates simply because buying cheap may prove a false economy if the product soon shows signs of wear and tear or breaks altogether.
However, by shopping around or buying end-of-line or discounted products it is possible to find good quality at cheaper prices. Buying secondhand or vintage products is another budget-friendly way of adding extra character to a new-look kitchen.
These are some of our favorite low-cost upgrade ideas for kitchens: painting walls; end-of-line tiles for a backsplash (you won't need many for this small area); a rug or runner a table lamp to brighten a dark corner; artwork (frame kids' paintings for a personal and budget-friendly option); a selection of plants; and new pottery or cookware.
So whether you're looking to make big changes or simply tweak a few details here and there's plenty of inspiration above to update your kitchen without fully replacing it.
How can I make my outdated kitchen look better?
Of all the rooms in the house, the kitchen probably gets the heaviest use. Many of us spend more time in this room than any other room in the house, particularly if it incorporates a seating and dining space so there are bound to be signs of wear and tear that require attention. Not only that but spending a lot of time in the kitchen means that you may simply just be ready to change things to refresh the look. Plus, since replacing a kitchen involves a lot of cost and upheaval, it's easy to put off making any changes, especially a full kitchen refit, and put up with an outdated kitchen for years. We totally get that, but some of the improvements you can make are simple, quick, and budget-friendly, too. There's advice and inspiration above for all levels of kitchen makeovers, from painting cabinets and replacing hardware to changing light fixtures, flooring, backsplash, and accessories.
Oregon-based interior designer Anna-Jaël Hotzel, principal of Kollective, has some great advice as you consider your options and think about designing a kitchen: 'Updating your kitchen is an exciting way to create a fresh look and feel without the cost of a full remodel. However, before jumping into the design process, it's helpful to consider what elements you can't or don't want to change. By doing so, you can anchor your design choices around the existing elements and create a cohesive feeling.'
Sign up to the Homes & Gardens newsletter
Decor Ideas. Project Inspiration. Expert Advice. Delivered to your inbox.
Karen is the houses editor for homesandgardens.com and homes editor for the brand's sister titles, Period Living and Country Homes & Interiors, and an experienced writer on interiors and gardens. She loves visiting historic houses for Period Living and writing about rural properties for Country Homes & Interiors, and working with photographers to capture all shapes and sizes of properties. Karen began her career as a sub editor at Hi-Fi News and Record Review magazine. Her move to women's magazines came soon after, in the shape of Living magazine, which covered cookery, fashion, beauty, homes and gardening. From Living Karen moved to Ideal Home magazine, where as deputy chief sub, then chief sub, she started to really take an interest in properties, architecture, interior design and gardening.