How to clean an air fryer – to ensure every dish is as delicious as the next
Experts reveal exactly how to clean an air fryer for tasty results every time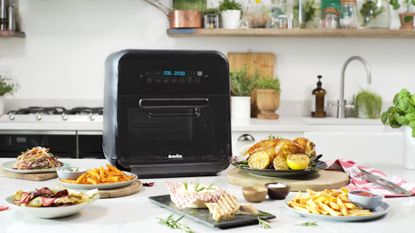 (Image credit: Breville)
Learning how to clean an air fryer is essential to ensure you're making the most of your machine – and making sure the delicious-tasting food we all love (hello, beautiful baked salmon) is kept as healthy as possible.
Investing in the best air fryer will allow you to cook healthier versions of your restaurant favourites, like French fries and crispy bacon.
But keeping it clean is an important part of maintenance and getting optimum use from your machine. An air fryer is a small convection oven that simulates deep fried food without submerging it in oil.
Small droplets of oil are circulated at high-speed by a fan, resulting in crispy food without the high calorie intake. However, even low oil content does mean an air fryer needs a special approach to cleaning.
Thankfully, we've got kitchen cleaning experts on hand to tell us exactly how it's done below...
How to clean an air fryer
To make sure every dish is as tasty – and healthy – as the next, it's important to keep your air fryer clean. This will also help to ensure it lasts longer, extending its life span and the worth of your investment.
'You need to be thorough when cleaning your air fryer, to make sure there is no left-over bacteria from previous foods that have been fried,' says Adele Brennan, Home Electrics buyer at VonHaus.
Don't forget to unplug your air fryer and let it cool before you start cleaning it.
1. How to clean air fryer baskets and grills
'We recommend to always wash the basket and trays after every use, even if it doesn't appear dirty,' says Zoe McClean, Senior Home Economist at Breville. 'Fat splashes and food residue can get easily baked on and will be difficult to remove if you leave it for a long time.'
VonHaus' Adele Brennan advises: 'Make sure to clean the removable components, including your baskets and grills, with warm and soapy water.
'Use a soft sponge or cloth and stay away from abrasives – this will damage the equipment. When food items are really stuck, leave it to soak in hot soapy water to loosen the food and then clean.
'Dry the components out separately before re-assembling.'
2. How to clean the air fryer elements
Some elements, like the air flow racks, drip tray and rotisserie spit, will be dishwasher-safe, so do check the specific cleaning guide for your air fryer.
Otherwise, Adele advises: 'For the inside of your air fryer, use a damp cloth that has been dipped in warm soapy water.
'You can even use a soft brush to get into the corners of your air fryer but stay away from a steel-wire brush. Dry with a towel, then re-assemble.'
Breville's Zoe McClean warns: 'DO NOT IMMERSE IN WATER. Abrasive cleaners, scrubbing brushes and chemical cleaners will also damage the unit.'
3. How to clean the outside of an air fryer
'To keep the air fryer looking beautiful and shiny, wipe the outside with a damp cloth and then buff with a microfiber cloth,' advises Zoe.
How do you clean baked-on grease out of an air fryer?
Soaking the air fryer basket in hot, soapy water should help remove stuck-on grease, but you can also try baking soda and water. Simply mix three parts baking soda and one part water, let it soak for 30 minutes, and use an old toothbrush to remove the grease.
Can you clean an air fryer with soap and water?
Yes, you can clean an air fryer with soap and water. Simply fill it with warm saopy water and leave it to loosen any grease. Rinse thoroughly and allow the air fryer to dry before reusing it.
Sign up to the Homes & Gardens newsletter
Decor Ideas. Project Inspiration. Expert Advice. Delivered to your inbox.
Ruth Doherty is an experienced digital writer and editor specializing in interiors, travel and lifestyle. With 20 years of writing for national sites under her belt, she's worked for the likes of Livingetc.com, Standard, Ideal Home, Stylist and Marie Claire as well as Homes & Gardens.