How to descale a Nespresso Vertuo
Keep your Nespresso Vertuo delivering top-quality coffee every time with this descaling and cleaning guide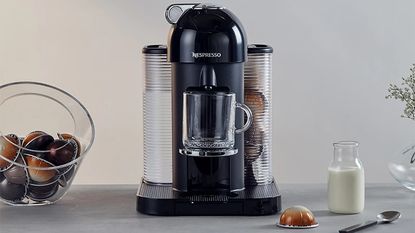 (Image credit: Nespresso)
Need to know how to descale a Nespresso Vertuo? You're in the right place as we've put together a handy step-by-step guide.
As with any coffee machine it's important to descale it regularly to achieve optimum taste, there's nothing worse than a metallic-tasting coffee on the morning commute. However regular descaling is also vital for extending the life of your machine as limescale build-up will cause damage.
If you already know how to clean a coffee machine you'll know that descaler can be harmful if it makes contact with skin and can cause damage to worksurfaces, so be sure to wash your hands thoroughly after handling, protect your countertop before starting and wipe up any spillages immediately.
And if yours is unsalvageable? We have tons of Black Friday Nespresso deals for you.
How to descale a Nespresso Vertuo
Descaling a Nespresso Vertuo is very straightforward and should only take 20 minutes or so.
Models from the Nespresso Vertuo coffee maker range are hugely popular and the Nespresso Vertuo Next and Nespresso Vertuo Next Deluxe both ranked highly in our round-up of the best coffee makers and best single-serve coffee makers. They are renowned for delivering great coffee while being really simple to use and are very compact so easily fit into any kitchen, plus they are easy to clean and descale with their automatic cleaning and descaling cycles.
Nespresso recommends descaling a coffee machine every 3 months or 300 capsules (whichever comes first). The good thing is that the Nespresso Vertuo will indicate when it requires descaling by displaying a half-red, half-green light. Once this warning appears you will only be able to make a couple of coffees before descaling becomes mandatory.
To descale a Nespresso Vertuo you will need:
An empty 1-liter container
A Nespresso descaling kit – available at Amazon, which comes with a set of 2 x 100-milliliter descaling units
A damp cloth
Odorless detergent
When descaling a Nespresso Vertuo coffee machine it is recommended to use Nespresso's own descaler. While cleaning with vinegar is a useful cleaning hack, Nespresso advises that vinegar should not be used as it can damage the machine.
1. Empty the machine
Turn the machine on by pushing the button then open the head by pushing it upwards and let the capsule be ejected, close.
Push the lever down for three seconds and turn off the machine, then empty the cup support and the used capsule container.
2. Run the descale cycle
Fill the tank with 0.5 liters of water and add 1 unit of Nespresso descaling liquid.
Place the empty 1 ltr container under the coffee outlet.
When the machine is off, push the lever down and press the button at the same time for three seconds. An orange light should appear to indicate the coffee machine is in menu mode.
Push the lever down once to enter descaling mode.
The orange light will blink throughout the descaling process and it will stop automatically when the cycle is complete.
3. Rinse the machine
After descaling, it is vital to run a rinse cycle to make sure there is no descaler left in the system. Empty the container and place it back under the coffee outlet.
Empty, clean, and rinse the water tank and cup support thoroughly, then refill the tank with fresh water.
Press the button three times in two seconds to start rinsing, this will then run automatically and should take 5 minutes.
When the light flashes green, the rinsing is complete.
Push the lever down and press the button at the same time to exit the mode.
Leave the machine to dry for at least 10 minutes before using it.
How to clean a Nespresso Vertuo coffee machine
Before descaling, Nespresso recommends cleaning the separate parts of the machine and running a cleaning cycle. This is not always necessary – essentially it depends on how dirty the machine is and how regularly you use it – for more details check out our guide on how to clean a coffee machine. Before you run the cleaning cycle empty the capsule container and rinse and clean the water tank and cup stand with hot water and mild odorless detergent.
To clean the Vertuso coffee machine fill the water tank with fresh drinking water and place the 1ltr container under the coffee spout.
Then, close the machine head and press the button. The machine will then heat up for around 40 seconds – the green light will flash to indicate it is heating up. When the green light is steady the machine is ready.
Press the coffee button three times in two seconds to start the cleaning cycle – the orange light will blink during this process, this can take up to 5 minutes. When cleaning is done the light will go steady green.
Sign up to the Homes & Gardens newsletter
Decor Ideas. Project Inspiration. Expert Advice. Delivered to your inbox.
Pippa is Content Editor on Homes & Gardens online contributing to Period Living and Country Homes & Interiors print issues. A graduate of Art History and formerly Style Editor at Period Living, she is passionate about architecture, creating decorating content, interior styling and writing about craft and historic homes. She enjoys searching out beautiful images and the latest trends to share with the Homes & Gardens audience. A keen gardener, when she's not writing you'll find her growing flowers on her village allotment for styling projects.