Best water filters: 8 top ways to purify water at home
Browse the best water filters, with options that can be used on the go and at home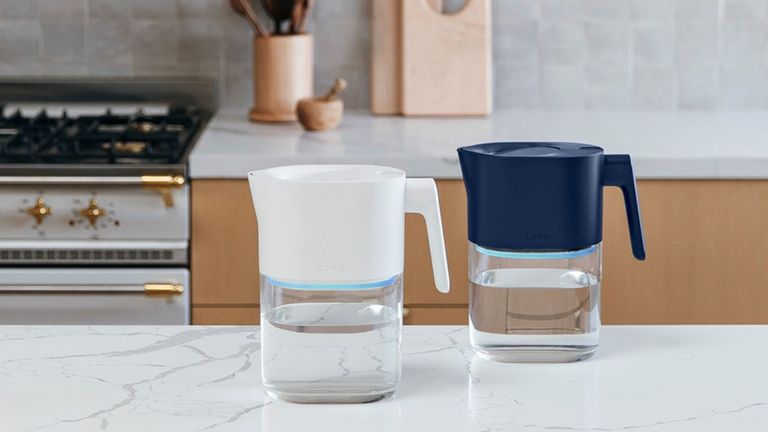 (Image credit: LARQ)
For many, one of the best water filters is an absolute essential in the home, unlocking access to purified water whenever you want it. An inexpensive yet hugely impactful investment, one of these filters will make your drinking experience more enjoyable, and allow you to reduce your plastic use at the same time.
It's important to note that the best water filters are versatile when it comes to design. If you want purified water when you're in the office, or out on a run, you don't need to strictly decant from your water filter jug. Instead, you can browse bottles with water filters built-in, or adapt your faucet to have purified water flowing all of the time.
If you are ready to make a permanent change to your faucet, this type of filtration can help to remove impurities such as lead, chlorine, microplastics, and more. For the short-term option, water filter pitchers are excellent value too, and you can get thousands of uses out of one before you need to replace it.
Identifying the best water filter for you is essential to have a more satisfying experience as you hydrate. Here, you'll find a thorough round-up of a number of different outstanding water filters, including details on inserts and sizes, as well as information on filters we've tested. You could also consider investing in one of the best hard water kettles, to ensure the boiling water that you consume is also filtered to its best.
---
The 8 best water filters worth the investment
1. LifeStraw Home Water Filter Pitcher
The best water filter pitcher
Specifications
Type: Pitcher
Filter life: 264 gallons
Dimensions: 7 x 7 x 14 inches
Reasons to buy
+
Comes in glass and plastic
+
Plenty of colors to choose from
Reasons to avoid
-
Not the longest lasting filter
We love the look of the LifeStraw Home Filter Pitcher. It has a range of filter colors to choose from, including aqua, grey and white, and comes in either glass or BPA-free plastic. The seven-cup design means it will fit into most refrigerator doors while still catering to the whole family.
The microfilter claims to last up to last a year with regular use, which isn't as much as some of the other water filters in our guide, but that is perfectly acceptable; it is easier than ever to replace when need be.
When it comes to the filtering function, there's a two-stage process in the LifeStraw pitcher. The first filter removes 99.9% of bacteria, parasites, and microplastics.
The activated charcoal and ion exchange filter removes chemicals such as chlorine for a better taste and removes metals such as lead and mercury.
(opens in new tab)
2. Aquasana 2-Stage Under Sink Water Filter System with Brushed Nickel Faucet
The best water filter under sink
Specifications
Type: Under counter
Filter life: 500 gallons
Dimensions: 8.25 x 4.25 x 9 inches
Reasons to buy
+
DIY installation
+
Great price
+
Low running costs
+
Neat-looking faucet
Reasons to avoid
-
Some have complained of leaks
-
It may be difficult to install
Under-counter filters have the benefit of purifying all of the water that comes out of the faucet. Choices such as these happen to be expensive and complicated, whereas the Aquasana 2-Stage Under Sink Water Filter is anything but; it is an exceptional selection.
Here, this best buy strikes a balance between price and effectiveness, particularly as you'll notice it comes equipped with a chrome faucet.
Nevertheless, while the features and functions are fantastic, the set-up is another story, as it is designed to be a DIY-yourself; prepare to invest a decent amount of time into its set-up, as it's known for being difficult. A handful of users have noted that the plastic joints (included in the set-up) can leak a little: so be careful as you install them.
When properly installed: the two-stage filtration system will remove up to 97% of chlorine, as well as lead, asbestos, herbicides, and pesticides; dealing with upwards of 60 common water contaminants with every use, and at a flow rate of only 0.5 gallons per minute. (Which is good since filtrations cost a minimum of 10 cents per gallon!)
All-in-all: owners have agreed that their water tastes exceptionally better after implementing this system.
3. LARQ Pitcher
The best luxury water filter
Specifications
Type: Pitcher
Filter life: 60 gallons
Dimensions: 9.5" x 10" inches
Reasons to buy
+
Advanced filtration system
+
Excellent tasting results
+
High-quality jug and components
This LARQ choice combines the practical elements of a pitcher with the advanced features you find in countertop filters. It has a two step filtration process, with an innovative filter that has been designed to ward off harsh contaminants and prioritize taste. Within the body of the pitcher, there is a rechargeable lithium polymer battery that works to destroy bio-contaminants at a molecular level, including viruses and mold.
It has a long-lasting filter too which can withstand 60 gallons of water before replacement. Whilst the feel of the pitcher is heavy, it's an undoubtedly high-end design, and after testing the results out, we can confirm the taste of the water is excellent.
4. Cleanwater4less Countertop Water Filtration System
The best countertop water filter
Specifications
Type: Countertop
Filter life: 10,000 gallons
Dimensions: 5 x 5 x 9.5 inches
Reasons to buy
+
Simple installation
+
Well priced
+
Can purify thousands of gallons
+
Good flow rate
Reasons to avoid
-
The diverter valve is the weak part
-
No replaceable filters
The Cleanwater4less Countertop Water Filtration System is easy to install, with a universal diverter valve that should connect directly to most faucets. According to most users, this system is a bit easier to set up when compared to others, and while it is a little fiddly (as most are), it was not anything all that difficult.
In terms of value with this filter, it is one of the better ones on the market; with a system rated to purify 10,000 gallons of water, it is sure to impress. The integrated filter isn't as extensive as some other products but is said to reduce chlorine by 97%, plus it can deal with volatile organic compounds and sediment.
However, as impressive as that may be, it is crucial to note that this machine comes with an irreplaceable carbon filter, so when the filter is finished: that is it.
Time for a brand-new machine!
(opens in new tab)
5. Waterdrop Lucid 10-Cup Water Filter Pitcher
The best water filter for your refridgerator
Specifications
Type: Water jug
Filter life: 200 gallons
Dimensions: 10.40 x 5.30 x 10.00 inches
Reasons to buy
+
Well priced
+
Good capacity
+
Filters last a long time
+
Good-tasting results
Reasons to avoid
-
Water filling system can be finicky
Water jugs are one of the most convenient ways of filtering water: as you top them up with tap water, let them do their job, and then stick them in the refridgerator. While many can be expensive, Waterdrop Lucid is one of the best value.
Its 10-cup capacity is a good balance between size and portability, and the filter lasts for 200 gallons before you it will need to be replaced.
Plus, there is a wooden handle for an easy-to-use pour, as well as a fill port with a flap that opens underwater pressure — so the lid does not ever have to be removed!
Lastly, this choice turns to a seven-stage filtration system to improve the taste and quality of your water.
6. Apex Countertop Drinking Water Filter
The best water filter for accessibility
Specifications
Type : Countertop
Filter life: 750 gallons
Dimensions: 6 x 6 x 14 inches
Reasons to buy
+
Looks great
+
Clean tasting water
+
Easy to fit
+
Great price
Reasons to avoid
-
Filter can be hard to replace
The Apex Countertop Drinking Water Filter comes equipped with a clear filter that is sure to be a talking point for anyone in your kitchen.
Much like any other typical countertop model, this choice connects directly to your faucet, and it's fed directly with tap water. Designed to last for up to 750 gallons — remove chlorine, sediment, radon, and more! — this easy-to-install option will look sensational in any kitchen.
7. Brita Ultra Max Dispenser
The best water filter dispenser
Specifications
Type: Dispenser
Filter life: 120 gallons
Dimensions: 5.1 x 14 x 9.6 inches
Reasons to buy
+
It Will not take up much space
+
Spigot for dispensing
+
A larger capacity
+
Sized to fit into a refrigerator
Reasons to avoid
-
Heavy to refill
-
Replacing the filter cartridge can be difficult
If you like the idea of having a lot of filtered water readily available but don't want the DIY hassle of an under-counter or countertop filter, the Brita Ultra Max Dispenser could be for you.
With an 18-cup capacity, this slimline dispenser has enough water for the entire family. Designed to sit on a counter without taking up too much space, but you can slide it into a refrigerator, too.
As this is a large item and heavy when filled with water, there's a spigot on the front for filling up cups or bottles, and it has a decent flow rate.
This model ships with Brita's long-life filters, which require changing after 120 gallons (there's an indicator on the lid that tells you when). You can use the standard 40-gallon filters, too.
Some owners have found it hard to get the black plastic lid off to replace the filter.
Refilling is straightforward enough, with water going in at the top and filtering through to the bottom. This product is a little cumbersome and heavy to move.
Brita says its filter can remove 99% of the chlorine and lead, plus cadmium, mercury, benzene, and more. Owners generally report an improvement in water taste.
Overall, if you don't want to plumb in a water filter but want a lot of capacity, this is the product for you.
8. LARQ Lightweight Self-Cleaning and Non-Insulated Stainless Steel Water Bottle
The best water filter bottle
Specifications
Type: Bottle
Filter life: N/A
Dimensions: 9.6 x 2.7 x 2.7 inches
Reasons to buy
+
Kills germs and viruses
+
Self-cleaning
+
Works with virtually all water sources
+
Provides a long-lasting charge
Reasons to avoid
-
Quite expensive
-
Doesn't improve the taste
The LARQ Bottle is slightly different from the other products on this list: as it doesn't have a filter; instead, it uses a rechargeable battery in the lid to power a UV light that kills bacteria and viruses, making water safe to drink.
There are two cleaning modes: typical is for regular tap water, where you've got a fair idea of how trustworthy the source is; Adventure mode is a longer cycle for less reliable sources.
LARQ says that the minimum requirement for filling is that the water looks clear and is free of heavy sediments; so, you can technically fill it from a clean-looking stream if you need it.
There's also a self-cleaning mode, where the bottle activates quickly every two hours to keep your water pure.
When on adventure mode, the bottle can eradicate 99.9999% of bacteria (including E.coli), as well as 99.99% of viruses. There's no filtering of chlorine or heavy metals: so this bottle won't improve the taste of water.
Other than that, this 17oz bottle is like any other insulated water bottle, keeping cold drinks cold and hot ones hot.
If you're trying to avoid bottled water on the move, this is a handy way to get pure and safe water wherever you are.
8. AmazonBasics AMZB-G30CW Filtration System
The best budget-friendly water filter
Specifications
Type: Countertop
Filter life: 30,000 gallons
Dimensions : 4.4 x 4.4 x 12.8 inches
Reasons to buy
+
Multiple colors
+
Low price
+
High filter capacity
+
Easy to install
Reasons to avoid
-
Cheap parts
-
The filter is not replaceable
The AmazonBasics AMZB-G30CW Filtration System brings you countertop filtration for less, helping those on a budget get better-tasting water.
Available in three different colors, the filtration system is rather plain-looking, but it doesn't take up much countertop space.
This filtration system requires a connection to an existing faucet, which should be straightforward, but it's not compatible with all faucets. There are some complaints that the diverter valve leaks, so take care while installing.
Each product can filter 30,000 gallons of water, but there's no replaceable filter, so you'll have to dispose of the product and buy a new one each time.
Amazon says the product is crafted to reduce chlorine and other unpleasant odors. It does the job well, with most people reporting better-tasting water after installing this.
---
How we chose the best water filters
At Homes & Gardens we like to have hands-on experience wherever we can with products that we feature in our buying guides, as we explore in our guide to how we test. In the case of water filters, we haven't had the opportunity to test every single top-rated option, just yet, but water filters, jugs and bottles are on our agenda to test out at home. The options that we have tested in this list are marked with a Homes & Gardens badge and we've also shared our experiences in the inclusion as to how we found those products.
The options that we are yet to test have been chosen based on a number of criteria, including what shoppers are searching for and user reviews that give true insights into what the filter is like. We've also carefully looked at the sustainable credentials of each, and how long the filter will last for.
Browse more water filters...
Securing the optimum water filter for your home is essential for hydration you enjoy. If you're still on the lookout for your ideal filter, then head to our recommended retailers to select your favorite:
How do I choose a water filter?
All water filters work in the same way: tap water passes through a filter that removes contaminants. There are different styles of filter, though.
Under-counter water filters are designed to fit into a cupboard and usually come with a new faucet. These give you clean, filtered water at the same flow rate as your regular faucet. Although harder to install, you get the benefit of a single faucet to use for everything, and you can quickly use filtered water everywhere, from cooking to filling a water bottle to take away.
Countertop water filters work in a similar way to under counter, but they're usually connected to your faucet. You get the same advantages as with an under-counter model, but these models are easier to install. Having a bulky device on your kitchen counter is the main downside.
Pitcher water filters have everything built into a jug. You fill up the top reservoir with tap water, and it's filtered through to the bottom as clean water. These are quick and easy to use, and you can store a jug of filtered water ready for use. The downsides are that you need a jug double the size (half for tap; half for filtered), and there's a short wait for filtered water every time you fill up.
Bottle water filters are designed for on-the-go use. They're handy if you're on the move and want to refill your water from anywhere.
What does a water filter remove?
Each water filter system is different, so you need to check carefully what each one offers and their particular need. It's worth pointing out that bacteria are generally not removed by most water filters.
Water filters will generally all remove chlorine and prove to be roughly 90% effective. Other contaminants include volatile organic compounds (harmful chemicals), heavy metals, and sediments.
How often should I change the filter itself?
Filters are rated: by the gallon, and most water filter systems will track how much of the filter was used. Once it's time to replace the filter, you'll get a warning. Cheaper systems that don't track actual usage will tell you how long each filter will last.
Typically, you should replace filters promptly, as they'll stop working effectively, and you may as well have non-filtered water.
Molly is the Ecommerce Writer for Homes & Gardens and spends her time searching the internet for the next best thing for your home, with a focus on shopping edits and buying guides. Before joining Homes & Gardens, Molly graduated from the University of Exeter with a degree in English Literature, with previous internships undertaken at The Economist in her summer breaks.