What is the lowest maintenance kitchen floor? Experts advise on the easiest materials to keep clean
Discover the best kitchen floor materials for when you don't want to spend time on frequent maintenance with these experts' advice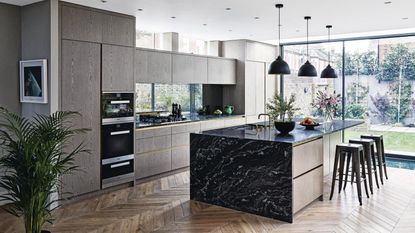 (Image credit: David Lovatti)
When it comes to choosing a kitchen floor picking a material that is both stylish and easy to maintain is often a top priority. So, what is the lowest maintenance kitchen floor?
Luckily, when looking for a low-maintenance kitchen floor there are a few beautiful options to choose from. If you do not want to spend all of your time cleaning a kitchen floor, options such as tile or luxury vinyl flooring offer the best value while maintaining a gorgeous look for your kitchen ideas. What's more, with modern improvements in sealants, natural wood and stone are fast becoming an easy-clean option for your kitchen flooring ideas.
Here, experts have offered their advice for how to choose the best kitchen flooring for minimal maintenance so you can enjoy your time in your kitchen, rather than fret about keeping it clean.
What is the lowest maintenance kitchen floor?
'No longer a space used solely for cooking, the kitchen operates as a multifunctional hub that serves as a zone for preparing food, socializing, and entertaining,' highlights Sarah Escott, Amtico design manager. 'As one of the high traffic areas in the home, it calls for a durable floor that's both stylish and practical.'
These flooring ideas are bound to impress and stand up to the vigours of daily use.
1. Try tile for a tremendous look with little cleaning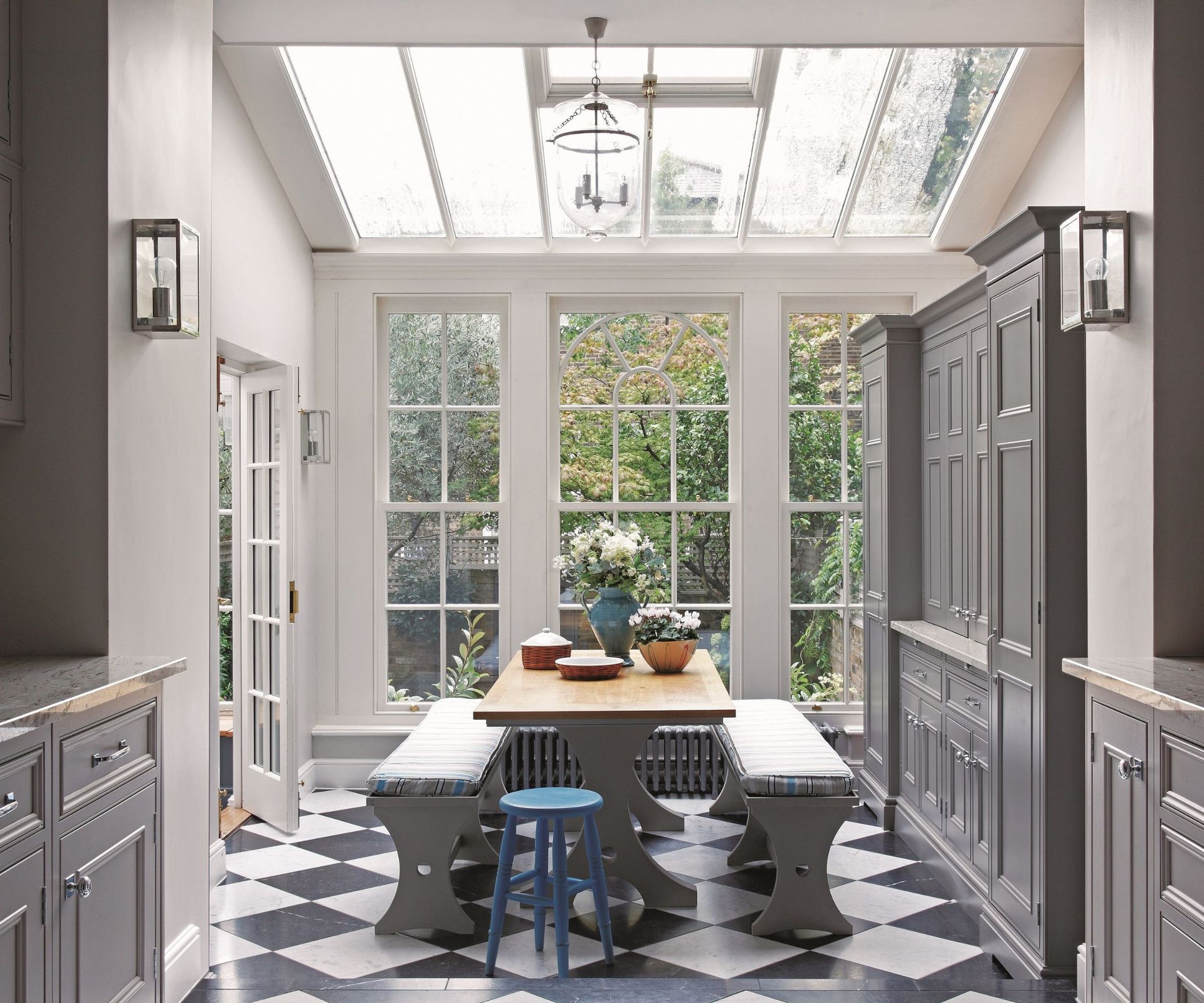 Kitchen floor tile ideas are one of the most traditional options for a kitchen floor and for good reason. Tiles are some of the most durable and low-maintenance materials for such a high-traffic space.
'Encaustic floor tiles are a wonderful way of bringing life to a room and accentuating color and pattern in a space,' says Diane Hyde, Marketing Manager at Craven Dunnill. 'Beautiful in appearance, encaustic floor tiles are also completely durable, making them perfect for high-traffic areas such as hallways or kitchens. Designed with longevity in mind, they are a complete investment that promises to stand the test of time for years to come.'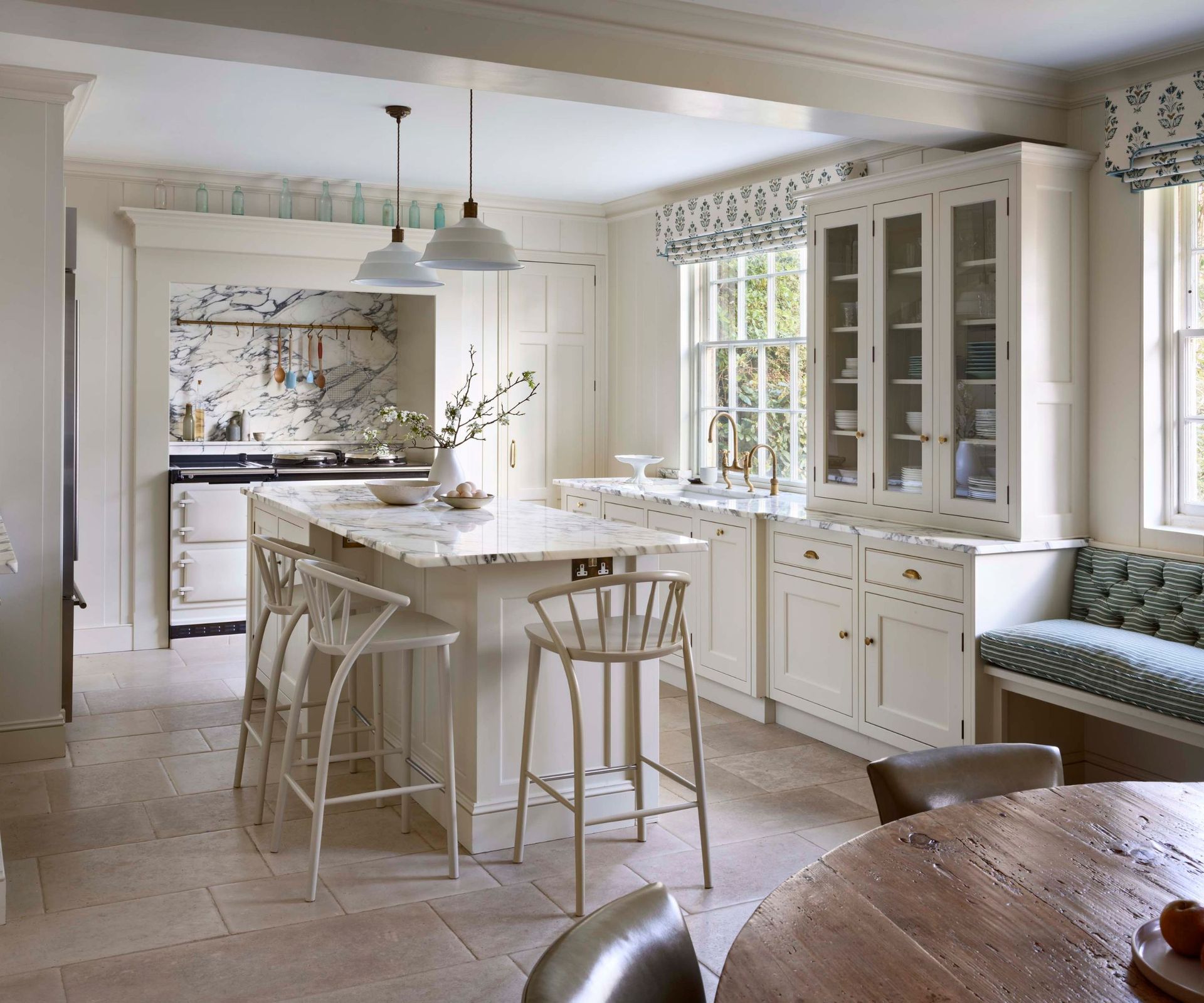 'Whether you're looking to go more traditional with geometric patterned tiles or contemporary with large format porcelain floor tiles for colorful kitchen ideas, there is something to suit all tastes and styles of home,' Dianne continues. 'Color and pattern play a vital role in determining the feel of a room, but they can also impact the size of a space. While light, muted and natural tones make a space appear bigger, heavily patterned tiles in bold colors can make a room feel more enclosed.'
If tile is too cold an option for your flooring, consider using plainer tiles and adding an easy maintenance kitchen rug idea in the areas you walk most such as by counters. Choose an easily washable rug to warm up the space both visually and literally and maintain the easy-maintenance appeal.
2. Look towards luxury vinyl (LVT) for a laid-back approach to maintenance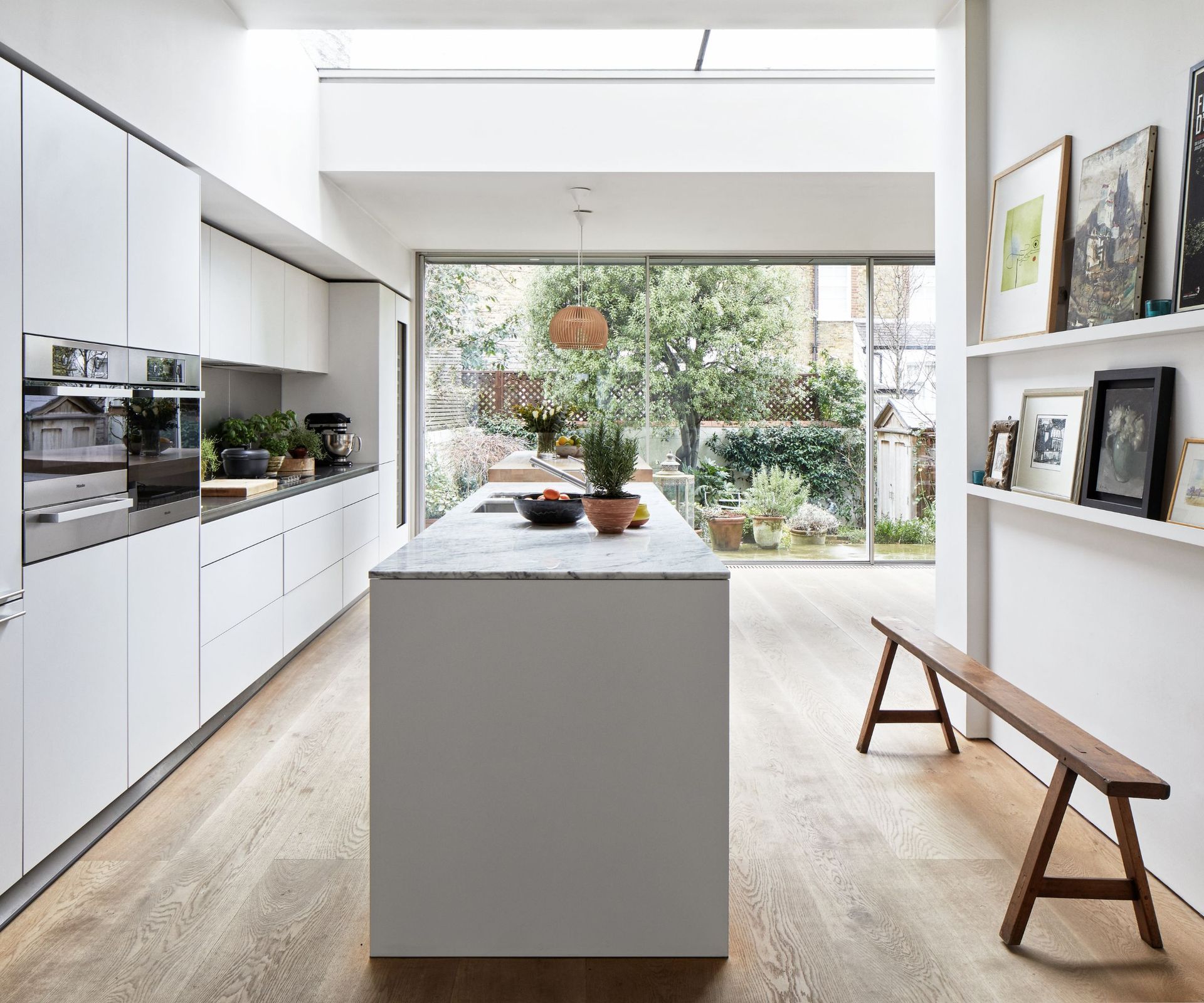 A more cost-effective alternative to floor tile ideas is luxury vinyl kitchen flooring ideas. These floor coverings have fast become a popular kitchen floor option as their quality improves. 'LVT (Luxury Vinyl Tile) boasts a huge number of benefits that simply cannot be replicated with its natural counterparts. One of these is maintenance. The kitchen is one of the most high-traffic areas in the home and so picking a floor that requires low maintenance is key,' explains Sarah Escott.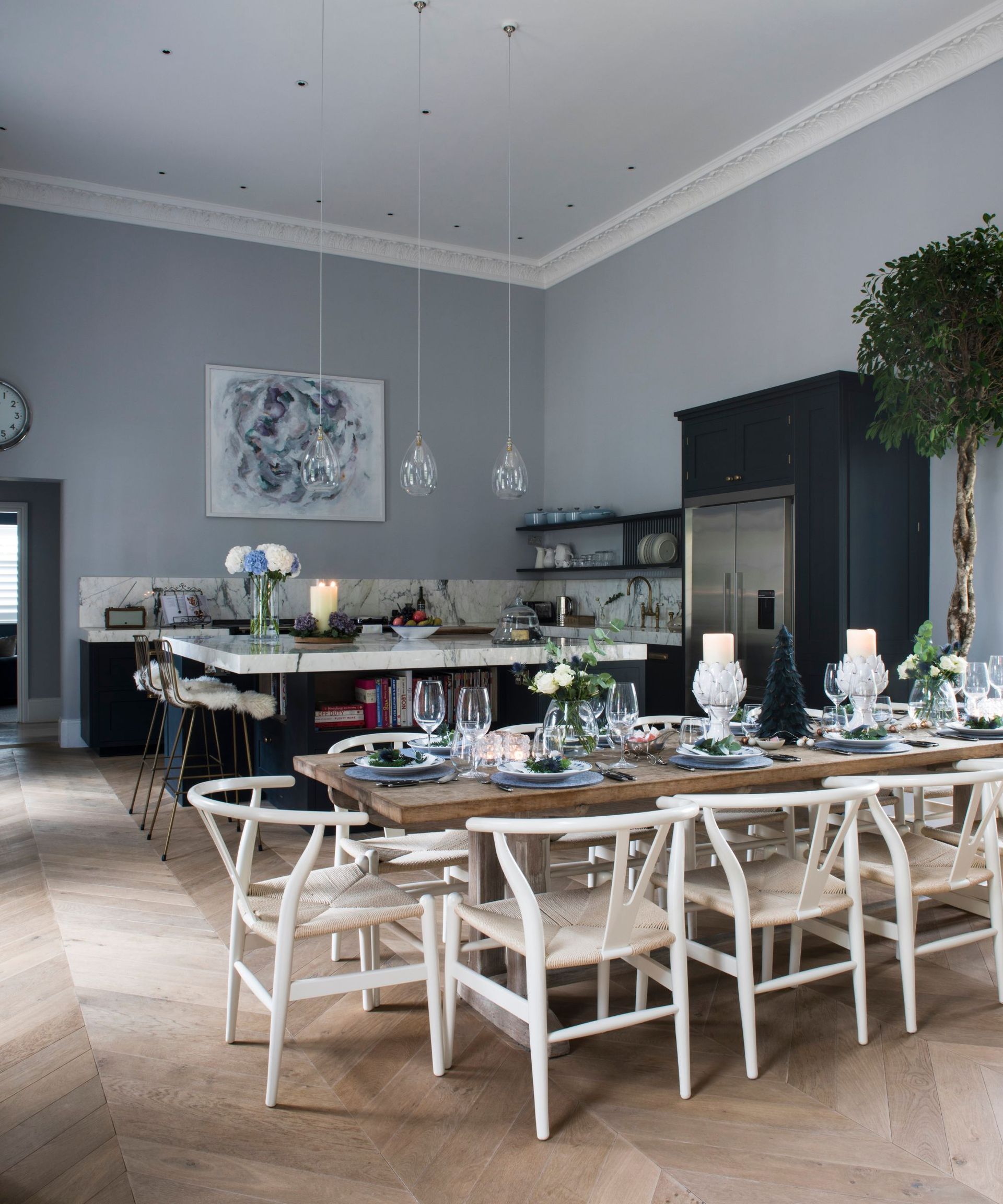 'LVT simply requires a sweep and occasional mop to keep it looking fresh,' she continues. 'Durable flooring that will stand the test of daily wear and tear is crucial for a kitchen floor. Damage to a finished floor can occur over the life of the product. Fortunately, with an Amtico floor, tiles can be lifted and replaced by a flooring professional with relative ease. This isn't always the case with natural planks.'
3. Consider natural materials for a no-fuss finish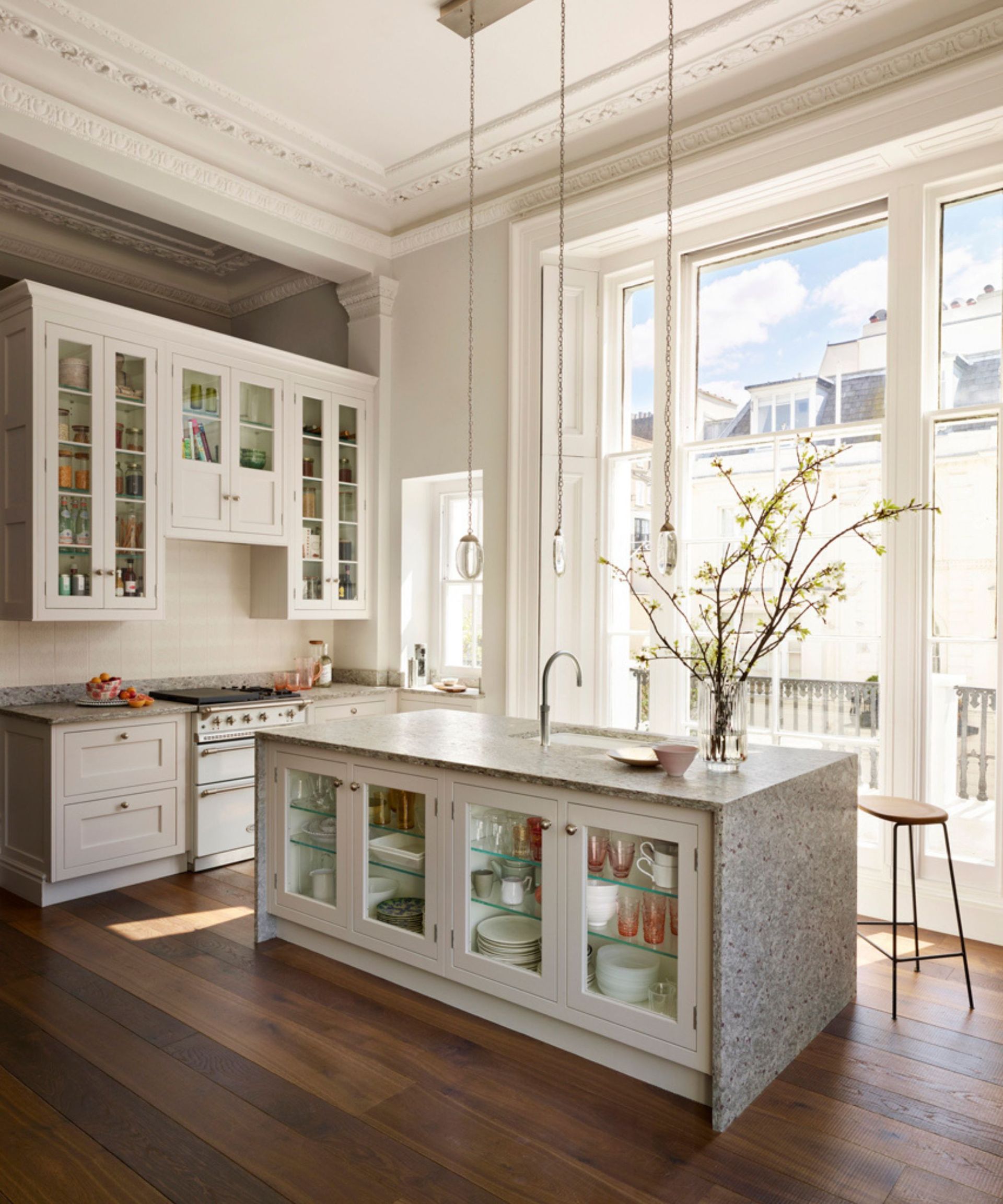 Many people wonder is wood floors suitable for kitchens, and the answer is yes. Natural wood flooring ideas are incredibly durable when treated correctly, so can stand up to the rigors of everyday life in a kitchen.
'When buying a kitchen floor, it's important to make an educated and informed decision. The big choice is often between LVT or real wood/stone. There are advantages to both. With natural wood or stone, it can be tricky to keep it looking good as it requires regular treatment,' says Sarah.
If you want to choose natural materials for your kitchen floor, opt for a matt finished wood as these tend to be more forgiving, or reclaimed wood that already has character from its previous uses. To further protect your wood flooring, oil, lacquer, or varnish the wood, or coat with a protective coating when it is installed and place washable rugs in the most used areas.
What is the most durable floor for a kitchen?
One of the most durable floors to use in a kitchen is ceramic or porcelain tile. Although cold underfoot, these tiles are incredibly durable and easy to clean having been handmade and baked. They are also available in a range of shapes, styles, and colours, making them perfect for any kitchen aesthetic.
What is the most popular kitchen flooring?
One of the most popular kitchen flooring materials is wood, with wooden floorings being warmer than tile but easy to clean if there are spills with recent improvements in sealants to protect natural materials.
Sign up to the Homes & Gardens newsletter
Decor Ideas. Project Inspiration. Expert Advice. Delivered to your inbox.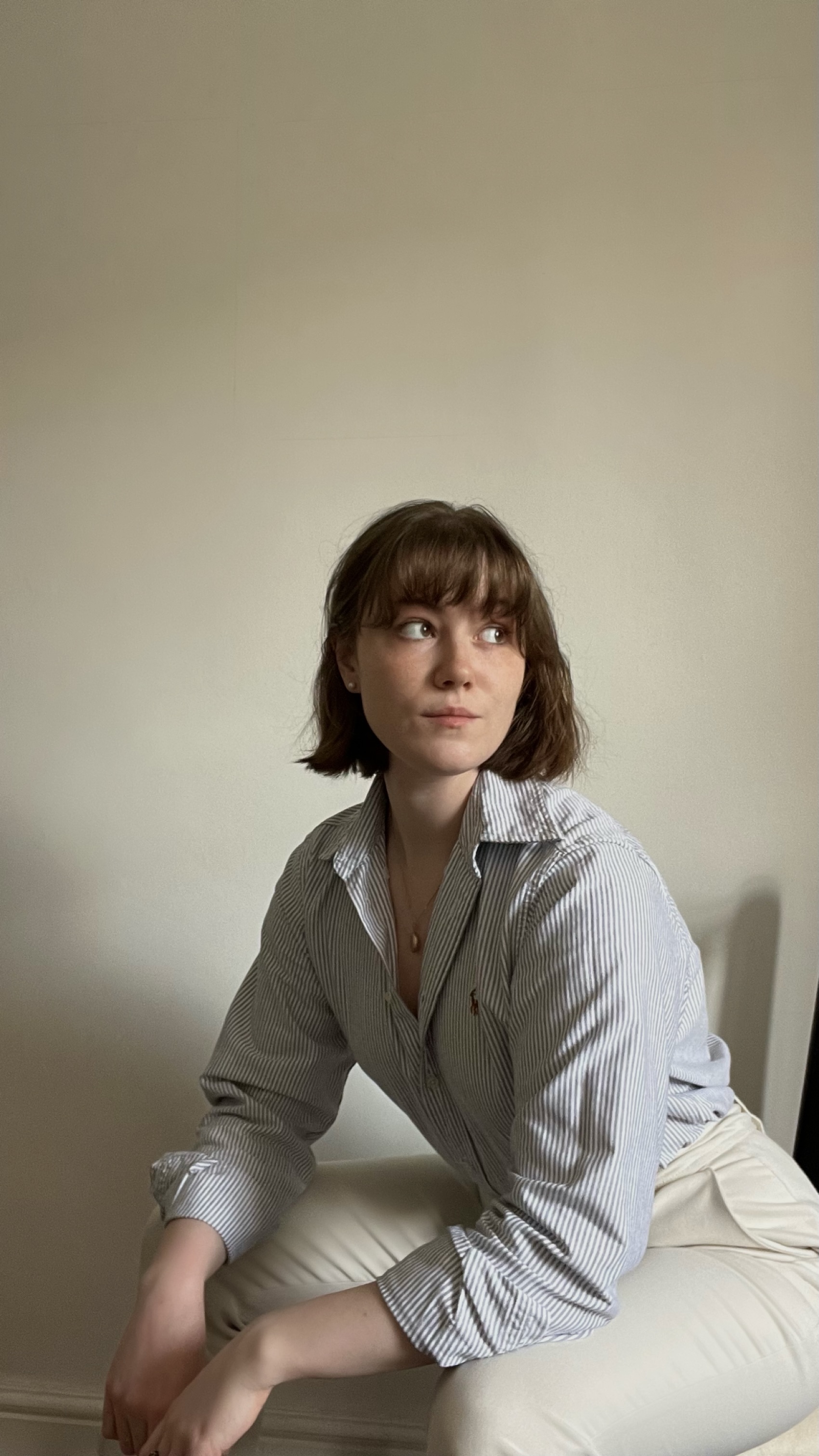 Chiana has been at Homes & Gardens for a year, having started her journey in interior journalism as part of the graduate program. She spends most of her time producing content for the Solved section of the website, helping readers get the most out of their homes through clever decluttering, cleaning, and tidying tips – many of which she tests and reviews herself in her home in Lancaster to ensure they will consistently deliver for her readers and dabbles in the latest design trends. She also has a first-class degree in Literature from Lancaster University.