Cleaning a kitchen floor – 5 expert tips for getting an easy shine
Follow this step-by-step guide to cleaning a kitchen floor for a spick-and-span cooking zone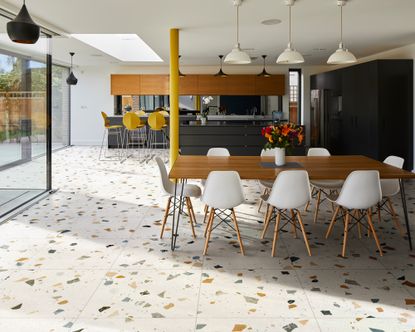 (Image credit: Ca' Pietra)
Mastering top techniques for cleaning a kitchen floor is essential for keeping your cooking space spotless and fresh.
After your countertops, the floor is the one surface that will need the most attention when you are cleaning a kitchen. In truth, it probably needs a daily sweep and a deep clean once a week.
This high-traffic area comes under pressure from all sorts of sources, including pets, children, guests, and daily family life. This means everything from mud to dropped pieces of food will be traipsed through your lovely kitchen flooring ideas.
Below, a cleaning expert gives her top tips for cleaning a kitchen floor so that you can get the best results for the littlest effort.
Cleaning a kitchen floor – top tips for best results
Once you've considered how to choose the best kitchen flooring, ensure you keep the space gleaming by following our expert step-by-step guide to cleaning a kitchen floor below. You can keep it a grime-free zone with tips from Sabrina Fierman, of high-end cleaning service New York's Little Elves.
1. Sweep or vacuum the space
'First, sweep or vacuum,' says Sabrina. 'All floors, particularly kitchens that get a lot of use, will benefit from sweeping or vacuuming every day or every two to three days. Debris and small particles left on floors can damage floors.'
2. Prepare to mop your flooring type
Next, mop the floor. 'You will need a straight sponge mop, particularly those that can fold up to be wrung out, a bucket, and some clean cotton rags can be useful,' says Sabrina.
Fill a bucket with water and add a cleaning agent (follow manufacturers' directions for dilution ratios.) What you use will depend on the type of floor you have.
Sabrina suggests using a cleaner recommended by your flooring manufacturer or these cleaners can be used for the following surfaces:
For marble: Gentle all purpose, diluted dish detergent.
For tile: A strong all-purpose cleaner like Fantastik (which you can buy at Amazon) or similar works well for cleaning tile floors.
For wood: Diluted white vinegar or Bona Hardwood Floor Cleaner (also available at Amazon for wood kitchen flooring.
For vinyl: Cleaning with vinegar or a gentle all-purpose cleaner is ideal for vinyl kitchen flooring.
3. Use the right mopping technique for your floor type
Dip mop into bucket to apply the cleaning agent and ring it out.
Note that wood floors cannot tolerate dampness so use a barely dampened mop and ensure it is well wrung out.
Mop the kitchen floor in an organized fashion, starting with the farthest most area and working towards the exit or door of the kitchen. Occasionally dip the mop back into the bucket and wring it out to release the dirt.
4. Rinse the kitchen floor
After you are done, rinse the bucket, add fresh water, and rinse the mop. Wring it out and go over the floor again to rinse any cleaning residue. Occasionally dip the mop back into the clean water and wring it out as you go. (Except in the case of using Bona or another cleaning product that does not require rinsing.)
5. Go over the floor with clean cotton rags for added shine
If you have clean cotton rags, you can go the extra step and cover your wrung out sponge mop with a rag and go over the floor to dry it. As the rag gets wet, simply replace it with a dry rag as you go.
This is a great techniques for getting a shine when you are cleaning kitchen tiles, whether wall or floor.
What is the best thing to clean a kitchen floor?
Using a mop is a simple but effective way to clean a kitchen floor. The cleaning agent you add to the water will depend on what type of kitchen floor you have. All-purpose cleaners are great for tiles, lino and marble, while diluted white vinegar works well on wood.
What should be done first in cleaning the kitchen floor?
Always start by removing excess lumps of dirt by sweeping or vacuuming the kitchen floor before you mop it.
How do you properly mop a floor?
To properly mop a floor, start by sweeping up debris, then dip the mop into your cleaning solution, wringing it out before beginning to mop. Mop from the furthest corner of the room in sections towards the door, changing the water if it becomes very mucky. Once mopped, any solution that needs to be rinsed off should be now; again, change the water for clean as you go. Allow the floor to air dry a little before using a clean rag attached to the end of your mop to dry and shine the floor.
Sign up to the Homes & Gardens newsletter
Decor Ideas. Project Inspiration. Expert Advice. Delivered to your inbox.
Ruth Doherty is an experienced digital writer and editor specializing in interiors, travel and lifestyle. With 20 years of writing for national sites under her belt, she's worked for the likes of Livingetc.com, Standard, Ideal Home, Stylist and Marie Claire as well as Homes & Gardens.