Where to put a dishwasher in a small kitchen – 5 places picked by professionals
Small spaces deserve high-end appliances too – here is how to fit a dishwasher in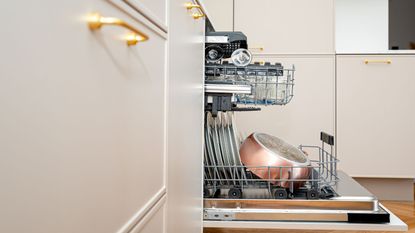 (Image credit: Getty Images)
A smaller kitchen can be hard work at the best of times, even more so when dishes start piling up on the counter waiting to be washed. If you have considered adding a dishwasher but dismissed the idea due to your tiny kitchen space, you may be thrilled to know you can fit one in!
But where does a dishwasher go in a small kitchen? And how can you place it to avoid disrupting traffic flow?
While there are some caveats to consider when working out where a dishwasher should be placed in a small space, such as compromising on small kitchen storage space, experts say it is possible to do – and without too much disruption.
Where to put a dishwasher in a small kitchen
When fitting a dishwasher in small kitchens, there are some important factors to consider in terms of placement. For instance, where your electrical and plumbing outlets are located could determine where your dishwasher can go if you are not looking to do a complete kitchen remodel, reminds Andrew Brown, a NASTeC-certified appliance technician at This Fixed House.
If you are not looking to reroute plumbing, it may be that you follow the rules of a larger kitchen, and place a dishwasher on the right or left of a sink. That being said, if your plumbing allows for it, there are a few spots that are a little better for a small space, experts say if you are looking to maximize your floor plan.
Andrew Brown has over eight years of experience working on residential household appliances, performing diagnostics, and repairs across most major brands. He graduated from the Denver Institute of Technology, is NASTeC certified, and has worked for Mr. Appliance.
1. Maximize corner space with a dishwasher
A common kitchen layout mistake is to place a standard cabinet in a corner, leading to underutilized space and awkward storage. Instead, consider putting a dishwasher in this space to make the most of your kitchen's real estate, suggests Isfira Jensen, CEO and principal designer at Nufacet Interiors.
'Using this area for a heavily used appliance would maximize every inch of valuable space,' she says.
Isfira Jensen has been a professional designer for many years, with the goal of helping those who don't love their homes but don't have my time to do anything about it. Her goal is to create beautiful spaces for professionals that functions well too.
2. Situate the dishwasher opposite the sink
The benefit of small kitchen layouts is that all of the cabinetry is close by. As a result, you may be able to locate the dishwasher opposite the sink without having to walk back and forth across the kitchen, says appliance technician Andrew Brown. Although it may not be as efficient as having it next to the sink, he notes, 'it's better than having it far away.'
3. Go smaller for your dishwasher to fit anywhere in the kitchen
A small space sometimes calls for small appliances. Picking out the best compact appliances for small kitchens should always be considered when planning your small kitchen – especially for traditionally bulky fittings like dishwashers.
'Standard dishwashers can be 24-inches or larger, but an 18-inch dishwasher is ideal for tiny kitchens,' explains Jay Sanders, contractor and owner of Castle Dream Construction. When using a dishwasher with a smaller interior, it is important to familiarize yourself with the most common dishwasher mistakes, such as stacking incorrectly, to make sure you avoid wasting washing space or even overfilling.
You could also go even smaller with your dishwasher. Drawer dishwashers offer a great under-counter alternative to a traditional dishwasher and can even fit in lower cabinets, says Andrew Brown, appliance technician, proving a smart space-saving alternative.
4. Fit a compact dishwasher beneath the sink
When planning and designing a kitchen, the space underneath the sink is usually designated as a cabinet for cleaning supplies and left at that. However, this could be an ideal spot for a compact dishwasher, points out Isfira Jensen, interior designer.
'Not many people know that some dishwashers come with lower profiles in the back – allowing them to be installed directly underneath the sink. With all the necessary plumbing already in this vicinity, this can be an ideal installation location for tight areas,' she says.
5. Consider a countertop dishwasher
When fitting a traditional, built-in dishwasher is not an option either for the sake of storage or plumbing and electrics, then it may be worth considering a portable countertop dishwasher to help stay on top of hand washing, suggests designer Isfira Jensen. These can easily be stowed away in a cabinet and brought out when needed, she says.
'The Fotile brand created a solution for this very problem, an In-Sink Dishwasher,' Isfira adds. 'Integrated with a sink, it's a compact, counter-mounted design, ideal for small kitchens if a portable option is not for you.'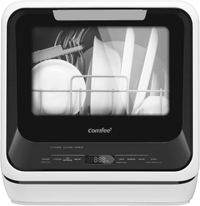 COMFEE Portable Dishwasher | $299.99 at Amazon
This small portable dishwasher is perfect for keeping on top of your dishes when you don't have a fitted dishwasher. Even better, it can slide back into a cabinet to make more counter space for prepping meals.
FAQs
Should I put a dishwasher in a small kitchen?
Whether or not you put a dishwasher into a small kitchen will depend on your lifestyle and how much you need the storage space. For instance, if you have a smaller household made up of one to three people, a dishwasher may not be necessary to stay on top of dishes. If you cook a lot or have a larger household, however, then a dishwasher may be more valuable for quality of life than an extra cabinet.
Can you put a dishwasher anywhere in a kitchen?
While you can technically locate a dishwasher anywhere in a kitchen than plumbing allows, is it a good idea to follow the triangle layout when planning your kitchen appliances, says Duane Miller, owner and plumber at Stellar Plumbing, Arizona.
'This layout refers to the proper arrangement of the three major areas of your kitchen which is the stove, sink, and refrigerator – with each appliance forming the point of the triangle when looked at from above. It is always recommended to put the dishwasher within the triangle layout which means that your sink should be within 26 meters inside the triangle area,' he says. A good location would be besides the sink, for instance.
---
There are plenty of alternatives to the traditional dishwasher placement in a small kitchen, but there are some important caveats to remember before you add one, reminds Beth R. Martin, founder, and designer of the eponymous design company.
'Your plumbing line from your sink will be extended to your dishwasher. The line will be short and straightforward if this appliance is directly next to your sink. The further away, the plumbing gets more complicated, and it is a bigger headache to fix if you ever have a clog or issue in the future,' she urges you to consider.
Chiana has been at Homes & Gardens for six months, having started her journey in interior journalism as part of the graduate program. She spends most of her time producing content for the Solved section of the website, helping readers get the most out of their homes through clever decluttering, cleaning, and tidying tips – many of which she tests and reviews herself in her home in Lancaster to ensure they will consistently deliver for her readers and dabbles in the latest design trends. She also has a first-class degree in Literature from Lancaster University.