How do I decorate my houseplants for Christmas? For a fun and festive display
Explore how you can decorate your indoor jungle so your plants perfectly coordinate with your holiday decor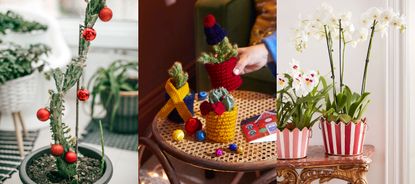 (Image credit: Getty Images | Bloom & Wild | Sophie Conran)
How do I decorate my houseplants for Christmas? Most of us have beautiful and extensive collections of houseplants dotted around our homes, and these natural accents can provide the perfect platform for a truly unique Christmas display.
Instead of pushing your houseplants to one side to make way for holiday decor, why not push them front and center and make them into a fun and festive focal point? From ornaments to tinsel and string lights, there are so many creative ways you can elevate your houseplants by including them in your Christmas decorating ideas.
Whether you're thinking of using your giant monstera as a Christmas tree – sure to be a show-stopping look no doubt, or are looking for a quick and easy way to make your home feel festive, and make the most out of your houseplants this holiday season.
How do I decorate my houseplants for Christmas?
Just like Christmas foliage ideas, decorating your houseplants can help your Christmas decor have a green and natural focus, full of unique charm – after all, green is one of the main colors of Christmas!
Explore our favorite festive ideas below that address the question, how do I decorate my houseplants for Christmas?
1. Adorn them with festive ornaments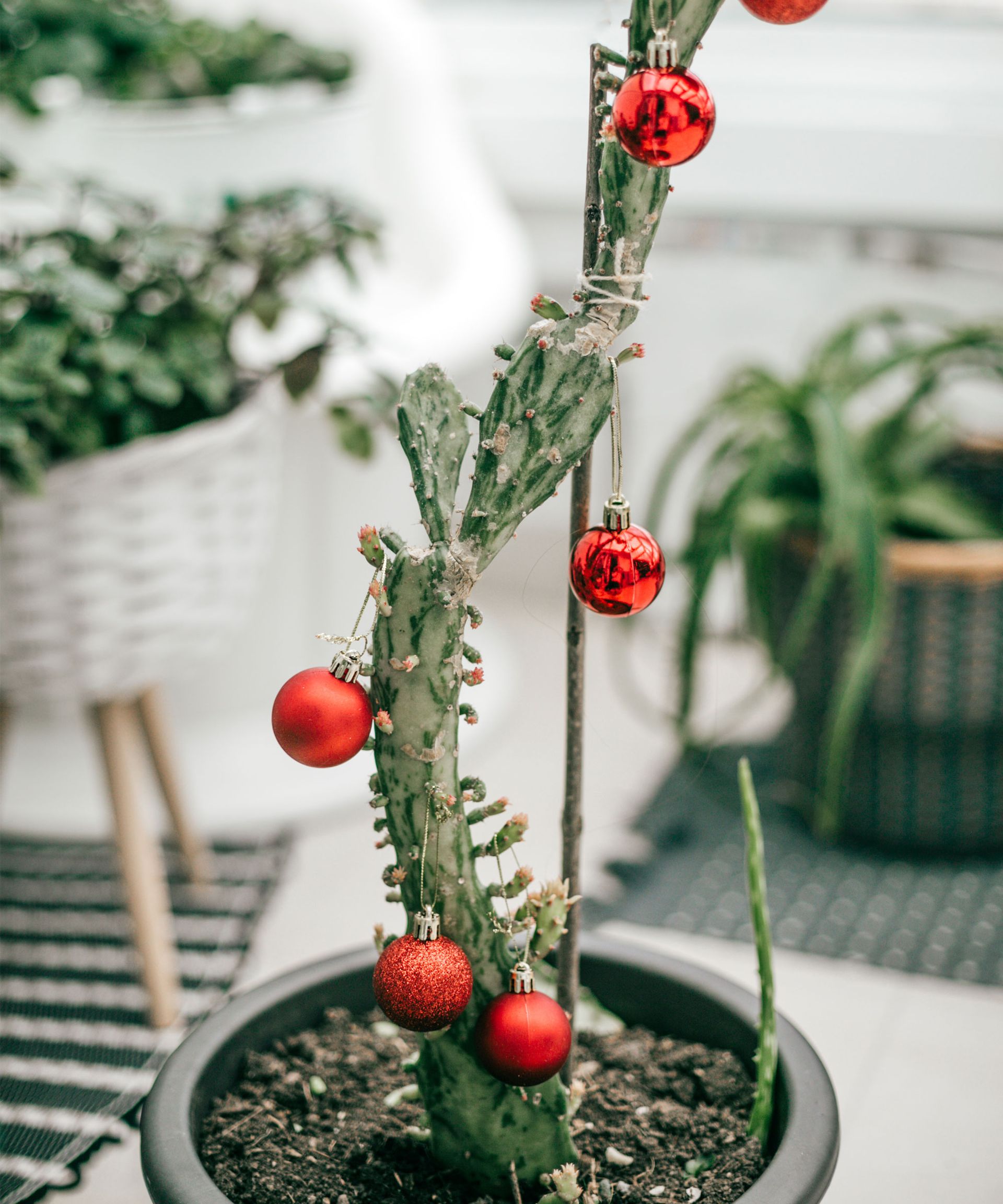 It's as simple as that! Just like you would hang ornaments on your Christmas tree, turn to your houseplants instead, and bring them to life with a colorful collection of Christmas decorations.
Of course, be careful with more delicate plants, and try not to use ornaments that are too heavy or will impair stems or branches in any way.
If you're concerned about plant damage, or faux plants and flowers are more your style, below, British interior designer Abigail Ahern shows how you can make faux botanicals feel nice and festive by decorating them with ornaments.
2. Purchase a festive plant pot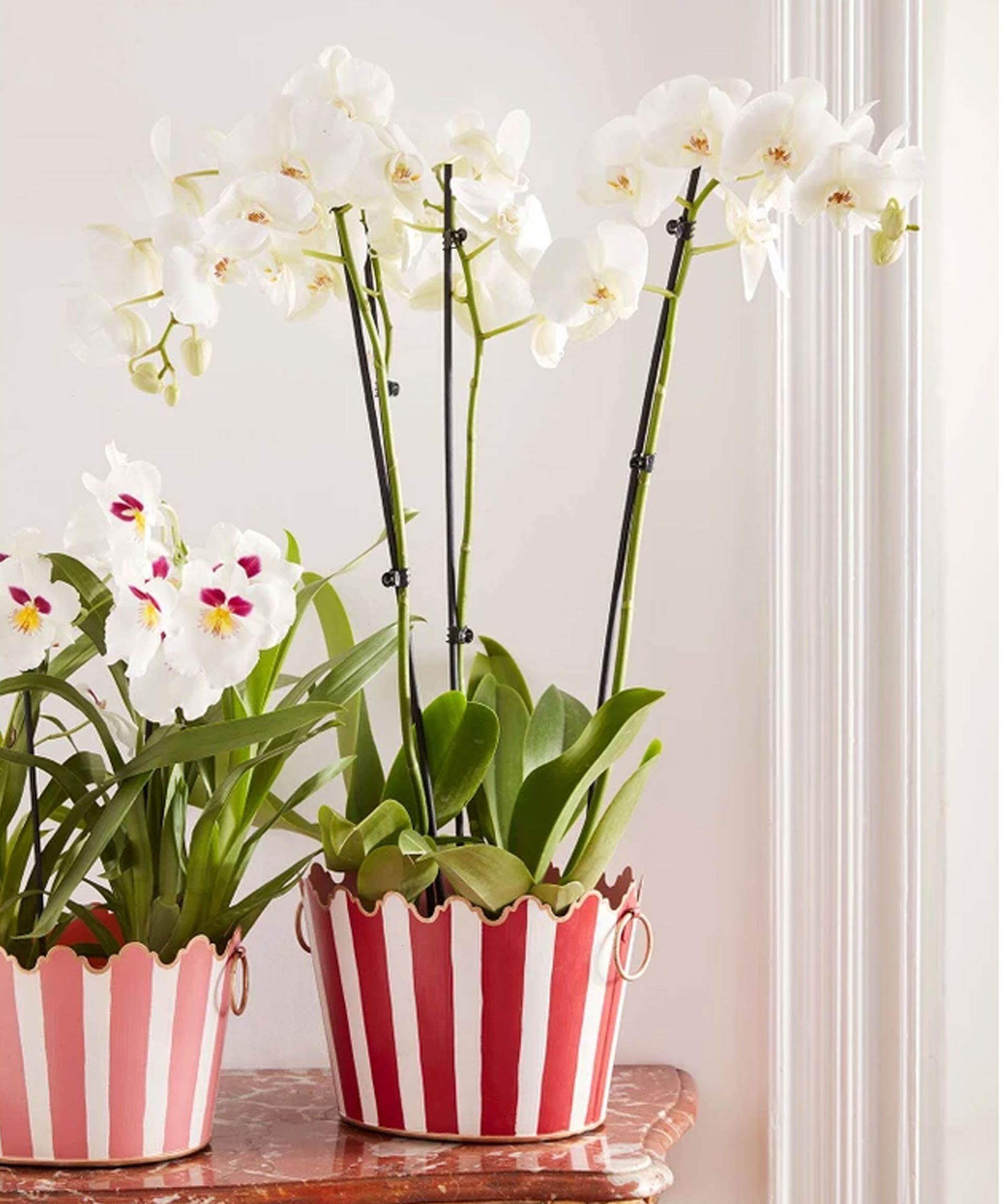 A festive plant pot doesn't have to feature images of Rudolph or Santa Clause, it can be as beautiful and elegant as this Red Cirque Striped Planter from Sophie Conran.
Handmade and hand-painted by skilled artisans for a unique finish, we love the joyous striped design, finished with scalloped edging and soft gold ring handles for elegant detail. This decorative planter adds a colorful, uplifting, and playful element to the beautiful orchid display, and is a design that subtly and stylishly embodies what Christmas is all about, fun.
For other festive planter ideas, think glistening metallic tones and the 'classic' colors of Christmas such as red, green, and gold, or if you're feeling creative, purchase a plain terracotta pot and decorate it with a hand-painted Christmassy design.
3. Enhance your plants with twinkling lights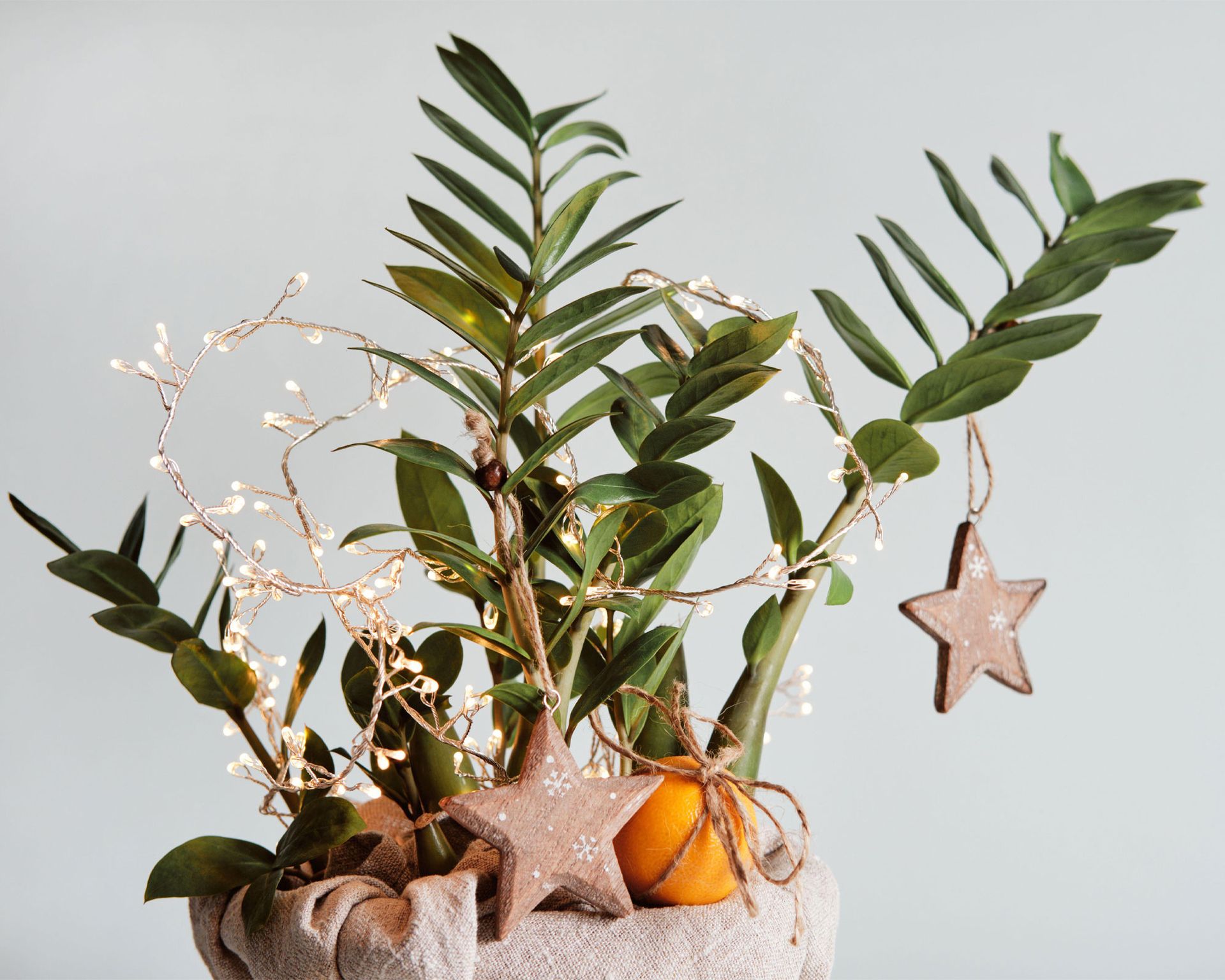 Transform your plants from green to gold with added Christmas light decorations.
From string lights to individual lights that can stake into the soil of your plant pot, decorating with lights is a quick and easy way to turn your houseplants into a truly unique indoor Christmas lighting idea.
Below, TikTok user megantinxie shows us how she uses a set of 3 Dewdrop Stake Lights from Target to add a twinkling, festive touch to her rubber plant.
We also love the Dewdrop Fairy String Lights from Target, ideal for draping around a larger houseplant, and the versatile, indoor-outdoor LED plant lights from Ballard Designs.
4. Create cozy container covers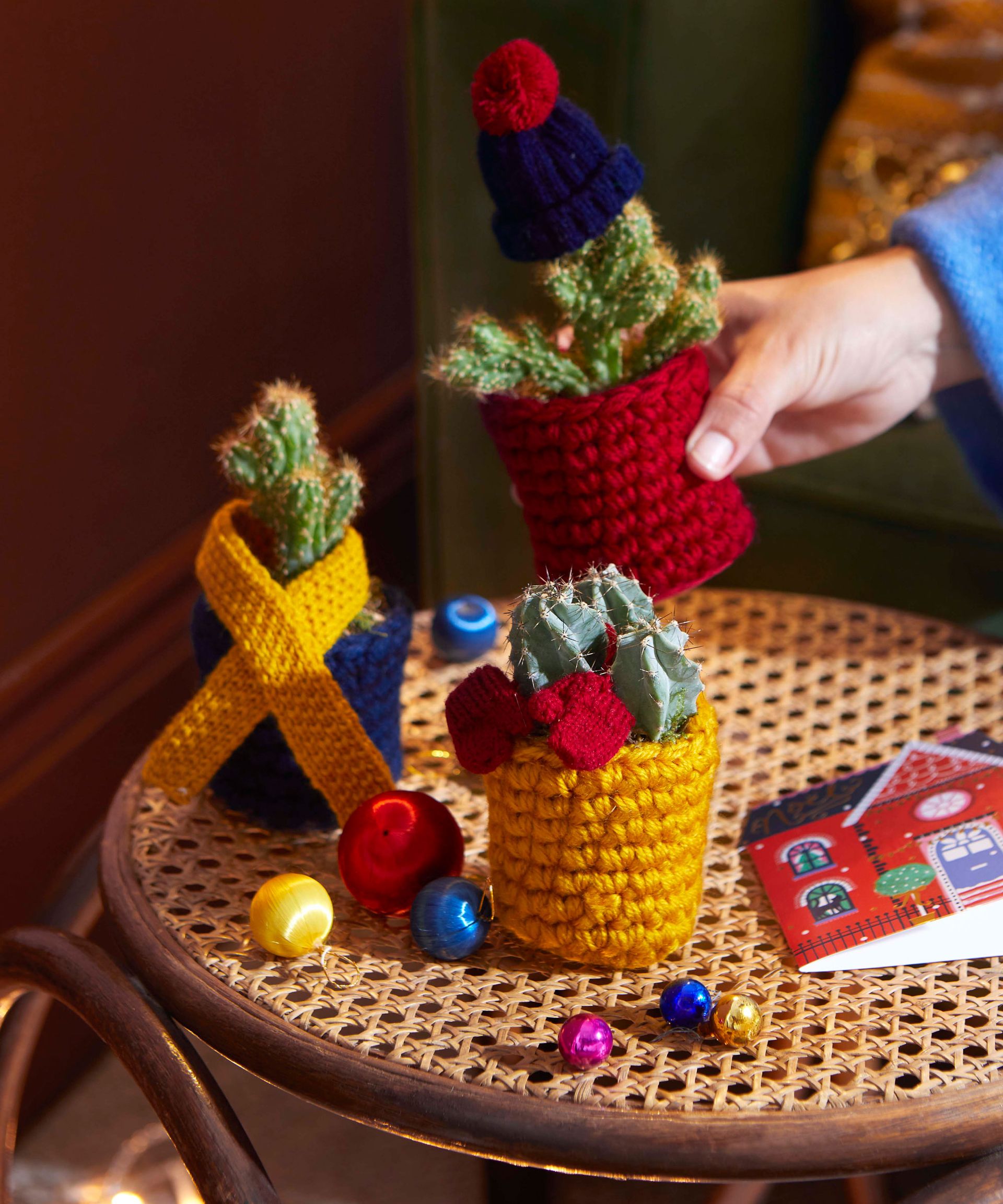 We can't get over how adorable this Festive Cacti Trio is from Bloom & Wild, with each cactus decorated with a colorful knitted pot and wrapped up warm with a knitted hat, scarf and ear muffs.
A charming festive scene that you can display over the winter months, we think these cacti make a perfect Christmas table gift idea – a definite conversation starter at the dinner table!
If you want to achieve a similar look for your existing planters and fancy yourself as a bit of a crafter, TikTok user olivebranchcottage shows us below how you can use old sweaters to make cozy covers for your houseplants.
Can you put Christmas lights on houseplants?
Yes, you put Christmas lights on houseplants. Just remember, to remove the lights after the festive season as if they stay on too long, they can affect the plant growth, and check that the lights do not get super hot, as heat can damage the plant.
As long as you are careful and delicate in your decorating process, lights and ornaments should not harm your plants in any way.
Can I use a houseplant as a Christmas tree?
Of course! There are no rules when it comes to styling and decorating your home for the festive season, and if you want to make a break with tradition, there are so many houseplants you can use Christmas trees – both large and small.
A houseplant Christmas tree is not only low maintenance, but it is also a great solution for smaller spaces where making room for a Christmas tree can be tricky.
Whether you're wanting to create a fun Christmas tree in a children's bedroom, or have a giant houseplant in your living room that is the perfect Christmas tree size, there is much fun to be had with alternative Christmas tree ideas.
Sign up to the Homes & Gardens newsletter
Decor Ideas. Project Inspiration. Expert Advice. Delivered to your inbox.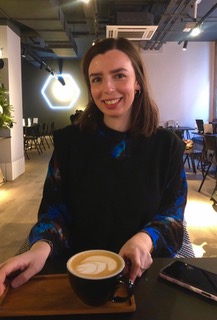 Zara joined Homes & Gardens in February 2022 as a Content Editor. After studying English Literature at University, she worked as an Ecommerce Website Editor, Content Writer and Buying Intern at multiple independent businesses within the luxury retail and lifestyle sectors. Her role at Homes & Gardens unites her love, experience and passion for the world of design and desire to create inspiring written content. She enjoys nothing more than discovering new trends, brands and products, whether that be in fashion, interior design or lifestyle.