10 post-Christmas decluttering rules professional organizers swear by – and what to get rid of NOW
Start the new year with a clear head – and a clear house – by following these post-Christmas decluttering rules, set by the professionals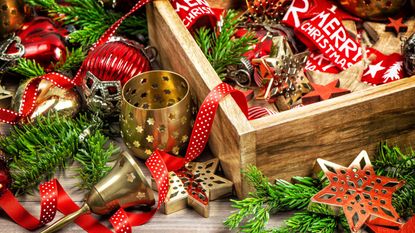 (Image credit: Alamy)
After a happy holiday season comes the inevitable clear up, and establishing a few post-Christmas decluttering rules is a good idea if you want your house in tip top shape before the ball drops. And if Santa was feeling generous this year, you might have a few extra things to find homes for, too; 'out with the old, in with the new' as they say.
As well as the typical Christmas decluttering (think gift boxes, wrapping paper, gift packaging and food and drink leftovers) it's worth turning your eye to other, less-obvious holiday clutter hotspots that you might have missed in your pre-season sort out.
Ridding yourself of items you don't need – as well as implementing effective home organizing and storage ideas – means you start the New Year as you mean to go on; calm, collected and, most importantly, clutter-free.
After nearly 10 years working in the magazine industry, seasoned writer Tara decided to specialize in the topics she's most passionate about: organizing, cleaning, interior design, wellbeing, craft and homemaking. Tara has written many decluttering and organization features for Homes & Gardens, speaking to and interviewing some of the world's top organization professionals along the way.
10 post-Christmas decluttering rules – and what to get rid of NOW
When you're in the midst of Christmas chaos, it can be difficult to know where to start… and the excess festive fare probably isn't helping motivation levels either, let's face it. But you'll thank yourself (and us) later… here's our expert-approved list of post-Christmas decluttering rules.
1. Declutter your holiday decs
They may only come out once a year, but it's amazing how much storage space we dedicate to holiday decorations. It's all too easy to just pile everything back into boxes, rather than assessing which items bring us that festive feeling – and which don't.
Once the holidays are over, we recommend reviewing all your holiday decor and supplies – this includes the items you used, didn't use and have newly acquired this season. Ask yourself if you're ready to let go of some items; maybe they no longer fit well in your home, maybe you have a few redundancies, or broken items. Remove the items you no longer require so you're only storing items you truly need for next year', advises professional organizer Shannon Krause, founder of Tidy Nest.
Check your garage for any boxes of holiday decor that didn't make their way into the house at all – if you didn't miss any of it, the whole lot can go.
2. Store decorations away methodically
Once you've decluttered, give some proper thought to how you store those decs and keepsakes that made the cut. An attic can be a dangerous place (think mold, critters and wayward boxes) so investing in effective storage is one post-Christmas decluttering rule not to be ignored.
Ditch flimsy cardboard boxes in favor of sturdy containers and specialized ornament boxes with fabric liners. Save space by shrink wrapping an artificial Christmas tree, and forgo the tedious task of untangling Christmas lights by wrapping them around cardboard. Amazon sells Christmas tree disposal bags for trees of all sizes and string light storage reels which come empty, ready to take your lights, neatly.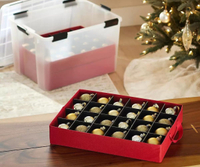 Bin Drop-In Collectible Tray Red, $11.99 each, The Container Store
This ornament tray comes in various configurations to take tree ornaments, garlands and collectibles. It's often bought with the clear storage box (shown behind) for neat, air-tight stacking.
3. Look out for leftovers
There's a tendency to go a little over the top with holiday grocery shopping, and Post-Christmas you often end up with a surplus of pantry items that are very unlikely to get eaten. Rather than leave them cluttering up shelves until they eventually go out of date, consider offering them out to someone who might like them, perhaps a neighbor, or your local food bank (providing it's unused and sealed).
'Whilst you're at it, take the opportunity to organize your pantry and start a running inventory of what you have. Keep on top of it throughout the year to reduce impromptu supermarket buys cluttering up your kitchen – you'll likely find you save a bit of money, too', says Lucy Searle, Editor-in-Chief, Homes & Gardens.
4. Stow away seasonal items
From seasonal serving platters and gravy boats to heirloom candlesticks, you likely have items that always make an appearance at Christmas time, but only at Christmas time. When it comes to putting them away, don't just shove them into the nearest cabinet; pack them up safely and find somewhere less 'prime' to store them until next year rolls around, such as under the bed, or in the attic.
5. Instil the 'one in one out' rule
Whether it's toys, clothes, gadgets or gardening tools, if Santa's brought you something new, get rid of the old version – or something similar. And when we say get rid, we don't mean literally throw it into the garbage. Take the time to see whether it can be recycled, or reused by somebody else, first.
6. Tackle toys – old and new
If you didn't have a chance to declutter toys before Christmas, now's the time to do it. While it may mean living with piles of gifts until you've freed up some space, you have the benefit of knowing what new items you need to source toy storage ideas for.
It can be tricky getting little ones on board with saying goodbye to their toys, but you'll likely find them in generous spirits at this time of year – it's a lot easier to part ways when you've just had an influx of exciting new toys to play with! Involving them in the process also offers up an opportunity to promote giving and sharing with others who perhaps haven't been quite so lucky over the festive season.
7. Clear out your closet
Decluttering and organizing clothes so they're neat, tidy and well-ordered is one of the best things you can do for your wellbeing. And with a New Year imminent, now's the perfect time to tackle the task head on. Go through each item and ask yourself whether you've worn it since last Christmas. If the answer is no, get rid.
'By successfully editing your wardrobe, you're left only with what you need and want – donate the rest to families in need. Going forwards, consider exercising the 'one-in, one-out' method, or having a donation box positioned by your front door. You'll feel great about supporting those in need, and you're setting yourself up with good decluttering habits for the year ahead', says Shannon Krause.
8. Recycle Christmas cards
Just like any sentimental item, it can be tempting to hold onto Christmas cards. While they're lovely to look at, they rarely serve a purpose once the season ends, so we recommend recycling them. Or most of them, at least. While it's okay to keep a few, it's important to be a little strict with yourself, in the same way you would when decluttering any items that hold emotional significance.
'If you're holding onto them for practical reasons, such as saving a new address, do it asap. Then, unless there's anything about a card that makes it so special it needs to go into a memory box, let it go – it has done its job, which was to convey a meaningful message', says Kate Ibbotson, APDO member and founder of A Tidy Mind.
If you're struggling to let go, consider taking pictures of the cards, resizing them so they're smaller, and creating a memory book instead. You'll find this much easier to store, not to mention more practical with all your most meaningful messages in one place.
9. Donate unwanted gifts
Whether it's a garish jumper, unwanted smellies or a pair of slippers that just don't fit, nearly all of us have clung onto unwanted Christmas gifts for fear of upsetting the giver, or in the vague hope it 'might come in handy one day'. Rather than have them cluttering up your home gathering dust, experts say the best thing you can do is alleviate yourself of guilt and pass them on.
'A gift isn't really the item itself, but the act of giving that means something, so never feel guilty for re-gifting or releasing a gift. If you don't really want or love it, ask other family members if they would like it before donating or selling the item', says professional home organizer Brenda Scott of Tidy My Space.
10. Get rid of things… NOW
You've gone to all the effort of decluttering, only to leave bags of stuff lying around the house. It's amazing how quickly you get used to living with things; unless you get rid quickly, you'll likely find them still sitting here next Christmas!
Once you've decided what you're doing with the items you no longer want – whether it's recycling, donating to a charity, taking to the tip, or something else entirely – do it. It helps to move the bags somewhere visible, such as by the front door or in the front seat of the car.
How do you declutter after holidays?
While it may feel chaotic, having your house in disarray after the festive season actually opens up a great opportunity to declutter and donate any items you no longer want or need. Reducing the amount of 'stuff' you have in your home is the first step towards effective organization in readiness for the year ahead.
Start by assessing what new things have arrived over the festive season and work out what space you'll need to house them. Before investing in new storage ideas, declutter what you already have – you'll be amazed at the space it frees up. The quickest way to do this is to work through different areas of the house, using the 'keep', 'donate' and 'throw' pile method.
Any donations you have set aside, take them to their respective locations as soon as possible. Having them around the house for too long defeats the object, and increases the risk of you changing your mind. Remember to include unwanted Christmas gifts in your charity shop run – far better they go to a home where they'll be used and appreciated than collect dust in yours.
How should I organize my house after Christmas?
It's worth planning ahead a little. If you get the chance, declutter in advance of the holidays. This way, you'll free up storage space for anything new coming into your home.
Start by taking down your decorations and getting rid of any that you didn't want / use – if you didn't use them this year, you likely won't next year either. Invest the time in storing them away properly, so ornaments stay in one piece and lights remain untangled.
Go through leftover food items and donate anything you're unlikely to use to local food banks sooner rather than later, so it doesn't go past its use-by. Take all your gifts out of the packaging, and recycle it all straight away, along with unusable wrapping paper. Anything you need to return or exchange, do it as soon as possible – or consider re-gifting if appropriate.
If you're overwhelmed by an influx of toys, consider using the rotation method; pack up some of your children's older items and store them away for a month or so while they enjoy their new things. When the novelty wears off, swap them over. You'll save on space, and it'll be like Christmas all over again for your little ones!
Sign up to the Homes & Gardens newsletter
Decor Ideas. Project Inspiration. Expert Advice. Delivered to your inbox.
For 10 years, Tara King worked as a Content Editor in the magazine industry, before leaving to become freelance, covering interior design, wellbeing, craft and homemaking. As well as writing for Ideal Home, Style at Home, Country Homes & Interiors, Tara's keen eye for styling combined with a passion for creating a happy – and functional – family home has led to a series of organization and cleaning features for H&G.