10 desk organizing rules to maximize productivity while working from home
Following these simple desk organizing rules will keep your workspace clear of clutter and result in a clearer mind, too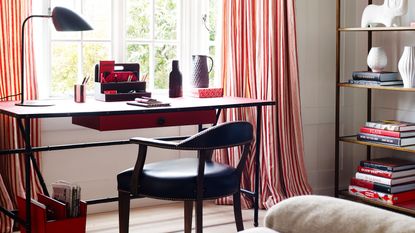 (Image credit: Future PLC)
Whether you use it to work from home or deal with life admin, a neat, tidy, and streamlined desk is the best thing for boosting productivity – a tidy desk, a tidy mind, as the experts say. Tick it off your to-do list, and you'll be amazed at how quickly you work through the rest.
The thought of setting aside time outside of working hours to declutter a desk is not exactly appealing, we'll grant you that, but organizing a desk brings with it a whole host of worthwhile benefits – reduced stress levels, better focus, enhanced mood, even making healthier food choices, have all been proven.
It's pretty straightforward to do, too. With the right decluttering tips, home office storage ideas and a few simple adjustments to your organizational habits, you'll have your workspace fit for purpose in no time at all, so you can get the job done. Literally.
Desk organizing rules for productivity
While a functional working space is the ultimate goal, aesthetics are also worth considering. According to the experts, as well as adding to the overall look of your home office ideas, a desk that's as stylish as it is well-organized, makes for a more motivational mindset. Try to limit non-functional accessories to avoid a cluttered feel, and be clever about your choices.
'To bring a welcome sense of wellness to your workspace, add a small potted houseplant – research has shown that they can improve mood, reduce stress and, depending on the plant, even improve air quality. Aromas have the power to influence our wellbeing, so an oil diffuser is also a worthwhile addition'. Advises cleaning guru for MyJobQuote, Sarah Dempsey.
Below, we've gathered expert advice from professional organizers to help you maximize on form, function and feel-good factor when organizing a desk.
1. Plan ahead
The thought of decluttering and organizing a desk can be overwhelming at the best of times, let alone on a busy working day when emails are pinging into your inbox and the phone is ringing. Set aside some time – ideally during a weekend – when distractions are limited, so you can tackle the task head-on.
When organizing a desk, a productive working environment is the end goal. With that in mind, it's worth spending a little time thinking about how you like to work and what you're looking to improve upon, in advance. Once you've pinpointed these areas, you're in a good position to declutter and implement effective organizational solutions that suit you.
'Don't be afraid to get rid of what you don't use. It's tempting to hold onto every little thing, but having too much stuff that you don't actually use can quickly become a source of stress. Start taking note of what you use regularly and what you simply can't function without, then free yourself of the rest,' says expert organizer Sabrina Gardner, founder of Salt By Sabrina.
2. Keep things clear
It's impossible to think clearly in a cluttered room, so minimalism is key if you want to get the most out of your workspace – the less you can leave out on your desk, the better. A good rule of thumb is to only keep out electronics you use daily, your laptop for example. Larger, lesser-used items such as printers and scanners should be stored away in a cabinet, rather than taking up prime surface space.
'Don't forget digital clutter,' reminds professional organizer Laura Price, founder of The Home Organisation. 'What's on your computer screen is as stress-raising as what's on your desk, so create a proper filing system and remove as much as you can from your desktop so it's as clear as possible'.
3. Prioritize accessibility – and keep things tidy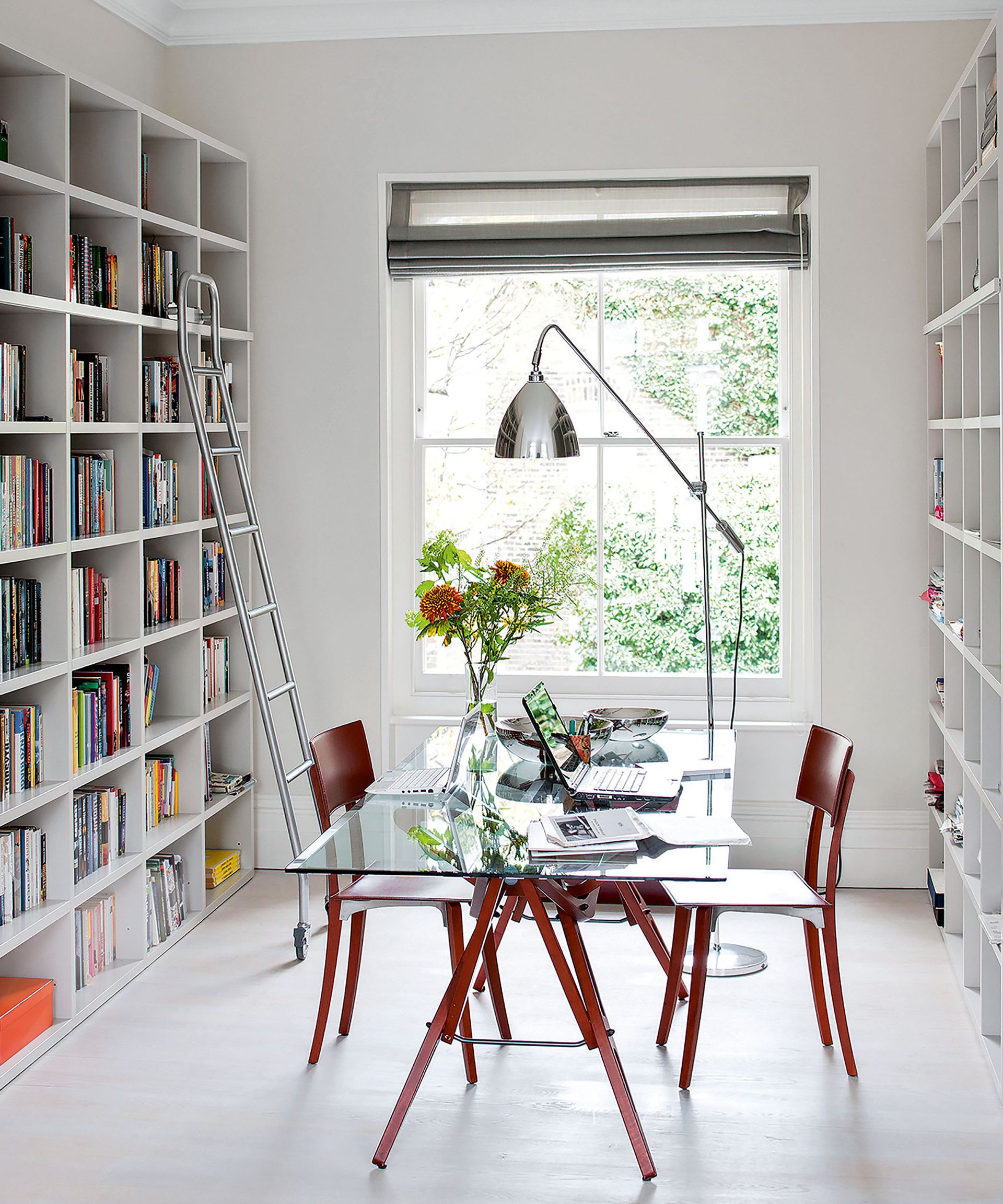 'Rest your elbows on the edge of your desk and sweep your arms in a semicircle motion over the surface. This is your "prime real estate" and should contain your key everyday items within half an arm's reach,' says professional organizer Katherine Blacker, founder of Sort My Space.
'Then draw a larger semicircle with your arms extended. This area should contain the next level of most useful things you want without overstretching, such as a calculator, tissue box, your in-tray, and a desk lamp.'
Smaller everyday items such as stationery, sticky notes, and headphones deserve a prime spot but should be contained in space-saving stackable drawers, caddies or desk organizers to keep things neat and orderly (don't let them become a dumping ground for 'homeless' items, though). Similarly with paperwork; only relevant pieces deserve a prime position, so take the time to go through the pile at the end of the day and file away anything you don't need.
4. Incorporate walls into your workstation
Keep clutter from overtaking a small desk by making use of the wall area above it. As well as the obvious shelving, there's all manner of storage helpers you could use – rails, hooks, paper roll holders… the list goes on.
'Use an over-the-door shoe organizer to store office supplies like pens, tape, stapler, envelopes etc. I recommend choosing clear designs, so you can quickly see what you have and locate what you need without searching through every compartment', says professional home organizer Michelle Urban, founder of The Organized House.
A traditional pinboard is a great anchor for a wall display and offers up a central spot for memos, reminders, and to-do lists. It also doubles up as a mood board, too – fill it with things that inspire you, to help boost motivation during those late-afternoon lulls.
While useful, keeping display items that you're using regularly neat and tidy is an ongoing commitment. If you want to avoid a chaotic feel, take the time to put things back properly so they remain organized.
5. Sort your drawers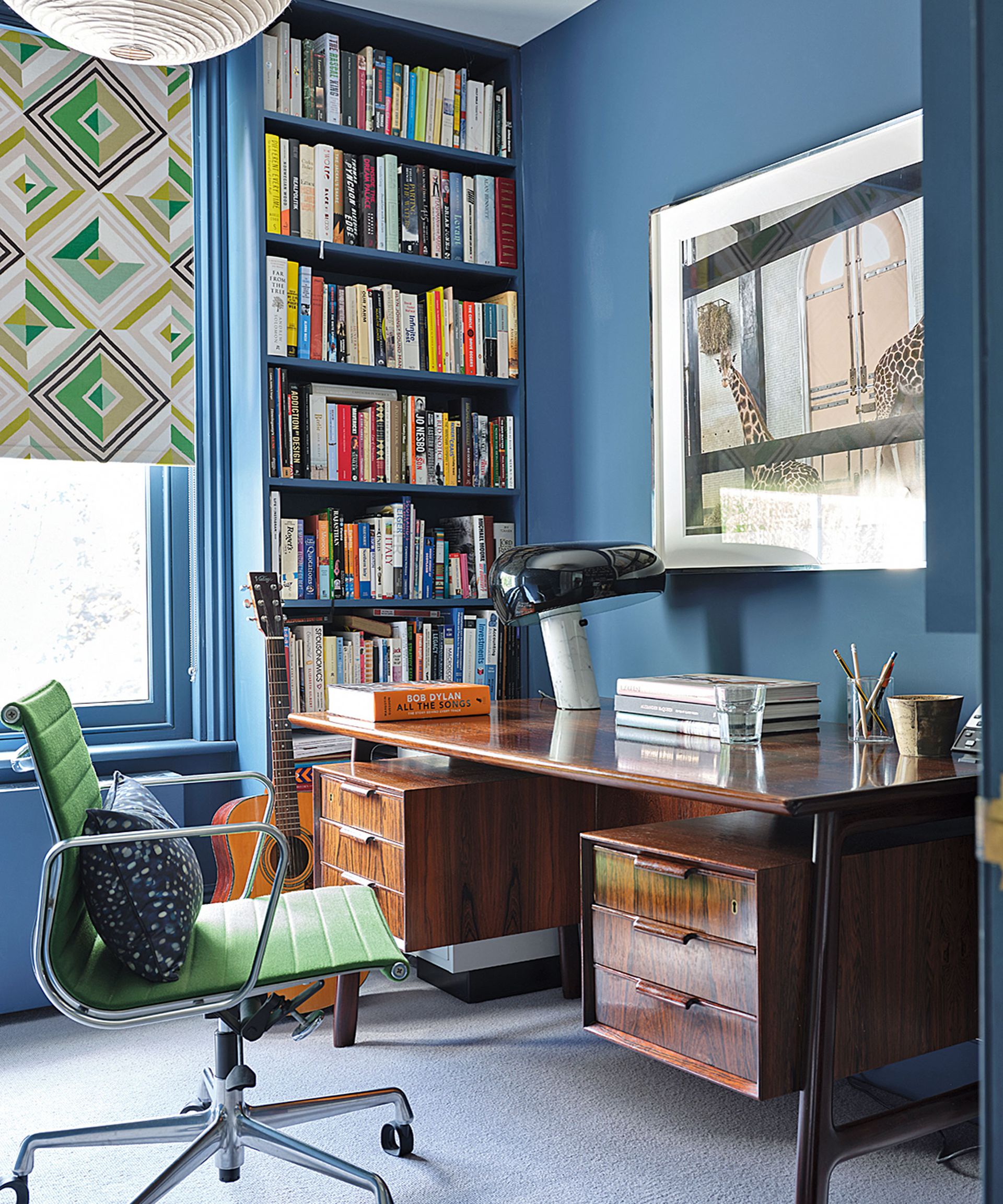 A hardworking drawer organization system is key to a well-functioning workspace, so start by emptying everything out and only removing any items that you don't use frequently for work-related purposes. Next, separate items and categorize drawers by function.
When deciding what belongs in which drawer, take frequency of use into account. 'Things used weekly belong in the top drawer, once a month or so, the next drawer down, and so on. Anything that's used once a year or less should be stored outside of the desk altogether,' advises professional organizer and author Allison Almond, aka 'the Organization Maven'.
Save yourself the hassle of rummaging around for what you need by using drawer dividers. Measure the inside dimensions of each drawer, including height, width, and depth to ensure you maximize on storage space and separate your sections by category; stationery, sticky notes, staplers, and so on. 'I like to label the dividers for extra clarity, to ensure things go back in the right place', adds Allison.
Finish off with a non-slip drawer liner to keep everything in its rightful place.
6. Keep cables under control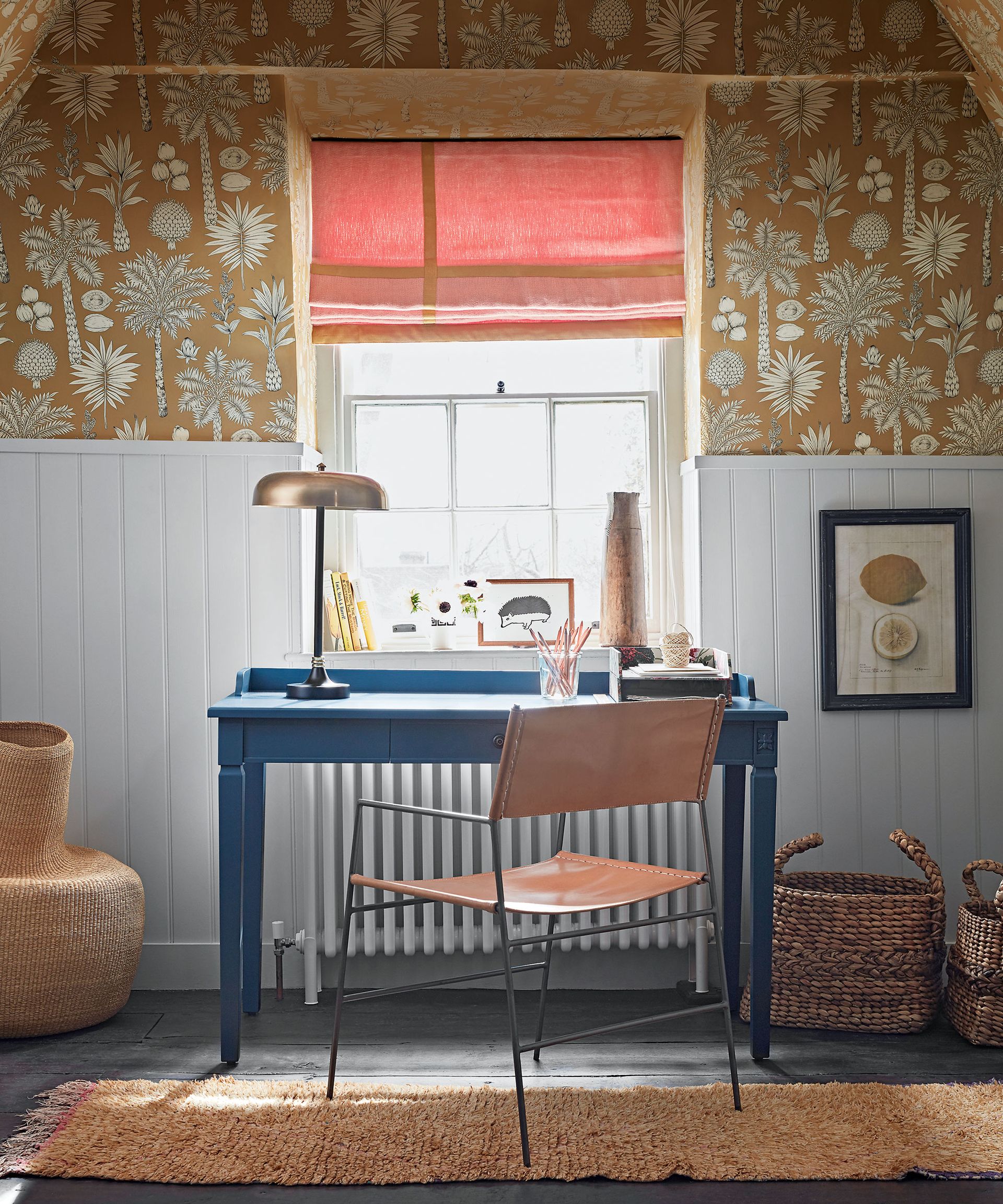 When organizing cables of any kind, it's important you unplug and untangle everything first. This will help you to work out what leads where, and the best way to keep them efficiently managed. While you can buy cable tidies (color-coordinated designs are handy), winding pipe cleaners around excess cord will bind them into neat bundles efficiently enough.
'To help keep them hidden, use adhesive cable clips so they're not just hanging down behind your desk. Another hack is to have your phone charging cable in your desk drawer. You can do this by putting it through the small space between the drawer and the desk and securing it with a clip', says professional organizer Laura Barnes, founder of Let Laura Jean.
If you're investing in a new home office desk idea, consider one with media-friendly components such as in-built charging stations, cable outlets and power strips, to help you keep your cables under control. Alternatively, opt for a cable management box. Choose a design that combines form and function, such as this one, available on Amazon, to keep your desk looking stylish, as well as streamlined.
7. Go paperless
Establishing a paperless working environment – as best you can, at least – is a great way to free up desk space while also doing your bit for the planet. It's so easy to do too; start by parting with pieces you no longer need (be sure to shred anything that has confidential information on it) and 'opt-in' for digital versions of documents going forwards.
While scanning important documents can be a great space-saver, bear in mind that there are some things you might need to retain hard-copies of, so double-check with your employer first if you're not sure.
8. Introduce portable storage
If you don't have space for a designated home office setup and your desk is lacking in storage, don't be tempted to cram everything in – this is not conducive to easy-access or effective organization. Instead, consider investing in a neatly-sized rolling cart, at Amazon, that can be pulled out and hidden away as required. Not only does this free up space, but it also has the added benefit of relieving your living area of work-related items, so you can switch off and unwind properly at the end of a busy day.
9. Instill a color-coordinated filing system
In order to prevent piles of paperwork from cluttering up your desk, an efficient archiving system needs to be established. Choose a method that works for you, but don't overcomplicate it – the quicker and easier it is to file things away, the more likely you are to keep on top of it. Colored files are great for categorizing bills, invoices and papers, and you'll be able to locate what you need in a hurry, too. Longer term, you could also think about which home office color schemes would be the most motivating for you and plan a refresh.
10. Do a daily declutter
If mugs, glasses and general clutter tend to accumulate on your desk throughout the working day, it's time to make a new rule for yourself. Ideally, you'd want to get rid of them as soon as you're finished, but at the very least by the time you clock off.
Investing in storage containers aplenty isn't enough – if you're not consistently sorting through them, clutter will build and you're right back at square one. Be sure to schedule regular clearouts to ensure you're not hanging on to items you don't need.
Sign up to the Homes & Gardens newsletter
Decor Ideas. Project Inspiration. Expert Advice. Delivered to your inbox.
For 10 years, Tara King worked as a Content Editor in the magazine industry, before leaving to become freelance, covering interior design, wellbeing, craft and homemaking. As well as writing for Ideal Home, Style at Home, Country Homes & Interiors, Tara's keen eye for styling combined with a passion for creating a happy – and functional – family home has led to a series of organization and cleaning features for H&G.