How to fold blankets – easy ways with space-saving style
Whether you're storing them or styling them, learn how to fold blankets so they look neat and tidy, and stay that way, too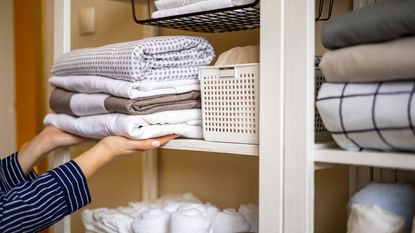 (Image credit: Getty images / Natalia Kostikova / EyeEm)
From quilted comforters and weighted knits to lightweight weaves and decorative throws, blankets are a mainstay in our homes throughout the year. As seasons change, you'll likely notice a turn-around in the types you're using, so knowing how to fold blankets so they remain neat, tidy, and in great condition is a useful skill to have.
Blankets are super versatile. Whether you use them to bring extra style, warmth – or a bit of both – to rooms, chances are you've got a fair few of them. This can make coming up with storage ideas for them a bit of a challenge. Luckily, there are a few different folding techniques you can use. Depending on the size and texture of your blanket, as well as what you're planning on doing with it, some are better than others.
How to fold blankets
So, what's the right way to fold a blanket? That depends on what you're doing with them. Properly folded, blankets will stay neatly stacked and ready for use without taking up excessive space. And if you're looking for lovely-looking living room ideas (or bedroom ideas, for that matter) we've got techniques for on-show displays, too.
1. The square method
If you're storing blankets on open shelves, or as part of organizing a linen closet, the square method is your best bet. It's really quick and simple, too:
Lay the blanket flat and smooth out the creases. Fold into thirds lengthwise to create a long thin rectangle shape.
Fold the length in half (and half again if necessary) to create your desired square size.
Ideally, you'd make them all roughly the same size so they stack neatly on top of each other, from largest at the bottom to smallest on top. If you're folding a blanket that's particularly thin, like a sheet or a throw, fold it into thirds instead of twice, ensuring the edges are aligned.
'Regardless of what folding technique you're using, if your blanket has a fringe along the edge, try and tuck it inside the initial fold so it doesn't get damaged or hang off the edge of the shelf,' advises professional organizer Shannon Krause of Tidy Nest.
Shannon Krause is a Certified Professional Organizer who holds a specialist certificate in Brain-Based Conditions from the National Association of Productivity and Organizing Professionals (NAPO) and is a Certified Reiki Master which she incorporates into her work with clients. Tidy Nest has helped dozens of clients bring order into their lives and has won local awards recognizing their work.
2. The pillow (or envelope) method
If you're wondering how to roll a blanket into itself so it won't unravel this is the method you'd use. As its name suggests, it forms a neat 'pillow', making it a clever way of adding blankets into the room without overdoing it on layers.
Start in the same way as with the square method; lay the blanket flat and smooth out the creases. Fold into thirds lengthwise to create a long thin rectangle.
Take a short edge and start to fold towards the opposite edge, stopping when you've created a fold around the size you want your finished 'pillow' to be.
Keep folding the rectangle over itself until you've created a thick parcel. Leave a bit of the blanket unfolded at the end to create a 'pocket'.
Stuff the folded blanket inside the pocket to create a neatly contained 'pillow'.
If you've got plenty of blankets but not enough pillows, consider using this fold when guests are staying; simply pop a pillow cover over the top and they'll be none the wiser!
FAQs
How do you roll a blanket nicely?
Stylish and easy to access, large open baskets make the perfect vessel for storing blankets when they're not in use and a neat stack of nicely-rolled blankets makes for an aesthetically-pleasing display. If you've opted for a lidded design, or you're planning to store them in a small laundry room, rolling blankets are still worth doing. Not only is it space-efficient, but it'll keep them neat – using a blanket full of creases will make any room feel untidy.
Shannon advises a similar approach when learning how to roll towels. 'Fold the blanket in half lengthwise so both halves are aligned. Repeat this so you have a small rectangle. Flatten out the fabric to remove any wrinkles. Start at one end (either of the shorter sides of your rectangle) and tightly roll the blanket', she explains.
Storing multiple blankets in a basket helps them to retain their shape. If you fancy a more laid-back feel, you can always pull a corner of the top blanket out over the side of the basket.
How do you fold a thick blanket to save space?
If you're dealing with a bulky blanket, like a down comforter, folding neatly can be trickier. Start by shaking out the blanket and laying it flat, then fold it in half lengthwise. Fold in half again, then bring the top edge down to the bottom edge, so it's a quarter of its original size', advises Aaron Traub, owner of Professional Organizers San Francisco.
One of the reasons bulky blankets take up space is that they have a tendency to unravel. To keep them neatly contained, Shannon recommends using linen bands, at Amazon.
'Labeled versions are a great way to quickly identify the size of the blanket, as well as keeping them from unfolding and toppling over. For a DIY alternative, simply tie a nice ribbon around the folded blanket and add your own hand-written tag – handy if you're wondering how to wrap a blanket for a gift, too', she says.
How do you pack blankets to save space?
If you're swapping out your summer blanket stash for your winter, or vice versa, you'll want the most space-saving solution to keep your collection neatly packed away until you need it again. 'Vacuum-sealed bags compress blankets so they don't take up a ton of room, and will keep them clean and dust-free, too', says Shannon.
What is the best way to store blankets?
If you want blankets within easy reach but don't want the hassle of styling them every time, store them in a basket or trunk, close to the couch or bed. For those you don't need ready access to every day, a blanket box is fit for purpose and can be used to store linens and extra bedding, ready for when guests arrive.
'I have a fab storage spot that's hidden in plain sight… stack unused blankets on the bed, underneath a decorative topper. Not only does it clear space in your closet, it has the decorator's bonus of making your bed look fluffier', advises professional organizer Darla DeMorrow or HeartWorkOrganizing.
Out–of-season blankets that you're setting aside for a few months do not need prime storage space but will need to be kept somewhere warm and dry to prevent any damage, so be selective about where you position them. Consider stacking them on a high shelf when organizing a closet, or invest in blanket storage bags, available at Amazon.
'Opt for fabric versions to allow the blankets to breathe, and choose a design with a clear window so you can easily identify the contents', advises Shannon.
---
Mastering the technique of folding blankets will go a long way in keeping closets neat, and failing that, linen bands are a genius solution to keep things contained.
For 10 years, Tara King worked as a Content Editor in the magazine industry, before leaving to become freelance, covering interior design, wellbeing, craft and homemaking. As well as writing for Ideal Home, Style at Home, Country Homes & Interiors, Tara's keen eye for styling combined with a passion for creating a happy – and functional – family home has led to a series of organization and cleaning features for H&G.