How to get dog hair out of carpet – the best, expert-approved methods
Dig deep into carpets and rugs with these effective dog hair removal techniques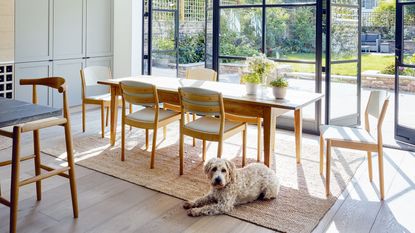 (Image credit: Future PLC)
Owning a dog is a huge joy, but it isn't without its challenges when it comes to keeping a house clean.
Using the best vacuum for pet hair and following our household cleaning tips will help to get dog hair out of the carpet, but if you are dealing with an area that's particularly bad, it's worth trying out some new methods.
There are various weird and wonderful methods dog lovers swear by, from wearing clean trainers and wiping the soles along the carpet, to rubbing the floor with a balloon. But which are worth your time?
How to get dog hair out of carpet
We turned to cleaning experts and dog trainers for their tried and tested ways of properly getting rid of hair embedded in carpets. Carpets, stairs, and rugs covered in stray hairs are not going to help make your home smell nice and will reduce the indoor air quality.
So whether you have a large home and dog that sheds a lot or a small apartment with one four-legged friend, here are the methods to try for cleaning area rugs and carpets with pets around.
1. Your dog's grooming brush
You might not need to purchase any specialist dog hair removal tools whatsoever if you have a plastic dog grooming brush handy. 'No matter how powerful a vacuum cleaner you get, I can guarantee you it will not be enough,' asserts Aleksandar Mishkov (opens in new tab), a dog trainer. 'Instead, the solution is a lot cheaper,' he says.
'But, it requires a bit more work on your side. A year ago, I tried using my dog's grooming brush, at Amazon (opens in new tab) for cleaning the carpet. And I was amazed by the results.'
Aleksandar recommends wearing rubber gloves, at Walmart (opens in new tab) and running the brush over your carpet, and says that while it might be a more manual – and tiring – method, nothing will do a better job.
Aleksandar Mishkov is a dog trainer and professional writer. He runs a website called The Daily Tail (opens in new tab), where he shares advice on training different breeds of dogs.
2. A squeegee
Another item you probably have lying around that could help freshen up your carpets is a squeegee. Holding the squeegee at a 45-degree angle, run it along the carpet in straight lines to pull hairs from the carpet, rather than just moving the hairs around.
3. Specialist hair remover tools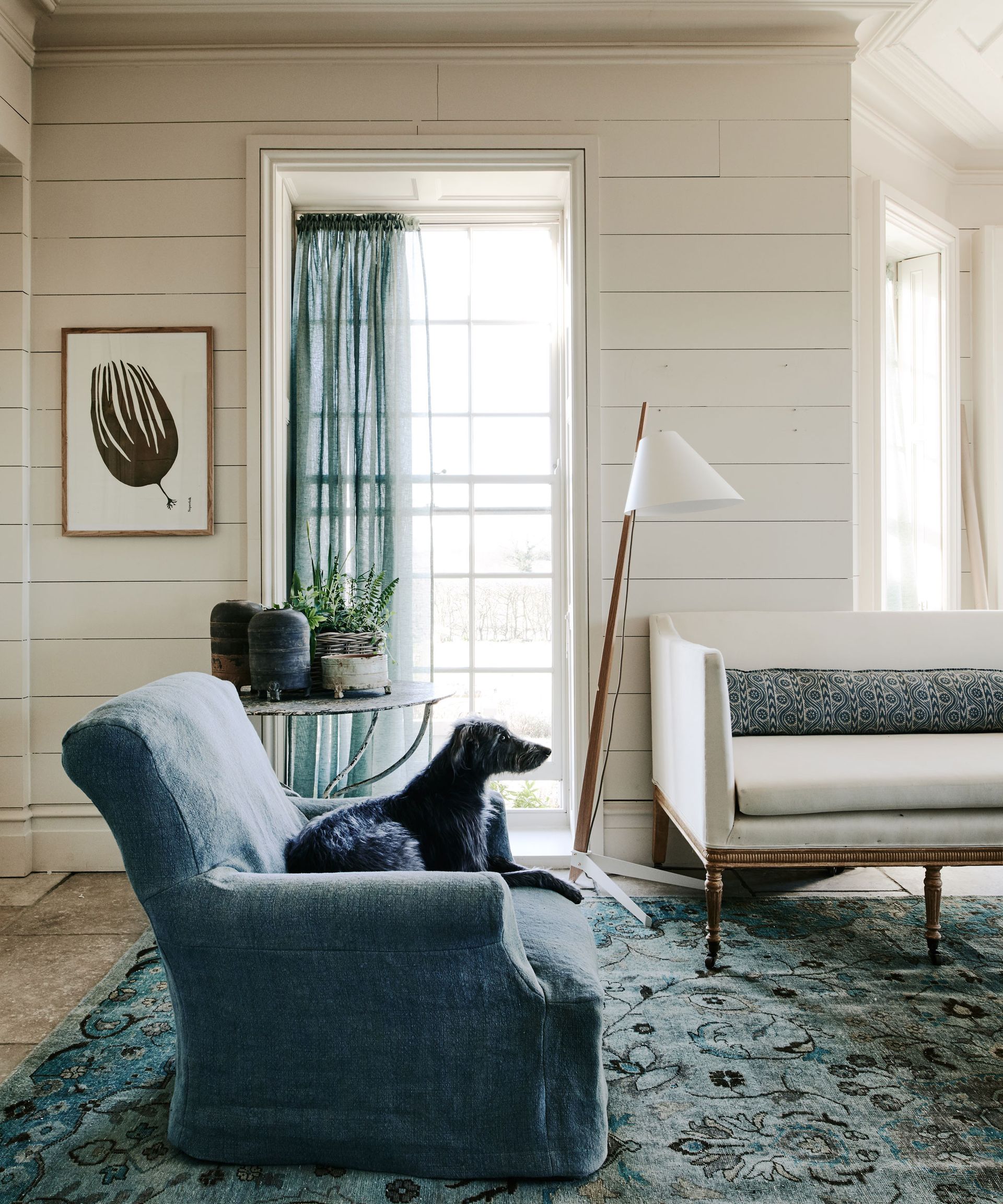 This hair remover, at Amazon (opens in new tab), is highly rated. It has metal serrated edges and based on the reviews, it effectively removes lots of hair from rugs that don't appear dirty in the first place. It currently has 25% off at Amazon and can also be used to clean the couch, stairs, or pet towers. Unlike lint rollers, it's reusable and needs a little cleaning.
Alternatively, you could try a Bissell small handheld vacuum for pet hair, at Amazon (opens in new tab).
If working with a small area, you can also try using a lint roller or a roll of packing tape to pick up dog hair from the carpet, suggests Garrett Yamasaki (opens in new tab), an expert in the field of pet care and welfare and the founder of Trending Breeds, a website with advice on how to care for various dog breeds.
'Simply roll the sticky side over the carpet in one direction, then peel it off and discard the hair that's been picked up. Repeat this process as needed until you've removed all the hair from the carpet,' says Garrett.
4. Little and often vacuuming
'Regular vacuuming, brushing, and cleaning can help keep your carpet looking and feeling fresh and clean, even with a furry pet around,' says Garrett Yamasaki.
If you want to take the physical effort out of removing dog hair from rugs and carpets, it's certainly worth investing in one of the most powerful, best vacuums, and using it with a specialized pet hair attachment – these have rubber bristles to help loosen and lift hair from the fibers.
(opens in new tab)
Samsung Bespoke Jet Cordless Stick Vacuum
By sheer discount, this is one of the best deals around. You can now save $400 on the Samsung Bespoke Jet Cordless Stick vacuum, our choice for the best vacuum for tackling allergies.
(opens in new tab)
Shark Vertex Upright Vacuum
The Shark Vertex Upright Vacuum has a self-cleaning brush and is Shark's most powerful vacuum ever, designed to dig deep into carpets.
FAQs
Does baking soda get dog hair out of carpet?
Yes. As dog hair sticks to the carpet due to static electricity, baking soda works to neutralize this, explains Elyse at Great Vet (opens in new tab). So to remove dog hair from the carpet, sprinkle baking soda on the fabric. Wait for at least 15 minutes, and then begin vacuuming.
Using baking soda also helps in removing dog odor from the carpet and other upholstery, while absorbing any moisture.
Does steam cleaning a carpet remove hair?
The best steam cleaners give your carpets a next-level clean, removing hair, lint and dust: 'If you want to deep clean your carpets, then we recommend steam cleaning them,' says Chi Ip, owner of Tidy Here Cleaning Service Boston (opens in new tab). 'It is an effective and thorough way of removing dog hair as it penetrates deep into the fibers and removes the toughest hairs. It also leaves your carpet looking clean and new.'
Millie Hurst is Section Editor at Homes & Gardens, overseeing the Solved section, which provides readers with practical advice for their homes. She has been in the world of digital journalism for six years, having previously worked as Senior SEO Editor at News UK both in London and New York. She joined the Future team two years ago, working across a range of homes brands. Millie formerly worked as Senior Content Editor at Ideal Home, taking care of evergreen articles that help and inspire people to make the most of their homes and outdoor spaces. Millie has a degree in French and Italian and lives in North London.