The worst mattress cleaning mistakes to avoid, according to experts
Avoid these common mattress cleaning mistakes and your mattress will last longer. We promise.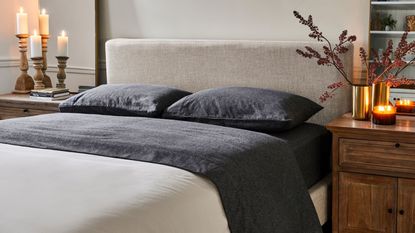 (Image credit: Courtesy of Saatva)
Avoiding the most common mattress cleaning mistakes can make the difference between a mattress that's clean and refreshed and one that looks worse than it did before you attempted cleaning it.
We're not scaremongering: stains that are more visible than before, pilling, discoloration – incorrect cleaning can ruin even the best mattress.
If you're about to clean your mattress yourself, familiarize yourself with this list of mistakes before you do it.
Top mattress cleaning mistakes to avoid
Trust us, some of these may surprise you and prevent you from making the problem worse.
1. Not using a mattress protector
You've probably guessed it: prevention is better than cure. Mattresses can be notoriously difficult to clean, especially those made from layers of different foams that soak up various liquids (sorry) like sponges.
Invest in the best mattress protector you can afford and you will have a clean(er) mattress for much, much longer. Oh, and your mattress protector will be machine washable, unlike your mattress.
Want to extend the life of your mattress even more? Marc Werner, the CEO of the bedroom company GhostBed, advises doubly protecting your mattress with a mattress protector and a mattress topper: 'please consider putting a new mattress topper to extend its life and a quality breathable mattress protector,' he says.
However, this is only worth doing 'if you still have a few more years to your mattress.' If your mattress is already old, you may as well just get a new one.
Marc Werner is the CEO of GhostBed by Nature's Sleep with the new Venus Williams Collection by GhostBed. Marc has spent the last few decades learning everything that he can about sleep and works with a team with 30+ years in the mattress industry.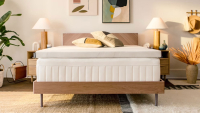 Tempur-Adapt Topper | was $419 now $335.40 at Tempur-Pedic
Bringing Tempur-Pedic comfort at a lower price, our favorite mattress topper is now 20% off, and comes with a free pillow and sleep mask included.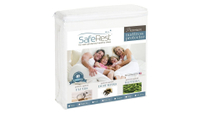 Saferest Queen mattress protector | was $42.99, now $37.99 at Amazon
This mattress protector sits at number three on our best buys list (see more below). The Queen size protector is currently on sale; I loved the soft Terry construction, and the breathability. Not only is it waterproof, but it's also noiseless.
2. Not tackling stains as soon as possible
With any stain on almost any surface, you have a window of opportunity to remove it before it has settled into the material. When cleaning a mattress (see our point above about their sponge-like nature) it's doubly important to act fast. This especially applies to blood stains. A fresh blood stain is usually possible to remove. An old one? Unlikely.
The best way to tackle a fresh stain on your mattress is by blotting it out using a dedicated stain remover (you can buy a wide range of stain removal sprays on Amazon).
Christina Heiser, senior content manager for Saatva, recommends using 'non-toxic, natural enzyme cleaners like Simple Solution and Biokleen.'
3. Using too much water
This is a common mattress mistake that can truly ruin your mattress. Although using a bit of water to try and blot out a stain is generally ok, don't ever cover the entire surface of the mattress with water. Not only is it ineffective but it could lead to your mattress developing a bad smell or even mold if it doesn't dry out properly.
In most cases, if you want to refresh your whole mattress, you can use baking soda or Oxi-clean powder and then vacuum it up. Better still, use a dedicated mattress cleaning spray (again, there are lots of options on Amazon).
4. Using harsh cleaning products to clean your mattress
This brings us to our next point. Using a harsh industrial cleaning product on your mattress is a very bad idea. Especially if your mattress has a high-tech construction or a delicate organic top layer. Forget cleaning your mattress with oven cleaners, shoe cleaning products (yes, people have tried this), or anything else not fit for purpose.
As a bare minimum, any cleaning product you use on your mattress should be labeled safe for fabrics. So, an upholstery cleaner should be ok, but a harsh disinfectant formulated for bathrooms probably isn't the best idea.
Isabella Gordan, a mattress expert, Sleep Science coach and co-founder of Sleep Society, advises that 'harsh chemicals can damage the fabric of the mattress and leave it feeling rough or stiff. It's best to use a mild, Ph-balanced cleaner like Ivory soap or baking soda for a deep clean.'
Often the best thing to clean your mattress with is a mild detergent. Save the super-strong stuff for the hard surfaces in your home.
5. Using the same vacuum you use for your floors to clean your mattress
You'll find a lot of conflicting information online about cleaning mattresses with vacuum cleaners. Some sources will say it's fine, others that it's not. The truth is that there is nothing wrong with using a vacuum to clean your mattress per se. It's just that using the same vacuum attachment you've used on your carpets/pet beds/car is not the most hygienic option. Also, using a vacuum cleaner designed for floors to clean a mattress won't be very easy.
Instead, either use a dedicated upholstery attachment if your vacuum came with one, or invest in a mattress vacuum cleaner at Amazon. These handheld vacuum cleaners have all kinds of benefits: they're lighter and easier to use than a traditional vac, and they typically come with UV and HEPA filters to help you suck out those allergy-causing bacteria from your mattress.
6. Beating your mattress with a beater
This is a classic mattress cleaning mistake – which you probably learned from your grandma. Even if you do it outside in the yard, beating your mattress does nothing much for the mattress, exhausts you, and blows dead skin cells and mites around, which isn't good for you to inhale. See our point about buying a mattress vac above.
Isabella Gordan is a mattress expert, sleep science coach and co-founder of Sleep Society.
7. Not letting the mattress dry out completely after wet cleaning
If you used a cleaning spray over a substantial area of the mattress, you'll need to let it dry out completely before making the bed again. It's best to let it air out in the bedroom with the windows open for at least 24 hours after cleaning. On a dry summer's day, you can dry your mattress outside, if you can find a large enough (and clean enough) surface to dry it on.
However, do watch out for strong sun; Isabella Gordan tells us that 'heat and sunlight can damage the fabric of your mattress.' So, if you live in a hot climate with harsh sun, 'it's best to allow it to dry naturally in a cool room with good airflow.'
8. Not taking out a mattress protection plan
You may think that this sounds like overkill, but it's actually a very good idea to insure your mattress against stains and spills that you may not be able to clean up. Marc Werner highly recommends taking out 'a stain protection replacement mattress plan' when you buy your next mattress.
Sure, this will add to the overall cost of your mattress, but it will also mean that you don't have to worry about coming up with the cost of a whole new mattress if an accident does happen.
9. Not checking for bed bugs
Even if you've never had bed bugs before and take good care of your home, bed bugs can enter your property from the outside. Many people unwittingly introduce these pests into their homes in their luggage after traveling.
Getting rid of bed bugs can be an uphill struggle and you may need professional pest control help, but there's nothing worse than waking up with a red rash from the critters. So, if you've spotted them during a thorough inspection of your mattress, act immediately.
10. Never replacing your mattress
No matter how good you are at cleaning your mattress, one day it will reach its expiration date. Generally, mattresses should be replaced about every eight years, sooner if your mattress has suffered a major accident of some sort. Regular cleaning is important, but because the inside of the mattress cannot be cleaned, you do need to replace yours regularly.
FAQs
What happens when you don't clean your mattress?
You probably don't want to know. It's not pretty. Marc Werner tells us that 'the reality is that a mattress can get gross.' We all sweat and shed skin as we sleep, which causes the growth of bacteria and allergy-causing dust mites. Elisa Regulski, a certified sleep science coach, cautions that 'this build-up of bacteria could lead to itchy skin, breathing difficulties, and asthma issues.'
Even if dust mites don't bother you personally, a mattress that's never cleaned eventually will begin to smell.
Sign up to the Homes & Gardens newsletter
Decor Ideas. Project Inspiration. Expert Advice. Delivered to your inbox.
Anna K. Cottrell is now a freelance writer, having previously been a Content Editor for Future's homes titles. She writes about interior design, property, and gardening. On H&G, she specialized in writing about property – buying, selling, renting – sustainability and eco issues.