Why you should be painting your porch ceiling blue – according to spiritualists
Want to create a harmonious household? Painting your porch ceiling blue could be a step forward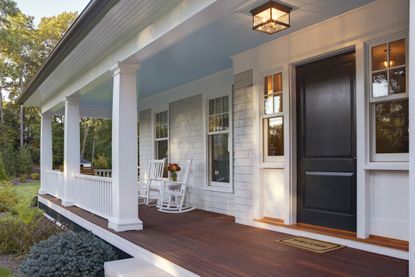 (Image credit: Getty Images)
Sign up to the Homes & Gardens newsletter
Decor Ideas. Project Inspiration. Expert Advice. Delivered to your inbox.
Thank you for signing up to Homes & Gardens. You will receive a verification email shortly.
There was a problem. Please refresh the page and try again.
If you have ever stepped up to someone's front door, especially in the south of the country, and noticed a wonderfully painted blue porch ceiling, you may wonder why they chose to make such a statement in a space we simply pass through.
Far from an inspired porch decorating choice, painting a porch ceiling blue is thought to ward off bad energy and evil spirits to protect a household – although it certainly looks good too.
Here, experts explain why you should be painting your porch ceilings blue, and what effects it can have on your home.
Why do you paint a porch ceiling blue?
There are a few reasons why people choose blue for their porch paint ideas, but almost all of them are to do with warding off evil spirits, explains Mara Livermore, spiritual consultant and founder of House of Sweet Waters.
'Blue porch ceilings are common in US Hoodoo tradition, finding its roots in the saved and surviving religions and practices of enslaved Africans, particularly the Gullah Geechee, who were brought to the states,' she explains. 'The practice, which involves painting the porch ceiling a watery blue, is thought to trick negative spirits into thinking that they cannot cross into the home, mistaking the paint for water – a holy symbol that wards off negative energies.'
Mara started My SweetWaters as a part of her personal journey to reclaim her own identity through her culture and passion for traditional African religions and their role in the anti-slavery resistance. She is now a professional speaker on helping others find their own place and success.
Kerry Ward, spiritualist and tarot expert, and founder of Tarotoo adds that, unlike the meaning of Feng Shui, or putting a glass of water under the bed, the practice was less about improving the energy around the home and more about warding off evil spirits – especially those known as 'Haints', Kerry explains.
'"Haints" were not spirits you'd welcome into a home, hence the caution, as they were seen as restless souls looking to stir up trouble and cause damage,' she explains. 'The haints who are then floating above a home would see this color on the porch ceiling and keep away from that house.
'In fact, they also often painted their shutters, steps, frames, doors, and windows the same blue, just to make sure. This is so popular that the paint color itself has come to be called Haint Blue.'
It is not just Hoodoo traditions that use the color blue to help keep negativity away from the home, however, as Jock Brocas, grief researcher and spiritual teacher explains.
'The idea that the color blue is a protective amulet goes back centuries. The color blue is also considered protective in other traditions such as invoking the protective rays of archangel Micheal, or indeed, the idea of the evil eye which is also blue, again protecting the home and its inhabitants against evil spirits.'

Benjamin Moore – Constellation | From $65.99 at Benjamin Moore
A lovely light blue, this shade has been listed as a great Haint blue for porch ceilings and comes in interior, exterior, and exterior stain finished for use around your porch and home.
FAQs
What color is Haint Blue?
Haint blue is traditionally a pale blue-green color that reminds us of crystal waters or the blue sky. There is often no one 'haint' blue option, so opt for a shade that matches these undertones but is also pleasing to your eye, matching the rest of your home's exterior paint to the shade for a harmonious scheme.
Does painting a porch ceiling light blue keep bugs away?
Painting a porch ceiling light blue is thought to keep insects away from your home, with the cool tone repelling wasps and spiders, according to pest experts, as insects cannot register these shades and are less likely to be drawn towards it. However, this is not the most common or effective pest deterrent nor is it the main reason to paint their porch ceilings blue – especially in the southern states of America, which use blue-painted porch ceilings to ward off negative spirits instead.
---
Painting a porch ceiling blue is certainly a tradition steeped in cultural history and superstition. It can also be another way to make any small porch feel larger or create a calming spot to sit outside as it mimics the sky. No matter your reason for painting your ceiling blue, this tradition is a beautiful one, and certainly a front porch and back porch idea to consider.
Sign up to the Homes & Gardens newsletter
Decor Ideas. Project Inspiration. Expert Advice. Delivered to your inbox.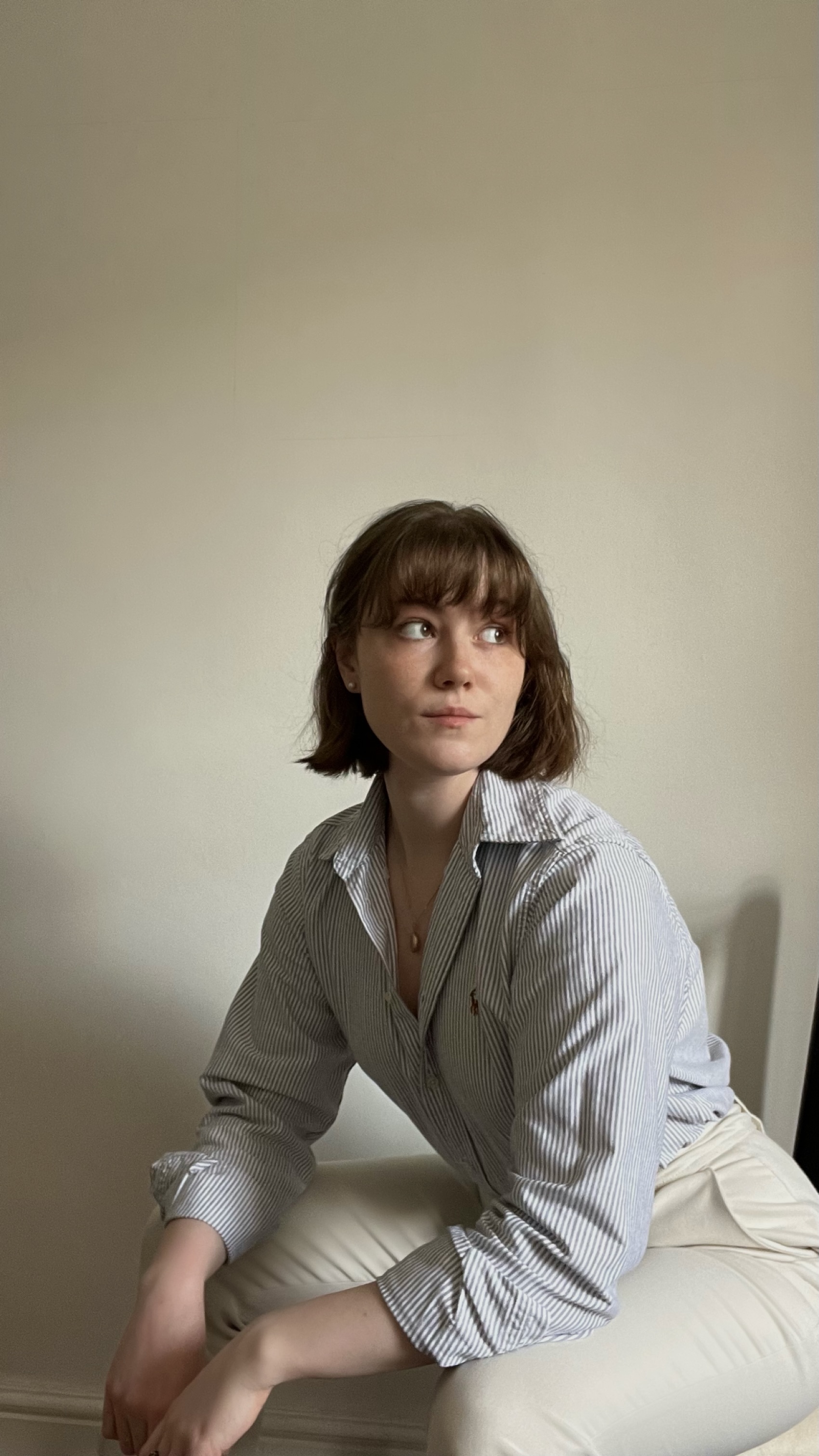 Chiana has been at Homes & Gardens for a year, having started her journey in interior journalism as part of the graduate program. She spends most of her time producing content for the Solved section of the website, helping readers get the most out of their homes through clever decluttering, cleaning, and tidying tips – many of which she tests and reviews herself in her home in Lancaster to ensure they will consistently deliver for her readers and dabbles in the latest design trends. She also has a first-class degree in Literature from Lancaster University.