The 70/30 split – why interior designers swear by this rule for perfectly proportioned rooms
How using the 70/30 split is the key to interior design success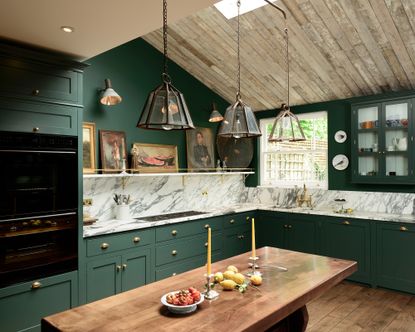 (Image credit: deVOL)
If knowing where to start designing a room is a hurdle, the 70/30 split is an easy rule to follow to begin with, allowing you to incorporate different styles into your room within specific proportions – all for a well-balanced aesthetic.
See: Interior design tips – decorating secrets from the world's best interior designers
Find out what the 70/30 split rule is below – and see five times designers have inspired us with it to create a perfectly balanced scheme.
What is the 70/30 split in interior design?
Simply divide the room into a ratio of 70:30 and decorate 70% of the space with your anchor scheme and the other 30% in a different style (or styles), so you have a room that's visually interesting.
Martin Waller, co-founder of Andrew Martin, expands on what that 30% means: 'Your home should be a reflection of you and your personality, so the 70/30 split rule is perfect because it means you can add in everything you love. There are no boundaries to this look, if you have been inspired by a particular color or texture, whether from the pages of a magazine or from your travels around the world, use this as a starting point.
'The key to getting this look right is removing the fear of doing it wrong. It is about creating a mix– blending steel with stone, leather with hessian – and the first area to tackle should always be the walls. There is more wall than anything else in any scheme so adding interest here is key. This can be achieved through textured wallpapers, wall murals or through bold hits of color.
'Art and artefacts are also key to individuality and aid the overall eclectic look of a design scheme. It is important for a design to both surprise and create harmony to a space, you can do this by not matching all of the interior elements – this will add diversity and pace to the room. Don't be scared to select pieces that are a true representation of you and your personality, these are the pieces that say something about you and your house.
'Plus, you know you will love them and this is what makes the distinction between a house and a home. After all, comfort is the greatest gift in any interior design scheme and that comes from a home that truly represents the owner and their individual style.'
1. Pattern play
This bold room sees 70% of the space decorated with an earthy terracotta, while 30% has been given to playing with globally-influenced patterns, including a pretty English countryside scene on the headboard paired with a vibrant Aztec-inspired throw and rug. There's also a pop of modern American glamor in the bedside table lamps.
2. Trad country chic with contemporary finishes
See: Living room ideas – clever ways to decorate living spaces
A balance that will never go out of style is pairing a traditional country look with modern finishes. The beautiful room above designed by UK-based Sims Hilditch shows how 70% of the room boasts an escape-to-the-country feel (those floral curtains, turned table, piano, large ottoman) is paired with an industrial-style black round mirror and brass side tables for a 30% splash of modern.
Emma Sims Hilditch says: 'Our interiors are often inspired by the British countryside so this will often feature fairly prominently, but we are also known for the way we make our designs suitable for modern living. This can involve incorporating a range of contemporary furniture and furnishings alongside a range of more traditional and existing pieces. If a building has a rich heritage or listed status then we also consider this carefully when planning our designs, remaining true to the building's heritage while creating a welcoming and comfortable home.'
3. Contemporary meets vintage
Tara Bernerd, of Tara Bernerd & Partners, says: 'I have long been an advocate of layering in design. There is a real joy to creating an alluring mix of contemporary furniture, which sits so well with some eye-catching Mid-century or vintage pieces.
'Whilst I can't claim to ever stick rigorously to the 70/30 rule, there is definitely a need to strike a balance. I find this layering process brings an authentic touch to any interior and makes a room feel just right and as it should be.'
Referring to the image above, Tara said: 'At this apartment on the River Thames, we have mixed contemporary pieces by David Linley and Amy Somerville, with vintage pieces sourced from various antiques markets in London, to bring a timeless atmosphere to the space.'
See: Layering in interior design – the steps interior designers always follow for successful schemes

4. Bold color and pretty prints
Want to embrace print but not sure where to start? The 70/30 split rule is the ideal guide. Choose your favorite color to enhance the walls, and then a beautiful printed fabric for blinds, as Mark Lavender, of M. Lavender Interiors, has shown perfectly above.
Mark says: 'I think most designers follow the 70/30 split rule to some extent without necessarily counting up pieces to make sure the split is accurate. I think a truly well-curated room features pieces that complement each other in style while not necessarily all being the same style.'
5. Modern farmhouse with industrial touches
See: Kitchen ideas – decor and decorating ideas for all kitchens
Introducing industrial finishes to a modern farmhouse or country-style decor is a great way to add edge and a contemporary feel to the look. The statement cage light pendants above modernize an otherwise rustic, earthy room above.
In the picture below by deVOL, we love how a timeless kitchen design with vintage details is brought up to date with industrial-style black-framed windows.
Sign up to the Homes & Gardens newsletter
Decor Ideas. Project Inspiration. Expert Advice. Delivered to your inbox.
Ruth Doherty is an experienced digital writer and editor specializing in interiors, travel and lifestyle. With 20 years of writing for national sites under her belt, she's worked for the likes of Livingetc.com, Standard, Ideal Home, Stylist and Marie Claire as well as Homes & Gardens.