7 ride-on lawn mower attachments worth the investment
Fire up your lawnmower, then treat yourself to these ride-on mower attachments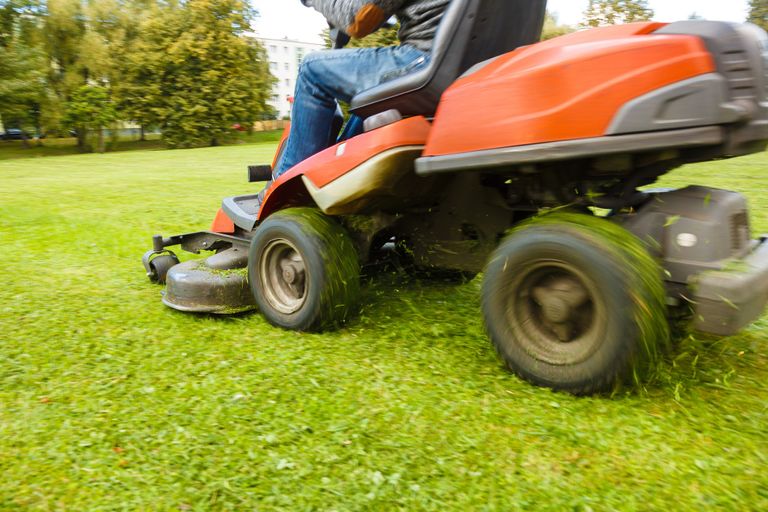 (Image credit: Getty Images)
So, you've invested in the best ride-on lawn mower, and now you're wondering: 'Now what?' It's time to invest in the top ride-on mower attachments.
Ride-on mower attachments are the easiest way to ensure you receive the largest return on your investment, as well as allow you to enjoy all of your lawnmower's most distinctive features.
Or, for those who opted for a more budget-friendly choice and find their lawnmower isn't living up to the hype, it's an excellent way to get what you need out of your machine without having to replace it with a brand-new model.
In short: ride-on mower attachments are a win-win all around – but the catch? The ability to sort the good from the bad: where to invest and what to avoid.
Fortunately, we've gone ahead and rounded up the five best ride-on mower attachments that will keep your machine pristine all summer long.
1. Ride-on mower attachments: An all-season plow
Let's start with one of the more controversial ride-on mower attachments: an all-season snowplow. The jury is conflicted on whether or not it is (or isn't) the smartest attachment. However, without any concrete evidence (there isn't any) that it will have long-lasting effects or impact your mower's longevity, we highly recommend testing one out for yourself.
2. Ride-on mower attachments: Lawn mower baggers
A bagger plays an essential role to effectively collect grass clippings, leaves, and any debris from your lawn, leaving it looking sharp and well-manicured.
3. Ride-on mower attachments: Dump/utility cart
One of the ride-on mower attachments that should be on your list is a dump cart or a 'utility cart.' A dump cart is attached to your machine and makes it easier to pull or two heavy loads behind the mower.
Brinly-Hardy 10 cu. ft. 650 lb. Tow-Behind Poly Utility Cart for $199, at Home Depot
Whether you're hauling lawn and garden tools, mulch, pavers, plants, and shrubs, or soil, this cart saves time and your back. The heavy-duty compression molded polypropylene bed won't dent or rust. The durable, powder-coated steel frame is built to last, ensuring your utility cart performs optimally season after season, year after year. And the new, heavy-duty 15 in. x 6 in. pneumatic castle tread tires provide a smooth ride through the lawn, even while hauling the heaviest loads.
A steep 56° dumping angle and hands-free steel foot pedal allow for easy emptying, saving time so you can do more in the yard. Molded-in features such as bed channels and stake pockets accept dividers and extensions, allowing for easy bed customization.
4. Ride-on mower attachments: Lawn sweepers
A lawn sweeper is easy-to-use and efficient lawn care equipment that is pushed or pulled across a lawn to pick up leaves, twigs, grass clippings, and other debris from your yard.
AllFitHD 50 in. 26 cu. ft. Lawn Sweeper for $329, at Home Depot
The AllFitHD Lawn Sweeper features an industry-leading super capacity 26 cu. ft. heavy-duty collector bag and an extra wide 50 in. sweeping path allowing you to get your lawn care done faster than ever. Exclusive patented spiral brush sweeps more efficiently than standard sweepers and puts less stress on gears for longer life.
The no-slip positive lock height adjustment will not vibrate out of position and has easy-to-remember height settings. Hopper empties by pulling the rope from the seat of your tractor. Just reverse to debris or compost area, pull the rope, and you are finished. The extra-wide 9 in. chute is less likely to clog, especially when sweeping damp grass clippings that clump together.
5. Ride-on mower attachments: Mulching kit
A mulching kit is a way to convert your ride-on lawn mower into a mulcher. By changing the mower's standard blades into mulching blades, the mulch kit essentially recycles the lawn clippings as you mow, spreading them back onto the yard with each pass.
Cub Cadet Original Equipment 42 in. Mulching Kit with Blades for Lawn Tractors and Zero Turn Mowers for $69.98, at Home Depot
Develop a healthier-looking lawn and reduce yard waste by mulching more frequently with this kit during the mowing season. Recycling grass clippings back into your lawn is one of the best ways to ensure it receives the proper nutrients it needs to thrive. Plus, these kits help to redistribute lawn clippings without the effects of clumping due to the specialty mulch blade design specifically tested to deliver finer clippings of grass.
6. Ride-on mower attachments: Truck loading ramp with treads
If you are looking to take your ride-on lawn mower on the road, you are going to need a worthwhile investment to help you load it onto any truck you may own (or borrow). A truck ramp with treads is the non-slip way to get the job done both easily and effectively.
7. Ride-on lawn mower: Tire chains
If you plan on turning your ride-on lawn mower into a snow plow come winter, you're going to need the proper attachments. We recommend an emphasis on tire chains, as it's necessary for a slip-free experience.
Brittany Romano wrote for Homes & Gardens as a U.S. Shopping Editor. A graduate of New England College, Brittany started her career as a freelance fashion market assistant at Marie Claire. She later joined AMI, where she designed a highly profitable commerce vertical. Noted for her award-winning content, she's covered everything from celebrity beauty hacks to the most lavish home decor.