7 tricks designers use black accents to add verve to a room
Designers use black accents to add punch, dimension and a modern edge to a space – these are the ones to know about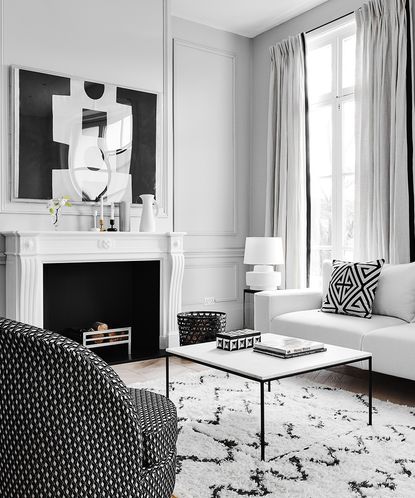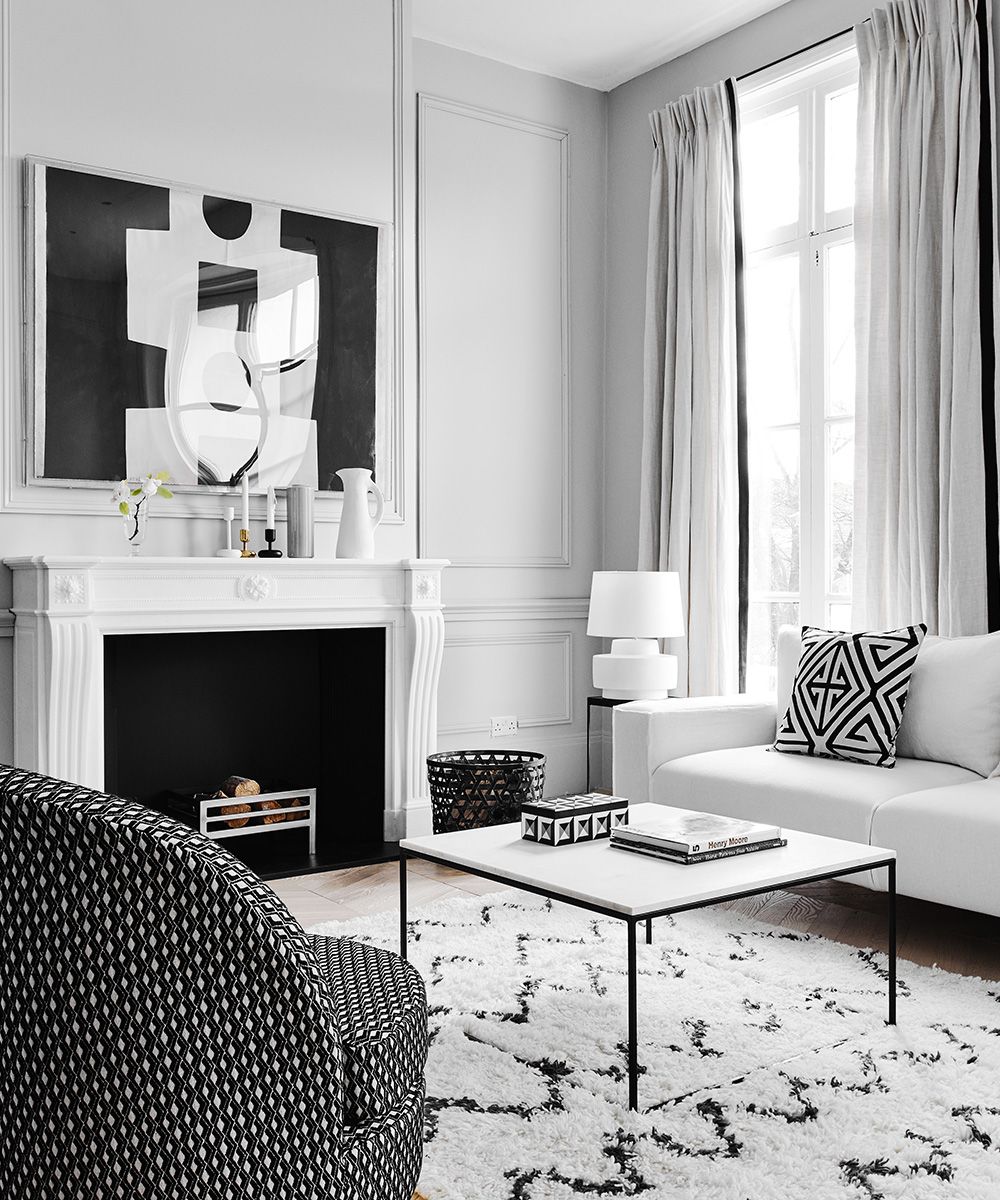 (Image credit: Michael Sinclair)
Adding black accents to a scheme is a trick interior designers use for impact. You don't need much to create a dramatic result – but it can ground a room and tie a scheme together beautifully. It can also create a punchy look when used in repetition or on pale background.
See: Interior design tips – decorating secrets for the world's top experts
Athina Bluff, Founder & Senior Designer at Topology Interiors, says: 'Black is most definitely back and we love it. It's versatile, timeless, and classic and could be likened to being the little black dress of interiors.
'Historically, it seems it has had a negative connotation when associated with interiors and can be associated with making a room feel dark and dingy. We would say it's quite the opposite as it enhances the colors that surround it and highlights the negative space surrounding pieces with hints of black so in turn, makes a room feel bigger and brighter.
'In fact, black accents sometimes fall into the same category as adding a metallic accent to a room and are an essential finishing touch. Either, or both, work absolute wonders in elevating a design, and help to stop a space from falling flat, especially when layering lighter neutrals. This is because by adding a black accent, it packs a little punch without being overbearing as it both contrasts and complements most other tones.'
And Lauren Lerner, of Living with Lolo, says: 'We love to use black accents throughout our designs to draw the eye in and create dimension. Similarly to how you would use black eyeliner to frame your eyes, using black in your home helps to accentuate.'
See seven ways designers use accenting with black below.
1. Use black accents alongside black furniture to elevate a bedroom
'The addition of black and darker elements can help to neutralize any bedroom,' says Kyra Cotgrave, Home Designer at Neptune. 'Where sometimes the room can feel incomplete or lacking, even with small and subtle additions like wall lights or a side table, the space can be made to feel more grounded and absolute.
'In many ways, black acts as more of a statement color in the bedroom, whereas softer, lighter tones are unassuming and calm. It's always best to include a balance to create a more interesting space as they contrast and highlight each other.'
We love how the black night stand are picked out by black accents in the artworks, creating a visually appealing and atmospheric space.
2. Give a white room a glamorous lift by accenting with black
When used against a crisp, white, panelled backdrop, black art, furniture and objets d'art offer an injection of contemporary glamor. The sleek table and chairs, along with the oversized artwork and console, in the room by Andrew Martin above shows how accenting with black can lift a space, and even how the surface finish can inform a room's aesthetic. In this case, a sheeny finish contributes to the modern glamorous look.
3. Use black accents to create a smart look on open shelving in a kitchen
Adding pops of black throughout the kitchen is a great way to ground the space and, if you've opted for dark worktops, hardware, or appliances, tie the scheme together. Take a page out of the Brianne Bishop Design book and combine two trends and try including open shelving into the space – the perfect spot for adding black accessories and objets, from vases and plant pots to candles and picture frames.
4. Install contemporary black Crittall frames to add edge to any room
Crittall windows and door frames are a stylish addition to any room, and can be used in the hallway as a chic room divider, in a kitchen extension, or in the bathroom as a shower door or separating wall.
We love how the Crittall doors in the home office above highlight the dark tones in the beautiful wallpaper, and tie in with the black cabinetry.
Talking about accenting with black, Emma Sims-Hilditch says: 'Black is a color we tend to use sparingly in our designs, but that's not to say that it doesn't have its place. Accents of dark colors like black can create a wonderful contrast in a room rather like the mascara on a face, making certain features pop.
'If we don't use black then it might be a smoky blue color. This looks wonderful as an accent color in a room, like the bedside tables, or as a statement color on the walls and joinery of a room creating a moody and sophisticated look.'
5. Add black accent pieces in the hallway for a grand entrance
Whether it's a console, storage baskets, lamps, pendants, the balustrade or bannister, or even the front door, accenting with black in the hallway makes for an impressive entrance that's just the right amount of inviting yet formal.
David Harris, Design Director at Andrew Martin, says: 'Hallways are the first impression of your interior, so give yours some love and show it off to your new post-covid visitors. Not only does it give off the first impression but it is the busiest thoroughfare of your house with people passing past each other at the busiest time of day.
'It needs to be practical and stand the test of time. Painting using dark colors such as black under the dado rail with fresh white woodwork and light colors above, work really well to hide any scuffs and marks. It adds lots of light this way, to what can be narrow spaces.'
6. From tiles to a statement bath, accenting with black in the bathroom adds drama
'Black and monochrome work so well in the bathroom, creating a timeless look with bags of glamor,' says Angela Fitzhugh of Indigenous. 'Tiles and mosaics can be used to update walls and floors, along with a lick of paint; in the bathroom, porcelain and encaustics work really well. Or, for a stand-out feature, why not make space for a black basin, vanity or statement bath?
'On the floor, porcelain 'stone-effect' tiles are a great option. Designs like Indigenous' Urban tile are hardwearing, easy to look after and, as they have a textured surface, they provide good grip underfoot. For a monochrome look, consider an encaustic tile; there are designs to suit all room styles, from smart checkerboards and geometric patterns, to classic curlicues. Patterned encaustic tiles can also be used on the wall, to create a striking feature above a basin.'
And if you just want to add black without tiling, choose cool Art Deco wall lights for a stylish and upscale addition, like Maestri Studio achieved below. Eddie Maestri says: 'Black accents such as these tuxedo sconces are a reliable way to create a classic and timeless feel in any space.'
7. Push the envelope with a black accent wall
A black feature wall is a bold, timeless yet trendy way to include accenting with black into your decor scheme.
Topology's Athina Bluff says: 'We would say black accents can be applied using the 60-30-10 rule, more often than not, as part of the latter. It really is the cherry on top of a design or if used right can even be the foundation. There's a lot to be said for a room with black walls or an accent wall for the brave amongst us!'
Sign up to the Homes & Gardens newsletter
Decor Ideas. Project Inspiration. Expert Advice. Delivered to your inbox.
Ruth Doherty is an experienced digital writer and editor specializing in interiors, travel and lifestyle. With 20 years of writing for national sites under her belt, she's worked for the likes of Livingetc.com, Standard, Ideal Home, Stylist and Marie Claire as well as Homes & Gardens.