Charlie McCormick's garden design secrets – from inspirations to practicalities
Insider secrets from the famed garden designer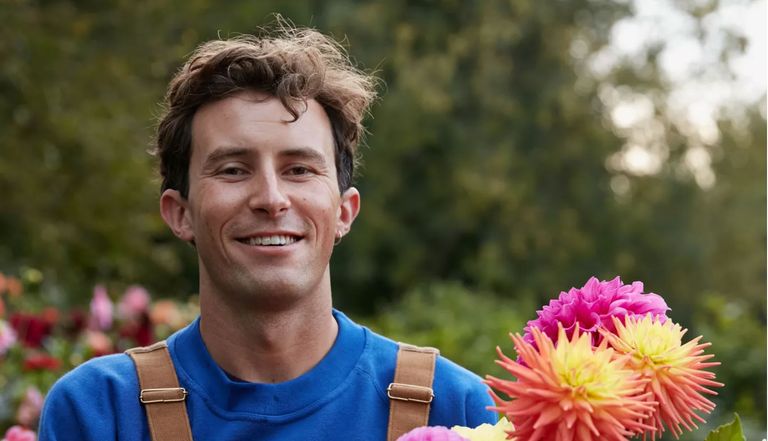 (Image credit: Charlie McCormick)
Charlie McCormick is arguably one of the biggest new names in garden design. He has swept through gardening show over the last few years with his stunning flowers and vegetables.
He opened up to Homes & Gardens about what inspires him in his creations. He also shared his garden design secrets for how he created his own stunning garden. 
Charlie grew up on a farm in New Zealand before traveling and settling in the UK, where he lives in Dorset with his husband Ben Pentreath, the architectural and interior designer. 
The couple's garden is about an acre and features layered dahlia beds, vegetables, and a wildflower meadow. Charlie also has a small bothy on the west coast of Scotland where he's started to plant a garden. 
See: How to grow dahlias – a step by step guide to growing dahlias from tubers
Charlie McCormick's garden design secrets
'I've had no formal training,' Charlies explains. 'Instead, I just picked things up as I went along. Growing up I spent a lot of time with my grandparents, who are plant and garden crazy.' 
'It's almost the best way of learning, just doing it and asking lots of questions as you go along. I like gardening for the reason that there doesn't have to be any rules.'
1. Look for inspiration everywhere
It isn't where most people would look for gardening inspiration, but Charlie reveals that he gets most of his inspiration from books.  
'I love buying old books especially ones from the '50s and '60s. Visiting gardens – big or small – is always inspiring too,' he explains. 
'I particularly love the beautiful landscaped gardens at Rousham in Oxfordshire, UK, which have changed very little since the eighteenth century. But I also like ordinary front gardens and allotments. To me that's real gardening,' he adds. 
2. Grow plants that stir up emotions
Rather than being guided by looks and strict garden plans, Charlie suggests choosing plants more instinctively for your garden. Consider how different plants make you feel, and how much you enjoy growing them.
'Different plants bring different feelings. I love dahlias as they are wild and cheerful. The weird and wonderful colors and forms are magical. I also enjoy showing them,' he explains.
'I feel the same way about rhododendrons, as they bring back memories of my grandparents' garden and their collection of rhododendrons. I could say the same about daffodils and rock garden plants. They all bring individual rewards.'
'One of the best things in the garden at this time of year is the forced rhubarb (above). The electrifying pink and yellow colors are magical,' he explains. 'I love it when the snowdrops push through and hang their delicate heads too.'
However, don't neglect growing plants indoors as these can be just as exciting he points out. 'Filling the house with anything green is great but it is also a lovely idea to include forced bulbs like paperwhites and hyacinths as they fill the house with scent'.
3. Take your pets into consideration
Keeping an orderly garden with dogs running around isn't easy, however, Charlie suggests a relaxed approach. 'If you're looking to create a dog-friendly garden, just be relaxed and don't worry about it.'
'Our dogs Mavis (Labrador), Sibyl and Enid (Welsh corgis) can and will go everywhere in the garden.'
See: Interior designer Emma Sims-Hilditch reveals how to make a home pet friendly – and super stylish
4. Set yourself a gardening goal
That can be just managing to grow a tomato or growing for a show like Charlie. Growing with a goal in mind will give you more structure to you gardening. 
'I'm all about growing to show. Every year I enter agricultural and flower shows, both large or small. For me they're the main reward for gardening throughout the calendar year,' he explains. 
'I show my home-grown flowers and vegetables, particularly dahlias and marrows. Some of the autumn shows went ahead last year but they were virtual ones.'
See: How to grow tomatoes - the best ways to grow your own tomato plants
5. Garden only for yourself
According to Charlie when it comes to gardening, forget about what is on trend or what the neighbors will think. Create a garden that you love. 
'My garden philosophy is simple: you should always plant what you like even if nobody else does.'