7 rules for decorating a console table in an entryway – guaranteed to wow guests
The entryway is the first space your guests see, so learn to style that console table like a pro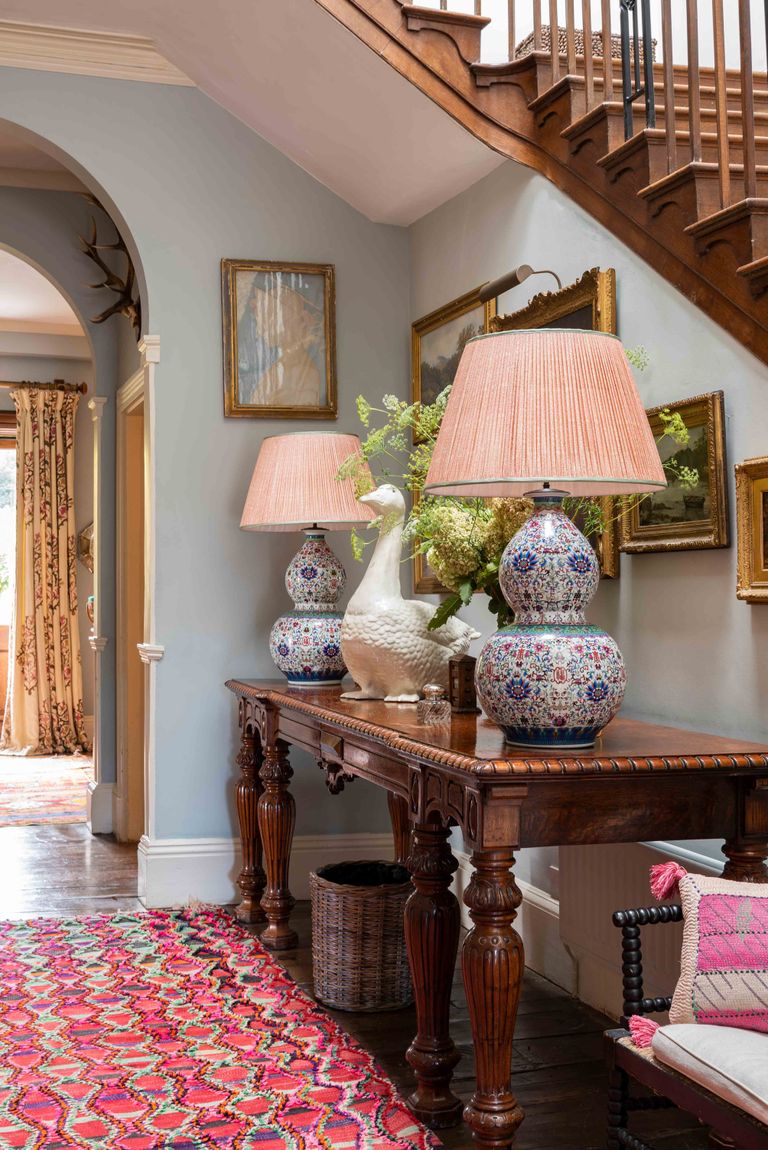 (Image credit: Penny Morrison)
The first space guests walk into deserves a stylish touch right? And decorating a console table in an entryway just like a professional interior designer would is key to making your hallway look super smart.  
Choosing the right entry table is essential as hallways are often on the slim side – unless you are lucky enough to have a generous space – so look out for slim consoles, with storage if you need to hide the inevitable clutter, or chunkier designs for larger spaces. 
Let your entryway's architecture dictate the table's style, but don't be afraid to go for contrast, using the entry table as a starting point for a braver scheme. 
It's not just the entryway table that's important, though – how you decorate it will set the scene and make the statement.
We asked some of the world's best interior designers for their top five rules on decorating a console table in an entryway for impact. 
See: Hallway ideas – stylish ways to create a welcoming first impression
1. Frame an entry table display with wallpaper
Entryways can be tricky spaces to deal with as the proportions are often slim, and they suffer from little natural light and architectural interest. However, you can use some tricks to help create interest, as Irene Gunter, founder of interior design studio Gunter & Co explains:
'I really wanted to introduce some wallpaper to inject color and texture but it wouldn't have worked in large amounts. This discreet frame detail that our joiner made from liquid metal panelling beads has created such a big impact, it provides a beautiful space for the wallpaper whilst framing the entry table perfectly.'
The position of the over-sized centrally-hung mirror is key, too – it is close enough to the console below to become part of the display of accessories, giving the entryway incredible impact and focus.
See: Hallway wallpaper ideas – smart statement wallpapers for your hall
2. Display prized antiques in an entryway
Beautifully crafted antique console tables can look fabulous and add instant character to entryways – and if you're lucky enough to have the space then a narrow piece can fit perfectly, like in this hallway by interior designer Penny Morrison. 
Add a pair of patterned table lamps to create balance at either end of the table, a gallery wall of smartly framed paintings and an impactful vase of blooms for a softening decorative touch. Antique fairs have a wealth of fabulous finds that you can display too – from small trinket boxes to stunning ceramics. 
3. Decorate a console table to make a small entryway feel larger
'First impressions are essential when welcoming both you and your guests into your home. In order to achieve a statement hallway, I always incorporate a console or entry table into the space, which is both functional and elegant,' says London based bespoke interior designer Louise Bradley. 
'When dressing the entry table, it is important to consider both purpose and scale, drawing the eye into and around the room. Avoid clutter by adding a small decorative box, where you can store your essentials upon arrival or alternatively choose a console with drawers. 
'Adding greenery and a scent diffuser will also create an uplifting ambiance. Add further impact by dressing the walls with a large mirror, this will assist in reflecting natural light throughout and will open up the space.'
Note the slimline proportions of the table – including its legs – and the tall, narrow mirror – both cleverly work to exaggerate the entryway's height, making the narrow space feel more generous.
4. Create impact with a curated display
In reality you only need room on your entry table for your keys and maybe some mail. The rest of the table top can be used for displaying your favorite pieces – the vases you love and a stem or two of foraged branches you found on a dog walk. Vary the scale and always use odd numbers – a group of three decanters can be sandwiched between a pair of vases and candlesticks as long as the shapes are interesting. 
5. Keep a beautiful console table decorated minimally
Don't over-style an entryway console table that's already beautifully embellished. Here, Jonathan Adler's Globo entry table is the most perfect design if you want to inject some futuristic glamor and make a bold statement. 
Complete with large blue acrylic cabochons and a polished brass frame and legs, this glossy white entry table needs little styling as it's the star of the show. C
arry the circles through by placing a mirror above it and look out for circular accessories like a curvy vase and a round tray for your everyday essentials.  
6. Pick a decorating theme for your entryway console
If your entryway console table has a distinct decorative theme – whether California Casual or country – picking accessories to decorate it with that echo that theme makes perfect sense. Here, Oka's Katsura console table has been accessorized with pieces that hint at the Oriental style of the table itself – to great success.
Below, a country style console is completed with rustic touches.
7. Decorate a console table with paint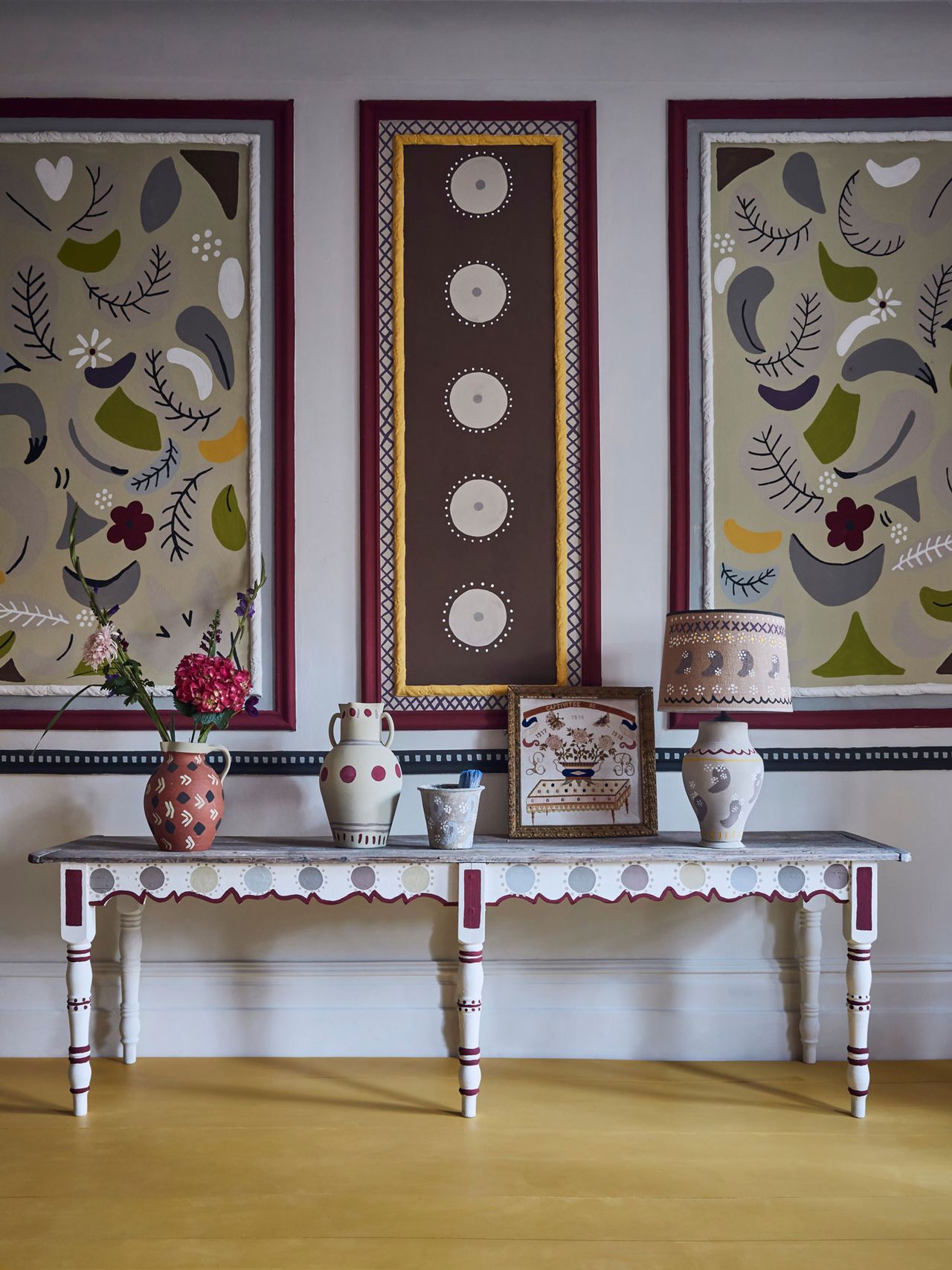 See: Cottage hallway ideas – style inspiration to create a welcoming space
Here, an ordinary console table has been given an extraordinary makeover with paint by British artist and paint expert Annie Sloan. She has echoed the design in the wall panelling behind it and, of course, picked accessories with a hand-painted finish.