Does a vegetable garden add value to a home? Real estate experts weigh in
Does having a vegetable garden add value to your home? Here's what real estate professionals think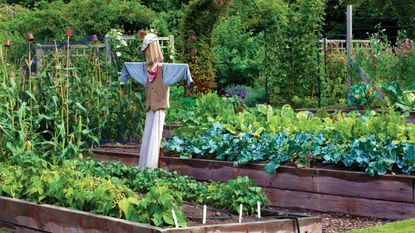 (Image credit: Leigh Clapp/Future)
Does a vegetable garden add value to your home? Homebuyer surveys consistently name a well-maintained garden as one of the most desirable features, and homes with gardens certainly tend to command higher home values. But a vegetable garden is a bit different from an ordinary garden, both in how it's used and the way it looks.
So, is a vegetable garden one of the best ways to add value to a home? Real estate experts weigh in with their views.
Does a vegetable garden add value to a home?
The short answer is 'no'. If you're looking for a reliable figure or percentage of value, our real estate experts say that there isn't any evidence to suggest that a vegetable garden will increase your home value. Trey Van Tuyl, a realtor and owner of Discover Homes Miami, says that 'it's debatable whether or not any kind of added landscaping can actually add value to a home'.
Toni Guy, a real estate agent at Berkshire Hathaway Home Services California Properties, seconds this view: 'I don't believe adding a vegetable garden adds monetary value to a house when sold.' If you were looking at vegetable garden ideas specifically as a value-adding opportunity, you may wish to look at a flower bed ideas instead – particularly front yard flower bed ideas that can add to your property's curb appeal..
However, both Trey and Toni qualify their responses by suggesting that a beautifully maintained vegetable garden may improve the overall impression a home makes on buyers, which often leads to higher offers. Trey explains that 'an attractive, and well-tended outdoor area will add perceived value. This shows that the property is well-loved and has been taken care of.'
Toni elaborates further and points out that a vegetable garden 'does add to the lifestyle value or heart connection that a buyer feels for the home. If a buyer connects with the property and must have it then they will pay more for it. Especially during a pandemic, home means safety and connection. It is our refuge during times of uncertainty so vegetable gardens can make your home feel grounding and nurturing to your prospective buyer and that can mean more money in your pocket.'
How can I make a vegetable garden more attractive to buyers?
It is important to emphasize that a vegetable garden will only positively impress buyers if it is impeccably maintained, aesthetically pleasing – and looks like it wouldn't be too difficult to dismantle if they're just not that into it.
Trey stresses that 'it's important that the vegetable garden looks attractive, so I always recommend using raised beds. Not only do these look nice and tidy, but they don't seem as permanent – just in case the buyer isn't a passionate gardener!'
This makes researching raised garden bed ideas all the more worthwhile – easy to maintain or modify, they are your safest bet when selling a house with a vegetable garden.
Sign up to the Homes & Gardens newsletter
Decor Ideas. Project Inspiration. Expert Advice. Delivered to your inbox.
Anna K. Cottrell is now a freelance writer, having previously been a Content Editor for Future's homes titles. She writes about interior design, property, and gardening. On H&G, she specialized in writing about property – buying, selling, renting – sustainability and eco issues.