Does decorative molding add value to a home? We've asked the experts
Is decorative molding such as cornicing and coving a value-adding investment, or just a nice-to-have? Real estate experts give their answers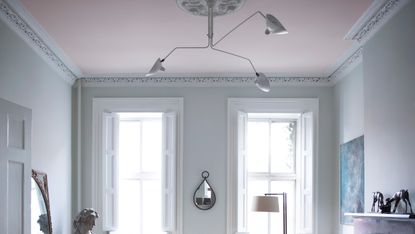 (Image credit: Benjamin Moore )
Does decorative molding add value to your home? An intricate cornice or elegant coving is a desirable feature in older homes – and can be added if it wasn't originally present.
But is this type of architectural detailing a wise investment if you are selling your home, or is it nice but unimportant to buyers? We've spoken to experienced real estate and house flipping experts to get their points of view.
See: Traditional decorating ideas – inspiration for stylish, timeless interiors
Do decorative crown moldings add value to a home?
The answer is a resounding 'yes' – and the value-adding potential is greatest for homes that are already in a high price bracket. Bill Samuel, a residential real estate developer in the Chicago area, points out that 'cornice and cove molding can absolutely increase the value of your home but it typically gets a better ROI on homes at higher price points.'
Asked whether this type detailing has to be an original feature of a heritage home, Bill says that this isn't something that will matter to a buyer: 'Generally speaking, it shouldn't matter if the molding is original or added later since most buyers will never be able to tell the difference. Adding additional molding during a renovation can be a great idea as long as the molding you are using fits the overall design of the rest of the space/house.'
The high-end effect
Taking care to complement the existing style of the home is very important according to Karen Gray-Plaisted, Owner of Design Solutions KGP, a home staging and decorating business in Warwick, New York.
Karen explains: 'If you are considering a Cape, colonial, craftsman-style home absolutely crown molding adds value. Details such as crown molding done in the correct proportion to the height of the ceilings add warmth, personality, and value. If done incorrectly it can definitely detract from the value.'
She does confirm that well-executed crown molding is something that buyers notice and seek – particularly at higher price points: 'Crown molding is a detail that builders did away with due to cost. To find a home new home today with well-done crown molding is rare or can only be found in higher-end homes. It's the little details that buyers may or may not notice that bring a sale.'
See: Features house buyers want – how to sell a house fast
But not just for the most expensive homes
And even if the home you are selling is not at the very top of the price ranges in your area, decorative moldings still set it apart visually and contribute to the overall attractiveness of the home.
Matt Harmon, Strategic Real Estate Advisor at Real Estate Bees in Raleigh, NC, said: 'From an appraiser's point of view, upgraded trim details help support a higher value in a house because they demonstrate higher overall quality. So when the home is compared to homes of lower quality, an upward value adjustment is made.'
See: These bathroom features add value to your home – and none of them is a bathtub
Matt also warns against adding this type of detailing to a home that is too new or unsuitable in style: 'When the home is compared to a home of similar quality, then the value and adjustments can be justified. The trim doesn't have to be original, but it does need to be consistent to the style. You'd never add six-stage crown molding in a modern/contemporary home, for example.'
Sign up to the Homes & Gardens newsletter
Decor Ideas. Project Inspiration. Expert Advice. Delivered to your inbox.
Anna K. Cottrell is now a freelance writer, having previously been a Content Editor for Future's homes titles. She writes about interior design, property, and gardening. On H&G, she specialized in writing about property – buying, selling, renting – sustainability and eco issues.