HexClad cookware taps multi-Michelin-star chef Gordon Ramsay in their latest partnership
HexClad cookware is the common thread linking everyone from Halle Berry to Cameron Diaz and now Gordon Ramsay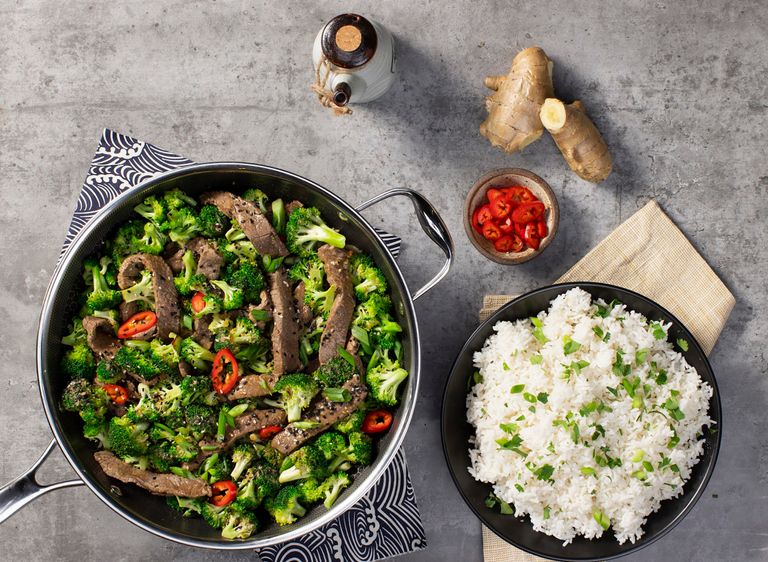 (Image credit: DKCNews)
The mutual thread between Cameron Diaz, Halle Berry, and now Gordon Ramsay? HexClad cookware.
After discovering the brand on Instagram over a year ago, the multi-Michelin-star chef became a major fan of the brand – incorporating the cookware into his everyday cooking essentials.
Admittingly, Ramsay was intrigued by HexClad's patent laster-etched hexagon design and hybrid design. To the point, he's deeming it one of the best non-stick frying pans – and he is not alone.
The innovative cookware – seen on Diaz's Instagram via 'Whatever-You-Got-Ramen' show – claims to be the 'only true hybrid on the market,' and Hollywood heavy-hitter Halle Berry also agrees.
The 54-year-old was also left captivated by the nonstick stainless steel trip-ply construction. Not only could Berry follow in Ramsay's footsteps – executing Michelin-level meals in minutes – but the clean-up was minimal.
What could be better than that? Only that you can score these HexClad cookware essentials right now.
HexClad cookware: Celebrities who love the brand
See three of Hollywood's favorite faces slicing, dicing, and sautéing their go-to meals with the help of these HexClad cookware essentials.
1. Gordon Ramsay
2. Cameron Diaz
3. Halle Berry
HexClad cookware: The 4 items you need
Score these four innovative HexClad cookware essentials — so you too can cook like your favorite A-listers.
1. A hybrid pan that's worth the investment
14" HexClad Hybrid Pan with Lid l Was $199, Now $179.99, at HexClad
The brand-new HexClad 14" Pan is the largest and most versatile frying pan. Suitable for large family gatherings and all of your everyday needs, it's the only true hybrid — stainless steel and non-stick — offering that features a patented laser-etched hexagon design and tri-ply construction.
2. An all-inclusive hybrid wok
HexClad 12" Hybrid with Lid for $199, at HexClad
Formed with the same hybrid model — stainless steel and a non-stick surface— this 12-inch wok is 3-inches deep, allowing for high volume cooking and perfect for stir-frys, sauces, pasta, soup, and more.
3. Upgrade to this 10-inch pan
HexClad 10" Clad Stainless Steel Pan l Was $137, Now $109.99, at HexClad
Fitting for gas, ceramic, and electric cooktops, this 10" non-stick, stainless steel 10-inch pan provides restaurant-quality results while protecting the pan from peeling and flaking.
4. Follow Oprah's lead with this all-inclusive set that earns her stamp-of-approval
HexClad 7-Piece Hybrid Cookware Set with Lids and Wok l Was $539, Now $399.99, at HexClad
This non-stick, stainless steel 7-piece set includes everything you'll need to become the next Top Chef. For one price, you'll receive a 12" pan with lid, a 10-inch pan with lid, an 8-inch pan with lid, and a 12-inch wok for the ultimate chef experience. Plus, it comes with Oprah's stamp-of-approval.
Brittany Romano is Future's U.S. Shopping Editor, residing on the Upper East Side in New York City. Originally hailing from Connecticut and a graduate of New England College, Brittany started her career as a freelance fashion market assistant at Marie Claire. She later joined AMI, where she designed a highly profitable commerce vertical. Noted for her award-winning content, she's covered everything from celebrity beauty hacks to the most lavish home decor; Brittany has maintained her penchant for the finer things in life.
If a genie granted Brittany one wish, it would be for Kelly Wearstler to bring her vision to life and transform her living space, but until then? You'll find Brittany continuously evolving her chilled-out sophisticated style, shifting her attention to eclectic pieces (with a hint of retro), grounded by a rich understanding of history, focused on functionality, luxury, and quirkiness.
Find her on Instagram @ItsBrittanyRomano