Iris Apatow's LA apartment is a retro dream – and you can shop her favorite pieces at Urban Outfitters
The Bubble actress' collab is a game changer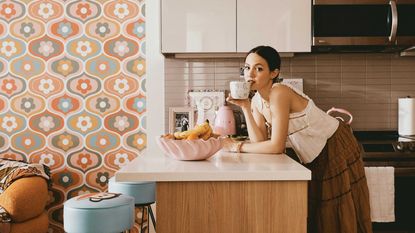 (Image credit: Urban Outfitters)
Sign up to the Homes & Gardens newsletter
Decor Ideas. Project Inspiration. Expert Advice. Delivered to your inbox.
Thank you for signing up to Homes & Gardens. You will receive a verification email shortly.
There was a problem. Please refresh the page and try again.
If you're an apartment dweller, space is often limited. I live in New York City, where the apartments are notoriously small. It can be a challenge to fit everything exactly where you want it to go, and leaves little room for decorating your space with all your favorite items. That's why it's important to choose smaller items that make a big impact.
Case in point: actress Iris Apatow, who just moved into her very first Los Angeles apartment. While the space isn't huge, Apatow has chosen to furnish her home with thoughtfully designed pieces from Urban Outfitters' new Iris Apatow Small Spaces collection (of course).
The collection has been designed with those smaller spaces in mind, whether it's a college dorm room, your first apartment, or if you've simply decided to downsize your space.
Iris Apatow x Urban Outfitters' Small Spaces Collection
Whether it's for the living room, bathroom, or bedroom, the pieces are functional, stylish, and have the signature Urban Outfitters flare. Think standout patterns, luxe materials, and a retro feel that will take you back.
Living room
Apatow's living room is a bold and bright oasis filled to the brim with luxe fabrics, eye-catching prints, and a color palette that takes inspiration from the beloved Mid-Century Modern design era.
Available in either white or black, the coffee table is a sleek and sophisticated centerpiece for the living room. It adds both style and definition to the space and brings the room together without taking away too much floor space.
Valley Cruise Press Throw
Use it for cozying up under on the couch, drape it over the back over your armchair for a laid back finish, or even take it out and about and use it as a picnic blanket during your summer adventures. It's reversable, too.
Kitchen
The kitchen area features classic colors and furnishings, with everything to whip up a delicious meal or entertain guests. In addition to the newer products seen in Apatow's kitchen, she has also kept hold of some pre-loved items as a sweet tribute to her family – her mom, Leslie Mann's, kitchen appliances.
'When I was growing up, my mom had only pink kitchenware, so I stole a lot of that,' the actress said in a video tour with Urban Outfitters.
Connected Goods' charming apple-shaped wall basket brings a rustic touch to Apatow's space and is ideal for storing everything from letters to trinkets to actual fruit.
Long gone are the days when you're clanging around in the silverware drawer to find your favorite spatula: store all of your utensils in this chic utensil holder, with a playful check design.
Bedroom
Apatow's bedroom continues the theme, somehow managing to squeeze maximalist charm out of a pretty tight space.
Ditsy Daisy Cotton Sheet Set
Apatow has the mauve-hued ditsy daisy cotton sheet covering her bed, which adds a bright, feminine feel to her sleep space. The set comes with a fitted sheet, a flat sheet, and pillowcases, and is available in four different sizes.
To help add depth and character to the space, Apatow chose a peachy orange shag rug to cover her bedroom floor. It has been made from 100% New Zealand wool and will keep toes warm while bringing in a pop of color.
Wall décor
'I've never been a minimalist,' Apatow told Urban Outfitters during her apartment tour. 'I need to cover every inch of the wall. Lots of things going on, it's fun.'
True to her word, the 20-year-old has adorned her home with plenty of wall art – including a portrait of her four cats. If the wall doesn't have any art on it, Apatow opted for a striking peel-and-stick wallpaper that's worth talking about.
Emanuela Carratoni Removable Wallpaper
If you're considering welcoming a retro vibe into your home, consider the Emanuela Carratoni Vintage Floral Geometry wallpaper that Apatow installed in her living room. The best part is, it's renter-friendly – you can take it down when you're done.
Gale Switzer Daisies Art Print
This super sweet daisy art print will instantly brighten up any room. There's the option to chose between nine frame colors and four print sizes, meaning you can customize the floral art to best suit your space.
Vine Leaf Removable Wallpaper
Another bright wallpaper, Apatow's bedroom features this pretty pink vine leaf removeable wallpaper. She has styled it into a headboard shape as a striking feature wall behind her bed, but you can use it as a full sheet on just one wall – or go all out and cover the entire room.
Throw pillows
Apatow has cozied up her living space with a plethora of throw pillows in a range of different shapes and sizes. Adding personality and character to the space, these pillows range from animal shapes to more neutral designs.
Cherries Tufted Mini Throw Pillow
This dainty mini throw pillow has a sweet cherry print on a lime green background. Soft and huggable, it's perfect paired with some larger pillows to finish off the look.
Dahlia Corduroy Throw Pillow
Adding texture and style to the places we love to relax, this corduroy throw pillow comes in three eye-catching colors.
---
You can shop Urban Outfitters Home in the UK too.
Sign up to the Homes & Gardens newsletter
Decor Ideas. Project Inspiration. Expert Advice. Delivered to your inbox.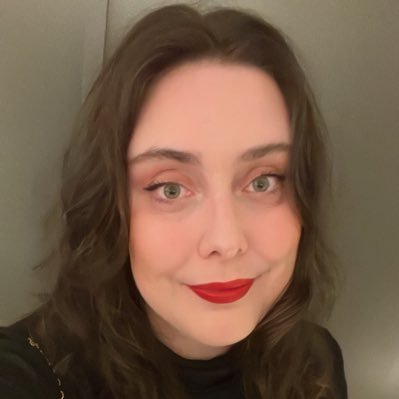 Emma Kershaw is a writer and editor who has written for BuzzFeed, PEOPLE, Apartment Therapy, Cosmopolitan, and more. From unique renovations to celebrity homeware lines, she enjoys writing about all the things that truly make a house a home. In her spare time, you'll find her reading the latest TikTok-trending novel, doing an at-home dance workout, or talking about her love for Dakota Johnson's green kitchen.