Kylie Jenner's two-story Christmas tree is seriously impressive – here is where you can find her ornaments
Kylie Jenner's immense Christmas tree is one of the most impressive Christmas displays we have seen so far this year – here is how to achieve the look yourself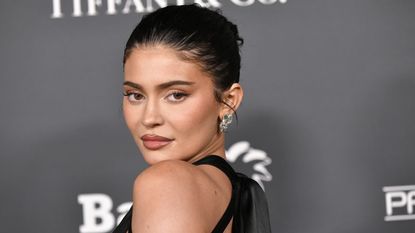 (Image credit: Getty Images)
The Kardashian-Jenner family is infamous for never cutting corners when it comes to celebrations, and it seems like Christmas is no different this year.
Showing off her immense, two-story Christmas tree ideas on her Instagram (opens in new tab), Kylie Jenner has divided fans with her lavish tree and indulgent decorating style. So big it could rival the impressive royal Windsor Castle Christmas tree, the towering addition stands as the centerpiece of the reality stars' grand entrance hall.
In a very Christmas-sy reel, Jenner documented the tree's arrival into her home, from the fitting through to the decorations.
Here we take a look at the tree and how you can get a similar (albeit likely sized-down) look at home.
Kylie Jenner's Christmas tree
With the youngest Jenner known for having some of the best celebrity Christmas trees, this year she has stepped up her Christmas decor ideas once again with a grand 18-foot Christmas tree taking pride of place in the entry of her $16 million L.A. Hidden Hills Mansion.
The 25-year-old beauty mogul's Insta-reel demonstrates a masterclass in how to decorate a Christmas tree with a team of workers shown getting the tree into perfect shape – with help from Kylie's daughter Stormi and niece, True, of course.
Although the approximately 18ft tree is new for the star, the simple decorations have remained a staple in her home over the last few years with relatively plain warm-toned string lights used for the Christmas light ideas throughout and last year's baubles making a repeat appearance. The overall look of the stunning statement tree seems to play into some of the outstanding Christmas trends for this year with traditional design replacing some of the more modern looks of the last few years (including Kylies previous bright white and gold tree of 2019).
In the past, experts have estimated that the Kardashian-Jenner family's Christmas trees could cost several thousands of dollars even without the hundreds of lights and ornaments that adorn them.
The stunning Hidden Hills mansion is a favorite of the stars, who bought the home when she was only 19. With eight bedrooms and 11 bathrooms, the Cape-Cod style home is thought to be where the star and her family spend most of their time – although this is perhaps understandable when we consider the home comes with a gourmet kitchen, home theatre, game room, and spa amongst other luxury amenities.
Where to find the decorations for yourself
The impressive tree was not the only focus of the celebrities reel, however, with Kylie showing off her equally impressive collection of whimsical, red-themed Christmas ornament ideas too.
While the most noticeable was the vast array of Santa Clauses, many food-themes ornaments made the cut too with a kitsch gingerbread house and coffee cup visible on some of the higher branches, as well as traditionally-inspired toy ornaments such as a sparkling red fire truck and stack of faux golden coins.
Here is where you can find similar for your festive displays.
Chiana is a junior writer for Homes & Gardens having joined Future plc as a new graduate in 2022 after achieving a 1st class degree in Literature at university. She first became interested in design as a child after spending her summers helping her parents redecorate her childhood home. As a long-time reader of Future's homes titles, Chiana is constantly finding new inspiration at work as she focuses on emerging trends, how-to's, and news pieces.