Step into Windsor at Christmas – we tour the royal decorations as the castle opens to the public
As the festive season rolls around we take a look inside Windsor castle at Christmas – and the decorations are just as impressive as you imagine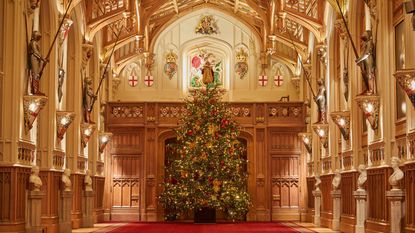 (Image credit: Royal Collection Trust)
Ever since Prince Albert introduced the Christmas tree to England in 1840 the British royal family has heralded the festive season with gorgeous decorative displays – and this year is no different.
All of the royal residences across the country are decorated for Christmas each year, but Windsor Castle is arguably the most impressive with several Christmas trees, wreaths, garlands, and intricate gold decorations.
It is hardly surprising that Windsor puts on such a grand show, however, given that the castle has hosted Monarchs for the holiday since the 12th century. It was King Edward VII that broke with tradition to spend Christmases at Sandringham – something that the late Queen Elizabeth II and her son, King Charles II, continued.
Here, we take a look at some of the finest decorations on display for guests at the castle.
As with any home, Christmas tree ideas are the center of the decorative focus at Windsor Castle however no tree entirely stands up to the immense 20-foot-high Nordmann Fir tree erected in St. Georges Hall each year.
The castle's trees are grown on the castle grounds in Windsor Park before one is selected and hauled into the castle by a team of nine staff members to take pride of place in the Castle over the holidays and adorned with thousands of ornaments – a process that takes around 13 hours and two cranes to complete.
For a castle of its size, one tree is obviously not enough for Windsor. However, the rest (much to the staff's relief, we imagine) are much smaller. The Crimson Drawing room, for example, has a slightly smaller tree although it is no less impressive.
The tree is decorated ornately, matching the resplendent room it is found in, with red and gold baubles. It truly is a masterclass in how to decorate a Christmas tree.
In previous years, the castle has not stopped at traditional Christmas decor ideas and we doubt that this year will be any different.
Last year, for example, the state dining room was dressed formally with the Grand Service, a collection of spectacular silver-gilt dining service that consists of over 4,000 pieces in total. The impressive tableware is still used today for state banquets.
The state dining room was largely destroyed in 1992 after large swathes of the castle were engulfed in a fire. After painstaking restoration work, however, the dining room was reinstated to its past grandeur with gold paneled walls and ceilings, floor-length ruby red curtains, and matching carpets.
As well as the grand central table, gold-trimmed mahogany tables line the back wall too, with the opposite wall dominated by an ornate marble fireplace and a portrait of Queen Victoria.
For a family so invested in their gardens, with Buckingham palace gardens and King Charles' private garden at the Sandringham Estate being amongst the finest in the country, it is unsurprising that so much fresh foliage and greenery is introduced into the castle at Christmas.
Alongside the living Christmas trees, fresh wreaths and garlands are used both inside the castle in hallways, grand stairways, and halls and outside on gates. Handcrafted by castle staff and gardeners, the garlands are yet another wonderfully personal touch to Windsor's decor.
There is barely a spot in the castle that is not adorned with Christmas spirit, with Christmas hallways decorations taking on a new meaning in the expansive hallways and passageways of the castle.
In the Queen's Gallery, for example, smaller Christmas trees line the walkways and are decorated to complement the rare silver furniture on display.
Understated but sure to make an impression is a single tree found in the Inner Hall of Windsor, a space designed by King George IV in the 1820s to receive official guests.
The hall is now the first room encountered by public visitors on their tour of the castle, with the warmly lit Christmas tree bouncing festive light around the grandly sculpted stone hall with its classical columns and vaulted ceiling ideas.
Is Windsor castle decorated at Christmas?
Windsor Castle is decorated every Christmas with the State Apartments adorned in beautiful decorations and several Christmas trees, many of which tower in height. Christmas is a special tradition in the royal household, with Prince Albert introducing the Christmas tree into mainstream English Christmas celebrations in 1840.
Is Windsor Castle open over Christmas?
Windsor Castle is open throughout the year including at Christmas, with the astounding Christmas decorations viewable from the 24th November through to January 2nd. The castle closes on Christmas day, however, to observe the holiday.
Chiana is a junior writer for Homes & Gardens having joined Future plc as a new graduate in 2022 after achieving a 1st class degree in Literature at university. She first became interested in design as a child after spending her summers helping her parents redecorate her childhood home. As a long-time reader of Future's homes titles, Chiana is constantly finding new inspiration at work as she focuses on emerging trends, how-to's, and news pieces.