Lilac is officially the 'Shrub of the Year' – according to the US National Garden Bureau
From deep purple to pure white, it's easy to love this scented lilac – here's what makes it so special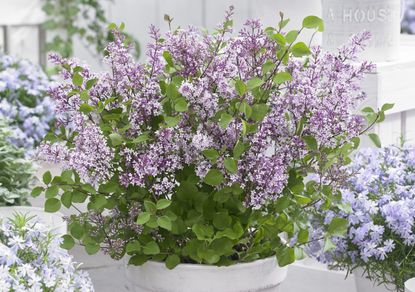 (Image credit: Purple lilac by Concept Plants)
The US National Garden Bureau has crowned lilac as their 'Shrub of the Year' for 2022 – and we're wondering why it's taken so long to recognize this versatile bloom.
In its abundance of shades, lilac is easy to plant and even easier to maintain. The low-maintenance shrub is accessible to all – regardless of soil, habitat, or temperature zone. So it seems only right that it has now received one of the highest titles of all. But what makes this garden idea so special? And why is it so sought-after this 2022?
'For many people, lilacs bring back memories of family members, grandparents and aunts, and uncles, who have grown them in the past, says Katie Tamony, chief marketing officer for plant-growers Monrovia. 'They provide a wonderful sense of tradition and remembrance and are part of a trend toward nostalgic plants for new gardeners.'
Alongside its nostalgic qualities, the National Garden Bureau's 'Shrub of the Year' has a host of other attributes that won't fall out of fashion when 2022 comes to an end. Here's what makes the lilac so unique.
A versatile species
Lilacs are one of the best flowering shrubs to choose for any kind of garden. These plants are at home in many types of themed gardens, including pollinator-friendly, butterfly-attracting, and gardens are grown for cutting or fragrance.
The floral favorite looks equally lovely amid your cottage garden ideas – or chosen for a carefully-designed single-color scheme.
The National Garden Bureau says that in fire-prone areas, you can also use lilacs for fire-scaping and fire-wise gardens.
A romantic species
'Lilacs hold a lot of symbolism,' explains Jeremy Yamaguchi, CEO of Lawn Love. 'Their different colors have different representations, with white lilacs being innocence and purity, violet ones [representing] spirituality, magenta ones being love, blue ones being tranquility and happiness. Lilac-colored [blooms] symbolically represent a first love.'
Jeremy believes that in times of uncertainty and worry, we often try to look for the meaning of things 'or ways to remind ourselves of the goodness in the world. Lilacs can help us do that,' he adds. So if you're looking for what to plant in March, consider looking for a lilac this weekend. 'They bloom in late spring or early summer, often before other flowers in the garden,' says gardening expert and founder of Urban Organic Yield, Lindsey Hyland.
'That makes them very special because they announce the arrival of warmer weather and longer days,' she adds.
A sweet-smelling species
'The fragrance of lilacs is strong, sweet, and floral. It's a scent that many people love and find irresistible,' Lindsey explains. 'Lilacs are also special because they're one of the longest blooming flowers. Some varieties will bloom for six weeks or more. That's a lot of time to enjoy their sweet fragrance and colorful blooms,' she adds.
If you know how to prune lilacs, you can enjoy the aroma of this award-winning bloom, even when a new shrub steals the 'Shrub of the Year' crown. Though, with these benefits, we would argue lilac is a hard flower to beat.
Jayne Dowle is an award-winning freelance gardening, homes and property writer who writes about everything from swimming ponds to skyscraper apartments, for publications including Sunday Times Home, Times Bricks & Mortar, Grand Designs, House Beautiful and The Spectator. Awarded the Garden Journalist of the Year accolade at the Property Press Awards in 2021, she has a degree in English Language and Literature from the University of Oxford and a lifelong love of homes, interiors and gardens. Her first memories include planting potatoes with her grandfather and drawing houses. Her own garden - her fourth - at home in a 1920s house in Yorkshire, is south-facing and on the side of a valley. It's a constant challenge.