Thriller, spiller, filler – the gardening experts' secret for creating show-stopping containers
Using 'thriller, spiller, filler', you can create successful container displays. Use our expert advice to find out how – it's as easy as 1, 2, 3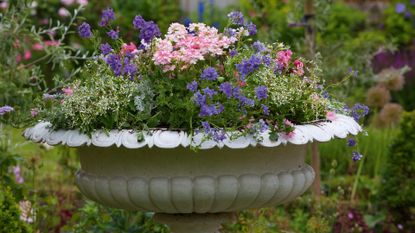 (Image credit: Leigh Clapp)
Did you know that there's a simple trick gardening experts use to boost their container plant displays? This technique can have real impact – and it's the secret we all need to choose the right combination of outdoor potted plants. Especially now, when we're starting to look for new container gardening ideas.
The simple trick? Remember: 'Thriller, filler, spiller when choosing plants,' advises Isabelle Palmer of The Balcony Gardener, an expert in container gardening and author of Modern Container Gardening
What is thriller, spiller, filler?
Thriller, spiller, filler is the must-have combination of container plants you need to create a beautifully balanced, full-looking display. To break it down:
Thriller is a strong statement plant that acts as a focal point. This is planted in the middle or at the back of the container.
'This is often something vertical and dramatic,' agrees plant guru Sarah Raven who offers pot collections carefully chosen to include the winning trio mix.
Next, 'complement the thriller with filler plants – mixing upright plants at the back with plants arranged in the middle,' continues Isabelle Palmer. These are the binding plants that pull everything together.
Finally, in go the spiller plants which, as the names suggests, will trail over the container sides.
'The shape of plants is as important as their colors,' advises Sarah Raven. 'Some of the most stunning displays of outdoor potted plants owe much of their impact to their contrasting and complementary forms.'
What are thriller plants?
Thriller plants are tend to be the tallest, most eye-catching or most colorful, adding height and drama to a container. In smaller pots, these may be flowers; in larger containers they can be as tall as bamboo or specimen trees, for example.
There are many other choices for thriller plants; for spring, choose the ever popular tulips, violas, grape hyacinths, crocus and daffodils as thrillers.
'At a time when the soil is still far too cold to grow very much, the compost in pots can absorb plenty of warmth from the sun for growing plants. Indeed, plants such as snowdrops, bergenias and Anemone pavonina positively thrive in the cool temperatures of early spring,' says Isabelle.
'Pick colors that complement the container and consider restricting your choice to one or two shades of complementary colors,' she advises.
For spring choices, she gives the example for shades of pink and purple using evergreen Skimmia japonica 'Magic Marlot' with its dusky pink buds opening to white flowers in spring; a purple-leaved heuchera; some cerise hyacinths and perhaps a few deep pink Saxifraga 'Peter Pan'.
As for spillers, 'You can add a few ivies around the sides if you want a trailing effect,' she adds.
Year-round thriller, spiller, filler containers
The beauty of the approach of thriller, spiller, filler is that you can keep the thriller plant and make a smooth transition to summer by replacing the fillers and spillers with summer-flowering annuals.
'Ringing in the seasonal changes in this way means you can enjoy an ever-changing display of outdoor potted plants as the year unfolds. Either pot the old plants up in new displays or plant them out in the garden,' advises Isabelle.
You can create beautiful containers using plants bought from the garden center in spring. The key is to use an interesting selection of flowers and foliage to create striking structure, color and texture.
Our favorite thriller, spiller, filler combinations
There are endless possibilities for low maintenance outdoor potted plants for spring. Some of our – and Isabelle's – favorite combinations to try include:
Acer palmatum 'Asahi-zuru' with Helleborus orientalis, Dicentra spectabilis and Tiarella 'Spring Symphony'
Hebe 'Heartbreaker' with Pulsatilla vulgaris 'Eve Constance', Fritillaria meleagris and Tulipa 'Black Parrot'
Polystichum polyblepharum, or Japanese lace fern, with Hosta 'Sunshine Glory' and H. 'So Sweet', Heuchera 'Brass Lantern' and H. 'Art Nouveau' and Tulipa 'Black Parrot'
Hyacintus orientalis 'Delft Blue' with Muscari armeniacum, Galanthus elwesii or greater snowdrop, Tulipa 'Purissima', Senecio cineraria and variegated ivy
For transitioning to summer, plant bronze fennel, Foeniculum vulgare 'Purpureum', pink snapdragon, Aquilegia 'Rose Barlow', dark pink asters, osteospermum and black petunias.
Include plants that can fulfill the recipe of thriller, spiller, filler and you are guaranteed stunning displays with your outdoor potted plants year-round.
Sign up to the Homes & Gardens newsletter
Decor Ideas. Project Inspiration. Expert Advice. Delivered to your inbox.
Rachel is senior content editor, and writes and commissions gardening content for homesandgardens.com, Homes & Gardens magazine, and its sister titles Period Living Magazine and Country Homes & Interiors. She has written for lifestyle magazines for many years, with a particular focus on gardening, historic houses and arts and crafts, but started out her journalism career in BBC radio, where she enjoyed reporting on and writing programme scripts for all manner of stories. Rachel then moved into regional lifestyle magazines, where the topics she wrote about, and people she interviewed, were as varied and eclectic as they were on radio. Always harboring a passion for homes and gardens, she jumped at the opportunity to work on The English Home and The English Garden magazines for a number of years, before joining the Period Living team, then the wider Homes & Gardens team, specializing in gardens.