Bissell CrossWave Hydrosteam Review: wet and dry perfection
Combining mopping, steam cleaning, and vacuuming, the Bissell CrossWave Hydrosteam is a must-have for tackling all your flooring.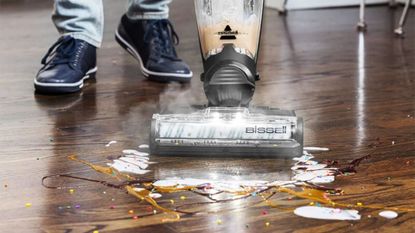 (Image credit: Bissell)
Reasons to buy
+

Multiple cleaning modes for carpet and hard floors

+

Self-cleaning cycle

+

25-foot cord and headlight

+
You can trust Homes & Gardens. Our expert reviewers spend hours testing and comparing the latest products, helping you choose the best for you. Find out more about how we test.
Floor cleaning can be a hassle that requires multiple tools for each surface and area, especially if you have a lot of foot traffic. If you're someone who has as much hair as my fiancée and I do, it's safe to say that my carpets and floors are in need of some TLC when it comes to deep cleaning.
I've lived in my place for four years and have worked from home for most of it, yet my cleaning routine has largely relied on a broom and regular vacuum cleaner, so an all-in-one multi-surface cleaner was a welcome and necessary change.
Enter the Bissell CrossWave Hydrosteam, a multi-surface cleaner designed with pet owners in mind. It's ideal for cleaning up stains and messes more deeply than a vacuum alone since it steams and mops at once.
Bissell CrossWave Hydrosteam Specifications
Swipe to scroll horizontally
| | |
| --- | --- |
| Cordless: | No |
| Cord length: | 25 feet |
| Weight: | 12.5 |
| Warranty: | Limited 3-year warranty that varies by state |
| Attachments | PET multi-surface brush roll, water tank, clean-out and storage tray, 2 CrossWave filters, 8-ounce Sanitize formula, 8 ounce FreshStart Clean Out formula |
Unboxing and setting up the Bissell CrossWave Hydrosteam
The CrossWave Hydrosteam was packaged in a cardboard box with some protective cardboard components around the body, handle, trial formulas, and clean-out and storage tray. The CrossWave Hydrosteam has the shape of a typical vacuum with a handle and body, though it has two different tanks: a clean tank for cleaning solutions, and a dirty water and debris tank that needs to be washed out after each use.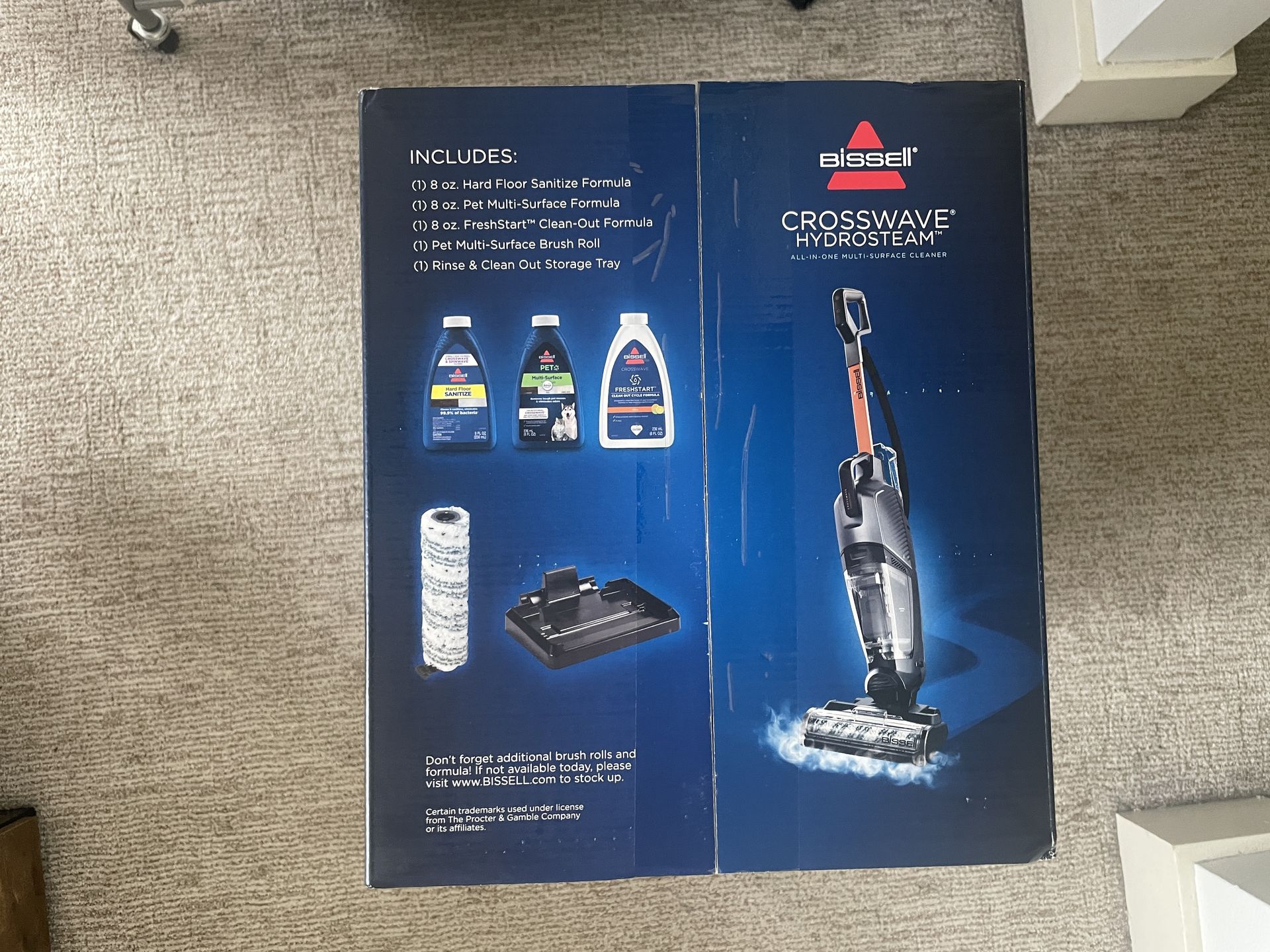 It also comes with a multi-surface brush roll as well as a clean-out and storage tray, which easily stores the components when the vacuum isn't in use. The package also comes with an 8-ounce cleaning formula for hard and non-porous floors and carpets as well as a clean-out formula, though you'll need to buy a full-size bottle after a few uses. The body and wand instantly clicked together and since this isn't a chargeable carpet cleaner, I just had to plug it in when I was ready to clean.
Is it easy to use the Bissell Crosswave Hydrosteam?
I followed the lines on the water tank to add the right ratio of water and cleaning solution depending on if I was cleaning a small area (under 350 square feet) or large area (up to 700 square feet). The water tank had a small opening so I had some minor spills, so it may help to use a funnel and pour slowly.
There are 3 different modes that show up on the foot display: area rug mode, SteamWash Mode, and Hard Floor Mode, and the Mode button on the handle toggles between them. Admittedly, the icon for each mode wasn't intuitive at first, so I relied on the user manual until I memorized each one. It's also worth noting that the mode and clean-out cycle buttons looked similar to the untrained eye, so I recommend reading through the user guide before your first use.
The CrossWave Hydrosteam is relatively light and has an integrated carrying handle and tray, making it easy to move around and store when you're done. It also has a headlight that's helpful for dark corners and bathrooms.
Is the Bissell Crosswave Hydrosteam good on carpet?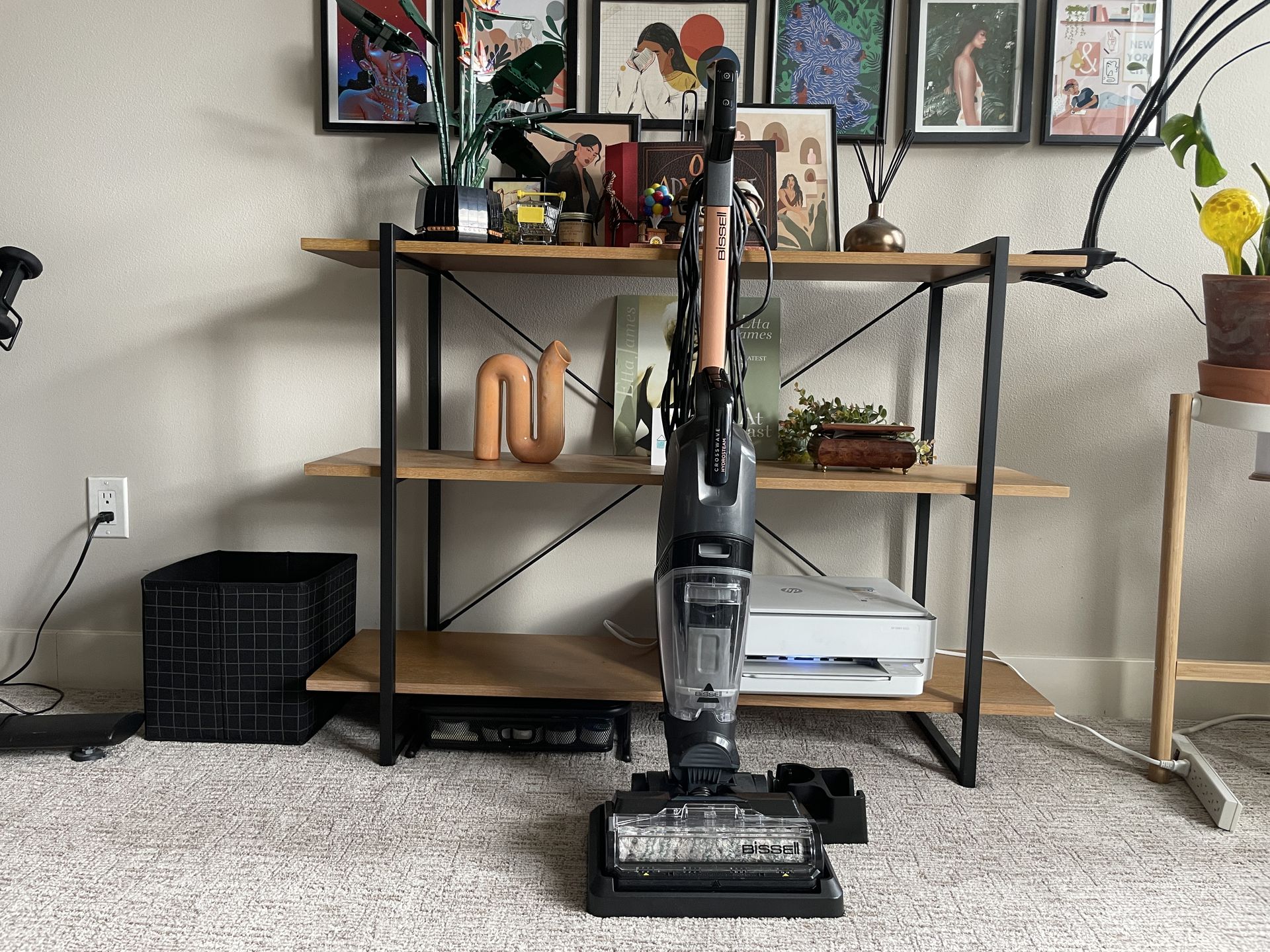 Once I turned on the SteamWash mode, I followed the instructions to wait 30 seconds for the CrossWave Hydrosteam to warm up, which is denoted by the steam ready light on the foot of the vacuum, and hold the solution spray trigger under the handle for 10 seconds to wet the brush roll. Then, I just had to recline to get the brush roll spinning. This trigger dispenses the formula and steam in SteamWash mode, which I kept it on while going across my carpet. To dry the floor after, I let go of the solution trigger and went over the same areas.
I didn't realize how much of the difference the CrossWave Hydrosteam made until I saw the dirty water tank after use, which was full of hair, dust, and dirt that my vacuum hadn't picked up right before. I was conscious of the cord length since I was worried that the vacuum would unplug during my cleaning session, though it stayed in the entire time. I did have to move the cord out of my way as I went back over areas to suck up excess water, which is to be expected.
Is the Bissell Crosswave Hydrosteam good on hard floors?
The CrossWave Hydrosteam needs a mix of water and Bissell's hard floor sanitize solution, which is designed to clean and sanitize non-porous surfaces. When setting it up, I used the trigger to dispense the solution for 10 seconds to wet the brush roll, and then kept my finger on the trigger while going over my floors. I let them dry for 5 minutes and then released the trigger so I could go over the same areas and pick up excess water.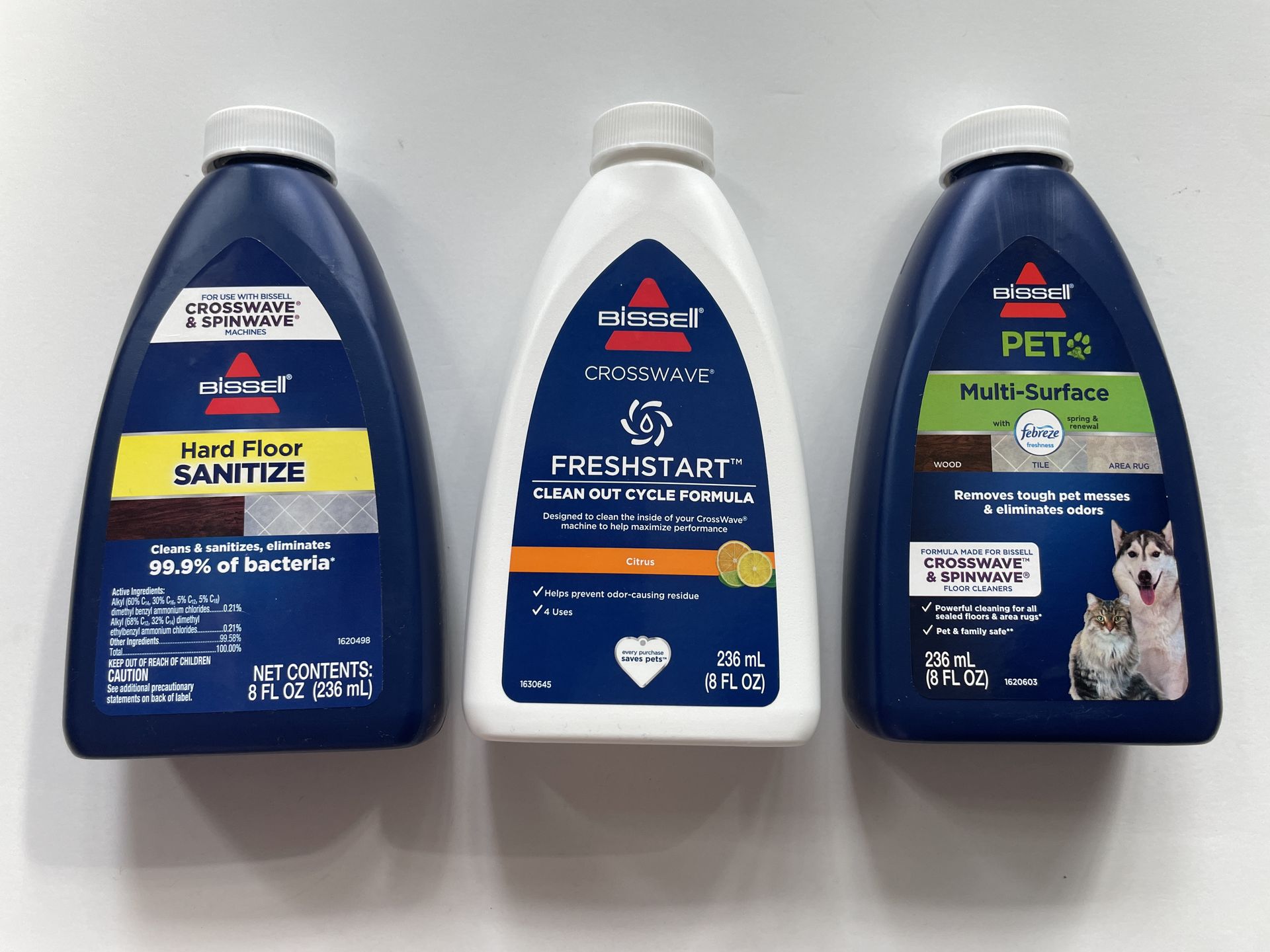 I appreciated the headlight for cleaning dark corners, and the cleaning solution didn't leave any streaks. There was some stickier debris on my floors that didn't budge with the CrossWave Hydrosteam, though I wasn't necessarily surprised by that.
Cleaning the Bissell Crosswave Hydrosteam
The water tank was easy to remove with the click of a button while holding the handle on the water tank. From there, all that's left is to disassemble the filter and strainer stem, rinse them off, and lay them out to dry for 24 hours. I did struggle the first time to put the tank back together the first time, but I got used to it afterward since the components click together fairly easily.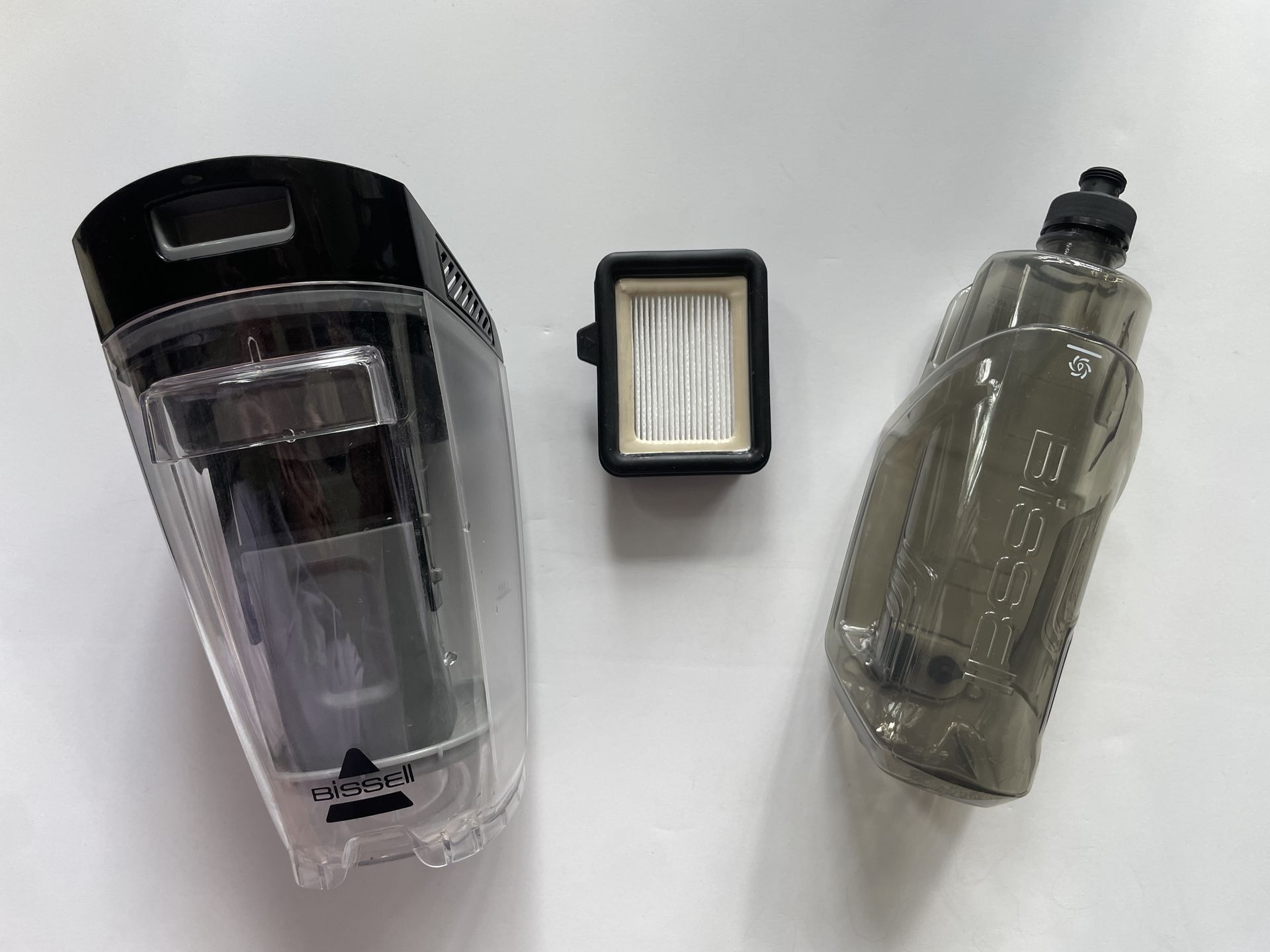 After the floors are clean, it's time to clean the vacuum by emptying, rinsing, and wiping down the clean tank that stores cleaning solution as well as the dirty water and debris tank, which has a pet and human hair strainer to separate larger debris from dirty water. I really appreciated the pet hair strainer because I could throw out all the solid debris and rinse the rest off. I also took out the brush roll to dry, though I often had to rip long hair that wrapped around it during the cleaning process.
After each use, it's recommended to run a Clean-Out Cycle, which uses the FreshStart cleaning solution in the water tank, and remove the brush roll to dry. Full disclosure - this is pretty tedious, since you're repeating many of the same steps that you've already performed to clean your floor, but it also helps protect the longevity of the CrossWave Hydrosteam. From there, you just need to open the removable brush window and leave the brush roll to dry.
How does the CrossWave Hydrosteam rate online?
The CrossWave HydroSteam is relatively new to the market but is receiving primarily 4 and 5-star reviews on Amazon on Bissell's site for its ability to steam and mop at the same time, and it's a clear favorite among pet owners. The main critique was that some customers with large homes had to refill the water tank multiple times, which can be a hassle. However, most customers overwhelming preferred the CrossWave to mopping and appreciated the all-in-one design.
How does the CrossWave Hydrosteam compare to other vacuums?
If a cordless steam cleaner is higher on your list, the Bissell CrossWave Cordless Max may be a better fit, which has a 30-minute runtime and keeps the features you may love in the CrossWave Hydrosteam, like self-cleaning features and design that helps you reach every corner. The Dyson Ball Animal 3 vacuum has more suction power if you're focused on vacuuming power alone. If you're looking for a lighter steam mop that's still easy to use, check out the Black + Decker 7-in-1 steam mop.
CrossWave Hydrosteam: Final Thoughts
If your home has carpet and hard floors, you'll appreciate the all-in-one nature of the CrossWave Hydrosteam, especially if you like to steam your floors. It vacuums and mops all at once while still being easy to clean, even if your home has a lot of debris and hair. I'd appreciate a cordless version, though it's not a dealbreaker because it has a 25 foot cord that can get you pretty far. Ultimately, this all-in-one powerhouse is hard to beat and would be a welcome addition to your cleaning routine.
Sign up to the Homes & Gardens newsletter
Decor Ideas. Project Inspiration. Expert Advice. Delivered to your inbox.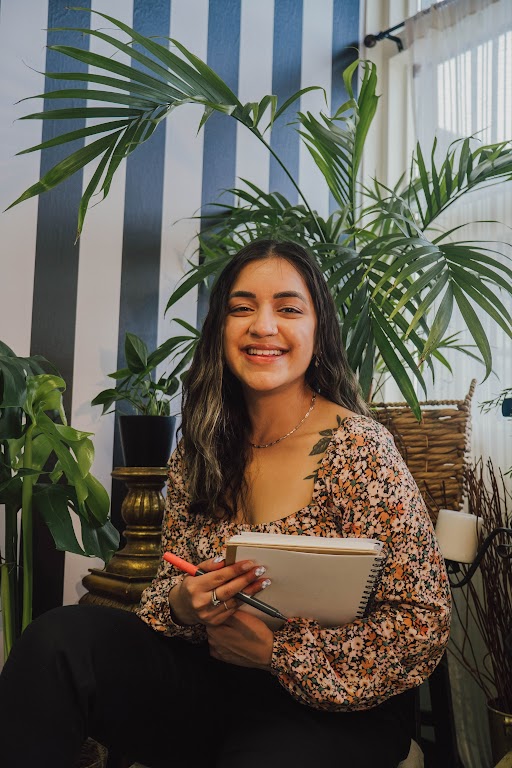 Aleenah Ansari is a freelance writer covering travel, wellness, and tech products, especially from BIPOC-owned businesses, and she also works as a product marketing manager at Microsoft. Her stories have focused on everything from what to pack for an Everest Base Camp trek to Live Tinted's product launches rooted in community feedback. She's an avid solo traveller, hiker, and mural enthusiast, often looking for her next adventure in Seattle and beyond.