Aarke Carbonator 3 review: a premium choice for soda making
We put the Aarke Carbonator 3 to the test in this review, making sparkling water and assembling it straight out of the box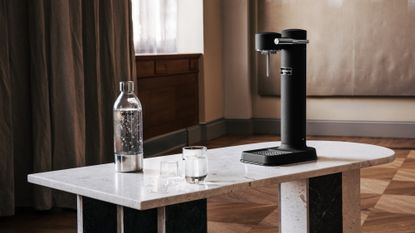 (Image credit: Aarke)
We tried the Aarke Carbonator 3 for cordless home carbonation. It's a beautiful and discreet, with a range of colors to suit any home.
Reasons to buy
+

Cordless design

+

Couldn't be easier to use

+

Adjustable level of fizz

+

Environmentally-friendly investment
Reasons to avoid
-

Carbon cartridge not included

-

There are less expensive alternatives
You can trust Homes & Gardens. Our expert reviewers spend hours testing and comparing the latest products, helping you choose the best for you. Find out more about how we test.
The Aarke Carbonator 3 is a slimline and cordless carbonator that looks the part in any kitchen. It comes in a range of neutral or metallic shades and has a bottle included with markings to make measurements easy. You can only carbonate a specific volume of water at a time, and it's a volume that's best suited to groups (or multiple servings).
You need a 60-liter CO2 cartridge to get set up with the Aarke Carbonator 3. It's not included, which is a shame given the $219/£179 RRP, but the carbonator is compatible with most bottles you can buy online.
If you drink a lot of soda or sparkling drinks, or want something other than a cold press juicer, the Aarke Carbonator 3 is a great choice. It will cut back on the amount of plastic bottles or cans you go through, and it will also save you a lot of money by replacing your favorite store-bought drinks. Here's what we thought when we reviewed the Aarke Carbonator 3.
Aarke Carbonator 3 review: unboxing
My first impression of the Aarke was how beautiful it looks. It's very lightweight too, and I could imagine taking it on a trip or carrying it out to a different room with no difficulty.
I was daunted by the thought of installing a bottle of CO2, but it was actually very easy. The Aarke Carbonator 3 comes with brilliant instructions that are clear and brief. You simply need to press the cartridge into place at the base of the carbonator and twist to secure.
There is a drip tray that needs to be inserted into the base of the Aarke Carbonator 3, but when you're carbonating the bottle won't rest on this. I didn't experience any dripping when testing, but it's good that any accidental spills will be collected instead of spilling onto the counter.
Once you've installed the cartridge, the Aarke Carbonator 3 will be ready to use. It is cordless and there are no buttons or controls, simply a lever that you pull to start carbonating.
Specs
Dimensions: 10 x 6 x 16 inches
In the box: Instructions, Aarke Carbonator 3 unit, drip tray, 28oz plastic Aarke bottle
Colors: Steel, black, white, copper, brass
Design: Cordless
Controls: Damper lever
Weight: 6.91 pounds
Using the Aarke Carbonator 3
I tried the Aarke Carbonator 3 in a limited edition color, called 'sand'. It has a textured finish that's similar to the matt black shade, and there are also sleek metallic silver, brass or copper shades available.
To use the Aarke Carbonator 3 you need to top up to 21-oz bottle to the 'max fill' line. This line is important, because it will leave your water level at the perfect point to immerse the nozzle when the lever is pulled.
You have to hold the bottle against the top of the Aarke Carbonator 3 and twist it into place to secure it. Twisting is tricky because you have to feel when it's lined up and held into place. You'll know it's secure when there's resistance as you twist the bottle.
Then, you need to pull the lever down to release a jet of carbon into your water. You can stop at any time to reach just a small fizz level, or keep going until the valve sounds. You'll be able to tell when your water is carbonated because the Aarke Carbonator 3 makes an audible release, and at this point you'll need to release the lever. The noise was a little jarring at first because it is quite loud, but I got used to it quite quickly.
You can pull down the lever and carbonate your water repeatedly for more fizz. I don't like my drinks to be too fizzy, but I found myself doing it twice to reach the level I liked. You can pull the lever down quite hard to make the process quick, or be more gentle for a subtler level of fizz.
When using the Aarke Carbonator 3 you can only carbonate water, but the brand does sell mixer syrups in delicious flavors like cucumber and lime or basil and yuzu.
I also tried the Aarke flavor drops in Citrus Twist, which had a subtle but refined taste that made a great alternative to a sugary or alcoholic drink at the end of the day. The flavor drops sugar and calorie-free, but of course once your water is carbonated you can use any flavor you wish to turn it into a soda substitute.
Should you buy the Aarke Carbonator 3?
Since I tried it, I've not stopped using the Aarke Carbonator 3. It's a beautiful looking addition to the kitchen that's easygoing to use. No buttons or fussy controls, the Aarke Carbonator 3 is cordless and very portable.
For the price you could easily pick up one of the best blenders, so the price does feel a little high for such a simple device. The plastic bottle could be a little sturdier, and for the price it would have been nice to have at least another bottle or some syrups included, but if you like the look of this Carbonator and don't want to compromise on looks, I'd recommend the Aarke Carbonator 3 over a Sodastream any day.
About this review, and the reviewer
Millie Fender is our Editor for all things small appliances at Homes & Gardens. She spends a lot of time testing everything from toasters to the best air fryers in her own apartment and recommending the very best ones to readers.
All our reviews are tested from home, and this Aarke Carbonator 3 review is no exception. Millie put it to the test for a few weeks to make sodas and sparkling drinks from home, and continues to use it on a regular basis.
Millie Fender is Head of Reviews on the Homes and Gardens Ecommerce team. She specializes in cooking appliances, such as the best kettles, and also reviews outdoor grills and pizza ovens. Millie loves to bake, so she will take any excuse to review stand mixers and other baking essentials. When she's not putting products through their paces in our dedicated testing kitchen, Millie's reviews are conducted at home, meaning she uses these products in her own day-to-day life.