Aeris Aair Lite Air Purifier review
We reviewed the Aeris Aair Lite, a Swiss-made air purifier with smart and stylish features. Here are our candid thoughts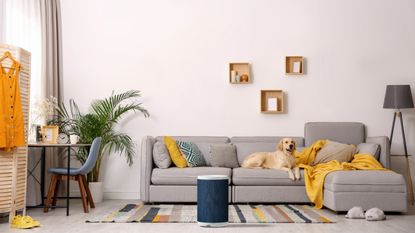 (Image credit: Aeris)
The attractively designed Aair Lite air purifier literally refreshes your space. From the modern design to its high-tech air-purifying qualities, you'll almost forget it's running in the background.
Reasons to buy
+

Attractive look

+

Easy set-up

+

Night and smart mode

+

Dual HEPA filter system

+

Combat against coronavirus
Reasons to avoid
-

Noisy on higher fan settings

-

Mobile App could be improved

-

Filters are expensive to replace
Why you can trust Homes & Gardens Our expert reviewers spend hours testing and comparing products and services so you can choose the best for you. Find out more about how we test.
For those living in urban areas where smog is ever prevalent – or where wildfires are a looming threat to homes and the environment – an air purifier has always been essential. However, with our current public health crisis and living in a relatively suburban area over the last year, an air purifier has probably moved up on my list from a nice to have to a necessity.
When I was invited to try the Aeris Aair Lite air purifier, a smallish device with advanced air purifying abilities, I was curious to see how the air quality inside of my home compared to my external surroundings. I also wanted to see if it could manage to combat any lingering odors from my puppy, smells I have admittedly become nose blind to.
Aeris is a relative newcomer when it comes to the vast options of air purifiers on the market today, but they've clearly prioritized both form, function, and information. The company was acquired by iRobot in December 2021. With technology developed at MIT and made in Switzerland, the Aair Lite not only removes common pollutants like pollen, smoke, dust, pet dander, and mold, it can also stop respiratory droplets that spread COVID-19.
According to outside tests that Aeris coordinated, the filters kill 94% of the coronavirus over the course of two hours. While I don't have access to the technology to challenge this claim, I feel comfortable knowing that it's getting rid of any airborne germs promptly.
However, that doesn't mean I didn't put it to the test, as I analyzed the qualities that may make it one of the best air purifiers you can buy for your home.
Image 1 of 2
Aeris Aair Lite: Set-Up & Features
Speed settings: 5
Noise: 35 dBa- 55 dBa
Max area size: 700 ft²
Dimensions: 18.5"(H) x 11.2" (D)
Weight: 15.4 lb.
Set up could not have been easier. Once I lifted it out of the box, I attached the cable, plugged it in, and voila, we were off. While the unit has no buttons, a long press in the center of the subtle action bar will engage it to life, and a few button options will appear. From here, you can operate it manually or choose to connect it to your wifi to work with the accompanying Aeris app. On the subtle LED screen, your space's Air Quality Indicator will show up, and adapt in real-time.
The Aair Lite offers three modes: manual, smart, or sleep. To adjust the manual, you'll simply slide your finger over the curved action bar to adjust the speed. With 5 speed settings, I found that anything over level 3 was too loud and disruptive, while on the first level it is truly whisper-quiet. On the highest level, 5, it hit 65 dBA in my tests, sounding a bit like a roaring turbine, and I wouldn't want to be in the room when it happens. On smart mode, which is where I favored, it auto-adjusts to the most appropriate fan speed according to the indoor AQI. On night mode, the display light shuts off and the fan is slowed to its quietest setting.
For the longest time, my AQI stayed at 1... it felt too good to be true, but I also view it as confirmation that my home has excellent air quality. Then one night when I was cooking on my stovetop, I saw the smart mode really go into overdrive. As the fan ramped up its speed to combat the new cooking pollutants, my dog grew nervously excited (re: barking) as the air purifier suddenly grew much louder.
While the Aair Lite can purify the air of spaces up to 700 ft² with up to two air changes in an hour, its recommended usage for optimal air changes (4x an hour) was 350 ft². So I eventually moved the Aair Lite from the kitchen to my bedroom to see how it functioned there. At night, I barely recall that it was on, and experts say that the bedroom is one of the most essential places to keep the air clean seeing as we spend a great portion of our days in our bedrooms.
The accompanying app informs you of your indoor AQI compared to your local outdoor AQI. It also tracks AQI hourly, daily, and monthly. It's also an easy way to control or change settings from across the room, and to control multiple Aeris units at once (if you have more than one).
However, the app fell a little flat for me. While there's a tab where you can program the Aair Lite to a schedule (such as turn on night mode overnight), I quickly found that the screen was unresponsive as I tapped after I selected the days. This is an issue that the developers are aware of, and a software update should be the fix.
Additionally, while the app's analytics shows you your air quality over time, I would have loved to see deeper info that I've seen on comparative machines, like what type of particles it is sensing: Dust? VOCs? Smoke? Knowing which pollutants are normal, and which are elevated could be extremely valuable.
Aeris Aair Lite: Design
When it comes to design, the Aair Lite is one of the most attractive on the market and is about the size of a tall basket, or vase. Its fashion-forward design utilizes an interchangeable sleeve available in white, navy, and pink -- with more colors on the way-- coated with Zinc pyrithione, an antimicrobial that ensures that viruses do not spread through touch on your purifiers.
A small LED display at the top indicates the exact AQI at any given moment, with the subtle action bar serving as the control panel.
But inside, what you don't see is where the most sophisticated design work comes into play.
It's a completely closed system, so that means that once a pollutant is captured in the filter, it's not coming out. It's also Ozone-free so that you can breathe in the purest air possible. Usually, it's much more expensive models that exhibit those features.
The Aair Lite utilizes a med