Beautiful 6-Quart Digital Air Fryer review
The Beautiful 6-Quart Digital Air Fryer stands out thanks to its attractive design, which will look right at home in any contemporary kitchen.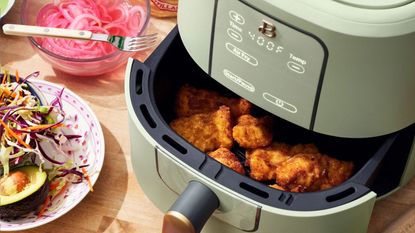 (Image credit: Beautiful Kitchenware)
An affordable and attractive air fryer, the Beautiful 6-Quart Digital Air Fryer is perfect for family kitchens.
Reasons to buy
+

Affordable

+

Attractive contemporary design

+

Easy to operate

+

5-degree temperature increments

+

Larger than average cooking basket

+

Easy-clean nonstick interior
Reasons to avoid
-

Lacks additional cooking modes

-

Low-quality materials
You can trust Homes & Gardens. Our expert reviewers spend hours testing and comparing the latest products, helping you choose the best for you. Find out more about how we test.
Air fryers have quickly become a must-have kitchen appliance, but many of today's top models have a utilitarian design that's not the most attractive to display on your counter. If you're looking for an appliance that's more aesthetically pleasing, the Beautiful 6-Quart Digital Air Fryer will definitely catch your eye. True to the brand's name, this air fryer is designed with aesthetics in mind, and it comes in five trendy colors, all of which have a chic matte finish and gold accents.
There's no denying that the Beautiful Air Fryer is, well, beautiful, and it's also quite affordable compared to some of today's best air fryers. However, how does it stack up in terms of performance? We wanted to see if it could handle tasks like crisping up French fries and cooking pastries, so we put it to the test in the kitchen over the course of several weeks.
After thoroughly testing the Beautiful Digital Air Fryer, we're happy to report that it's as easy to use as it is aesthetically appealing. The design is simple and might lack some of the bells and whistles of high-end models, but it works extremely well on a variety of tasks and looks good while doing it.
Beautiful 6-Quart Digital Air Fryer specs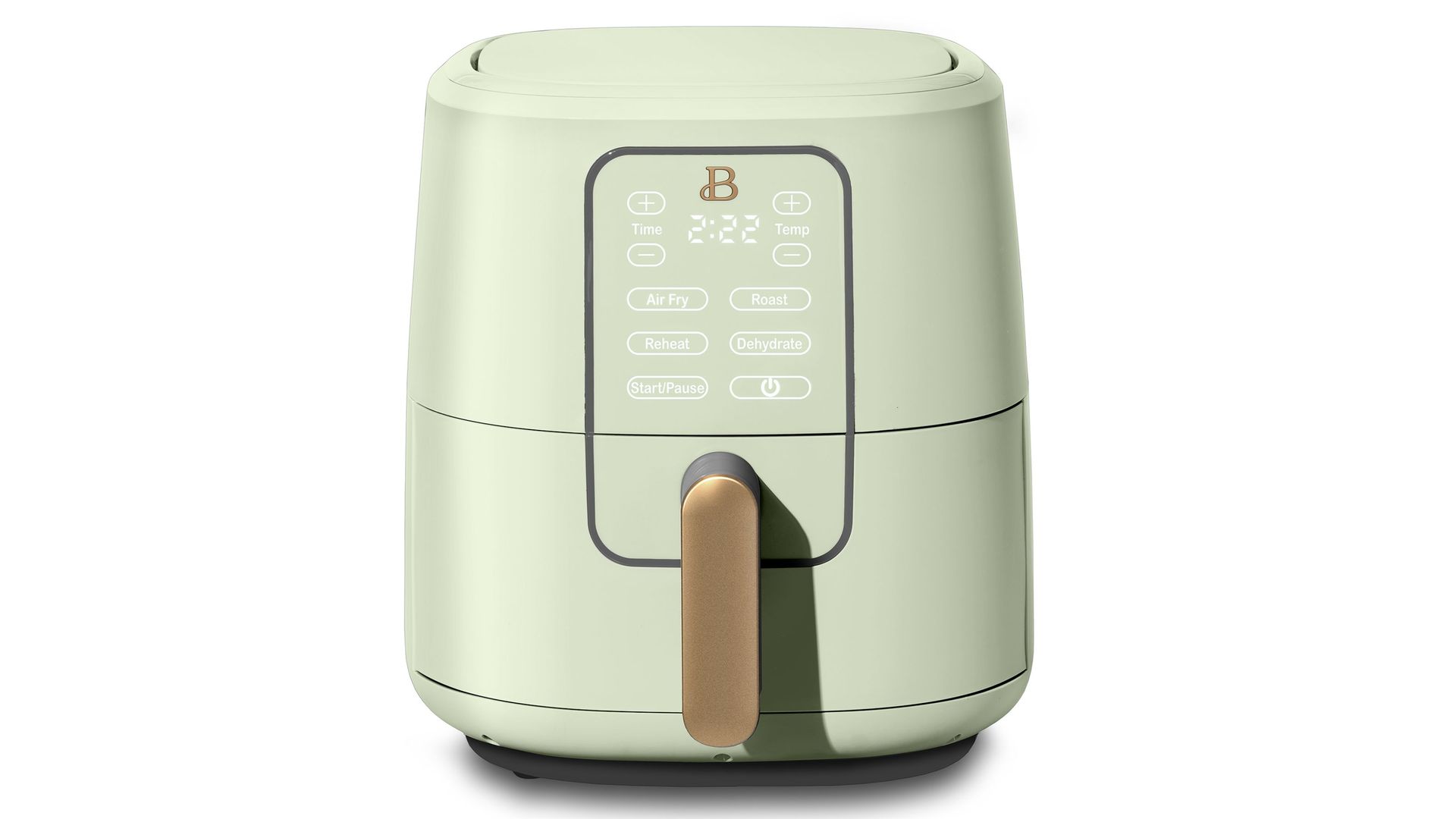 Capacity: 6 quart
Cooking modes: Air fry, roast, reheat, and dehydrate
Temperature: 90-400°F
Size: 15.11 x 12.1 x 13.07 inches
Weight: 14 pounds
Power: 1,700 watts
Getting started
The first thing I noticed when I received the Beautiful 6-Quart Digital Air Fryer is that actress Drew Barrymore is on the packaging! I hadn't realized it initially, but Barrymore actually created the brand of appliances with the goal of combining "high performance with premium design."
As I unboxed the air fryer, I instantly fell in love with its matte finish—I tested the Sage Green model, but the unit also comes in Seasame Black, Cornflower Blue, Oyster Grey, and White Icing.
The handle on the front of the basket adds a pop of gold, and I was surprised to see that there are no buttons or dials on the appliance. The touchscreen becomes a blank slate when the air fryer is turned off, which only contributes to its high-end design. However, I will say that the appliance doesn't feel as high-end as it looks. The plastic is thin and feels fairly cheap, but given the unit's low price point, this doesn't come as too much of a surprise.
The manual says to wash the unit's frying basket and crisper tray before first use. After giving them a quick scrub with soapy water, I put the air fryer on the sidebar in my kitchen, and it was ready for testing.
Baking in the Beautiful 6-Quart Digital Air Fryer
The first recipe I made in the Beautiful Air Fryer was Greek Yogurt Bagels—it's a quick and easy way to make a healthy breakfast pastry using just greek yogurt and flour. It sounds a bit weird, but they're really good! After mixing up the dough and forming my bagels I pressed the blinking power button on the air fryer. It does blink constantly when the unit is plugged in, so you may want to unplug the appliance when you're not using it if the flashing bothers you.
I used the touchscreen buttons to select the air fry setting, then set the temperature to 280 degrees and the timer to 20 minutes. I like that you can adjust the temperature in 5-degree increments (some units have increments of 10 or even 25 degrees), but you do have to press the buttons right at the center, otherwise they don't always register your touch.
Other air fryers I've used require several minutes to preheat, and though the instruction manual for the Beautiful Air Fryer doesn't specify that this is necessary, I gave the unit a few minutes to warm up anyway. From there, I plopped my two bagels onto the crisping tray and pressed start.
I checked on them after around 15 minutes, and they were beginning to turn golden. I gave them a few more minutes to cook, and they came out perfect—crisp on the outside and fluff on the inside. I didn't put down any parchment paper or even oil the tray, and the bagels still came right off the nonstick surface.
Making dessert
A few nights later, I was in the mood for something sweet, and I remembered this easy recipe for Nutella Doughnut Holes made in the air fryer. It uses canned biscuit dough to make little pastry balls, and you just dollop a little bit of hazelnut spread inside each one.
I set the air fryer to 300 degrees and placed several of the formed balls onto the crisping tray. I put the timer on for 10 minutes, but I did go back after 5 minutes to rotate the balls. You could do it with tongs, but I opted to just shake the basket to roll them around.
While I was doing this, I discovered that you don't have to press the pause button before removing the basket—if you simply pull it out, the air fryer automatically pauses, and when you replace the basket, it starts back up again. So convenient!
In total, I cooked the doughnut holes for around 9 minutes, and they were perfectly golden brown and didn't stick to the surface at all. I ended up making these treats several times that week because they are just so easy and delicious!
Making french fries
I'd be willing to bet that one of the most common uses for air fryers is making French fries—they come out so much better than oven-baked ones. I didn't bother following a recipe for this test since I've made French fries dozens of times in other air fryers. I simply sliced up the potato using a mandoline, which created nice even strips, and seasoned the fries with salt and pepper. I usually toss them in olive oil before air frying, but I decided to see how the appliance would do without any oil.
The basket of this air fryer is larger than others I've tested in the past thanks to its square shape—the brand notes it can hold up to 5 pounds of food at a time or 2 pounds of French fries. I only used one (large) potato, but it made slightly too many fries to have a single layer in the basket. I ended up putting them all in at the same time because I didn't want to do a second batch, but for optimal crisping, you should minimize overlapping.
I cooked the French fries at 375 degrees for 18 minutes, and toward the end of the cooking time, I paused it every few minutes to shake the basket and peel apart any fries that were stuck together. At the end of the timer, I was impressed at how crispy they were, even without any oil! There were a few that got stuck together and were a tad undercooked in the center, but that likely could have been avoided if I'd done them in two batches.
Using the Beautiful Digital Air Fryer to dehydrate
Finally, I wanted to see how well the air fryer would dehydrate fruit, so I was planning to make apple chips. I sliced the apple with a mandoline, but when I looked up a recipe, I was surprised to find that the process takes 8 hours. (Can you tell I've never dehydrated anything before?) The air fryer can be used like a traditional dehydrator with 8+ hour cycles at temperatures as low as 90 degrees, but I didn't have that much time. So instead, I found a recipe for apple chips that took 15 minutes—much more manageable.
I ended up cooking the chips at 320 degrees, and the basket offered just enough room to lay out all the slices without overlapping. I cooked the chips for a total of 15 minutes, but I did have to open the basket several times and rearrange the chips, as they kept getting blown to the edges by the unit's convection air. When they looked sufficiently crispy, I let them rest on a wire rack for a few minutes before digging in. They were extremely tasty and crispy, though I did overcook them a touch, and I was glad I didn't have to wait 8 hours for my snack.
One thing I did notice while making this recipe is that the air fryer has a single circular vent on the back where it expels hot air while cooking. I had the air fryer located in front of a window, and it ended up fogging up the glass pane because it was so humid outside. This is just something to keep in mind when placing this air fryer in your home—you'll likely want to pull it away from the wall during use so the hot air can escape more readily.
How to clean the Beautiful 6-Quart Digital Air Fryer
As much as I love cooking, I hate cleaning up, so I was happy to find that the Beautiful Air Fryer is extremely easy to clean. The fryer basket and crisping tray—the two pieces that get dirty—are dishwasher-safe on the top rack, but honestly, I never felt the need to put them in the dishwasher. The nonstick coating on the basket interior and tray is quite effective, and I was able to either wipe or rinse any residue off with warm, soapy water and minimal scrubbing.
If you want to keep this air fryer in a cabinet when it's not in use, it has a convenient cord wrap on the bottom of the appliance, making it easy to store.
Should you buy the Beautiful 6-Quart Digital Air Fryer?
The Beautiful Digital Air Fryer is very easy to use and has a sleek contemporary design, and the best part is that it only costs $69. The appliance is pretty basic with just four cooking functions, but it would be more than sufficient for most people's everyday cooking needs. It passed all of our tests with flying colors, and it holds true to its claim of delivering delicious crispy food with minimal oil needed.
Overall, this is a great entry-level air fryer for anyone who wants a more attractive appliance, and the brand also offers a wide range of matching countertop appliances if you want to fully outfit your kitchen.
About this review, and our reviewer
Camryn Rabideau is a freelance writer and product reviewer who has been testing small kitchen appliances (as well as other home goods) for several years. She's tested everything from toasters to oil infusion machines, and she recently fell in love with juicing, as it's a great way to use up the extra produce she grows on her farm while sneaking more vitamins into her diet.
Camryn does her product testing from her small homestead in beautiful Rhode Island. When she's not tinkering around with the latest home gadgets, she spends her time tending to her animals, working in her garden, or crafting.
Sign up to the Homes & Gardens newsletter
Decor Ideas. Project Inspiration. Expert Advice. Delivered to your inbox.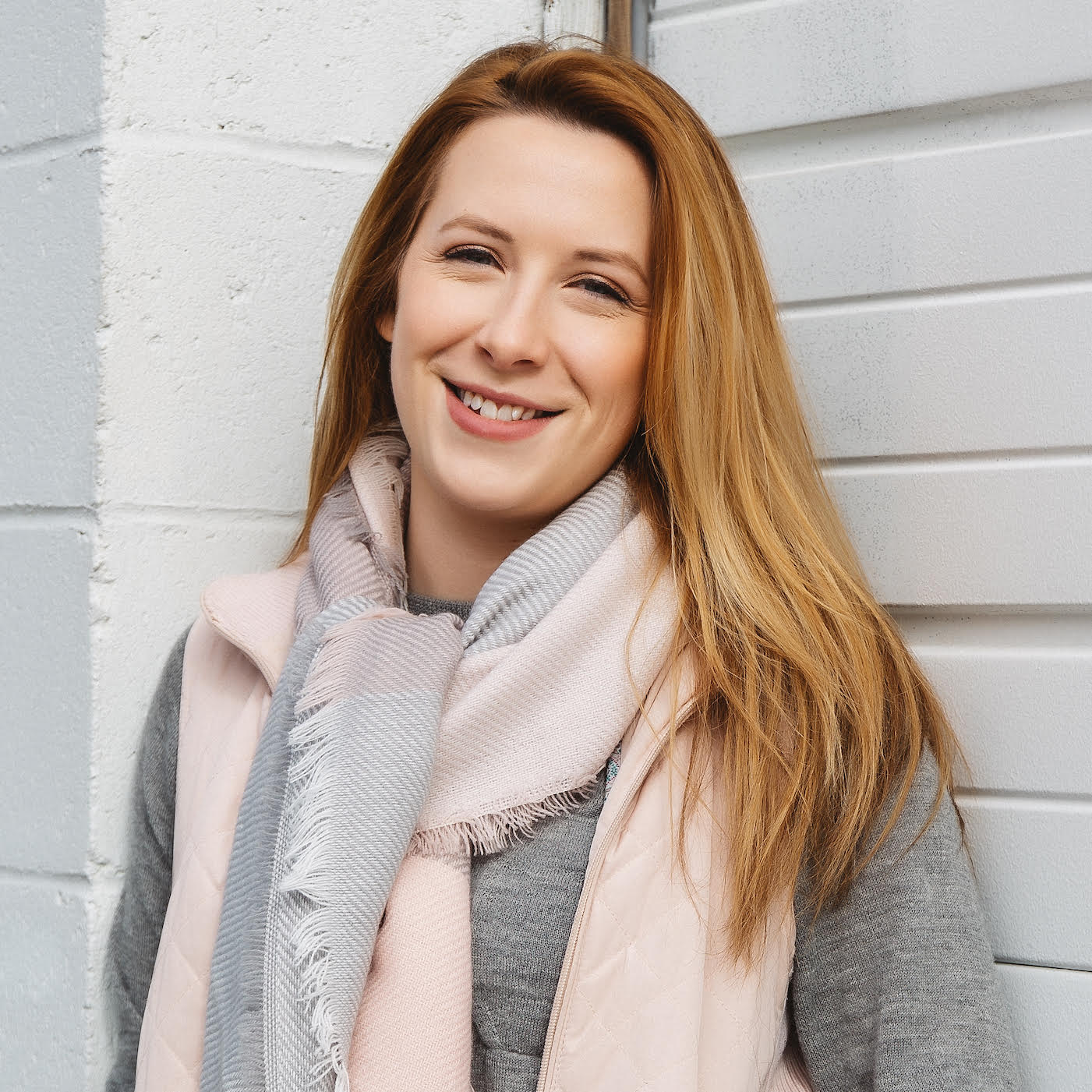 Contributing Reviews Editor
Camryn Rabideau is a writer and product reviewer specializing in home, kitchen, and pet products. In her five years as a product tester, she's tested hundreds of items first-hand, including many, many kitchen appliances for Homes & Gardens. Camryn does her product testing from her small homestead in beautiful Rhode Island.