KitchenAid 9-Speed Digital Hand Mixer review
In this review, KitchenAid's most sophisticated hand mixer gets put to the test to see how powerful it really is.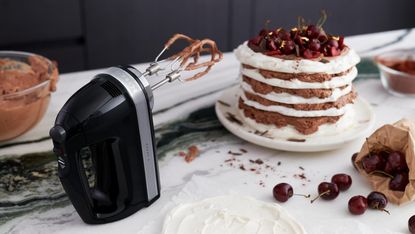 (Image credit: KitchenAid )
The KitchenAid 9-Speed Digital Hand Mixer promises power to handle baking and other cooking tasks with ease. How does it measure up against competitors?
Reasons to buy
+

Feels and looks expensive

+

Lovely controls

+

Whisk attachment included
Reasons to avoid
-

The most expensive mixer we tested comparably
You can trust Homes & Gardens. Our expert reviewers spend hours testing and comparing the latest products, helping you choose the best for you. Find out more about how we test.
The KitchenAid 9-Speed Digital Hand Mixer is marketed as the corded, all-purpose, gold-standard mixer. We put it to the test to see just how much power it has packed in, and whether it can deal with dense, heavy ingredients with ease.
To get into the details, this mixer has 9 speeds (as you might suspect from the name), an additional whisk attachment, and a dough hook, making it a versatile model to add to your kitchen. It can help out with smoothies, shakes, and more if you want to go beyond baking, though it is at a more expensive price point.
It's available in five colors, each of which are part of the signature image of the KitchenAid brand. These colors are Empire Red, Onyx Black, Contour Silver, Candy Apple Red and White. In this review, we interrogate everything there is to know about the KitchenAid 9-Speed Digital Hand Mixer to see if it lives up to its prestige.
It's not surprising that when it comes to the battle of the best hand mixers, there's more than one KitchenAid model vying for attention. Below, we test it rigorously and report the results so you can make an informed buying decision.
KitchenAid 9-Speed Digital Hand Mixer Specs
Colors: 5 (Empire Red, Onyx Black, Contour Silver, Candy Apple Red, White)
Type: Hand mixer
Weight: 2 lbs
Speed settings: 9
Dimensions: 3.5 x 8 x 6 inches
First impressions of the KitchenAid 9-Speed Digital Hand Mixer
From the lineup of mixers we tested, the KitchenAid 9-Speed Hand Mixer had the most enjoyable unboxing experience. It comes in a compact box and has those extra whisk and dough hooks thrown in. I absolutely loved that this model comes with a dust bag for your attachments, which has the KitchenAid logo embroidered on it. When you're spending a lot of money on a mixer, it's nice to have those extra details, and it goes the extra mile to prove that KitchenAid quality is worth it.
When it comes to pure aesthetics, this KitchenAid mixer was by far my preferred model. It would match beautifully with a stand mixer from the same brand, like the KitchenAid Pro Line stand mixer in the same color. The overall look of the mixer is expensive and the controls feel high-end, with a digital dial-up that lets you roll gently through the different speeds. It was on the heavier side of mixers, at 2.2lbs, but it makes up for that extra weight in how decadent it feels.
Making whipped cream with the KitchenAid 9-Speed Digital Hand Mixer
The KitchenAid 9-Speed mixer was one of only two mixers, alongside the Oster Heatsoft Hand Mixer that featured an additional whisk attachment, which is ideal for our whipped cream test. Using the whisk, we wanted to establish how long it would take for the cream to form stiff peaks after mixing. This particular mixer has that lovely soft-start feature that brings the whisk, or beaters, up to speed gradually to prevent splattering. This helped make the mixer feel easy to hold, and went hand-in-hand with the luxe digital controls.
We found this mixer excelled at the whipped cream test, with stiff peaks formed uniformly in a very good time. The mixer was also on the quieter end, with a decibel reading of 73, which we think is very manageable.
Making cake batter with the KitchenAid 9-Speed Digital Hand Mixer
For many, the most desired task to carry out with their hand mixer will be cake batter. I switched out to the beaters by using the eject button with this mixer in order to get the cake batter prepared. As cake batter is more involved than whipping cream, I used the locking function on the cable to tidy away the cord as I used the mixer. This prevents the cord from potentially being splattered with ingredients, and is a compromise in a sense to the fact this model doesn't have that coveted cordless feature.
I thoroughly enjoyed making cake batter with the KitchenAid 9-Speed Hand Mixer, and the controls were by far my favorite of the models I tested. It felt like there was so much power in the mixer even at the lower speeds, and the controls were genuinely quite fun to use.
Making cookie dough with the KitchenAid 9-Speed Digital Hand Mixer
One of my favorite things about this mixer is that it has it all: beaters, a whisk, and dough hooks. It even also has a blending rod, for creating soups, shakes, and smoothies. That gives this mixer a real edge and another level of versatility that other models don't have.
Making cookie dough with the KitchenAid 9-Speed Hand Mixer involved using the beaters first to cream the butter and sugar, and then switching over to the dough hooks to bring everything together. Thanks to the controls, this was all easy to do, and you can easily make your way through the speeds and hold this mixer with one hand, which is nice.
Once again, the KitchenAid 9-Speed mixer proved its worth in this cookie dough test. It took a very quick amount of time to combine the butter and cream, and none of the mixture travelled up the beater, which made life easy. Adding in the chocolate chips was a breeze too, with the mixer combining them evenly to create a desirable-looking dough.
Cleaning
There's no fuss when it comes to cleaning the KitchenAid 9-Speed Hand Mixer. You can place all of those added attachments into the dishwasher, and pop them back into their dedicated bag when you're done mixing. I didn't find any issue with the mixture threatening to get inside the body of the mixer, as the inserts for the attachments are small.
How it compares
The big contender on the market when it comes to hand mixers is in fact...another KitchenAid model. This is unsurprising given that it's the brand behind many of the best stand mixers. The KitchenAid Cordless Hand Mixer also boasts nine speeds, but there are similarities worth considering if you're torn between these two models. To begin, these mixers are aesthetically quite distinct. The KitchenAid Cordless mixer has a more retro feel, whilst I believe the 9-speed model looks a little more modern. They would both be a jewel on your countertop, so decide for yourself which one you like the look of more.
If you don't need the convenience that comes with cordlessness (if you have plenty plug sockets for example), then there are other benefits to opting for this model instead. You get more for your money with the additional attachments, and the controls are a little smoother to use. In terms of the technical points, the results of these mixers were very similar in each of our tests, though the KitchenAid 9-Speed mixer felt more powerful, despite the results. If that matters to you, it's most definitely worth bearing in mind.
Should you buy the KitchenAid 9-Speed Digital Hand Mixer?
After testing it out myself, I have to say that I'm a big fan of this particular mixer. I love how it looks, and I think you can feel how powerful it is when you use it. It might just be the fact that the cord is there, but it also feels like it has a real kick behind it to carry you through.
The KitchenAid 9-Speed Hand Mixer also aced all of our tests, with controls that feel high-end and fun to use. I like the soft-start feature, and all of the additional attachments you get for your money. It is the most expensive mixer on our list with an RRP of $109.99, but if you love the aesthetics of this mixer (and want it to match your stand mixer), I'm sure you won't be disappointed with the quality.
About this review, and our reviewer
Molly is the Ecommerce Writer across Homes shopping content, spending time reviewing products to see if they can earn a place in buying guides. She has turned her hand to testing stand mixers, hand mixers and more in order to pick out the features that matter the most to readers.
This hand mixer was tested alongside a range of other hand mixers at a Future testing facility in Reading, as you'll see from the photos. Unfortunately, this mixer was not available to be kept for long term testing, but efforts will be made to glean information on how the mixer performed after months and years of use.
Sign up to the Homes & Gardens newsletter
Decor Ideas. Project Inspiration. Expert Advice. Delivered to your inbox.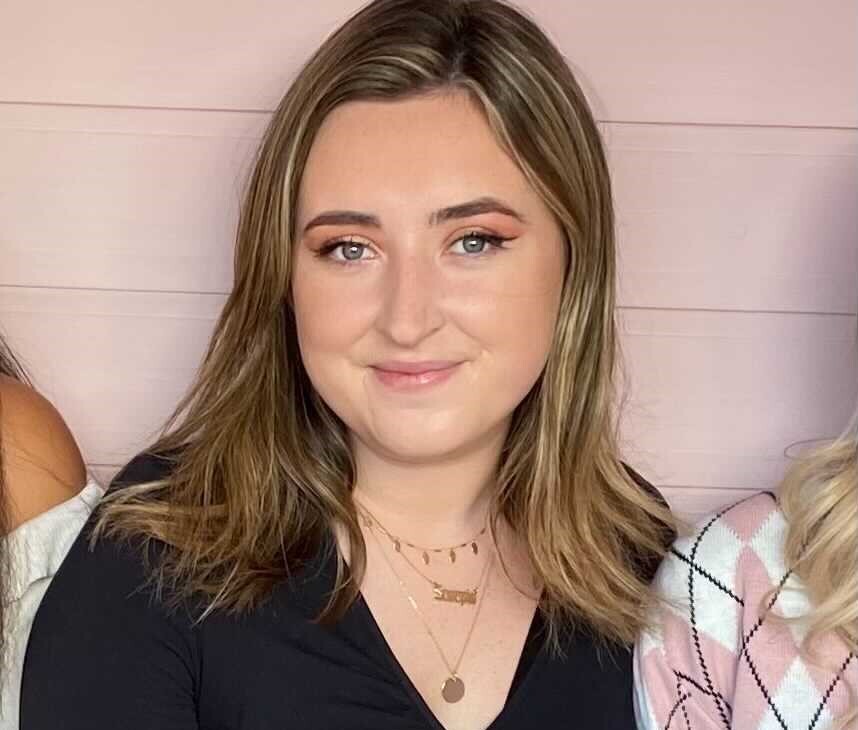 Molly is the Ecommerce Writer for Homes & Gardens and spends her time searching the internet for the next best thing for your home, with a focus on shopping edits and buying guides. Before joining Homes & Gardens, Molly graduated from the University of Exeter with a degree in English Literature, with previous internships undertaken at The Economist in her summer breaks.