KitchenAid Cordless Hand Mixer review
Given the reputation that proceeds it, this KitchenAid Cordless Hand Mixer review establishes if this model really can do it all.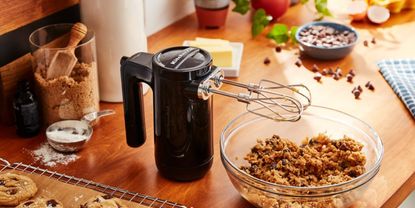 (Image credit: KitchenAid)
The KitchenAid Cordless Hand Mixer leads the way with cordless mixers. Does it live up to its reputation?
Reasons to buy
+

Effortless to hold thanks to the design

+

Very pretty design

+

Effective at mixing

+
Reasons to avoid
-

More power might be expected from KitchenAid

-

Only one set of attachments is somewhat disappointing
You can trust Homes & Gardens. Our expert reviewers spend hours testing and comparing the latest products, helping you choose the best for you. Find out more about how we test.
The latest vogue in hand mixers is going cordless, banishing plugging in favor of optimal comfort. The KitchenAid Cordless Hand Mixer combines that move towards convenience with the classic retro look that the brand is renowned for. We put it to work in a number of tests in order to see if it is worthy of a place in our round-up of the best hand mixers, and whether it's worth ditching the cord for.
In terms of design stakes, the KitchenAid Cordless Hand Mixer is pretty stripped back, with minimal fuss. There's just one set of standard Turbo Beaters that come with the mixer and that all-important charger, for giving your model power. It's also, as you've come to expect from KitchenAid, very pretty. In terms of colors, it's available in Matte Black, Passion Red, Matte Charcoal Gray, Empire Red, White and Blue Velvet.
In this review, we establish if this mixer is worth the investment and whether you get all the power that's promised without the cord. Most importantly, you'll see how we put this mixer under test conditions, to see if it flourished or failed.
*We tested this mixer in the Almond Cream shade, which is only available in the UK. All colors listed here are the colors available in the US.*
First impressions of the KitchenAid Cordless Hand Mixer
The KitchenAid Cordless Hand Mixer is a slimline appliance, with no fuss with its box or attachments. With a small, compact box and just one set of beaters, this appliance certainly won't invade your kitchen when it comes to space. If you don't have room for one of the best stand mixers, that makes this cordless mixer an excellent alternative. When it comes to the hurdle of charging, this mixer is very efficient too, with a quick ten-minute blast of charge allowing for a cake batter to be mixed, and a fully charged model capable of whipping up a batch of 200 cookies.
The body of the mixer itself is without a doubt the prettiest pick out of all of the stand mixers we tried out. As with all KitchenAid appliances, the clean, minimalist style of this mixer speaks for itself and claims that superior spot. It was also one of the lightest models we tried out, weighing in at just 34oz.
It also has simply lovely touches that make the controls absolutely stand out when compared to other mixers across the board. You simply push up the button on this mixer to groove through the levels, with a small light to show what the battery life is looking like. Though it's a small touch, I also really liked how there's an illustration to show you which beater fits into each opening (especially when I was faced with 10+ different attachments during testing!).
Due to the fact it's KitchenAid, it would be remiss to gloss over the colors available with this mixer. We tried this mixer out in the Almond Cream shade, which is sadly only available in the UK. The US does have the benefit of a much larger shade range, and my personal favorite, the Blue Velvet colorway. It's great to have such a wide range, as it means that you could even add this mixer to your countertop for extra decor points if you wanted to.
Making whipped cream with KitchenAid Cordless Hand Mixer
The first test of this nifty little mixer was whipping double cream to a good standard. The slow-start feature of this model was a real help here, as you don't want a frenzy of cream as you're making the filling for your cake. The mixer was unbelievably light to use and feels very high-end. The beater attachments were also an appropriate length, which is great for whipped cream in particular so that the mixture doesn't travel up the beaters and formulate in an unpleasant way. There are seven speeds to choose from as you mix too.
It took a very short amount of time to get the whipped cream mixture to come together to the right consistency, under a minute in fact. It was also an extremely quiet mixer, with a sound reading of around 70 decibels, which includes the contributions from an overhead extraction fan.
Making cake batter with the KitchenAid Cordless Hand Mixer
Cakes are likely to be the number one thing you'll want to use your mixer for, which is why a test of how well this mixer combines all of your essential ingredients is so important. The beaters that come with this mixer are well suited to cake batter, and feel super high-quality when it comes to mixing.
The mixer dealt with the task of the cake batter just fine, andy yielded perfectly fluffy results without any fuss. Like the other cordless model we tested out, as detailed within our Cuisinart EvolutionX Cordless Hand Mixer review, we found that it didn't feel like there was much power behind the mixer, but the results were just as good as corded models. So, despite the way it feels, we would give this a mark of approval when it comes to mixing up cake batter.
Making cookie dough with the KitchenAid Cordless Hand mixer
Other models, like we discussed in the Oster HeatSoft Hand Mixer review, have a lot more to offer in terms of attachments, including a dough attachment. The KitchenAid skimps on extras, with no dedicated instrument for dough. We plowed ahead with the beaters for this particular task and found that the creaming element of making cookies was no issue for this mixer. It yielded a nice fluffy creamed mixture with no issues, and came together well, with the quickest results of the bunch. As was the case throughout, the mixer was nice to hold, with no excess weight dragging you down.
The more difficult test with cookie dough is uniformly combining the chocolate chips. Especially at this stage of the process, the dough is a lot more substantial and got caught up within the cage of the beater a little inconveniently. That meant that combining the chips was always going to be more difficult. As before, the dough had also traveled up the beater during the process, which made the whole operation a little more complex.
The chips did eventually combine, but it wasn't the most enjoyable process. It would have been better aided by additional attachments, which is where the KitchenAid Cordless Mixer arguably loses a point in overall rankings.
Cleaning
Cleaning is a stress-free experience with the KitchenAid Cordless Hand Mixer. With only two attachments to restore back, you only need to pop those in the dishwasher or wash them in warm soapy water. There's also an ejector button to prevent you from getting icing or batter in your hands.
How it compares
As mentioned previously, the most direct comparison to make is between the other cordless titan, the Cuisinart EvolutionX Cordless Hand Mixer. The RRP of the KitchenAid Cordless is $99.99, whilst the Cuisinart model is exactly $20 cheaper. Paying a premium for a KitchenAid model is hardly surprising, and will likely be visited by anyone who subscribes to the brand's beautiful aesthetic. The Cuisinart doesn't win out when it comes to the choice of colors, but it does have controls that are a little more modern and wins on affordability.
It has to be said that this KitchenAid takes the crown overall if you're not shopping on a budget. The design is flawless, and the results were uniform and impressive. The Cuisinart is still worth consideration, but the KitchenAid has the prowess when it comes to branding and simple prettiness.
Should you buy the KitchenAid Cordless Hand Mixer?
If you own a stand mixer, you'll know that sometimes you don't want to go through the rigmarole of setting everything up, regardless of how easy it is to step back and let the mixer do the work afterward. That's where this KitchenAid Cordless Hand Mixer shines, with the looks, functionality and power to see you through as you make a pancake batter or get some icing together.
There's no doubt that it's the prettiest of all the hand mixers we tested, despite the fact it is let down by the lack of versatility in its attachments. If you're a KitchenAid loyalist, you'll know that the quality always excels, and the same can be said here. The cordless element makes things even more aesthetically pleasing, but don't fall into the trap if you know you're horrendous at charging things, as this mixer needs more attention than usual.
About this review, and our reviewer
Molly is the Ecommerce Writer across Homes shopping content, spending time reviewing products to see if they can earn a place in buying guides. She has turned her hand to testing stand mixers, hand mixers and more in order to pick out the features that matter the most to readers.
This hand mixer was tested alongside a range of other hand mixers at a Future testing facility in Reading, as you'll see from the photos. Unfortunately, this mixer was not available to be kept for long term testing, but efforts will be made to glean information on how the mixer performed after months and years of use.
Sign up to the Homes & Gardens newsletter
Decor Ideas. Project Inspiration. Expert Advice. Delivered to your inbox.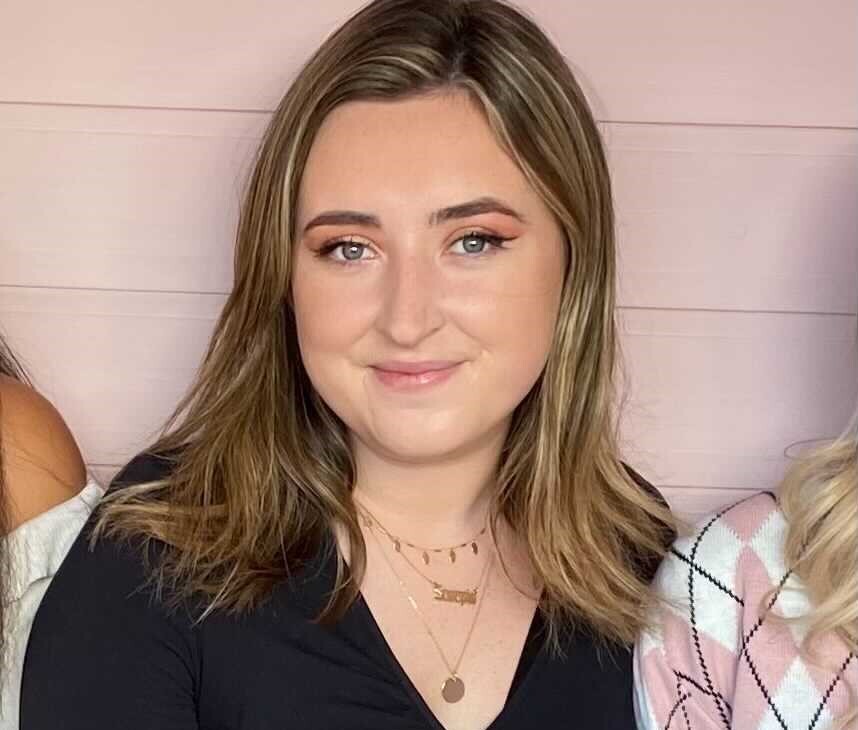 Molly is the Ecommerce Writer for Homes & Gardens and spends her time searching the internet for the next best thing for your home, with a focus on shopping edits and buying guides. Before joining Homes & Gardens, Molly graduated from the University of Exeter with a degree in English Literature, with previous internships undertaken at The Economist in her summer breaks.