Shark Wandvac System Ultra-Lightweight Powerful Cordless Stick Vacuum review
We put the Shark Wandvac System Ultra-Lightweight Powerful Cordless Stick Vacuum to the test. Read our review to determine if it's the right cordless option for you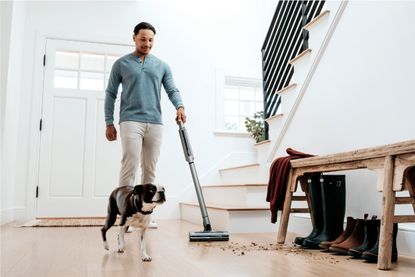 (Image credit: Shark)
Shark's ultralight WandVac System Stick Vacuum is one of those items you don't realize you need until you try out it. It's optimal for those quick clean-ups and light housekeeping... if you can look past the steep price tag.
Reasons to buy
+

Very lightweight and sleek design

+

One-touch release to empty dust bin

+

3 cleaning positions

+

Charging base to discreetly store

+

Thoughtful attachments

+

Available in various fashion color options
Reasons to avoid
-

Very small dust bin

-

Dust bin release button is directly underneath power button, possible to confuse

-

Short run-time

-

No LED light
You can trust Homes & Gardens. Our expert reviewers spend hours testing and comparing the latest products, helping you choose the best for you. Find out more about how we test.
I think we can all think of a mess we've created that is too big for scooping up with our hands or a paper towel, and too small for pulling out a large vacuum. The Shark Wandvac System Ultra-Lightweight Powerful Cordless Stick Vacuum is designed to be that in-between for quick clean-ups.
It's a three-in-one for quick clean ups, with a lightweight convertible handheld to take anywhere, really. Now, we've had our chance to test the Shark WandVac, and are ready to share if it's worth the $200 plus price tag.
Read on to see our thoughts on the Shark Wandvac System Ultra-Lightweight Powerful Cordless Stick Vacuum.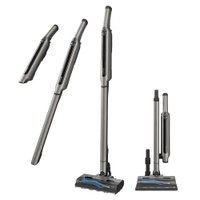 Shark Wandvac System Ultra-Lightweight Powerful Cordless Stick Vacuum | List Price $229.99 at Shark
When you buy directly from Shark, it's also available in a range of fashion colors like Rose Gold or Sage.
Who will love the Shark Wandvac System Ultra-Lightweight Powerful Cordless Stick Vacuum?
The WandVac Shark is great for families trying to keep messes at bay for quick messes; elderly adults who require something lightweight but still want to keep a tidy home; and apartments or smaller homes with limited carpets. It's most functional as a secondary vacuum to keep close by for any particular areas that tend to get messier faster or if you want to have an upstairs and a downstairs vacuum.
Shark Wandvac System Ultra-Lightweight Powerful Cordless Stick Vacuum: Specifications
Maximum power: 225 watts
Dust capacity: .13qts
Cordless: Yes
Runtime: Up to 17 minutes
Charge time: Approx. 3 hours
Cleaning path width: 8.3in.
Dimensions: 10"L X 11.2" W X 44"H
Weight: 5.8lb.
Filter: PTFE pre-filter, nonwashable
Warranty: 5 years
Attachments: Side by side charging dock, combination duster crevice tool, pet multi-tool
Shark Wandvac System Ultra-Lightweight Powerful Cordless Stick Vacuum: features and functions
Super Lightweight
At just 5.8 pounds, it doesn't get any more lightweight than this for a stick vacuum. And the handheld portion is just 2.1 lbs. The trade-off, however, is a tiny dust cup. Though, that should be emptied with each use.
Convertible Handheld
With a 3-in-1 design, the WandVac lifts off into an easy-to-use handheld device for quick clean-ups in your car, on a counter. Alternatively, leave on the wand for getting into those hard-to-reach areas.
Self-Cleaning Brushroll
Shark's vacuums are leaders in the anti-hair wrap movement. With the self-cleaning brush roll, human and pet hair don't get caught or wrapped in the rollers and reduce suction power. While the WandVac has a singular brush roll, the flexible silicone fins, dubbed PowerFins, ensure that the vacuum is in continuous cleaning contact on all surfaces at all times.
Hypervelocity Accelerated Suction
Not your ordinary cordless vac. The addition of Hypervelocity Accelerated Suction delivers a direct airflow path for incredible deep-cleaning performance.
Charging Dock and Battery
The WandVac has a discreet floor base to charge the device when not in use. It even features a holder for the crevice tool. However, the included pet multi-tool doesn't get the same treatment. Upon setup, a raised charging post is inserted into the base, but can not be removed once installed, according to the instructions. The charger plugs into the assembled dock. From there, the handheld has its own podium on which it can charge. Alternatively, you can charge the removable battery on its own and forgo using the charging stand.
In addition to the set up of the charging stand, the vacuum also features a clip where the handheld can be attached to the wand part as an alternate mode of storage.
At full charge, the unit will run for 17 minutes. Using Boost mode exhausts battery life at a faster rate. If Boost mode is engaged at all times, the unit will run for 8 minutes.
Attachments
The WandVac includes two attachments that are both multi-functional. The duster crevice tool features a flippable brush that's great for reaching into tight spaces for a precise clean. The pet multi-tool works easily over upholstery with bristles for capturing stuck on hair.

What the Shark Wandvac System Ultra-Lightweight Powerful Cordless Stick Vacuum is like to use
Setting up out of the box is very quick. The three pieces, the handheld, wand, and floor nozzle all click together, with easy release buttons to swap between settings. The attachments fit in both the wand and handheld, and remove with ease.
I was surprised to see that it has singular setting used for both carpet and hard floor, which is not something you'd expect for a vacuum at this price point. A boost mode is able to be activated, but it runs down the battery must faster. Full disclosure, I had a hard time locating it, but perhaps that's me not understanding the pictures in the guide. Since you're reading this review, I'll share where to find it so you can add the extra man power to your clean: It's located on the back of the handle with a very discreet button that must be pressed down for the entirety that you wish to use boost mode.
As far as performance, with the singular setting for hard floors and carpets, I think it performed better on hard floors at gathering visible dust, but in boost mode, it handled low-pile carpets just fine. The vacuum did handle a little slower on carpets, but did pick ups just find.
Of note, if you've never looked at the directions, or pass off the vacuum to someone without explaining how to use it, it's easy to confuse the dust bin release button with the power, and end up with a clump of dust on the floor. Trust, it happened. I invited my mom to give it a whirl, absentmindedly pointing to the dock for her to try it out. Before long, all the existing dirt in the bin was now clumped at her feet. Oops. Also, subtle reminder to empty out the dust bin after each use.
My favorite use of the vacuum was with the super-lightweight handheld. It was super convenient for picking up whatever dirt and dust my dog tracked on to his play mat, and its long narrow profile makes you feel like you're flinging around a magic wand... that leaves behind the magic of a powerful clean. However, it works best with the attachments on. Do make sure that all debris has time to suction into the dust cup before turning off though, as some cereal suctioned up did dribble out.
The Pantry Test
I trialed the WandVac through what I call the Pantry Test, the unscientific test that uses common pantry staples to test the suction capabilities of our vacuums. I arranged a quarter cup of cereal, a quarter cup of rice, and a tablespoon of sugar to see how the vacuum handled food particles large and small. For the larger ingredients, The Shark Wandvac System Ultra-Lightweight Powerful Cordless Stick Vacuum seemed to push the mess around before suctioning it up and seemed to intuitively get more powerful removing the sugar. I did choose to clear the dust bin after each test as the bin appeared full and I didn't want to compromise performance with a full bin.
The Pantry Test on hardwood floors:
The vacuum moved easily across the hardwood. It pushed along the larger pieces of cereal and rice, but with a slow and steady approach, everything was absorbed. Within the second pass, everything was picked up. For the sugar, the majority of it was picked up in the first pass, but since sugar is so tiny, it felt necessary to give it a few extra passes to be thorough.
The Pantry Test on carpet
The vacuum felt a little more sluggish on the carpet, but without fail, it still picked everything up. I also performed this trial on the same setting as the hard floor and did not engage boost mode. The larger ingredients were still pushed forward, but everything was picked up.
How does the Shark Wandvac System Ultra-Lightweight Powerful Cordless Stick Vacuum rate online?
As of March. 2021, the Shark Wandvac System Ultra-Lightweight Powerful Cordless Stick Vacuum has a 4.4 rating on Amazon and a near perfect 4.9 rating on Shark's website. This represents a limited sample of people as this is a very new product, many of which who also seemed to have received free product at this point. One Amazon reviewer actually rated the vacuum a one solely for the reason to inspire browsing customers to read through all the ratings, but only had glowing things to say regarding his experience with the WandVac, noting it was easy to use, quieter than he expected, and impressed with the quality of the brush head.
How does the Shark Wandvac System Ultra-Lightweight Powerful Cordless Stick Vacuum compare to other models?
I view the Shark Wandvac System Ultra-Lightweight Powerful Cordless Stick Vacuum as an upgrade to the top-rated Shark WandVac handheld. Both are lightweight and cordless in nature, but for another $100, the addition of a wand and floorhead makes it even more useful, with double the power. Plus, it eliminates the need to own another handheld as well.
Comparing the WandVac to Shark's other cordless vacuums, it is the most lightweight option but also has the smallest dustbin. It is also one of the few vacuum designs with a designated charging base.
When it comes to power, the WandVac blows past all of the comparable models, except the top-of-the-line Shark Vertex Cordless Lightweight Stick Vacuum, which we've also tested.
Shark Wandvac System Ultra-Lightweight Powerful Cordless Stick Vacuum: Final Thoughts
At first was I feeling skeptical about getting much done with such a tiny dust cup and just one power setting? You best bet. However, the more I used this small, but mighty cordless vacuum, I came to appreciate the convenience of it. It's great for leaving in kitchens or mudrooms for when you'll really want to suction up a quick mess.
I openly admit this vacuum will not be for everybody due to its size limitations. It's not designed for thorough, deep cleans, and that's ok. I still believe that this is a great product. For quick clean-ups and light housekeeping, it's a delight to have on hand. Take that advice with what you will, and you will be pleasantly surprised how nice it is to have a WandVac within easy reach.
Shark Wandvac System Ultra-Lightweight Powerful Cordless Stick Vacuum: where to buy
About this review and the reviewer
Jaclyn is the US eCommerce editor across the homes titles at Future, including Homes & Gardens, where she specializes in a variety of topics ranging from vacuums to mattresses. She spends her days tracking the latest buzzworthy releases and testing a variety of products to determine whether they are worth bringing into your home. All reviews are based on real-life experience of using these products around the home.
The Shark WandVac was tested in a traditional home with a mix of hardwood floors, carpets and area rugs. A small non-shedding dog lives in the house, but still manages to track in his fair share of dirt. The device was tested over a period of several weeks.
As with all our reviews the Shark WandVac has been tested first-hand in our home, using it just as you would so you know exactly what you are buying. The products are given to us free of charge and we test them for as long as possible before sending them back to the brand, unless we are able to keep it as we are with this cordless vacuum. This means that we can continue to use the product which gives us the opportunity to return to our reviews for updating, so you can keep up-to-date with how it's fared over a period of time.
Jaclyn is H&G's eCommerce editor and oversees all things shopping. She's also a bonafide sleep expert, and previously managed all sleep content on Homes & Gardens and Real Homes– in fact, she has passed our five-step certification process to become a verified customer advisor on mattresses. She regularly scouts out the best of the best for buying guides to help you fill your home with only the best. She joined the team in January 2021. She has previously worked with Apartment Therapy, The Kitchn, The Spruce, The Spruce Eats, and MyDomaine. When Jaclyn's not working, she loves browsing real estate listings, unwinding with a chilled glass of Rosé, and entertaining her Cavapoo, Reese.